The stars are aligning in the Atlantic Division, but how bright will they shine during the upcoming season?

Does the Celtics' Big Three have enough left in its aging legs to make one last title run? Can Mike D'Antoni lift the Knicks to the next level with a full season of Melo and Amare? Are the D-Will-led Nets playoff-bound?

Our team plays a little over/under with every team in the Atlantic.
1. Over/Under: Second round of the playoffs for the Celtics.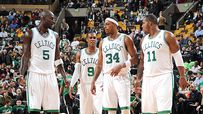 Maurice Brooks, ESPN.com: Over. Like an aging boxer, the Celtics still have one more good fight left in them. If Ray Allen, Kevin Garnett and Paul Pierce all stay healthy -- and yes, I know that's a big if -- I like Boston's chances in a seven-game series against every team in the East outside of the Heat.

Chad Ford, ESPN.com: Push. The Celtics are aging and will continue to get diminishing returns from Kevin Garnett, Paul Pierce and Ray Allen. However, if we lose a good portion of the season, I think it actually benefits Boston. Fewer games equal fresher legs. I don't see how the C's get past the Heat or Bulls to get to the Eastern Conference finals, but an appearance in the second round sounds about right.

Brendan Jackson, Celtics Hub: Push. If the Celtics end up with the third, fourth or fifth seed in the East, they have the talent to get past a first-round opponent. If they limp into the playoffs and have to face the Bulls or Heat in the first round, they could easily find themselves facing premature retirement questions.

John Kenney, KnickerBlogger: Under. Missing games due to a (likely) lockout means a (likely) compressed season which will (likely) put Boston's elderly Big Three in a tough spot as far as seeding goes. The first-round loss will signify the end of this Celtics era.

Devin Kharpertian, Nets Are Scorching: Push. They have an edge on every other Eastern Conference team except the Heat and Bulls. Unfortunately, that means there's a good chance the Celtics will face one of them in the second round. We've already seen what Miami can do to Boston, and Chicago just has too much firepower for Boston to handle.
---
2. Over/Under: 82 more games in New York for Mike D'Antoni.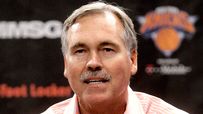 Maurice Brooks, ESPN.com: Over. A full (I hope) season of STAT and Melo means lots of W's for the Knicks. People love a good Broadway show, and D'Antoni will enjoy getting the credit as the director and choreographer of a season that sees New York challenging Boston for the division title.

Chad Ford, ESPN.com: Under. Knicks owner James Dolan overvalues the roster he has put together. Amare Stoudemire and Carmelo Anthony are excellent players, but they don't fit well together. I think D'Antoni is ready for some relief, and if the Knicks aren't dominating by midseason, he'll be gone. New York will have plenty of coaching candidates and Dolan won't be afraid to make a play for one.

Brendan Jackson, Celtics Hub: Over. Winning goes a long way. With Amare and Melo, D'Antoni's team looks poised to win a good amount of games. Next postseason will mark the Knicks' second time making the playoffs with their two-headed monster, and barring an amicable split, D'Antoni should continue the tradition for the foreseeable future.

John Kenney, KnickerBlogger: Under. I don't think there will be 82 games played this season, and without another blockbuster trade this team will fail to improve on last season's record. D'Antoni's contract expiration will come at a convenient time for a team that will be searching for answers.

Devin Kharpertian, Nets Are Scorching: Over -- but not by much. While the Knicks are cruising for a playoff berth, they'd better go beyond one round if D'Antoni wants to keep his job. If not, expect new assistant Mike Woodson, or a defensive-minded outsider, to take the reins.
---
3. Over/Under: 60 starts for Evan Turner in his sophomore season.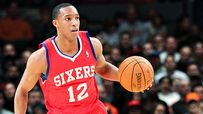 Maurice Brooks, ESPN.com: Push. If I have to answer this question today, the answer is under, because there is no way he is going to beat out Jodie Meeks or Andre Iguodala. I expect Philly to deal Iggy at some point this season, opening up a starting spot in the lineup for ET. I'm just not sure when that will happen.

Chad Ford, ESPN.com: Over. Turner had a rough rookie season, but Philly hasn't given up on him. I think it's likely that they move Andre Iguodala and that should open up more space for Turner in the offense. I question whether Turner will ever live up to the hype he generated as a No. 2 pick, but he's a very good basketball player.

Brendan Jackson, Celtics Hub: Under ... but it's all about the Sixers' personnel. He's not starting over Iguodala, and Meeks is a pure shooting guard. Turner can play PG, SG and SF, so I see him usurping the sixth man role from Lou Williams. Of course, this all changes if Iggy is traded away.

John Kenney, KnickerBlogger: Under. But this will be the last season this is true. I expect Turner to start about half of this season's games and to demonstrate enough ability to make the 76ers' inevitable parting with Andre Iguodala a little less damaging.

Devin Kharpertian, Nets Are Scorching: Under. Iguodala and Turner are too similar as players to have both on the floor, as neither can space the offense well enough around the other. But If Iguodala gets traded early in the season, Turner is first in line to take his role.
---
4. Over/Under: The No. 8 seed in the East for the Nets.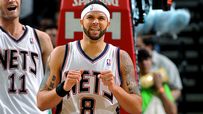 Maurice Brooks, ESPN.com: Under. Deron Williams is a tremendous talent, but as you look over the rest of the Nets' roster, there isn't enough talent in place for them to go from a 24-win team to playing in the postseason in just one year.

Chad Ford, ESPN.com: Under. The Nets will be better, but who do they dethrone from the East? The Knicks, Sixers and Pacers are the most likely candidates, but all three teams have forward momentum, too -- especially the Pacers, who have a ton of young players and lots and lots of cap room. Barring a major injury, I think the same eight teams in the East make the playoffs again this season.

Brendan Jackson, Celtics Hub: Under. The Nets need more than Deron Williams, Brook Lopez and Mr. Kardashian to beat out the Pacers and Bucks. I like Williams playing in Brooklyn, but they need one more star before I can place them in the postseason.

John Kenney, KnickerBlogger: Under. Deron Williams is fantastic. The Nets are not. Will simply being close to the playoffs be enough to convince D-Will to stay with the Brooklyn-bound Nets?

Devin Kharpertian, Nets Are Scorching: Under. But if they can add a third solid piece to the Deron Williams-Brook Lopez core via free agency or trade, I'd expect them to sneak into one of the lower seeds.
---
5. Over/Under: 20 points per game for DeMar DeRozan next season.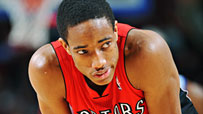 Maurice Brooks, ESPN.com: Over. His points per game average more than doubled last season (8.6 to 17.2) and there is still plenty of room for improvement in his game. The Raptors are one of the youngest teams in the league and are going through growing pains. The offensive-minded DeRozan is a nice piece of the rebuilding puzzle.

Chad Ford, ESPN.com: Push. 20 ppg sounds about right for DeRozan. They will be largely empty points, mind you, but I don't see anyone else coming in and taking up the scoring slack in Toronto.

Brendan Jackson, Celtics Hub: Over ... at least he better if the Raps hope to win more than 22 games. Aside from Andrea Bargnani, DeRozan is the most offensively gifted player on that roster. The hiring of a defensive coach in Dwane Casey coupled with the Raptors' better role players being defensive dirt dogs means that someone on that team is going to have to put the ball in the bucket.

John Kenney, KnickerBlogger: Over. DeMar takes the old adage "you have to shoot to score" very seriously. The progression in his ability combined with an increased number of shots should put him over the 20 ppg threshold easily.

Devin Kharpertian, Nets Are Scorching: Over. DeRozan's shooting percentage from 10-15 feet leapt from 31 percent in his rookie season to a much more palatable 46 percent last season, and he should continue to improve. It won't translate into wins, but the Raptors should get a majority of their first-string points from Andrea Bargnani and a developing DeRozan.


ESPN.com and the TrueHoop Network
Chad Ford writes for ESPN.com. Maurice Brooks is an NBA editor for ESPN.com. Brendan Jackson, John Kenney and Devin Kharpertian contribute to the TrueHoop Network.