You've seen (most of) the lists. Now, let the debates begin.

As our 500-player project hits the home stretch, we debate whether five players ranked between Nos. 71-80 should be ranked ahead of counterparts from the past and present: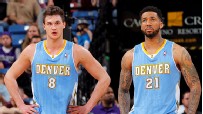 J.A. Adande, ESPN.com: Gallinari. Chandler is a better defender, but if your team was behind and needed more points, I'd feel better with the ball in Gallinari's hands. When they left coach Mike D'Antoni's system and got to Denver, Gallinari moved ahead of Chandler in scoring average.

Jovan Buha, ClipperBlog: Gallinari. Disregarding differences in shooting percentages, both players are nearly identical in production. However, Gallinari made a much smoother transition into Denver's rotation and looks to be featured next season as part of the three-headed monster with Nene (if he's re-signed) and Ty Lawson. Chandler? After struggling post-trade, he's taking his talents to China.

Danny Savitzky, Nets Are Scorching: Chandler by a nose. They're fairly equivalent offensive players, but Chandler is the better defender, so that gives him the edge.

Kyle Weidie, Truth About It: Gallinari. NBA GMs will gladly search for a rebounder/slasher/somewhat scorer like Chandler; they come out every year with coaches aplenty willing to mold them. But a shooter like Danilo? Like gelato in the desert.

Royce Young, Daily Thunder: Gallinari. Chandler's a nice player, a swingman who can score and defend, but Gallinari is a potential franchise-type guy. Gallinari is also just 23 and could score 20 points a night, while Chandler isn't going to be much more than a role player.
---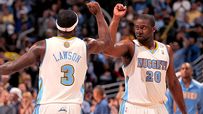 J.A. Adande, ESPN.com: I'm taking a general manager stance on this one and going with the younger guy (by four years) who is still on his rookie contract and who showed great improvement from his first year to his second year in the league. That's Lawson.

Jovan Buha, ClipperBlog: Lawson. Last season, coach George Karl chose Lawson, not the almost-All-Star Felton, to be the engine behind the success of the deep and talented post-Melo Nuggets squad. Whether it's PER or per-36 minutes statistics, Lawson is the better and more efficient player, and will be for years to come.

Danny Savitzky, Nets Are Scorching: Lawson. The quick, shooting point guard will finally have his chance to stand out with Felton now in Portland, and J.R. Smith Wilson Chandler and Kenyon Martin away in China. And there's no telling how many Twinkies Felton has put down in the three months since the lockout began.

Kyle Weidie, Truth About It: Lawson. GMs today gobble up youth and speed like they gobbled up high school players in the mid-2000s. Plus, I'm still not buying what Felton's selling when the highlight of his résumé is pick-and-roll flirtations with Amare Stoudemire.

Royce Young, Daily Thunder: Lawson. Felton is a solid starter at point guard, but Lawson has the ability to be a star. The younger UNC point man will likely get his first opportunity to run a team from the starting lineup this season, and I don't think per-game averages of 15 points and eight assists are out of the question.
---
Note: Bargnani was selected No. 1. overall in the 2006 draft; Roy was picked sixth.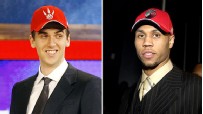 J.A. Adande, ESPN.com: As wobbly as Roy's knees are, he showed he still has something left with that 18-point fourth quarter in Game 4 of the Dallas series. That's as many points as Bargnani has ever scored in a playoff game. Give me a guy who can take over in the postseason.

Jovan Buha, ClipperBlog: Bargnani. If this were any other time over the past few years, it'd be Roy by a landslide. But with his body failing him, he's now an inconsistent role player at best. For all his faults, Bargnani can put a ton of points up, and thus has slightly more value.

Danny Savitzky, Nets Are Scorching: Roy. It's not fair to just assume further degeneration of his knees and game alike, and Roy showed against the Mavericks that he can still take over a game. It's reasonable to expect he's put his time in this offseason trying to reshape his game to cope with his lost athleticism.

Kyle Weidie, Truth About It: Bargnani. In a contest of Roy's knee versus Bargnani's heart, you gotta go with the one you don't have to stand on. Sure, Andrea will never be more than a complementary piece, and Roy possesses the soul that makes champions; but go ask the actuary who he'd rank higher.

Royce Young, Daily Thunder: Bargnani. It's simple: He has two fully functional knees. Which is pretty important when it comes to playing basketball.
---
4. Who should be ranked highest: Afflalo, Collison or Holiday?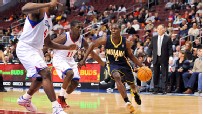 J.A. Adande, ESPN.com: Arron Afflalo. He can guard almost any perimeter player, and he has this thirst for the big shot. Maybe Darren Collison or Jrue Holiday could do a better job of creating his shot, but I'd take Afflalo to make it if he's open.

Jovan Buha, ClipperBlog: Holiday. Honestly, each player has a legitimate case for outranking the others -- they've all had similar success thus far. Conversely, Collison and Afflalo do not have as high of a ceiling as Holiday. At his peak, Jrue is the best of the three players and has the most complete game.

Danny Savitzky, Nets Are Scorching: Holiday. He and Collison come in as clearly better than Afflalo, and Holiday is a better scorer, passer and rebounder than Collison. Still, Collison could bounce back in his second season with Indiana.

Kyle Weidie, Truth About It: Holiday. Not sure why. Maybe it's the name. Maybe it's the moxie he showed against John Wall. Maybe it's because his girlfriend, Lauren Cheney, scored a goal for the U.S. against North Korea at the '11 Women's World Cup.

Royce Young, Daily Thunder: Afflalo. If we value defense as much as we all pretend to, I don't think there's a question. Holiday quietly had a breakout season as a sophomore in 2010-11 and Collison was solid in his first full-time starting role, but Afflalo is a shutdown wing defender who shoots better than 40 percent from 3.
---
Note: Chad Ford ranks Richardson and Crawford as the top two unrestricted free-agent SGs.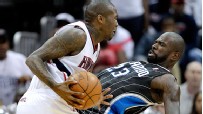 J.A. Adande, ESPN.com: With Richardson, you can get 35 points one game and 11 the next. But he has just enough of those big nights to make him the pick. And did you know he was a year younger than Crawford?

Jovan Buha, ClipperBlog: Richardson. Crawford is one of the best pure scorers in the game, capable of igniting the Hawks' second unit with a flurry of points off inefficient jumpers ... but that's all he can do. Richardson has a more well-rounded game, capable of providing defense, rebounding, spot-up shooting, attacking the basket, and so on and so forth.

Danny Savitzky, Nets Are Scorching: Richardson. Neither is very good, but at least Richardson still shoots the 3 at a reliable rate, and that's all he'll be asked to do on any decent team. Crawford, on the other hand, will be asked to carry the second-unit offense, a task he can no longer handle efficiently.

Kyle Weidie, Truth About It: Crawford. "On the market" at their age means signing with a real contender. Doing that likely means coming off the bench. Who's more reliable at doing that? Seems like the Wolverine, not the Spartan.

Royce Young, Daily Thunder: Richardson. This was a really tough call. Some teams are destined to overpay these guys because everyone values scoring just a bit too much, but they can also be game-changers at times. Crawford helped his stock in the 2011 postseason, but Richardson is more consistent, so he gets my vote.


ESPN.com and the TrueHoop Network
Chris Palmer writes for ESPN The Magazine. Tim Donahue, Bret LaGree, Ian Levy and Jeremy Schmidt contribute to the TrueHoop Network.