You've alternately scratched your head, pounded the table and nodded vigorously in agreement. #NBArank just does that to people. We're debating the matter, too.

Which NBA ballers deserve to make the top-10 cut? Who should be bumped up or back?

As soon as you see their names pop across your Twitter timeline on Monday, the players pulling into spots 6-10 in #NBArank will get put on the debate block for our five-man squad.
1. Kevin Durant at No. 6: Too high, too low or just right?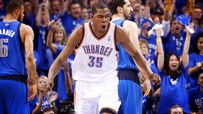 Kevin Arnovitz, ESPN.com: Just a smidge too low. Durant's efficiency numbers took a hit last season but that might be a product of playing alongside a more aggressive Russell Westbrook than anything else. Critics often cite KD's defense as his Achilles' heel, but did you know there were only a dozen players in the Association who posted a better defensive plus-minus than Durant?

Chad Ford, ESPN.com: Too low. The league's scoring leader last season is just 23 years old and will only continue to get better with age. I understand why Dirk Nowitzki is higher than Durant on this list. He has the ring. But 30 out of 30 GMs would take Durant over Dirk. At the same age, Durant is much better.

Tom Haberstroh, ESPN.com: Too high, but barely. Look at the competition. Everyone here scores in droves, so where does Durant separate himself? Durant uses 30 percent of his team's possessions to score, but I'd like to see him to do more during that other 70 percent. He's not there yet, but I have no doubt he'll crash the top-5 party soon.

John Krolik, TrueHoop Network: Just right. You could make the case that he should be ahead of a certain point guard in the top 5 because he's been healthier and his teams have been more successful recently, but Chris Paul has more of an all-around impact on games when he's healthy and has just as good of a playoff résumé. I like this spot for Durant over an 82-game season and the playoffs, but if I had one game and my life depended it, I might take player No. 7 instead.

David Thorpe, Scouts Inc.: Just right. He's obviously one of the true elite scorers in basketball and a fantastic teammate, as well. That alone is a rare combination. Factor in his terrific work ethic and his easygoing personality and he is the perfect player to build around. But, and it's a big but, he's still young and relatively deficient at defense while still learning the nuances of high-pressure NBA playoff endgames. He's No. 6, and rising.
---
2. Kobe Bryant at No. 7: Too high, too low or just right?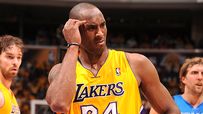 Kevin Arnovitz, ESPN.com: Just right. It's nearly impossible to separate Kobe's contributions from the radioactive debate that surrounds him, but let's try. Last season, Bryant rebounded from an injury-riddled 2009-10 season to rank fifth in PER and sixth in both value added and estimated wins added. So while I might not buy the clutch mythology, Kobe's overall game as the NBA's highest-usage player last season was pretty remarkable.

Chad Ford, ESPN.com: Too high. Kobe's had remarkable staying power for a player who has 15 seasons under his belt. But at 33, the odds are piling up against him being an elite player much longer. Can't justify No. 7 when the reigning MVP is just 23 years old and sitting at No. 8.

Tom Haberstroh, ESPN.com: Just right. Kobe remains one of the best players in the game at age 33, and that's an incredible achievement considering he has more miles on him than a 747. However, the Lakers don't need him gunning like 2006 Kobe Bryant with this squad, or at this age.

John Krolik, TrueHoop Network: I'm going to go with just right. At Kobe's age, there's a decent chance he might not be one of the 10 most effective players in basketball over the course of a full season, but I wouldn't pick six players ahead of him if I had one game to win. Kobe's not perfect in big games or big moments, but he's always relentless in big games and big moments, and that's a valuable quality.

David Thorpe, Scouts Inc.: Just right. Considering his age and mileage, this is simply phenomenal. At times I think Kobe is the best player in the game. But we're ranking guys on the overall, not just at some moments. The Kobe of today takes lots of plays off, on both ends of the floor. It's smart for him and his team because it buys him minutes in June, but it means there are six guys better than him now in the NBA over the entire season.
---
3. Derrick Rose at No. 8: Too high, too low or just right?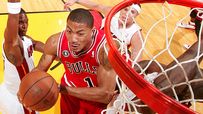 Kevin Arnovitz, ESPN.com: Just right. The LeBron vs. D-Rose MVP debate last spring was a real flashpoint between the competing schools of thought about how we value ballplayers. Rose's MVP trophy was a triumph of narrative over numbers, but this slot is a better approximation of where the dynamic point guard sits in the pecking order of NBA stardom. A little more refinement and Rose will jump the line ahead of some of his elders on this list.

Chad Ford, ESPN.com: Too low. If Derrick Rose were 6-foot-8 instead of 6-3 he'd be LeBron James. He's unstoppable going to the basket and his point guard skills are improving. In two more years, he could rival LeBron at the top of this list.

Tom Haberstroh, ESPN.com: Just right. If I had to choose a point guard to run my team, I'm still going with Chris Paul because he doesn't need to score to take over the game. As we saw in the playoffs, Rose's impact becomes hamstrung when his shot isn't falling, and that shouldn't be the case with a top-5 player.

John Krolik, TrueHoop Network: Just right. Rose is great and is fortunate to lead a team with a great defensive foundation, but I think he's still on the outside looking in on the true "best player in the NBA" debate. He can get there, but he'll have to make another big step up in his game and improve his scoring efficiency in order to do so.

David Thorpe, Scouts Inc.: Just right (man these rankings are good). I have him at No. 8 because he still is growing into his game, with holes that need to be cleaned up before he rises higher on this list. Specifically his deep shooting, of which he's average at best but takes lots of 3s anyway. This is a problem come playoff time. Still, along with Durant and Blake Griffin, this guy is the perfect "franchise" player because his talent is only surpassed by his phenomenally approachable attitude as a superstar, making his teammates adore him and his coaches love to coach him.
---
4. Deron Williams at No. 9: Too high, too low or just right?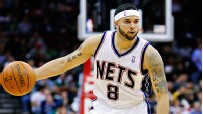 Kevin Arnovitz, ESPN.com: Too high -- and I write this as someone who worships at the altar of D-Will. Williams played only 65 games last season and his unceremonious departure from Salt Lake overshadowed anything he did running point for the Jazz and Nets. On the court, he didn't command the game the way he did in 2009-10, and once he arrived in Newark, he couldn't find the net with a miner's cap.

Chad Ford, ESPN.com: Just right. I think the Chris Paul-Deron Williams debate is effectively over. Ditto for Derrick Rose. While Williams fans will cry that he's always underrated because he lacks flash, I just don't see him willing a team to victory the same way Paul and Rose can.

Tom Haberstroh, ESPN.com: Just right. He certainly hasn't been doing himself any favors by looking swollen and fumbling through his Besiktas stint, but NBA players don't adapt to Euro ball overnight. Aside from Chris Paul, Williams remains the most complete point guard in the league. If Mikhail Prokhorov can sign him long-term, Brooklyn will be in good hands.

John Krolik, TrueHoop Network: Too high. Deron was 20th in PER last season, didn't come close to sniffing the playoffs, and isn't an impact player on defense. Oh, and at age 27, he's older than LeBron James. Puzzling ranking to me.

David Thorpe, Scouts Inc.: Too high, and considerably so. His brand name has always been slightly better than the product. Williams is a great player but I've never seen him as a great leader, and that's an issue as a point guard. He might match-up well typically with CP3, which helps his hype machine, but he's not one of the 10 best players in this league. And don't forget, now that he's not in Utah, his chances of pulverizing other guards in the paint thanks to the inverted flex are gone.
---
5. Blake Griffin at No. 10: Too high, too low or just right?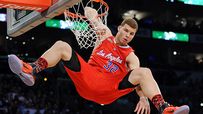 Kevin Arnovitz, ESPN.com: Just right. Naysayers will inevitably bristle at a ranking that vaults Griffin ahead of Pau Gasol and Amare Stoudemire, but Griffin's exploits above the rim can be quantified. Only Dwight Howard made more shots in the basket area per game than Griffin (nobody else was close). The goal of a big man isn't to convert low-percentage shots at a reasonable rate -- it's to render those shots irrelevant altogether. After 82 career games, Griffin has no equal among NBA power forwards in that respect.

Chad Ford, ESPN.com: Just right. You could argue that virtually everyone in the 11-15 range, based on their résumés, deserve to be ahead of Griffin. But on pure potential and upside, if he can stay healthy, he's got the chance to be the best power forward in the NBA for the next decade.

Tom Haberstroh, ESPN.com: Too high, by a spot or two. He's Zach Randolph if Randolph dropped four dimes a night. He's Amare Stoudemire if Stoudemire could rebound. People may think Griffin's repertoire is limited to posterizing opponents, but those people couldn't be more wrong. He has some work to do defensively, but Vinny Del Negro isn't doing him any favors there. Top-15 player as a rookie? Scary.

John Krolik, TrueHoop Network: Way too high. Griffin could easily be a top-five or top-three player sooner rather than later, but he's played one season on a team that won 32 games, he's a horrible defender at a time in the NBA when power forwards have never been more important to a defense and he still doesn't have post moves over his right shoulder or a reliable midrange jumper. Blake's one of my favorite players in the league, but this ranking is premature. We have to know what a player looks like on a good team before calling him a top-10 player.

David Thorpe, Scouts Inc.:
Too high. Maybe not in 2013, but this is the case in 2011. Griffin's outrageous physical skills and his disposition to destroy people are huge and wildly unique talents in the regular season, but we still don't even know how effective he can be in a postseason game or even in meaningful late-season games. There are a number of less athletic but far more skilled and productive guys listed below him that we know can dominate a playoff series. To be a top-10 player, that much needs to be a given.


ESPN.com and the TrueHoop Network
Kevin Arnovitz, Chad Ford, Tom Haberstroh and David Thorpe cover the NBA for ESPN.com. John Krolik contributes to the TrueHoop Network and ESPN.com.