There's little debate the final five players remaining are among the game's greatest. But exactly how do you order them? If #NBArank must split hairs at this point, so be it. Rage on, debate, rage on.

Which NBA ballers deserve their spots in the top five? Who should be bumped up or back? Our five-man squad weighs in on the best of the best:
1. LeBron James at No. 1: Too high, too low or just right?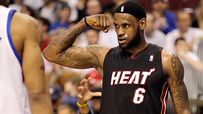 Henry Abbott, ESPN.com: Just right. It's a loaded, emotional issue, but if there are any objective people left -- Daryl Morey, for instance -- they'll tell you. No, his footwork isn't perfect. Yes, his jumper needs fixing. Sure, he had a bad crunch time when it mattered most. But put together his total contributions at both ends of the floor, many of which come from his size (so what?), and nobody produces like this dude.

J.A. Adande, ESPN.com: Just right. Sigh. This feels like the golf and women's tennis rankings, in which the No. 1 players never win championships. LeBron's array of skills is unmatched. He just doesn't put them all to the best use.

Mark Haubner, TrueHoop Network:
Just right. I guess. Following the Eastern Conference finals, I thought LeBron had fully re-established himself as unquestionably the best player in basketball, but after another strangely passive playoff performance in the Finals, I don't know anymore. I firmly believe LeBron's subpar play now has cost his teams championships in two straight seasons. Maybe No. 1 is better left as "Vacant" for now.

John Hollinger, ESPN.com: Just right. I understand the criticism -- how can you put him at No. 1 when he hasn't won a championship? But day in, day out, he's the best player in the league right now.

Marc Stein, ESPN.com: Too high. LeBron is still the best all-around player and best two-way player in the game on this scorecard. But you can't be No. 1 if you fall as far short in the finishing department as he did in the NBA Finals. He has to take a dip after that performance. It's only proper.
---
2. Dwight Howard at No. 2: Too high, too low or just right?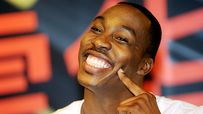 Henry Abbott, ESPN.com: Just right. Like James, Howard angers some fans by having such a big chunk of his expertise tied to his incredible physical gifts. But so what? He's the best defender in the league and the anchor of an elite offense.

J.A. Adande, ESPN.com: Too high. Clearly, he's the best defender on the whole list. But he is not as great a threat with the ball in his hands, especially when he's standing at the free throw line. And it's time for him to assert himself as a leader.

Mark Haubner, TrueHoop Network: Just right. Dwight is the most dominant defensive force in basketball by a wide margin. Offensively, he's expanded his game in the low post and the midrange such that he averaged a career-high 22.9 points per game in 2010-11, on 59 percent shooting. Plus, he averages 81 games played. Howard just needs better teammates. The big question now is: Where will he find them?

John Hollinger, ESPN.com: Just right. I thought Howard had a legitimate MVP case this past season. You can argue he's more valuable than any other player because of the scarcity of quality 5s, but it's more difficult to argue he's the best in a vacuum.

Marc Stein, ESPN.com: Just right. There are maybe 10 full-fledged franchise players in the NBA, and he's the only center in that exclusive club. As maddening as his offensive limitations and intermittent intensity can be, Dwight still affects a game like no other defensively. He'll never get to No. 1 unless he addresses those shortcomings, but he's not going to be dislodged from No. 2 any time soon, either.
---
3. Dwyane Wade at No. 3: Too high, too low or just right?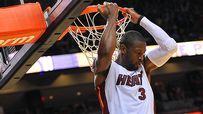 Henry Abbott, ESPN.com: Just right. The highest-ranked player who is roughly the size of ordinary humans, and therefore likely the one who does best in the comments. One of the worst things about the SuperFriends in Miami is that the team is fairly balanced now. Back when Wade had to do everything, the highlights were outrageous. With James' size, Wade clearly would be the best player in NBA history.

J.A. Adande, ESPN.com: Too low. The best combination of ability, decision-making and moxie in the league. How many other players could add the reigning MVP to their roster and still maintain "ownership" of the team?

Mark Haubner, TrueHoop Network: Just right. Beyond D-Wade's well-documented stat-stuffing brilliance, what I marvel at most is how often the 6-foot-4 shooting guard helps provide basket protection for Miami's elite team D. After constant injuries seemed to be threatening to turn him into another Penny Hardaway/Tracy McGrady-style flameout, it's been great to see D-Wade average 77 games played with high production over the past three seasons.

John Hollinger, ESPN.com: Just right. In fact, I'd argue this is the easiest call on the board. There are two players in the league who are clearly better than Wade, but he's clearly better than everyone else.

Marc Stein, ESPN.com: Too high. But by only a sliver, because he's got to be in the top five somewhere. He continues to make huge shots even though he's not a natural shooter and he routinely sprinkles in the sort of effective playmaking when necessary that we always wanted to see (but rarely did) from another killer scorer: Allen Iverson. There were multiple moments in the Finals, even as the Heat were flaming out, that left you marveling at what a wrecking ball D-Wade can still be when fully healthy.
---
4. Chris Paul at No. 4: Too high, too low or just right?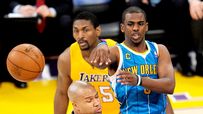 Henry Abbott, ESPN.com: Too high, if he still lacks explosion due to injury. Too low, if he's as fast and explosive as ever. The only way I have found to fully appreciate his game is to watch in slow motion -- in the arena, I can barely keep up. Hugely underrated reality: He's an unbelievable wizard in crunch time.

J.A. Adande, ESPN.com: Too high. Has phenomenal effect on games for his size, utilizes his teammates ideally. But he hasn't shown he can carry a team deep into the playoffs, and that's something a top-five player should be able to claim.

Mark Haubner, TrueHoop Network: Too high. Oh, it pains me to say it. When CP3 is playing to his abilities, he puts on clinics of point guard play that are a joy to watch, and there's no question he belongs here. But, presumably because of his troublesome knee, there are too many nights when he's too passive and the production is just not enough.

John Hollinger, ESPN.com: Too high. I already wrote about this extensively, but I'm as big a CP fan as there is and even I was surprised to see him in the top four. Even after his strong 2010-11 season, he didn't get a single vote in the top four of the MVP voting, finishing 13th overall with just two fifth-place votes. I'm much more comfortable with him in the second five.

Marc Stein, ESPN.com: Too high. Yet that's more because I can't quite figure out how Kevin Durant and Kobe Bryant aren't in the top five than because of any desire to evict CP3. I am addicted to point guards and want at least one up here. Chirp at me all you want about his supposedly suspect knees and the fact that he hasn't been to the deepest reaches of the playoffs, but what about the small fact that he's been on only one team that could have gone anywhere ... and that one lost a seven-game epic with San Antonio in 2008. I prefer to believe those multiple detonations in the playoffs are evidence that CP3 will be back to full operating capacity if this lockout ever ends.
---
5. Dirk Nowitzki at No. 5: Too high, too low or just right?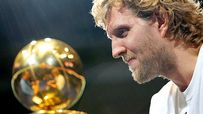 Henry Abbott, ESPN.com: I'd have said too high another time, but this year just right. In addition to an essentially perfect title run, he deserves Nobel consideration for being the epicenter of a team that celebrated each other's successes despite volatile personalities at nearly every position, from owner to point guard.

J.A. Adande, ESPN.com: Too low. When last we heard from the NBA, Dirk beat Kobe Bryant, Kevin Durant, LeBron James and Dwyane Wade in the playoffs. And he did it without another All-Star by his side. He might be even better now with the confidence boost players get once they grab the trophy,

Mark Haubner, TrueHoop Network: Too low. I'd have Dirk at 4 after the charmed 2011 playoff run. Nowitzki illustrates how particularly challenging these rankings are at present. He's unquestionably the reigning king of basketball, but I can't say that I'd call him "the best." Still, it's a wonder he's this high at 33. With his unprecedented combo of size and shotmaking, Dirk's game has aged beautifully.

John Hollinger, ESPN.com: Too low. The hairs we're splitting among spots 4-8 are pretty thin ones. Look at their recent bodies of work, and it's hard to choose ... except that only one of the five crushed all comers in the playoffs this past season. Advantage, Dirk.

Marc Stein, ESPN.com: Too low. Way too low. This is a joke, right? After everything we just saw from Nowitzki in the playoffs, powering a one-star construction to the title Hakeem Olajuwon-style with the most unstoppable single shot (that inimitable one-legged J) since Kareem Abdul-Jabbar's skyhook, we're ranking him fifth? Maybe this is the only season we can ever say so, but Dirk deserves to start it -- if it ever starts -- at the very top.


ESPN.com and the TrueHoop Network
J.A. Adande, Henry Abbott, John Hollinger and Marc Stein are senior writers for ESPN.com. Mark Haubner covers basketball for the TrueHoop Network blog The Painted Area.