Even in the midst of a lockout, news travels fast around the basketball world.

To help bring you up to speed, our 5-on-5 panel focuses on five of the biggest debates on the minds of hoop heads in recent days:
1. Magic's LeBron knocks: On target or cheap shots?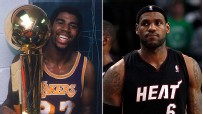 Zach Harper, Daily Dime Live: Yes. It's on target in the sense that it is ridiculous to compare a 26-year-old player to guys that are either retired or have gone through as much of a career as Kobe (16 years). LeBron can't think about approaching these guys in his eight seasons. They're also cheap shots because if you're going to compare them, using championships is an archaic measuring stick.

J.M. Poulard, Warriors World: On target. Professional sports are like roasts: Everything is fair game. And thus, much like the media crucified Magic for his struggles in defeat against the Celtics in the 1984 Finals, Johnson poked fun at LeBron for his shortcomings in the 2011 Finals. I'm curious, though: Was Magic offended by the media comparing LeBron to him?

Eddy Rivera, Magic Basketball: Cheap shots. Yes, LeBron hasn't played up to his standards at times in the playoffs, but no player is perfect. Even Magic himself screwed up during his Hall of Fame career, infamously coming up short in many crunch-time moments during the 1984 NBA Finals and earning the nickname "Tragic Johnson" for a period of time. Magic's comments were unnecessary.

Noam Schiller, Hardwood Paroxysm: Cheap shot. Magic should know just how fickle media criticism can be -- he went through his own crunch-time struggles back in the mid-'80s, and he managed to flip the script en route to five titles. Since a man so deeply entrenched in Lakers culture is pumping up Kobe Bryant at the expense of a rival player, it doesn't give off the most objective vibe.

Michael Wallace, ESPN.com: Cheap shot. Magic's initial line suggesting LeBron wouldn't win a championship was a low blow. But he was fair to point out that LeBron isn't on Jordan's level and that he hasn't accomplished as much as Kobe. But to joke that he'll never win a title was a bit harsh. Perhaps Magic was getting in a little dig on behalf of his new business partner, Cavs owner Dan Gilbert.
---
2. Dirk denied, then invited: Should he say yes or no?
Editor's note: Nowitzki has since agreed to toss the first pitch in Game 3.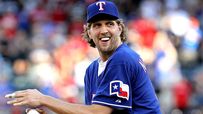 Zach Harper, Daily Dime Live: Dirk should absolutely throw the first pitch of World Series Game 3 in Texas. It would be fun to stick it to baseball for initially coming up with such a moronic display of "solidarity" to the NBA for a lockout they have nothing to do with. However, this isn't about baseball. It's about Dirk helping the Dallas/Texas community celebrate what the Rangers have done. Throw the pitch and then stare at Bud Selig.

J.M. Poulard, Warriors World: The Cowboys have a losing record and everybody keeps waiting for the other shoe to drop with the Texans. Consequently, Dirk is the man in the state right now. After getting denied by MLB and then receiving an invite, Dirk should tell them, "I own Texas. Maybe you should give me a call a little later..."

Eddy Rivera, Magic Basketball: Yes. It'd be silly for Dirk to decline the offer, just as it was silly for MLB to reportedly deny the invitation in the first place. Dirk is more than deserving of the honor after his legendary postseason run, and it's puzzling that it took a flurry of bad press and negative publicity before baseball realized the error of its ways.

Noam Schiller, Hardwood Paroxysm: Dirk should say yes. Sure, this whole mess could have easily been avoided, but the first pitch is a fun ceremonious thing for both the "pitcher" and the fans. Dirk still gets his fun this way, and the fans shouldn't be affected by the pettiness that was originally expected to deny Dirk the honors.

Michael Wallace, ESPN.com: Say yes. But if I'm Dirk, I'd wind up, aim high and tight and fire right in the direction of Bud Selig for this pettiness. All Dirk wants to do is support the Rangers' quest for a title. But the NBA Finals MVP is classy and smart enough to rise above these antics, the same way he ignored Dwyane Wade and LeBron James mocking his flu-like symptoms in the Finals to torch the Heat.
---
3. More enticing celebrity owner: Will Smith (76ers) or Jay-Z (Nets)?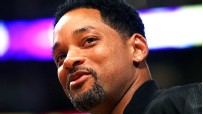 Zach Harper, Daily Dime Live: I love "Willenium" as much as anyone, but Will Smith doesn't have the Q rating with the NBA community that Jay-Z does. While Will Smith is one of the biggest movie stars in the world, Jay-Z is in the players' iPods before games and in the arena music during play, and he's a more culturally relevant icon than Smith. Maybe if they do a "Fresh Prince of Bel-Air" reunion...

J.M. Poulard, Warriors World: Will Smith. This one is easy. Every 76ers home game should start like this: "In West Philadelphia, born and raised, on the playground is where I spent most of my days..." Jay-Z may resonate in Brooklyn in a few years, but Big Willy is the proverbial hometown kid that fans will immediately connect with.

Eddy Rivera, Magic Basketball: Will Smith. Both owners have a hometown connection with their respective franchises, but Smith has the edge because even if it's not going to happen, the mere thought of DJ Jazzy Jeff becoming the official DJ and public address announcer for the Philadelphia 76ers would make hip-hop and "The Fresh Prince of Bel-Air" enthusiasts' heads explode.

Noam Schiller, Hardwood Paroxysm: Will Smith with the Sixers. Jay-Z is no chump in the big-name game, but Smith is a family-friendly consensus. Also, no disrespect to the head of Philly's incoming ownership, Joshua Harris, but the shadow he casts doesn't begin to approach that of one Mikhail Prokhorov.

Michael Wallace, ESPN.com: For now, Jay Z. Because when was the last time you heard any NBA player blasting "Parents Just Don't Understand" through oversized headphones in the locker room before a game? But Will does have a few advantages. His 76ers have far greater tradition and no competition in the market from another NBA team. However, Hova's influence didn't get the Nets far in 2010 free agency.
---
4. Outrage over Melo not being in #NBArank's top 10: Right or wrong?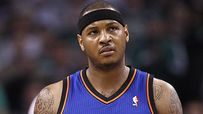 Zach Harper, Daily Dime Live: I'm fine if you have a problem with Blake Griffin making the top 10 over Carmelo Anthony, but honestly I don't see why either player would be considered a top-10 player in the NBA right now. Melo is really good and I'd have him in my top 15 for sure. But there is just too much talent at the top of this league right now.

J.M. Poulard, Warriors World: I think Carmelo is somewhat overrated, so his exclusion from the top 10 is on point. Denver was better with him off the court last season, and the post-trade Knicks were only marginally better with him on the floor. Doesn't sound like a top-10 guy, does it?

Eddy Rivera, Magic Basketball: Wrong. As subjective as player rankings can be, Melo was ranked No. 15 overall by CBS, No. 20 by Sports Illustrated and No. 12 by ESPN.com, so it's not like there's some conspiracy going on. Melo isn't a top-10 player because of his defense. The elite players in the NBA perform at a high level on both ends of the floor. Melo does not.

Noam Schiller, Hardwood Paroxysm: Wrong. Melo is a talented scorer and an elite rebounder, but his inefficiency is a major roadblock to elite status, as is his lax defense. Of the 11 players ranked above Melo, only Blake Griffin is somewhat miscast, and several players ranked beneath the Knicks forward are more productive than him around the boards.

Michael Wallace, ESPN.com: Right, sort of. Because you can certainly make a case that Melo is as deserving of a top-10 ranking as Deron Williams, Chris Paul and especially Blake Griffin. And give me one significant difference between Anthony and Kevin Durant in terms of their individual games. Carmelo has a case for being left out of the top 10. But Kobe, at No. 7, has an even bigger beef for not being in the top five.
---
5. Better MC: Kevin Durant (watch) or Shaquille O'Neal (watch)?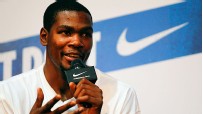 Zach Harper, Daily Dime Live: What was the question? Sorry, I was listening to "Willenium" on loop. Durant definitely has a better flow than Shaq ever did, but Shaq also released a pretty great single with Fu-Schnickens in which he reminds you that he was the first pick over Christian Laettner and Alonzo Mourning. I'll go with KD, but regardless of whom you pick, they'll sell more records than Troy Hudson...

J.M. Poulard, Warriors World: Being an MC (at least to me) isn't just about rocking the microphone, it's also about entertainment, stage presence and setting the booth on fire. Shaquille O'Neal wins that battle hands down with his breakdancing, clever word play, his song "Can We Rock?" and, obviously, the Kobe rap heard all over the world.

Eddy Rivera, Magic Basketball: Shaquille O'Neal. Confession: This choice was made partly because it's hard to discern Durant's technical delivery and lyrical quality within the YouTube video that's making the rounds around the Internet. That being said, for Shaq to go platinum with a hip-hop album in 1993 -- When Nas released "Illmatic" and Biggie put out "Ready to Die," among other classics -- is nothing short of remarkable.

Noam Schiller, Hardwood Paroxysm: I'm hardly the person to judge any form of rap, but I'll give the advantage to KD for the intangibles: wearing a hat that doesn't look ridiculous, and bringing his teammate up on stage with him. It's adorable attributes such as those that make him the NBA's golden boy. Though I really wanted to see the backpack, too.

Michael Wallace, ESPN.com: This one's not even close. Only one of these guys had the versatility to share a mic with Biggie and Michael Jackson. Plenty of ballers think they can rap. Only one actually had anywhere near remote success at it. And only one could come up with a line like, Supercalifragilistic Shaq is aladocious. Durant, like me, is from Washington, D.C. Everyone knows we do "go-go," not rap.


ESPN.com and the TrueHoop Network
Michael Wallace covers the NBA for ESPN.com and the Heat Index. Zach Harper hosts the Daily Dime Live chat. J.M. Poulard, Eddy Rivera and Noam Schiller contribute to the TrueHoop Network.