Marc Stein and Chad Ford broke down all 30 teams' current plans to use or not use the upcoming amnesty clause. Our 5-on-5 crew debates five of the most interesting cases:
1. Fact or Fiction: The Blazers should cut Brandon Roy.
Jordan Heimer, ClipperBlog: Fact. Cutting Roy will be a strange animal -- simultaneously a heartbreaker and a no-brainer. Portland simply can't afford to pay nearly $70 million over the next four seasons for a sixth man with cartilage-free knees, no matter how important Roy has been to the franchise.

John Hollinger, ESPN.com: Fact. Roy was even worse after his midseason surgery than before it, save for one glorious quarter against Dallas. Cutting this salary cap anchor is a no-brainer.

Beckley Mason, HoopSpeak: Cold hard fact. Unless the Blazers can get Roy to undergo Kobe Bryant's "futuristic German vampire" knee procedure, Roy's game will only deteriorate as bone scrapes bone in his most precious joint. Luckily for the Blazers, LaMarcus Aldridge looks every bit the franchise player Roy did a couple of years ago. Aldridge's ascension makes cutting Roy even more obvious.

Michael Schwartz, Valley of the Suns: Fact. In the NBA's new financial landscape, nothing will be more important than avoiding long-term albatross contracts, even if that guy used to be the face of your franchise and should be in his prime. So long as Brandon Roy isn't a max contract player in terms of ability, the Blazers can't afford to pay him like one.

Timothy Varner, 48 Minutes of Hell: Fact. Given Roy's wheels and salary, it's not difficult to see this from the Blazers' perspective. But I'm not sure why Roy's camp wouldn't lobby Portland to cut him loose. Roy is ideally suited to help fill out rosters in cities like Miami, New York, San Antonio, Chicago, Dallas, New Orleans and Los Angeles.
---
2. Fact or Fiction: The Lakers should cut Metta World Peace.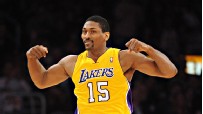 Jordan Heimer, ClipperBlog: Fiction. Cut Metta World Peace? Are you crazy? He'll pay for his salary in No. 37 World Peace jerseys alone, regardless of what he does on the court. (Plus, Luke Walton pulled down more than $50,000 per point last year. Unless he changes his name to Cherry Garcia, he's a candidate.)

John Hollinger, ESPN.com: Fiction. The obvious cut here is Luke Walton; in fact, I'd argue Metta is only fourth on the to-go list after Walton, Steve Blake and Derek Fisher. Depending on how punitive the new luxury tax is, we may also see the Lakers trade one of these players to be cut by another team while they wield the hatchet with a second.

Beckley Mason, HoopSpeak: Fiction. The artist formerly known as Artest is being paid like he was when he dominated the wings in Indiana. But MWP's rebranding can't mask a stale product, even in makeover-friendly L.A. Still, Walton doesn't play, so expect his surgically repaired back to be surgically removed from L.A.'s bench.

Michael Schwartz, Valley of the Suns: Fiction. This would not be the case if not for the presence of Luke Walton. The Lakers would save only about $2 million more the next two years by choosing Metta over Luke (plus another $6 million in 2013-14), and then they would still need a starting small forward. World Peace might not be a great option after all.

Timothy Varner, 48 Minutes of Hell: Fiction. Metta World Peace simply isn't a game-changing player anymore. His defense is solid, but it's no longer fantastic, and it hasn't been for a few seasons. But in this case, Luke Walton will save Peace from amnesty. I suspect Mike Brown sees enough game left in MWP to make him a rehabilitation project.
---
3. Fact or Fiction: The Heat should cut Mike Miller.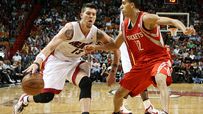 Jordan Heimer, ClipperBlog: Fact. Unlike some of the other players on this list, Miller, due $24 million over the next four seasons, is actually worth the money he makes … just not to the Heat, who need cap room in order to address glaring holes at point guard and center.

John Hollinger, ESPN.com: Fact. Miller hasn't been good in three years and still has four overvalued years left on his deal. Spot-up shooters can be found cheaply, and unlike Miller, many of them require little prodding to shoot when they're open.

Beckley Mason, HoopSpeak: Fact. The Heat's fourth-largest contract goes to a guy who plays the same position as its two best players. That's the sort of luxury that will be taxed, heavily. I imagine everyone in Miami wants to see Miller with fully opposable thumbs, but Miami may need that cash for non-wing positions.

Michael Schwartz, Valley of the Suns: Fiction. The Heat will still surpass any soft cap in salary with or without Miller, and they need all the depth they can get with cap exceptions likely mitigated. Therefore, Miami can't afford to say goodbye to Miller, who is still an excellent fit when healthy.

Timothy Varner, 48 Minutes of Hell: Fact. This will be a tough call for Riley and Co. Miller is undoubtedly a player of diminishing value, but his presence provides some continuity to a roster that is already turnover heavy. Unfortunately for Miller, the next CBA is reportedly laden with super taxes. Ultimately, in a world of cost/benefit analysis, Miami benefits more from cutting Miller loose.
---
4. Fact or Fiction: The 76ers should cut Elton Brand.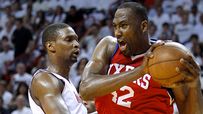 Jordan Heimer, ClipperBlog: Fact. The Sixers won't cut Brand, but they should. Before starting 81 games last season, Brand started 86 games combined the previous three. Gambling $35 million on Brand's health is a hefty wager for a player who, at his best, will never sniff another All-Star Game.

John Hollinger, ESPN.com: Fiction. Brand was still a valuable player last season; additionally, while he wasn't worth anywhere close to his contract valuation, the Sixers have no means of replacing him. The more logical play in Philly is to cut loose the pure dead weight of Andres Nocioni's contract.

Beckley Mason, HoopSpeak: Fiction. Brand's contract looms large, but scarier is the idea of Philadelphia's offense without a reliable post threat. The 76ers have money to burn under any feasible CBA, so Brand's contract is OK, though obviously overpriced (unless there's a free agent out there they'd rather give that loot to). Cut Nocioni and use the savings to ensure Thad Young gets paid.

Michael Schwartz, Valley of the Suns: Fiction. I'm sure the Sixers would love to be relieved of Brand's contract, but remember, they still have to pay it in full even if they amnesty him. Considering he is still an effective albeit overpaid player, it just doesn't make sense to swallow hard on his deal.

Timothy Varner, 48 Minutes of Hell: Fact. The question asks whether the 76ers should waive Brand, and despite his improved play, the answer is yes. Neither he nor the team serve one another's immediate or future interests. Philly should waive Brand, buy out Nocioni, trade Iguodala and start fresh.
---
5. Fact or Fiction: The Celtics should cut Jermaine O'Neal.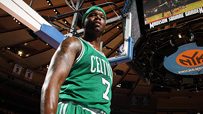 Jordan Heimer, ClipperBlog: Fact. I've read that Danny Ainge loves Jermaine O'Neal, and is unlikely to waive him. Huh? Because when $6.2 million, plus an onerous luxury tax hit, gets you 5 points and 3.5 rebounds per game, what's not to love? (Although he does look good in a suit.)

John Hollinger, ESPN.com: Fact. This is a close call since it's just a one-year deal, but the Celtics are flirting with the luxury tax line as it is, plus they can sign somebody like Jeff Foster for less and get more effective play.

Beckley Mason, HoopSpeak: Fiction. Is it more shocking that the Celtics don't have much dead weight on their gargantuan payroll, or that Jermaine O'Neal, in his 16th season, will be their starting center? Having failed for years to draft a decent player, the Celtics are somehow getting even older, but O'Neal's contract won't bury them. Young legs in Miami and Chicago will, though.

Michael Schwartz, Valley of the Suns: Fiction. There's just no reason to with the Celtics firmly entrenched in win-now mode and O'Neal capable of providing much-needed depth up front, especially when he's owed only $6 million. But what if Boston could amnesty KG's monster salary and then re-sign him at a lower price? If allowed, that would be the ideal solution for the Celts.

Timothy Varner, 48 Minutes of Hell: Fiction. Boston's lack of frontcourt depth works in O'Neal's favor. But the question is whether Boston will be financially capable of replacing O'Neal with a less expensive player. It looks like Boston will be tax-burdened with or without O'Neal. Given the Celts' title aspirations, the player they have is better than the player they can't sign.


ESPN.com and the TrueHoop Network
John Hollinger is a senior writer for ESPN.com. Jordan Heimer, Beckley Mason, Michael Schwartz and Timothy Varner contribute to the TrueHoop Network.