What else is on your mind besides the lockout?
We asked you on Twitter Wednesday night for the most interesting NBA-related questions you could think of -- with only one rule: No lockout! Now, we toss them up to our experts and play a little 5-on-5.
Game on!
1. Which NBA player would you start your team with today?
Submitted by @NotRegisPhilbin, via Twitter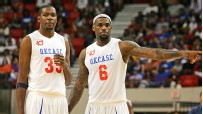 Henry Abbott, ESPN.com: My perfect candidate would be a rookie, so I could build around him with young players, on the cheap, before the title window opens. However, no current rookie trumps LeBron James, who I see as the best player in the NBA and someone who's likely to be contributing for a long time, as he's fairly young and without any dire history of injuries.
J.A. Adande, ESPN.com: Kevin Durant. As prolific a scorer as there is in the league, and he's only 23 years old -- four years away from his prime. He's already learned playoff lessons from Kobe and Dirk. His defense will get better. And he loves the game.
Chad Ford, ESPN.com: LeBron James. He's the best player in the league, he's still only 26 years old and he's versatile enough that you could build around him in multiple ways. Dwight Howard and Kevin Durant are the other two options for me ... but I'm picking Bron.
John Hollinger, ESPN.com: The answer remains LeBron James until further notice. Despite his postseason shortcomings he's still the one player most likely to get your team to June.
Marc Stein, ESPN.com: I'd have to give the edge to Kevin Durant over D-Rose, Dwight and LeBron as much as for his willingness to re-sign with OKC as any of his basketball gifts. He's already proved he'll stick with you regardless of market size if he believes in the program. LeBron or Dwight still check more boxes as a franchise anchor -- despite their well-chronicled limitations -- but you didn't say my team would be based in Miami, L.A. or New York.
---
2. Who is the favorite to win it all in a lockout-shortened season?
Submitted by @elmiaminino, via Twitter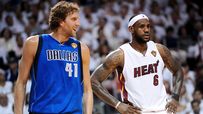 Abbott: It will be a delicious season, if we can get there. Last season's finalists -- the Mavs and Heat -- will both be in the mix, and the Bulls and Thunder will be a year older and wiser. But a short season could be good for the old war horses. Out of the Lakers, Spurs and Celtics, some wily bunch would manage to exploit the short schedule.
Adande: Miami Heat. We don't know how all of the teams will be configured and what changes the new system will allow Miami to make, but we know the Heat will have three All-Stars. Even while learning to play with each other and with injuries to the supporting cast, they still came within two wins of the championship last season.
Ford: Dallas Mavericks. A lockout-shortened season is perfect for a veteran team that will likely return most of its key players. As long as the Mavs are able to lock up Tyson Chandler in free agency, I can't make an argument for why they won't repeat. If the season had gone a full 82 games, however, my money would've been on the Heat.
Hollinger: Have to go with Miami over Oklahoma City. The one advantage to a shortened season is that there's less time for one of Miami's Big Three to get hurt, which is the largest existential threat to their continued dominance of the East.
Stein: Without a summer of personnel moves to factor in? Gotta say Miami. We know the most about the Heat's ceiling based on current rosters. In our rush to blast them for the way last season ended, it's easy to forget how close the Heat came to winning it all despite all those holes.
---
3. If there's an All-Star Game, who is most likely to make his first trip?
Submitted by @mmm9731, via Twitter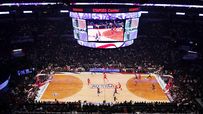 Abbott: Joakim Noah. He'll be the starting center on a team that will be crushing a conference that is short on centers. He'll also be on TV a lot, and he's hard to miss.
Adande: LaMarcus Aldridge. He deserved a spot on last season's squad, especially when you consider he averaged almost eight points per game more than Tim Duncan on the season. Will Duncan continue to get a spot based on career achievement, or is it time for a new wave to take over?
Ford: LaMarcus Aldridge. The West is overloaded with power forwards, but it will become increasingly harder to pick Tim Duncan with the way Aldridge came on last season.
Hollinger: LaMarcus Aldridge, who got the shaft a season ago thanks to the surplus of quality power forwards in the Western Conference but is unlikely to get short shrift again. Andrew Bynum, Josh Smith and John Wall are other good choices.
Stein: Andrew Bogut. He'll come back far closer to full health than he looked last season because of the extended break and he already was my No. 2 center in the East behind Dwight Howard. LaMarcus Aldridge is another obvious choice, but West forward is pretty much the worst position to play if you're trying to get an All-Star invite.
---
4. Kobe's next campaign: A bounce-back season or beginning of the end?
Submitted by @sonsun101, via Twitter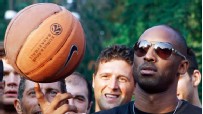 Abbott: I don't question his work ethic. I don't question his drive. I don't question his will. But those things have already been deployed to make him productive long past when most athletic players decline. The long layoff may well help, but if he has a season-long major bounce-back at this age, at an athletic position, after this many miles, it'll be the first of its kind.
Adande: Bounce-back season. An unusually early start to an unusually long offseason will provide him with the necessary restoration to his legs. Metta World Peace played with him in L.A. recently and said Kobe was lighting people up. And yes, I just partially based my opinion on a report from someone who changed his name to Metta World Peace.
Ford: Bounce-back season. I think the wear and tear of 15 seasons have taken a serious toll on Kobe. Keeping him out of the gym for a few extra months (or all of 2011-12) should rejuvenate him -- at least for one more season.
Hollinger: Not sure I agree with the line of questioning. While Kobe was perceived to be dropping off because of his playoff struggles, his regular season was actually substantially better than his 2009-10 campaign. That said, there's a very good chance he's won his last championship.
Stein: Have to expect a bounce-back. We're talking about the most motivated player in the world, for starters. And I tend to think that the extra rest he's getting right now has to help him in the long run because he takes such good care of himself. He clearly wasn't himself in the Dallas series, but he'll come back fresher.
---
5. By and large, will fans forgive or forget the NBA if and when it returns?
Submitted by @theOnlyJavier, via Twitter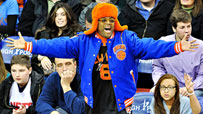 Abbott: Maybe not all of them. I sometimes meet former NBA fans who can't stand rich, spoiled athletes and say they haven't watched in years. I guess there will be a few more of those guys. But all the people who are irate about the lockout? You really expect me to believe they'd be emotionally wrapped up in this game during a work stoppage, but won't bother to click on the TV when the game is finally back?
Adande: Fans might forgive, but they won't fork over ... cash, that is. They'll watch games on basic cable, but won't shell out for NBA League Pass or buy tickets like they did before. The NBA and its players did not invest in the game's future, so there's no good reason for the fans to invest in the game.
Ford: We shouldn't., but we will forget. The reason we are all so upset about the lockout is because we really care about the game. David Stern and the players' union are banking on it. They know we may sit and protest for a few weeks. We'll boo like crazy on Opening Night. But the NBA's just too good to walk away from.
Hollinger: Forget. The league took years to rebound from the 1998-99 lockout. In one-sport towns like Portland and Oklahoma City, they'll be welcomed back with open arms, but in the Atlantas, Philadelphias and Denvers of the world we may see some sparse crowds.
Stein: Forget? No. Forgive? Yes ... eventually. It won't be immediate, but I expect the NBA to rebound far faster than it did after the lockout in 1998-99 and much faster than the leaguewide consensus would suggest. Sports is up there with any drug/vice/temptress we just can't quit. Sports break your heart and you keep coming back. Baseball had to cancel a World Series and overcome a seismic steroids scandal ... and what did we just see? Fans melting down with every pitch on Twitter when the Cards and Rangers played for the rings.
There will be undeniable damage in the short-term, but today's NBA has too many stars and compelling storylines not to be back where it was in less than five years. The Tim Donaghy scandal -- which could have taken a machete to the sport's image and credibility -- appears to have left what amounts to a scratch. The cut will surely be deeper this time, especially if the whole season is lost, but I'm not paying too much attention to anyone who claims to be "done" with the NBA. Not buyin' it.


ESPN.com and the TrueHoop Network
Henry Abbott, J.A. Adande, Chad Ford, John Hollinger and Marc Stein cover the NBA for ESPN.com.