John Hollinger broke down each player on the Knicks' roster. Now our 5-on-5 crew weighs in on what lies ahead for New York in 2011-12.
1. For which Knicks player is the 2011-12 season most important?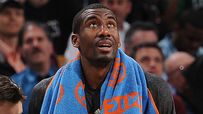 Ian Begley, ESPN New York: Since coach Mike D'Antoni won't be suiting up this year, the answer has to be Amare Stoudemire. In Year 2 with Carmelo Anthony, Stoudemire needs to develop a better feel for when to take a backseat to Anthony on offense, and when to assert himself. Too often last season, Stoudemire and Anthony seemed to be in each other's way.
Chad Ford, ESPN.com: Iman Shumpert. The Knicks want Chris Paul but don't really have the assets to get him. If Shumpert explodes early, they might be able to fashion a package of him, Landry Fields and Chauncey Billups' expiring contract that may intrigue the Hornets.
Mike Kurylo, KnickerBlogger: D'Antoni hasn't suited up since 1990, but this is a key season for him. The lame-duck coach has earned the wrath of talk-radio junkies for his lack of defense, although that's likely more the fault of personnel than system. Without Donnie Walsh's protection and with Mike Woodson breathing down his neck, D'Antoni has to produce now.
Robert Silverman, KnickerBlogger: Landry Fields. We still don't know whether he's the incredibly effective player we saw PrM (Pre-Melo) or the one who couldn't mesh with his new teammates/hit the rookie wall PoM (Post-Melo). Landry needs time on the court to continue to improve/refine his game and figure out how to succeed in a much more iso-oriented offense.
Jared Zwerling, ESPN New York: For simply the fact that he was banged-up during the most crucial part of last season, Amare Stoudemire. While Carmelo has to be on top of his game, if Stoudemire -- who not to mention has an aging, surgically repaired right knee -- is feeling less than 100 percent, then the Knicks will have an especially hard time fighting through another All-Star power forward in Chris Bosh and the Miami Heat.
---
2. Who is the most intriguing player on the Knicks' roster?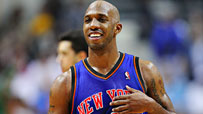 Ian Begley, ESPN New York: It's easy to say Anthony or Stoudemire, but I'm most intrigued to see what the Knicks will get out of a 35-year-old Chauncey Billups this season. Last season, Billups suffered through injuries and Toney Douglas struggled to fill the void. This season, the Knicks need Billups to stay healthy. Unless, of course, they decide to deal him midway through it.
Chad Ford, ESPN.com: Carmelo. Sometimes I think he's a star. Other times I'm left shaking my head. The Knicks put all their eggs in his basket and I'm just not sure he was worth it. Offensively, he can be a genius, albeit a selfish one, but defensively he's a dud.
Mike Kurylo, KnickerBlogger: Carmelo is the obvious choice, so I'll go with Fields instead. The bipolar second-rounder was a superb complement to the team for the first half of last season, but he turned into the hideous Mr. Hyde once Carmelo arrived. Knicks fans are curious which player will arrive in 2012.
Robert Silverman, KnickerBlogger: If this is a question of, "Whose tweets will I rabidly follow and hope against hope that he'll wear jorts with a blazer 'n' tie when on the inactive list?" the answer's Josh Harrellson. At best, he's probably a rich man's Matt Fish/Alan Ogg. Since I really dig seldom-used, immobile backup PF/C's, color me intrigued.
Jared Zwerling, ESPN New York: No question, Shumpert. The dude is an athletic freak (he has a 42-inch vertical leap) and defensive specialist, but as we all know what Mike D'Antoni is about -- offense -- it's unclear how the rookie will fit into his system. What will win D'Antoni over is shooting, just as Fields and 2009 rookie Toney Douglas displayed, and a positive sign is that Shumpert proved to the Knicks' coaching staff during his pre-draft individual workout that he can do just that.
---
3. What's the most surprising take in Hollinger's Knicks profiles?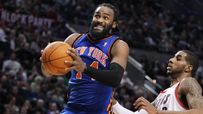 Ian Begley, ESPN New York: One of Hollinger's stats that stunned me most was Ronny Turiaf's awful rebounding rate (63rd out of 67 centers). I know that Turiaf is undersized and struggles on the glass, but that stat tells you all you need to know about why the Knicks got killed in the paint last season and why they need to get creative in adding another big before Dec. 25.
Chad Ford, ESPN.com: John's annual treatise on the efficiency of Billups. He has beaten this drum before on Billups; what surprised me was the guy right underneath him -- Danilo Gallinari. The news made me even more uncomfortable that the Knicks gave up Gallinari & Co. for Carmelo.
Mike Kurylo, KnickerBlogger: Of Douglas, Hollinger said his "defensive numbers from last season are very ordinary. The key here is that he hasn't yet figured out which players he can pressure on the dribble and which ones he needs to lay off against." This is must-have knowledge for Knicks fans who like to delve deep into the game.
Robert Silverman, KnickerBlogger: I didn't expect Carmelo to have the fifth-best rebound rate at small forward. My preconceived imago of Melo was Bernard King 2.0 -- a great, sometimes dominant offensive player who neither cared nor had the ability to exert himself on D or on the boards. Melo clearly has the ability to be a two-way player. The question is, will he...
Jared Zwerling, ESPN New York: Calling Anthony a "lethargic defensive player." While I will say Melo needs to be more consistent on the ball, he has the potential to be really effective on the defensive end, especially because of his 6-8, 238-pound frame. The issue has been that when Melo played in Denver, he never had another great scorer and so much was expected of him on offense. That can take a toll. Now with Stoudemire by his side for nearly a full season, Melo will be able to (hopefully) exert more energy on D.
---
4. Based on Hollinger's profiles, what do the Knicks need most?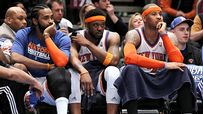 Ian Begley, ESPN New York: Hollinger's profiles underscore the Knicks' glaring need for help in the paint. In addition to Turiaf's rebounding struggles, Hollinger points out that the Knicks were outscored by nearly six points per 100 possessions with Stoudemire on the floor last season. No one is expecting Stoudemire to turn into Bill Russell this season, so senior vice president Glen Grunwald & Co. need to find a big man willing to take a one-year deal in the coming weeks.
Chad Ford, ESPN.com: Depth. Once you get past Amare, Carmelo and Chauncey, it's pretty bad. Landry Fields started to regress once Melo came on board. The next best player on the team is...?
Mike Kurylo, KnickerBlogger: Unsurprisingly, one theme that runs through Hollinger's profiles is New York's lack of a big man who can defend and rebound. The Knicks need a center who can erase the mistakes of Amare and Melo under their own basket.
Robert Silverman, KnickerBlogger: A center with an operant limbic system who can defend and rebound. Heck, I think there are lost tribes in Papua, New Guinea, that know what the Knicks' chief weakness is. To paraphrase former Knicks Grand Pooh-bah Rick Pitino, "Patrick Ewing, Willis Reed or even Nat 'Sweetwater' Clifton ain't walkin' through that door!"
Jared Zwerling, ESPN New York: The Knicks need a defense-and-rebounding center. It's as simple as that. They were in the basement last season in points allowed and window cleaning. I argued in an ESPNNewYork.com Hot Button that if the Knicks could choose between Dwight Howard or Chris Paul, they had to go with Superman. While Howard is unlikely to come to New York -- New Jersey seems to be the favorite right now -- the point is that the Knicks need an upgrade from Ronny Turiaf, Jared Jeffries and Shelden Williams -- combined.
---
5. Will a shortened season help or hurt the Knicks?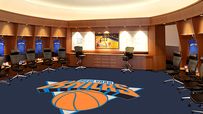 Ian Begley, ESPN New York: It helps Stoudemire's knees but hurts the Knicks. I think the shortened training camp hurts all teams that don't have a long history together. And the Knicks certainly fit that bill. Stoudemire, Anthony and Billups said again and again last season that they needed a full training camp to jell. Thanks to the lockout, they'll have just 16 days to do so before opening day versus Boston.
Chad Ford, ESPN.com: Should hurt. Depth and youth become important given the compressed nature of the schedule. Two of the top three Knicks are older and their bench is as shallow as they come.
Mike Kurylo, KnickerBlogger: Each year offense tends to improve as the season progresses, which implies that playing more with your teammates makes you a more efficient scorer. Unfortunately, the Knicks are offensively skewed, and their two best players haven't had a full season to jell. A shortened season may hinder New York more than other teams.
Robert Silverman, KnickerBlogger: Hurt. Neither Amare nor Chauncey needs the extra wear and tear on their knees and the back-to-back-to-backs could be deadly for the aforementioned duo. For a team lacking in ... ahem ... depth and a coach with a strange allergic reaction to playing more than an eight-man rotation, there'll be nights when the Bockers are huffin' and puffin' (as Clyde would say) and I'm bellowing, "Play Jerome Jordan fer Pete's sake!"
Jared Zwerling, ESPN New York: A shortened season concerns me for the potential number of back-to-back games, and I'm speaking directly to Stoudemire's health. It took him nearly the whole offseason to recover from his back injury, and while the season is only 66 games, it's going to be a grind. Not only that, he and Anthony didn't get a full one-month training camp to jell. Even during the summer, they were busy separately off the court, making their own promotional appearances.


ESPN.com and the TrueHoop Network
Chad Ford is an NBA draft analyst for ESPN.com. Ian Begley and Jared Zwerling cover the Knicks for ESPN New York. Mike Kurylo and Robert Silverman contribute to the TrueHoop Network.
• Follow ESPN's NBA coverage on Twitter | On Facebook