After breaking into the playoff picture in 2009-10, the Milwaukee Bucks had an 11-game drop-off last season. Can they bounce back? Check out John Hollinger's player profiles on each Buck, and then see what our 5-on-5 team has to say about it.
1. For which Bucks player is the 2011-12 season most important?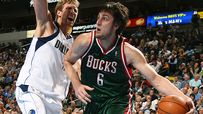 Kevin Arnovitz, ESPN.com: Because he's a No. 1 overall pick and the Bucks' highest-paid player, every season is an important season for Andrew Bogut. When healthy, he's one of the league's most elite defenders, shoving guys off the block and protecting the paint with impunity. He's developed a nice pick-and-roll game with Brandon Jennings. But expectation will continue to chase him.
Graydon Gordian, 48 Minutes of Hell: Andrew Bogut. Bogut is the only player on this roster who could have an All-Star season in 2011-12. It's critical that he stay healthy, reassert his role as the Bucks' first option and provide the consistent scoring that this team needs to compete for a playoff spot.
Brendan Jackson, CelticsHub: Andrew Bogut. Bogut was on his way to being a top center before being "Stoudemired" two seasons ago. His numbers dipped nearly across the board last season, and he hasn't played a full 82 since his rookie season. In his seventh NBA season, Bogut needs to prove that he's healed up and ready to make the jump to elite.
Beckley Mason, HoopSpeak: I'll go with Brandon Jennings, who is also my pick for most overrated player in the league. The talent is there, but the hype will fade if he can't be an above-average point guard in 2011-12.
Jeremy Schmidt, Bucksketball: It's a make-or-break season for Andrew Bogut. Locals have been complaining about his missing out on All-Star appearances the past two years, but Bogut's offense has held him back. If he can't show marked improvement offensively this season, 18 months removed from his elbow injury, it might be time to face the reality that he won't.
---
2. Who is the most intriguing player on the Bucks' roster?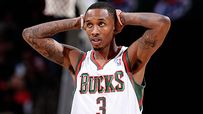 Kevin Arnovitz, ESPN.com: Brandon Jennings is really charismatic (maybe a little less so when he's launching 21-footers early in the shot clock). There's a nice blend of improvisation and purpose to his game and, on many nights, you can see the sketch of a more advanced point guard. Once Jennings builds some strength and passes up some of those long jumpers (or becomes more proficient shooting them), there could be a special player here.
Graydon Gordian, 48 Minutes of Hell: Brandon Jennings. Jennings has not consistently been the explosive scorer the Bucks direly need (and hoped he would be when they selected him 10th in the 2009 draft). Although his size (6-foot-1, 169 pounds) limits his potential, his quickness and solid shooting motion make it unclear just how far he is from his ceiling.
Brendan Jackson, CelticsHub: Larry Sanders. The Bucks' 2010 first-round pick, Sanders is big and athletic and had a productive college career. It's going to be interesting to see if he makes a significant jump. He could end up usurping the starting PF job from Drew Gooden because, well, why not?
Beckley Mason, HoopSpeak: Stephen Jackson, for reasons basketball and otherwise. How will he mix with Jennings and coach Scott Skiles? How much does he have in the tank? Can he help make the Bucks a winning team again?
Jeremy Schmidt, Bucksketball: Maybe it's because he's a new addition. Maybe it's because at his introductory press conference he said, "It's no time for being babies or being scared. Scared, go to church." Whatever the reason, it will be impossible not to watch Stephen Jackson assume leadership and the role of primary perimeter scoring option in Milwaukee.
---
3. What's the most surprising take in Hollinger's Bucks profiles?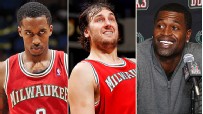 Kevin Arnovitz, ESPN.com: It's surprising to read that Stephen Jackson ranks second from the bottom in pure point rating at his position. I've always regarded him as a pretty decent distributor.
Graydon Gordian, 48 Minutes of Hell: I didn't realize just how limited the Bucks were offensively. Between Bogut, Jennings, Stephen Jackson, Drew Gooden and Beno Udrih, it would seem that Milwaukee has plenty of guys who can score. But given their age or specific limitations, they seem to mix in a particularly ineffectual way.
Brendan Jackson, CelticsHub: How often Bogut's points weren't assisted. I hardly think of Bogut as being a shot creator, which is why, as Hollinger points out, this low number (48 percent) is more of an indictment on the Bucks' guards. It's surprising how much Bogut's offense is self-created considering Jennings is quite the up-and-coming point guard.
Beckley Mason, HoopSpeak: The Bucks have only three players that Hollinger's formula predicts will have above-average PERs, and one of those guys plays with one arm. The only thing they have going for them is that they are enormous and decently athletic on the wings, so they need to turn that into easy points somehow.
Jeremy Schmidt, Bucksketball: Bogut's 0-for-28 on shots from beyond 15 feet isn't pretty. Before his elbow injury, the team talked openly about looking for him to begin expanding his range outside of the paint, since he had that ability in college and demonstrated it in international competition. Any hope on that front may have crashed when his elbow did.
---
4. Based on Hollinger's profiles, what do the Bucks need most?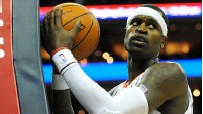 Kevin Arnovitz, ESPN.com: Some decongestant for their offense. The Bucks don't have a lot of efficient creators off the dribble. If Jennings can learn to finish, that'll help matters.
Graydon Gordian, 48 Minutes of Hell: A potent wing scorer. Given Jackson's age and slightly reckless style, Carlos Delfino's lack of explosiveness and Luc Mbah a Moute's shockingly limited offensive abilities, it's clear that the Bucks need to add a wing who can isolate himself and score consistently.
Brendan Jackson, CelticsHub: Consistent low-post scoring. Every big on the Bucks' roster aside from Gooden is more defensive-minded than offensively capable. Gooden, while known for his offense, is still pretty unspectacular and inefficient. The Bucks need Bogut to find his touch and fast.
Beckley Mason, HoopSpeak: An incredible coach, or different players. The Bucks just don't have a lot of well-rounded talent. They play hard, but their players are either too small, unskilled offensively, ill-equipped defensively or just plain bad. They do have some defenders and a great big Aussie to work with. Skiles has his work cut out for him.
Jeremy Schmidt, Bucksketball: The descriptions of Milwaukee's wing players are like a record stuck on repeat: lacks explosion. Jennings, Jackson and Delfino are all competent players, but none are consistently explosive. Milwaukee's lack of athleticism played a factor in the team's monumental struggles at the rim last season. Any injection of athleticism would be a great help.
---
5. Will a shortened season help or hurt the Bucks?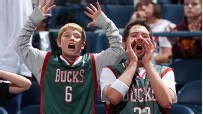 Kevin Arnovitz, ESPN.com: I worry about a compressed schedule for Bogut, but I also think a team like the Bucks with a strong defensive system could make life miserable early on for ill-prepared opponents.
Graydon Gordian, 48 Minutes of Hell: Help. The Bucks are not a playoff-caliber team, but the shortened season will make it harder for teams competing for seeds 5-8 to separate themselves from the pack. Sixty-six games opens the door for a team like the Bucks to overachieve slightly and sneak into the playoffs.
Brendan Jackson, CelticsHub: Help. I tend to believe teams with strong defensive philosophies have the edge. It'll take some time for everyone to get on the same page offensively and find a rhythm. The Bucks can always rely on Skiles' scheme to keep them in games.
Beckley Mason, HoopSpeak: Most of their players are young, and the Bucks play with pretty consistent energy. That should give them an edge in the many back-to-backs they'll face this season.
Jeremy Schmidt, Bucksketball: For the injury-plagued Bucks, a shortened season sounds like a blessing. Fewer games should lead to fewer games missed, so long as players report in shape. Jackson, Udrih and Shaun Livingston are the only noteworthy additions, so the lack of a full training camp may not be the weight dragging this team down that it will be on others.


ESPN.com and the TrueHoop Network
Kevin Arnovitz covers the NBA for ESPN.com. Graydon Gordian, Brendan Jackson, Brendan Jackson, Beckley Mason and Jeremy Schmidt contribute to the TrueHoop Network.