How far can the New Jersey Nets go while waiting for the Dwight Howard trade market to move? ESPN's John Hollinger has the scoop on each player on the Nets' roster. Now our 5-on-5 crew weighs in on what lies ahead in the team's last season in Newark, N.J.
1. For which Nets player is the 2011-12 season most important?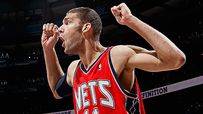 Justin DeFeo, Nets Are Scorching: Brook Lopez. His play helps the Nets in two ways this season. With every "monster" block he swats or rebound he hauls in he'll help the Nets win games. But also, and maybe more importantly, he raises his trade value, which is useful in a far different way. See: Howard, Dwight.
Zach Harper, Daily Dime Live: Deron Williams. A year ago, Williams was in the discussion for best point guard in the NBA, and even top-10 players. Now? He's almost an afterthought. Unless you were lucky enough to see him grace your favorite Turkish team with his presence. D-Will needs to get back to the dominant performer he once was and remind people how elite he is.
Devin Kharpertian, Nets Are Scorching: Brook Lopez. Lopez averaged 20 points per game for the first time in his career last season, but at the cost of defense and rebounding. The answer for his decline lies somewhere between mononucleosis and laziness. He'll have to prove that black mark on his 2010-11 campaign was merely a fluke.
Mike Mazzeo, ESPN NewYork: GM Billy King. He's not a player, but the Nets' future rides on what he does this season. With the team heading to Brooklyn, King must convince Deron Williams to stay at all costs. Pulling off a blockbuster trade for Dwight Howard will seal the deal. King is going to do everything in his power to make that happen. But will it? That's the $1 billion question.
Danny Savitzky, Nets Are Scorching: Brook Lopez. Let's assume for a moment that Dwight Howard isn't joining the team in Newark or Brooklyn. In order for the Nets to have any hope at keeping Williams long term, Lopez will need to play a significant role on both sides of the ball. His offense is there, but his defense and rebounding need to improve dramatically to continue his ascension to franchise-center status.
---
2. Who is the most intriguing player on the Nets' roster?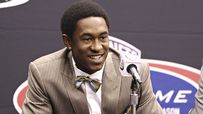 Justin DeFeo, Nets Are Scorching: Marshon Brooks. You know what you are going to get from everyone else on this team, for good or bad. Not with Brooks. He could be the next Jamal Crawford: A super-sub at guard who has the ability to drop 50 points on any given night. Or not. His scoring in college may be more a product of his environment, not his game.
Devin Kharpertian, Nets Are Scorching: Marshon Brooks. He's as advertised: a trigger-happy shooting guard with an enormous wingspan and the ability to create a shot out of thin air. He could average 20 points per game in a random 10-game stretch, then disappear completely. Anything is possible. I can't wait.
Zach Harper, Daily Dime Live: Brook Lopez. I completely buy into the idea that mononucleosis zapped his rebounding powers away from him like he was in a weird "Space Jam" revival. It's also possible that he was just really bored with rebounding, but I think the viral infection destroyed his energy to rebound like he did his first two seasons. If he can get back on the boards and be decent defensively, he becomes a big piece for the Nets.
Mike Mazzeo, ESPN NewYork: MarShon Brooks. He's 22 and, as evidenced by his senior year at Providence, he can fill it up. The Nets ranked 28th in scoring last season, so they'll be depending on Brooks to provide instant offense off the pine. Of course, Brooks will need to deliver on the defensive end, since Nets coach Avery Johnson hasn't given significant minutes to rookies in the past.
Danny Savitzky, Nets Are Scorching: He's not really on the Nets' roster, of course, but it's Dwight Howard. The Nets aren't particularly interesting or compelling right now, and the only storyline worth focusing on is whether Howard will suit up in the near future for New Jersey.
---
3. What's the most surprising take in Hollinger's Nets profiles?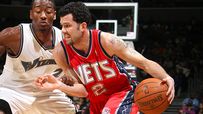 Justin DeFeo, Nets Are Scorching: The common theme throughout Hollinger's profiles was how bad the Nets are as defenders. Hollinger described each player's defense with utter disgust and, at times, comedic candor. I knew the Nets weren't lockdown defenders, but not to the extent the numbers showed.
Devin Kharpertian, Nets Are Scorching: I hadn't realized that Anthony Morrow's rebound rate declined so percipitously in New Jersey. Morrow's almost exclusively a spot-up shooter, so to learn that he'd grabbed more than 7 percent of potential rebounds in his first two seasons came as a surprise.
Zach Harper, Daily Dime Live: Deron Williams is such a bad defender. While I could see that he wasn't quite the intimidating defender we once saw him as, I had no idea his impact on his team's defense was so detrimental. This is probably just an effort thing on his part that can be fixed. But what if he just doesn't have it in him anymore? Can he still be elite?
Mike Mazzeo, ESPN New York: Three stats that made me laugh: (1) Jordan Farmar shooting 29.2 percent on long 2-pointers; (2) Johan Petro having the second-worst foul rate in the NBA; and (3) Stephen Graham's 4.41 player efficiency rating -- the lowest of any small forward in the league.
Danny Savitzky, Nets Are Scorching: Johan Petro ranked 16th among centers in usage rate???
---
4. Based on Hollinger's profiles, what do the Nets need most?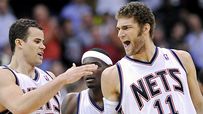 Justin DeFeo, Nets Are Scorching: Defense, obviously. The Nets began addressing by using their amnesty provision to waive one of their worst defenders, Travis Outlaw. They've also added a capable defender in Shelden Williams and possibly may bring in more help soon.
Devin Kharpertian, Nets Are Scorching: Interior defense. Per Hollinger: Brook Lopez ("Defensively, the dude was just worthless"), Johan Petro ("manifestly terrible in most" defensive areas), and Jordan Williams ("will struggle checking long opponents one-on-one"). Shelden Williams is the bright spot. Think about that for a second.
Zach Harper, Daily Dime Live: Dwight Howard. Let's be honest; this team isn't going anywhere unless they can turn Lopez and some picks into Dwight. If I were in the Nets' front office, I'd guarantee Kris Humphries a huge contract some day if he lets Brook grab 12 rebounds per game to trick Otis Smith into thinking … oh, who am I kidding? It's Otis Smith. He'll make the deal anyway.
Mike Mazzeo, ESPN New York: Dwight Howard. While the Nets have obvious needs at pretty much every position but center and power forward, Howard would be the answer to their prayers in terms of keeping Williams and dominating -- both defensively and offensively -- on the interior.
Danny Savitzky, Nets Are Scorching: Perimeter defense. As Hollinger points out, Williams' tendency to mail it in on the defensive side of the ball means he can't be relied upon to shut down a top scorer. On top of that, none among the group of Anthony Morrow, Shawne Williams and the other assortment of wing players has a particularly glowing defensive reputation. The Nets will likely get torched by prolific wing scorers such as Carmelo Anthony and LeBron James, especially because neither Brook Lopez nor Kris Humphries boasts the help-side prowess to cover up that deficiency.
---
5. Will a shortened season help or hurt the Nets?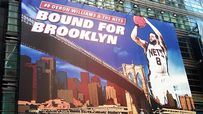 Justin DeFeo, Nets Are Scorching: Hurts. Most around the team would prefer to see Deron Williams in a Nets uniform for 82 games, not the 66 games this season will offer.
Devin Kharpertian, Nets Are Scorching: Helps, comparatively. The shortened season's not "good" for anyone, per se, but it's better for the Nets than most. The schedule's on the easier side of insanity, and the Nets have enough young legs to make a decent run when veteran teams start to wear out.
Zach Harper, Daily Dime Live: Hurt. This team doesn't have much depth in the backcourt or on the perimeter. They need Brooks to be the real deal right away. They need Petro and Shelden Williams to provide a presence inside. Without depth, this grind will wear down the Nets.
Mike Mazzeo, ESPN New York: Hurt. They're young, they're inexperienced and they play 10 of their first 14 games on the road. The Nets have no choice but to figure things out quickly. Deron Williams says he gets "grumpy" when he loses; he should be plenty surly this season.
Danny Savitzky, Nets Are Scorching: Hurt. They have a lot of young players to acclimate to the NBA game, and they'll be hurting without a proper training camp and preseason. Based on how the Nets looked in their game against the Knicks on Saturday, it's going to be a long first month of the season.


ESPN.com and the TrueHoop Network
Zach Harper hosts the Daily Dime Live chat on ESPN.com. Mike Mazzeo covers the Nets for ESPN New York. Justin DeFeo, Devin Kharpertian and Danny Savitzky contribute to the TrueHoop Network.