The new season is only 10 days old, but NBA teams and players have already made some interesting impressions. Who has looked the best early on? Who has failed to live up to the hype? Our team digs in.
1. What's the most impressive NBA team thus far?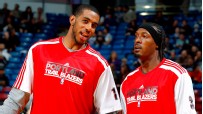 Devin Kharpertian, Nets Are Scorching: Portland Trail Blazers. They've bounced back from the loss of Brandon Roy without missing a step by using a balanced effort led by LaMarcus Aldridge and Gerald Wallace. They have the fourth-ranked defense in this young season and have knocked off top-tier Western Conference teams in Denver and Oklahoma City. A sum greater than its parts.

Beckley Mason, HoopSpeak: Tuesday night's squeaker against the Hawks notwithstanding, the Bulls are just punishing teams like Stacey King punishes microphones when Derrick Rose scores. Most impressive: Rose is showing great restraint -- facilitating and distributing with regularity, taking over as necessary.

Chris Palmer, ESPN The Magazine: Miami Heat. This is how we all thought they would look when they first got together last season. LeBron James is playing the game about as well as it can be played, and Miami's transition attack has been a thing of beauty. Throw in the fact that rookie Norris Cole is a revelation and I'm thoroughly impressed with how they've come out of the blocks.

Eddy Rivera, Magic Basketball: Chicago Bulls. With wins against the Lakers, Clippers, Grizzlies and Hawks, the Bulls have already bested four playoff-caliber teams in short order. And like last season, Chicago has been winning with defense, great production from the role players and lots of Derrick Rose. Coach Tom Thibodeau has the Bulls locked and loaded early in the schedule.

Mark Shore, ClipperBlog: Chicago Bulls. No team has closed out games better than the Bulls. The combination of Derrick Rose's scoring ability and a suffocating defense has led to last-second wins against the Lakers and Hawks. Chicago is currently third in the league in offensive efficiency, but even when that falters the D makes up for it.
---
2. What's the most disappointing NBA team thus far?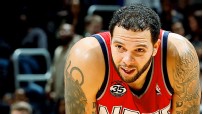 Devin Kharpertian, Nets Are Scorching: New Jersey Nets. Memphis is a close second, but New Jersey was supposed to ride the coattails of Deron Williams to respectability. Through six games, they've shown no semblance of a defensive scheme and look lost on the floor. I didn't expect greatness, but I expected better than this. The Nets are arguably the worst team in the NBA.

Beckley Mason, HoopSpeak: Washington Wizards. The season is practically prenatal and Dallas' fall from graceful basketball has been arresting, but no one knows how to disappoint quite like the Wizards. There isn't a single player averaging even 14 points per game. Related: They are nearly last in assists. Will this team ever transition from rebuilding to building?

Chris Palmer, ESPN The Magazine: The winless Wizards, who are averaging just 85 points per game. I know they're young and inexperienced, but this is just bad. I fear John Wall won't properly grow as a player until he gets better teammates or is removed from this situation altogether.

Eddy Rivera, Magic Basketball: Memphis Grizzlies. What's fascinating is that the Grizzlies were expected by many to be far better than what they were projected to be. Hollinger pegged Memphis at 37-29 and the No. 8 seed in the West. Basketball Prospectus' SCHOENE projection system was far more pessimistic, forecasting the Grizzlies at 32-34 and missing the playoffs. Perhaps expectations were set too high?

Mark Shore, ClipperBlog: Dallas Mavericks, and it's not even close. The reigning champs stumbled out of the gates to a 2-4 start and are in the bottom third of the league in offensive and defensive efficiency. Granted, they're working with a bunch of new pieces, but they can't suffer many more losses to the likes of Minnesota.
---
3. Who's the most impressive NBA player thus far?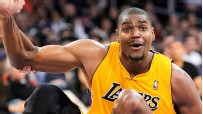 Devin Kharpertian, Nets Are Scorching: Andrew Bynum. Three straight double-doubles in his first three games, and despite Kobe Bryant's propensity to, um, "run" Los Angeles' offense, Bynum has unquestionably been the best Laker on the floor since returning from a four-game suspension.

Beckley Mason, HoopSpeak: Andrew Bynum has played in only three of the Lakers' six games, but he is averaging 23 and 16, leads the league in PER and is his team's THIRD OPTION. Kobe still "eats first," but Bynum is gorging when he gets the ball.

Chris Palmer, ESPN The Magazine: LeBron James just being LeBron James. Actually, being a new-and-improved LeBron. Hard to argue with 29.3 ppg, 7.7 rpg and 6.5 apg. I'm not one of those people who treat LeBron as a victim of his own success and yawns when he puts up these kinds of numbers. His shot selection has been terrific (60 percent from the field) and he's focused like we haven't seen before. And it also seems like he's having a ton of fun doing it.

Eddy Rivera, Magic Basketball: LeBron James. The two-time MVP is playing out of his mind right now. LeBron's true shooting percentage is 65.4 percent despite having attempted only one 3-pointer so far this season. That metric weights 3-pointers properly, yet LeBron doesn't need them to be insanely efficient. The reason? LeBron's field goal percentage at the rim is 81.4 percent on 7.3 attempts per game.

Mark Shore, ClipperBlog: LeBron James. He is looking like a much more complete player this season and isn't relying on the 3-point shot as he did in last year's playoffs (he's taken only one this season). His minutes are down but his productivity remains as high as ever, which is crucial in this condensed season.
---
4. Who's the most disappointing NBA player thus far?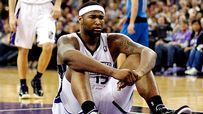 Devin Kharpertian, Nets Are Scorching: Is there any choice but DeMarcus Cousins? This was supposed to be the step-forward year. But after four terrible games, Sacramento has completely fallen apart at the seams, with Cousins at the center of the storm. He may be on the market now, but given how coach Paul Westphal threw him under the bus, does anyone really want him?

Beckley Mason, HoopSpeak: I'm not going to get too judge-y on NBA players after only a handful of games, so the player I'm most disappointed about is Manu Ginobili, who had been simply brilliant before crunching his hot hand on Anthony Tolliver.

Chris Palmer, ESPN The Magazine: Russell Westbrook just hasn't clicked. He's not meshing particularly well with Kevin Durant while leading the league in turnovers (4.8 per game), and Westbrook's assists have dropped to a career-low 4.8. He's just been out of sorts so far. But despite his funk, the Thunder have managed to put up a 5-2 record out of the gate.

Eddy Rivera, Magic Basketball: Lamar Odom. With a PER of 1.84 and dreadful numbers across the board, it's safe to say that Mavericks owner Mark Cuban and general manager Donnie Nelson didn't have this production in mind when they swiped Odom away from the Lakers. There's being a Fluke Rule player, and there's whatever Odom is right now. Let's just go with bad.

Mark Shore, ClipperBlog: Chris Paul. Rome wasn't built in a day, and no one can expect it from the Clippers either, but Paul has been less than impressive in the early goings for L.A. His PER of 20.89 puts him at 44th in the league (down from sixth last season) and thus far he's looked hesitant running the offense.
---
5. What's the biggest surprise in the NBA thus far?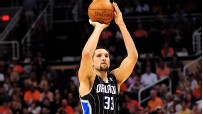 Devin Kharpertian, Nets Are Scorching: Ryan Anderson, once best-known as the throw-in that facilitated the Vince-Carter-to-Orlando trade, is flourishing as one of the best inside-outside power forwards in the NBA. Through six games, Anderson is the Magic's leading scorer (19.2 ppg), and is averaging almost four 3-pointers per game on 44 percent shooting from behind the arc. He's the perfect forward to complement Dwight Howard.

Beckley Mason, HoopSpeak: Tuesday night's collapse notwithstanding, the Hawks appear to have taken a step forward this season, despite predictions to the contrary. The ball movement is snappy, the defense is frenetic and the Hawks are easily the third-best team in the East.

Chris Palmer, ESPN The Magazine: Kyle Lowry leading the league in assists (11.5 per game) by a full assist. Sure, it's been only four games and he could drop from the leaders with a couple of down games, but it's a surprise nonetheless. Look at it like this: There are a ton of great assist men in this league, and Lowry is the guy handing out the ball at the best clip so far.

Eddy Rivera, Magic Basketball: Ricky Rubio. Finally, a draft pick at point guard has worked out for Timberwolves general manager David Kahn! There was a lot of skepticism about how Rubio would pan out in the NBA. Needless to say, he has silenced a lot of critics and, in the process, has been a joy to watch on the basketball court. Rubio is the real deal.

Mark Shore, ClipperBlog: The Northwest Division has been far and away the best division in the NBA. Oklahoma City, Portland and Denver are all legitimate contenders to represent the West in the NBA Finals, and Minnesota has gone from laughingstock to League Pass favorite.


ESPN.com and the TrueHoop Network
Chris Palmer covers the NBA for ESPN Insider. Devin Kharpertian, Beckley Mason, Eddy Rivera and Mark Shore contribute to the TrueHoop Network.

• Follow the NBA on ESPN on Twitter | On Facebook | On Google+