David Thorpe gave his take on the top rookies to hit the NBA hardwood this season. Now our five participants give their takes on the 2011 rookie class through two weeks.
1. Who has been the best rookie in the NBA thus far?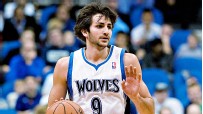 Chad Ford, ESPN.com: Ricky Rubio. MarShon Brooks and Kyrie Irving are both putting up better numbers, but whenever Rubio steps on the floor, magic happens. He plays basketball like a symphony conductor and, if he can keep shooting the ball with confidence, has a chance to be a superstar.

James Herbert, HoopSpeak: Ricky Rubio. The face I make when he makes one of his no-look, thread-the-needle passes on the break? That's also the face I make when I look at his solid shooting numbers. He's also the rare rookie PG who is helping his team on defense. Two weeks in, Rubio has been as effective as he's been entertaining. Hope he keeps it up.

Andrew Lynch, Hardwood Paroxysm: Ricky Rubio. Kyrie Irving's been fun, and MarShon Brooks is fine, but Rubio edges them in my book. His shooting has been better than advertised; he's slightly better than Irving in assist percentage; and he wins the win shares per 48 minutes battle among the three, as well. He'll want to shore up his turnovers, but Rubio has quickly silenced doubters.

Jared Wade, 8 Points, 9 Seconds: Kyrie Irving. He has had two rough shooting nights, but the numbers are otherwise just as pretty as his game. He has few flaws; he punishes defenders with an arsenal of weapons; and -- most impressively -- he looked like a pro on day one, which says a ton about the least experienced rookie of the one-and-done era.

Kyle Weidie, Truth About It: Irving has been solid, including from the 3-point line (43 percent) and in getting to the charity stripe, where he averages just over one free throw attempt per four field goal attempts. Plus, the Cavs are winning.
---
2. Which rookie has been the biggest surprise thus far?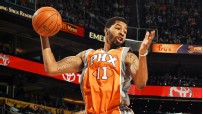 Chad Ford, ESPN.com: Markieff Morris. For most of his Kansas career, Morris played in the shadow of twin brother Marcus. But, in the first six games of the season it's Markieff who has made his mark. I thought he was a solid prospect, but I didn't expect this much this soon.

James Herbert, HoopSpeak: Norris Cole. I can find you some people who called him a sleeper. I can find you some more people who became enamored with his game during training camp. Can't find anyone who predicted that outburst against Boston in his second game. Certainly can't find anyone debating who should start at the point in Miami even two weeks ago.

Andrew Lynch, Hardwood Paroxysm: Norris Cole. Who counted on a 6-foot-2 rookie point guard stepping up and lending major help to the Miami Heat? Cole's stats are passable, but any time the 28th pick -- typically a Marlon Maxey-type -- galvanizes the masses, one takes notice.

Jared Wade, 8 Points, 9 Seconds: Norris Cole. Those more dialed in to the college game might have seen at least some hint of this coming. But I was blindsided -- much as Boston was when Mr. Cole was the best Heat player on the court in the fourth quarter.

Kyle Weidie, Truth About It: Easily Norris Cole. He provides the perfect change of pace for the Heat, especially when darting through zone defenses with all those athletic options around him.
---
3. Which rookie has been the biggest disappointment thus far?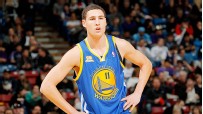 Chad Ford, ESPN.com: Klay Thompson. I was never 100 percent sold on Thompson. He had his strengths as a college player but also had major weaknesses. But when Jerry West fell in love with him, I finally got on board. After six games, he's shooting just 33 percent from the field.

James Herbert, HoopSpeak: Enes Kanter. For all of his skills, he has yet to make a field goal outside the restricted area. Although it was predictable that he'd struggle for minutes in the early going, I had hoped the No. 3 pick would flash more in his limited time.

Andrew Lynch, Hardwood Paroxysm: Derrick Williams. Williams, overshadowed by Rubio, has disappointed relative to expectations. There's little bad about his play -- other than maybe shooting four 3-pointers per 36 minutes at just a 33 percent clip -- but his performance so far is hardly becoming of the second pick.

Jared Wade, 8 Points, 9 Seconds: Enes Kanter. We expected this guy to need some time, but he might need more time than expected. He can rebound, and he might lead the league in hair follicle density. Other than that? He has a lot to work on.

Kyle Weidie, Truth About It: Kemba Walker. His field goal percentage (.364) is worse than that of the Jimmer (.367), who has been inconsistent himself, especially on defense. But let's revisit this after these two have a better chance to get their NBA shooting legs under them.
---
4. Which rookie point guard will be the best in five years?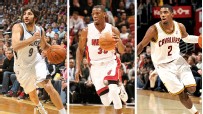 Chad Ford, ESPN.com: If Ricky Rubio is going to score as well as pass the ball, he'll be the best. But Kyrie Irving is right there. I've been really impressed with Irving's ability to get to the basket and his poise in the early going.

James Herbert, HoopSpeak: Rubio. Irving's the safer pick, but the fully realized version of Rubio that exists in my brain is something like a Steve Nash/Rajon Rondo hybrid capable of hitting no-look 3-pointers whilst distributing candy to children sitting courtside.

Andrew Lynch, Hardwood Paroxysm: Kyrie Irving. His Spanish counterpart will have quite a career, but I expect Irving's to be better. He's already turning the ball over fewer times per possession than his more polished brethren and is significantly better at getting his own shot than Rubio. Cole hardly factors into this discussion, for me, even on a better team.

Jared Wade, 8 Points, 9 Seconds: Ricky Rubio. Like the Supreme Court definition of obscenity, I don't know what "it" is. But I do know "it" when I see it. And the kid from Espana has more "it" than any rookie since Derrick Rose. He is also the best bounce-passing point to enter the league since Jason Kidd did in 1937.

Kyle Weidie, Truth About It: It'll be between Rubio and Irving, and it will be judged in terms of whoever has the better team around him. Whom are you going to trust to build that? David Kahn or Chris Grant? [Hint: Even though you've never heard of Grant, his competition is KAAAAAHN!] Grant has actually made some very smart moves since taking over for Danny Ferry in June 2010.
---
5. Who will win NBA Rookie of the Year?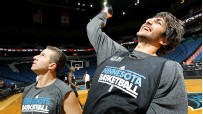 Chad Ford, ESPN.com: Rubio. I picked Irving in preseason, but after watching Rubio's play, it's his to lose. Remember, media members vote for ROY, and just about all of them have a serious man-crush on Rubio.

James Herbert, HoopSpeak: Kyrie Irving. D.J. Augustin cares not for my preseason Kemba Walker ROY pick, so I'll go with the guy who likely will lead all rookies in scoring and trail only Rubio in assists. He's had his moments thus far, and I expect upticks in minutes and efficiency as the season goes on.

Andrew Lynch, Hardwood Paroxysm: Ricky Rubio. One might give Irving, a starter, the edge, but Rubio averages more minutes per game, even off the bench. Voters love a good storyline, and, by outperforming his skeptics' expectations and taking the heat off David Kahn, Rubio provides just that -- alongside, of course, actual skill.

Jared Wade, 8 Points, 9 Seconds: Rubio. It probably will be a coin flip between Ricky and Kyrie Irving at the end of the year. But we've seen how well flashy, floppy-haired, fair-skinned point guards do when an award vote comes down to a coin flip. Besides, who's watching Cleveland games?

Kyle Weidie, Truth About It: It's Irving's to lose, and not just because some voting media still might have sympathy for Cleveland. Irving is a pretty good player with enough smarts to make up for his lack of elite athleticism.

ESPN.com and the TrueHoop Network
Chad Ford is a senior writer for ESPN.com. James Herbert, Andrew Lynch, Jared Wade and Kyle Weidie contribute to the TrueHoop Network.

• Follow the NBA on ESPN on Twitter | On Facebook | On Google+