February is on our doorstep, yet we're still waiting and watching to see if and when Dwight Howard will be dealt. In addition to a prospective Superman swap, our 5-on-5 crew takes a look at some potential deals.
1. Should the Magic trade Dwight Howard by the March 15 deadline?
Rob Mahoney, The Two Man Game: If the right deal presents itself, then yes. Orlando doesn't really have the option of riding out the season and then "daring" Dwight to leave; Howard's bags are packed, and if the Magic don't move him, he'll move himself.
That said, Orlando doesn't want to take on much long-term salary, and if it can't find a favorable trade package with reasonable financial obligations, it shouldn't force the issue just to get something in return for Howard.
Danny Nowell, Magic Basketball: Dwight is genuinely conflicted about whether he wants to leave, but
I think this "prettiest girl at the prom" routine leaves the Magic little choice but to deal him. None of the rumored deals, without adding a third team, include the youth I'd like to see the Magic get, but they may be forced to take what they can.
Mark Shore Clipperblog: Yes. As currently assembled the Magic can't contend for a championship, and they lack the necessary trade bait to bring in anyone worthwhile. Their best bet is to rebuild, and Denver offers a great blueprint of what to do when you lose a superstar -- bring in young talent that you can build around.
Darius Soriano Forum Blue and Gold: Yes. The Magic are in the midst of a tailspin, and with every loss it seems Dwight's list of teams he's willing to play for besides the Magic expands. Meanwhile, his wandering eye undermines his leadership with his current 'mates. It's time to cut bait.
Michael Wallace, Heat Index: Yes. In fact, they should do everyone involved a favor and deal Dwight by Feb. 15 and avoid the clear desperation stage that comes with getting anywhere near the March 15 deadline. Each day the Magic hold on to Dwight at this point only adds to the frustration and threatens to further undermine the credibility of the players, coaching staff and front office in Orlando.
---
2. Should the Bulls go all out to acquire Dwight Howard?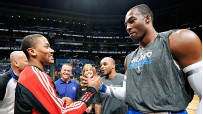 Mahoney: I suppose that depends on your definition of "all out." Chicago should pursue the possibility of trading for Howard, but the same could be said of every team in the league. The difference with the Bulls is that there's a line to be drawn; there are reasonable limits to the Bulls' offers beyond the exclusion of Derrick Rose. They could get away with trading several key pieces for Howard, but "all out" may be a slight stretch considering how good the Bulls already are.
Nowell: Not sure how much stock you can put in Dwight's expanding "list," and I still don't see Chicago -- whether you agree with him or not -- meeting all of Dwight's criteria. That said, as good a thing as Chicago has going, if the Bulls see a legitimate way to pair Dwight and D-Rose, they have to do it.
Shore: No, because there's no trade out there that makes sense for both sides. The Magic could get a much better package than a combination of the Bulls' top four trade pieces: defensive-minded frontcourt players Luol Deng, Joakim Noah, Taj Gibson and Omer Asik. For Chicago, losing most or all of its frontcourt depth would be too destructive.
Soriano: No. Even though Dwight has said he'd play for them, the Bulls weren't on his original wish list and giving up assets for him is a risk considering he could still bolt this summer. Plus, if the Bulls have a weakness it's the lack of a secondary scorer/shot creator, not in the pivot.
Wallace: If going all out means making everyone on the roster available with the exception of Derrick Rose, then the answer is simple: Do it. The Bulls would obviously have to get a third team involved that could send Orlando the type of lottery pick it would seek in return, in addition to a likely combo of ex-Florida Gator Joakim Noah, Taj Gibson and Luol Deng.
---
3. Should the Lakers trade Bynum and Gasol for Dwight Howard?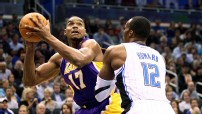 Mahoney: Yes. What does the current core have to lose? The Lakers don't have the depth to really compete for a title and don't have the offensive structure to maximize both Pau Gasol and Andrew Bynum. Consolidating both players into one elite talent -- and importing a superstar to succeed Bryant in L.A. -- makes some sense.
Losing both players would be an incredibly steep price at this point relative to what other teams have paid to acquire superstars, but the Lakers should take the leap and figure out how to fill in the gaps in their rotation later.
Nowell: I give this a very tentative yes. Gasol would be such an ideal frontcourt partner for D12 that pairing the two would restore some sheen to the Lakers' near future, but if the price tag for Howard is Gasol and Bynum, I think they still have to do it.
Shore: Yes, but only if Hedo Turkoglu and his bad contract stay in Florida. Life after Kobe would all of a sudden seem a lot brighter for Laker Nation with a franchise player like Dwight Howard wearing purple and gold. Plus, a package including Jameer Nelson and either J.J. Redick or Glen Davis wouldn't really hurt LA in the short run.
Soriano: If Ryan Anderson is in the deal, then yes. Otherwise, the Lakers simply can't afford to give up all their size for a single player -- even one as great as Dwight Howard.
Wallace: No. The Lakers shouldn't offer both Bynum and Gasol. But that doesn't mean the Magic shouldn't flat-out demand both. As much as the Lakers could use a shakeup to jolt the team, they are essentially playing with house money in this Bynum-Dwight discussion. They already have arguably the league's second-best center and a championship front line. They could ship Pau in a secondary deal to add any necessary pieces.
---
4. What trade involving a star would you like to see?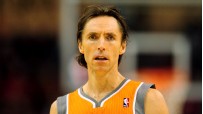 Mahoney: Phoenix trades Steve Nash to Indiana for Darren Collison, George Hill and Tyler Hansbrough. The Suns have withered away into irrelevance this season, and Nash deserves better. This deal gets the Suns three rebuilding pieces for a star who may leave in free agency this summer anyway and sends a dynamic playmaker to Indiana to jump-start the Pacers' below-average offense.
Nowell: I'm fully aware that Dwight to Philly is pure fantasy, but can you imagine how good the Sixers would be with Howard? Improved Spencer Hawes is nice, but Dwight makes them instant contenders, and the Magic would get some great young pieces for SVG to school. Holiday and Turner is a steep price, but this is fun both ways.
Shore: Steve Nash for Rajon Rondo straight up. Phoenix finally decides to let Nash fly free and he teams up with Ray Allen, Paul Pierce and Kevin Garnett for a final championship run. Rondo gets a fresh start with a new team that hasn't involved him in countless trade rumors throughout the years.
Soriano: Dwight Howard to the Lakers. He'd give the Lakers their future cornerstone player to carry the team after Kobe retires, while also allowing the team to stay in contention while Kobe's still producing at a high level. They could make a deal with Gasol or without that gives Orlando options in rebuilding around Bynum and Gasol or keeping their best young players to surround Bynum.
Wallace: It's time that Monta Ellis gets a chance to have an impact on a team that's actually heading somewhere other than the lottery on an annual basis. Sending Ellis to, say, Indiana for Danny Granger would be a move that would balance out both rosters in a productive fashion. Ellis would be the elite shooter/scorer to bolster the Pacers and shift Paul George to small forward. Granger would end the Ellis-Curry backcourt dilemma in Golden State.
---
5. What trade involving a contending team would you like to see?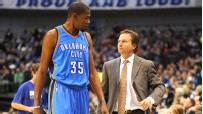 Mahoney: The Oklahoma City Thunder trade Cole Aldrich and Royal Ivey to the Cleveland Cavaliers for Ramon Sessions. Reggie Jackson has been a serviceable replacement for the injured Eric Maynor thus far, but the Thunder need a bit more stability from their backup point. Sessions, who has struggled in Cleveland this season, provides that on a modest deal. In exchange, the Cavs get a legitimate defensive center prospect to add to their young core.
Nowell: Trying to find a way to make the Clips' excess PG depth work for depth in the post and the wing proved to me how difficult it is to be a GM. This particular trade would never happen, but if the Clips flip some guards for post and wing veterans, they become bona fide contenders.
Shore: Evan Turner for Eric Gordon. A healthy Gordon would turn the Philadelphia 76ers into a team that could compete with Miami and Chicago. Meanwhile, Turner would be a nice consolation prize for the New Orleans Hornets who could lose Gordon at the end of the season.
Soriano: While Rip Hamilton and Ronnie Brewer give the Bulls a serviceable shooting guard rotation, getting them a more versatile player to fill that spot would give them that extra boost in getting to the Finals. Meanwhile, O.J. Mayo is on the trade block and could give the Bulls that secondary shot creator and scorer who can complement Rose and a healthy Luol Deng. Here's the trade.
Wallace: When you're in first place in your conference, it's hard to accept that you need anything to put you over the top. But if those painful losses to the Heat show the Bulls anything, it's that they need another reliable scorer to complement Rose. Why not call Houston and check on Kevin Martin's availability? If I'm the Bulls, I'd pitch Boozer but realize it might cost Joakim Noah. Chicago just won't beat the Heat in a seven-game series as is.

ESPN.com and the TrueHoop Network
Michael Wallace writes for ESPN.com and the Heat Index. Rob Mahoney, Danny Nowell, Mark Shore and Darius Soriano contribute to the TrueHoop Network.
• Follow the NBA on ESPN on Twitter | On Facebook | On Google+