The Knicks' Jeremy Lin has the hoops world buzzing, but he's not the only newsworthy storyline this week. Our 5-on-5 crew breaks down J-Lin, the Lakers, injuries and more:
1. Fact or Fiction: Jeremy Lin is the answer at PG for the Knicks.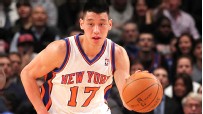 Kevin Arnovitz: Lin is definitely an answer -- when was the last time anyone sent a double-team at a Knicks' point guard?! -- but that all depends on the question. Coach Mike D'Antoni says he's going to ride Lin "like freakin' Secretariat," and Lin can competently work a pick-and-roll, but you don't have to be a heartless downer to suggest Monday night's results probably aren't sustainable.
Larry Coon: Fiction. Based on a two-game sample? There's no way you can extrapolate from his performance this week to declaring the Knicks' point guard search is over. I expect his game to regress back to the mean. But what a Cinderella story if it works out for him.
Rob Peterson, Hardwood Paroxysm: Fact. He's the answer ... for now, because there is no other answer. Baron's hurt, Shumpert's raw, Bibby's done and Douglas doesn't run the pick-and-roll well. Lin isn't great at it either, but he seems bolder than the rest of the Knicks' point guards. And if that means turning the ball over more than people would like, that's not necessarily bad decision-making. Point guards in Mike D'Antoni's offense handle the ball a ton. I offer Steve Nash as an example. He's been in the top 10 in turnovers for the last eight seasons. Lin is the shot in the arm the Knicks need.
Robert Silverman, Knickerblogger: Fact. Incredibly small sample size notwithstanding, Jeremy Lin, unlike Messrs. Shumpert, Douglas and Bibby, can effectively run the pick-and-roll. Without that skill, a D'Antoni offense runs like a Maserati being powered by a sickly, malnourished hamster on a broken wheel. Teams will eventually learn that Lin struggles going to his left and his jumper is suspect, to say the least. But for now, Knicker-backers should be positively giddy about their Hah-vahd-educated PG.
Ethan Sherwood Strauss, HoopSpeak: Fiction, but kudos for going from the D-League to New York like this. Jeremy is the answer relative to Toney Douglas, but then you're more accepting of answers than a teacher who lets students self-grade. Lin can play D and run a decent pick-and-roll, but I prefer that my starting PG dribble left occasionally.
---
2. Fact or Fiction: The Bulls need to be more cautious with Rose and Deng.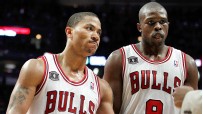 Arnovitz: Fiction. A coach can manage his players' minutes judiciously, but he can't mummify his starters in bubble wrap. The Bulls were sensible to yank Derrick Rose against the Nets on Monday night when he felt a twinge in his back. Luol Deng has looked solid in his two games back from his wrist injury. They need him on the floor -- but every minute they can steal with him on the bench is a minute he doesn't risk absorbing contact to that wrist.
Coon: Fact. I've said this before and I'll say it again -- this season is not like the others. Due to the compressed schedule and virtual lack of training camps, the added cost in medical bills alone this season may offset the owners' gains from the negotiating table. Little injuries will become big injuries. Fatigue will become burnout. The Bulls need these guys to be playing in May and June, and need to plan accordingly.
Peterson: Fact. If this were a normal 82-game season, I'd say fiction. But this season, especially with the cramped schedule, coaches need to be careful with minutes, even for spry, young MVPs such as Rose. As we've seen numerous times in the big four professional sports, finishing the regular season with the best record doesn't guarantee a title. This year, more rest will pay bigger dividends in the postseason.
Silverman: Fact. There's no need for Chicago to grind their two most irreplaceable assets down to the nub. They've shown that they have the depth in C.J. Watson, Kyle Korver, Ronnie Brewer et al at PG and SF to at least hold the fort and even prevail against the league's lesser lights. In this truncated meat grinder of a season, if Coach Thibs is smart, he'd start cribbing from the script Gregg Popovich uses for his aging stars.
Strauss: Fiction. They aren't getting burn like Jeremy "Secretariat" Lin. Either your 20-something athlete can go or he can't. Also, if Rose wants to run 40, who has the power to tell him otherwise? "Unstoppable" cuts both ways.
---
3. Fact or Fiction: The Clippers cannot contend without Chauncey Billups.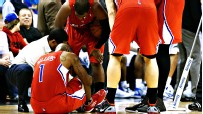 Arnovitz: Fiction, but that depends on how the Clippers fill the vacuum if Billups is lost for an extended period, because they'll need one more productive wing. Mo Williams has been the Clippers' third-most efficient scorer, but he can't carry the load defensively as a starting 2. The Clips could slide Caron Butler to the backcourt, but then who would play small forward?
Coon: Fiction. As much as Chauncey has become a leader on this squad, and as much as they've relied on his playmaking and outside shooting, this team has the depth to overcome backcourt injuries. They withstood Chris Paul's hamstring injury -- and he's the heart and soul of the team. They'll slide Mo Williams into the starting spot and hope Billups' injury is just a temporary setback.
Peterson: Fiction. Yes, losing Billups hurts, but it doesn't kill their (slim) chances to win the West. Mo Williams can play both the point and shooting guard and can bridge the gap until Billups returns or, if Billups is out for the rest of the season, until the Clippers sign another shooting guard. Even with Billups, I don't think the Clippers can get past the Thunder.
Silverman: Fiction. While Billups remains a heady pro, he is/was living off his "Mr. Big Shot" rep, shooting near-career lows in FG%, TS% and eFG%. As a defender, he's definitely lost a step and a half. While the Clippers will look to add a bigger SG (J.R. Smith, perhaps?), Mo Williams and/or Randy Foye can give them the same production Billups did without the fancy nicknames.
Strauss: Fiction. Everybody has a chance at winning the West, even Colonel Custer. With Chris Paul's genius, one weapon -- be that DeAndre Jordan or Blake Griffin -- is good enough for contention.
---
4. Fact or Fiction: The Lakers are having a disappointing season.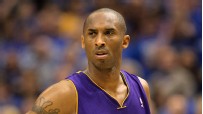 Arnovitz: Too early to call. Every season, we hear about the Lakers' "switch" -- whether it exists, whether it can be flipped at a moment's notice and whether it's controlled by the team's coach or its shooting guard. The Lakers have looked sluggish, but I'm not convinced the switch has been disconnected. They still have a premium frontcourt and one of the league's four best guards.
Coon: Fact. Ask Kobe Bryant if he's happy with the Lakers' season so far. Go on, I dare you. Their performance has been respectable, but for this team, "respectable" is just one step above "pathetic." The Lakers have a very limited number of chances remaining with Kobe at the helm, and they need to make the most of it. Another second-round exit would be viewed as a disaster -- and at this point, I'm not sure they'll even make it that far.
Peterson: Fiction. But then, what did anyone expect? I know Lakers fans expect their team to contend for a title every year (and that's what I love about them), but this team started to decline last season. Kobe is still great and Andrew Bynum is having his best season, but this team is one year older and one-half step slower than last season. This is about what I expected from them.
Silverman: Fiction. Considering the circumstances the Lakers faced to start the year -- dumping Lamar Odom for cap space, dealing with Gasol and Bynum's trade anxiety and bruised egos, learning coach Mike Brown's system without the benefit of a training camp -- the fact that they are 14-11 should be considered a serious accomplishment.
Strauss; Fact. If Troy Murphy is an integral piece, then this puzzle is more disappointing than a Magic Eye with no payoff. They're still contenders, though, thanks to a muddled conference.
---
5. Fact or Fiction: The Thunder have been the best team in the NBA.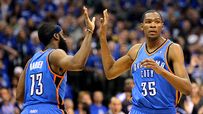 Arnovitz: Fiction. They've been the best team in the West all season, but when you look at both sides of the ball, it's hard to pass over the Bulls as the class of the field -- with the Thunder, Heat and Sixers in close pursuit. The Thunder are durable and young, so when we revisit this question in 10 weeks, present fiction might be future fact.
Coon: Fiction. They're having a great season, to be sure. But the best team? I don't see a clear case for putting them ahead of the Bulls or Heat, despite Oklahoma City's 19-5 record in a road-heavy schedule. Or even Philly, with an average margin of victory over five points higher than the Thunder's. I'll also point out that my colleagues John Hollinger (sixth) and Marc Stein (seventh) concur in their power rankings this week.
Peterson: Fiction. In terms of record, yeah, they've been the best team, but they're only percentage points ahead of the Bulls for the best winning percentage in the NBA. Before the season, I thought Miami was the team to beat. I still think that. The Thunder will represent the West in the Finals, but the Heat or the Bulls' defense will be too tough a test for them over a seven-game series.
Silverman: Fiction. I'll say without hesitation that they're the best team in the West, but won-loss record notwithstanding, LeBron, Wade, Bosh and their band of merry men still rule the NBA roost. The one thing holding Oklahoma City back is that its two best players, Durant and Westbrook, still don't really complement one another.
Strauss: Fiction. Does anybody really think OKC is better than Miami or Chicago? If so, why? Is James Harden hiding the answer in that beard?

ESPN.com and the TrueHoop Network
Kevin Arnovitz and Larry Coon write for ESPN.com. Rob Peterson, Robert Silverman and Ethan Sherwood Strauss contribute to the TrueHoop Network.
• Follow the NBA on ESPN on Twitter | On Facebook | On Google+