The Linsanity just won't stop. So we brought out our team of five to break down the five biggest questions surrounding Jeremy Lin and the New York Knicks' sudden rise.
1. When Baron Davis is healthy, who should start: Davis or Jeremy Lin?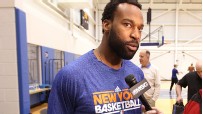 Jim Cavan, KnickerBlogger: It's Linconceivable you'd even ask this! Sorry, guys. Unless "regressing to the mean" ends up meaning "regressing to Derek Fisher," the starting job is Lin's for the losing. And believe me, I'd bet good money that no one is happier than Boom-Dizzle, who can work his way back slowly and work on his TV pilot. While Melo rests, Davis and Amare Stoudemire will headline a more formidable second unit.
Rob Mahoney, The Two-Man Game: Lin gets some benefit of the doubt as the incumbent, but the spot rightfully belongs to whichever player functions more effectively with the rest of the starting lineup. Davis has a lot to prove before he becomes a reasonable candidate in this discussion, but he should get plenty of chances to showcase his capabilities as a potential replacement.
Ethan Sherwood Strauss, HoopSpeak: Lin. My last in-person sighting of Baron Davis was at this fall's "We Believe Game," but he was so out of shape that it made an impression -- and Davis was just in the audience. Those holding out for Playoff Baron should remember: That was a whole half decade ago.
David Thorpe, Scouts Inc.: After a week or so, I think Lin will be better off coming off the bench. That way he can continue to attack and score and be a central figure of the offense. I don't see that happening when Melo and Amare are on the floor. He can help the second unit far more consistently than Davis can. Seeing them play together is likely, as well.
Jared Zwerling, ESPN New York: Lin, because when Davis is healthy, it won't mean that his conditioning level will be up to speed with how he's feeling. He'll need at least a few weeks after he returns to get back into game shape. Plus, Lin is playing too well right now -- he's even drawing comparisons to Steve Nash by top NBA experts.
---
VOICE OF THE FAN (via Google+)
Sookram Ramsaroop: As long as they keep winning with Lin starting, then don't change. Davis off the bench will pose problems other teams can't handle.
---
2. When he returns, will Carmelo Anthony struggle to adjust to Lin?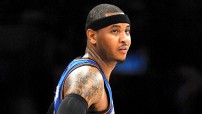 Jim Cavan, KnickerBlogger: Ah, the $80 million question. There will definitely be an adjustment period, but I think the formula at this point is obvious: Lin runs the offense through probes and pick-and-rolls for the first 15-20 seconds, leaving Melo to conduct late-shot-clock -- and late-game -- heroics. Otherwise, expect lots of chirping in Anthony's direction from the Garden boo-birds.
Rob Mahoney, The Two-Man Game: He should shift away from his previously necessary responsibilities as a point forward, and work more persistently without the ball. He's likely to do the former, but I'm not so sure about the latter; flashing toward the ball handler to initiate an iso shouldn't pass as legitimate off-ball movement for a wing player, but sometimes with Melo, that's as close as it gets.
Ethan Sherwood Strauss, HoopSpeak: If everyone's worried Melo will kill Lin's momentum, perhaps we all subconsciously understand that Anthony isn't very good? Still, there is hope for the gunner. To quote Nate Jones, Anthony should pounce from the weak side as Lin and Chandler run the pick-and-roll -- but that's D'Antoni's call.
David Thorpe, Scouts Inc.: Who are we kidding here? Lin had a great week, but Melo has great years behind him. Lin will have to adjust to Melo, and if he does not, he will struggle. However, a question has now been raised -- are the Knicks better off without their two superstars? "Star watch" will be engaged when they return.
Jared Zwerling, ESPN New York: No. Melo should benefit from playing with Lin, who has the ability to get into the paint and keep defenses off-balance with his patient playmaking maneuvers on pick-and-roll plays. Recently, the Knicks' spacing and ball movement have been sharper, and those factors have enabled Landry Fields, Iman Shumpert and Steve Novak to get open shots and find lanes to the basket. Melo will capitalize even more from midrange, his hot zone. Before Lin, he was taking too many contested shots.
---
VOICE OF THE FAN (via Google+)
Family Feud: Melo won't have difficulty adjusting, it's Lin who's going to have to learn to adjust. He won't be able to dictate play as he has with Melo back in the fold. Make no mistake about it, this offense goes through Melo.
---
3. Will the Knicks make the playoffs? Will they contend in the East?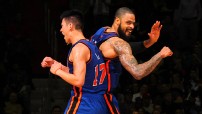 Jim Cavan, KnickerBlogger: Yes and yes. Barring injury or catastrophic chemistry, I don't see the Knicks finishing behind Milwaukee or Cleveland. If Melo and Amare can work their way into what is fast becoming a prototypical D'Antoni offense, New York taking down the top two seeds, like it did in the 1998-99 lockout-shortened season, is wholly possible.
Rob Mahoney, The Two-Man Game:
Yes and no; I like Lin and all, but I'm not even sure an improved Knicks team is on the level of the Sixers and Pacers, much less the Bulls and Heat.
Ethan Sherwood Strauss, HoopSpeak: Yes and no. Making the Eastern Conference playoffs reminds me of "Everyone gets a trophy" little league pro forma. As for winning a title, these parts fit worse than square wheels on cars.
David Thorpe, Scouts Inc.: Yes and no. Even if he ends up coming off the bench, Lin should rapidly improve their second unit. And one glaringly clear aspect of this strange season is the vital importance of a team's bench. Lin can spark a bench mob that can awaken the team when the starters struggle. Or, if the Knicks decide this month to move a star or two, anything is possible. Lin's success gives them options they didn't have before.
Jared Zwerling, ESPN New York: Yes and yes. If Lin can handle the higher minutes and adjust to Melo especially within their current pace (not ball stopping), it will enable Fields, Novak and especially Shumpert as the sixth man to keep thriving. And with Tyson Chandler and Jared Jeffries, they're already locking down on defense.
---
VOICE OF THE FAN (via Google+)
Stephen Wolek: If Carmelo can learn to play off the ball a little more regularly, then the Knicks will terrorize teams in the East. A pick-and-roll combo of Lin and Stoudemire will be lethal, and Carmelo can provide the clutch bucket when needed.
---
4. What's the best Jeremy Lin pun you've seen?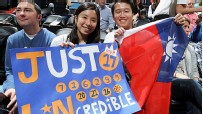 Jim Cavan, KnickerBlogger: Let me consult my 12-volume reference set. I know this much: It's not "Linoleum." Without furiously scrolling through a hundred different Twitter feeds, the best Lin pun thus far -- or at least the funniest -- has to be Dr. Lin, Medicine Man. Not only does it reference the terrible '90s TV show, but Lin's miraculous play has served to cure and revive a snakebitten franchise.
Rob Mahoney, The Two-Man Game: Will Leitch of New York Magazine was set to interview the Knicks' unexpected star late last week, only to be "big-timed" with a last-minute cancelation. After being denied a chance to tap into the biggest story on the New York sports scene, Leitch was positively Linconsolable.
Ethan Sherwood Strauss, HoopSpeak: I liked Eric Freeman's use of Lin Fuego. If I'm doing some self-horn-tooting, I enjoy calling Bibby's minutes "The boring Linterlude."
David Thorpe, Scouts Inc.: One word: Linbow.
Jared Zwerling, ESPN New York: "Happy Va-Lin-tine's Day!" With Feb. 14 approaching, the Knicks, and the entire world for that matter, have already signed, sealed and delivered their Hallmark cards to Jeremy Lin.
---
VOICE OF THE FAN (via Google+)
Eric Kuan: All I do is Lin, Lin, Lin.
---
5. Lin was #NBArank 467 in August. Where does he belong now?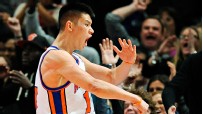 Jim Cavan, KnickerBlogger: Maybe 466? Kidding! That's totally Sean Marks' territory. This answer hinges on to what extent Lin can keep up this caliber of play. My out-on-a-limb prediction? He finishes the season averaging somewhere around 16 points, eight assists and four rebounds, with solid efficiency numbers to boot. That ought to put him somewhere around, say, 40? Which, oddly enough, is exactly where 2010 Summer League nemesis John Wall was ranked to start the season.
Rob Mahoney, The Two-Man Game: No. 157. With Eric Maynor out for the season, Lin -- a fair Maynor analogue -- is a fitting replacement.
Ethan Sherwood Strauss, HoopSpeak: Right now, ranking Lin as low as 467 would be even more ridiculous than Rajon Rondo's super-high No. 17 spot. I'll put Lin at 87, right below Marcin Gortat.
David Thorpe, Scouts Inc.: I'll put him at #223 right now, only as a protest over having Brad Miller that high (didn't anyone watch him last year?). Lin certainly has the potential to get much higher, but his future is still not crystal clear. But if he was a stock, he'd be valued better than the Internet stocks were during the boom years.
Jared Zwerling, ESPN New York: Currently, Lin's backcourt teammate Fields is #NBArank 128. Who's after him? Atlanta Hawks backup point guard Kirk Hinrich, who's declined in his career and is averaging only 5.2 points per game. That's a place for Lin, even though he's just five games into his unbelievable streak, scoring 109 points -- the most out of any player in history after four starts.
---
VOICE OF THE FAN (via Google+)
Bill Thruman: So far it's only been a few games so I wouldn't go ranking him top 50 or anything, but he does deserve to be moved up at least into the top 150 and maybe higher if he continues to be awesome.

ESPN.com and the TrueHoop Network
David Thorpe writes for Scouts Inc. Jared Zwerling covers the Knicks for ESPN New York. Jim Cavan, Rob Mahoney and Ethan Sherwood Strauss contribute to the TrueHoop Network.
• Follow the NBA on ESPN on Twitter | On Facebook | On Google+