The Knicks have won six straight games with Jeremy Lin, who has recorded 20 or more points and seven or more assists in each. In his past three games, he has torched the Lakers on national television at the Garden, hit a winning free throw in Minnesota and nailed a winning 3 with a half-second left in Toronto.
So what's next for the Knicks and the NBA's newest sensation? Let's play 5-on-5:
1. Should David Stern put Jeremy Lin in the All-Star Game?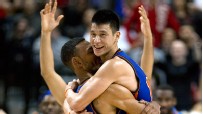 Danny Chau, Hardwood Paroxysm: No, although it's interesting to envision the response he'd get. His six-game stretch has been as impressive as any other player's so far this season, but six games shouldn't grant a player an automatic All-Star berth. Still, the world's reaction to Lin has been enormous. The kind of atmosphere he'd bring to an All-Star Game would be unbelievable.
Beckley Mason, HoopSpeak: No ... or only if he replaces Carmelo Anthony. At this point, Lin has started fewer games than Rajon Rondo missed with injury. As special as Lin has been, rewarding him for six great games for a big-market team while the Milwaukee Bucks' Brandon Jennings toils in relative obscurity would suggest a bigger Knicks conspiracy than when they landed the Ewing pick in 1985.
Chris Palmer, ESPN The Magazine: A resounding no. Two words: Rajon Rondo. By the way, Lin will never be as good as Rondo. Ever. Two more words: Josh Smith. Lin has had six games that matter. His time will come, but not just yet.
Rob Peterson, Hardwood Paroxysm: As much as I love that the Jeremy Lin experience has turned the conversation toward the game and not the business surrounding it, Lin is a phenomenon, not an All-Star. He's had six great games. The best thing about this story is it's not scripted. If Stern puts Lin in the All-Star Game, even if there's a need for an injury replacement, it would be too much manipulation of a good thing.
Robert Silverman, KnickerBlogger: No. With the way that Stern has been pilloried for his ham-fisted, seemingly autocratic handling of the CP3 decision, shoehorning Lin into the All-Star Game would look like an act of shameless exploitation. Lin wasn't voted in. The coaches didn't pick him as a reserve. If he's smart, Stern will leave well enough alone.
---
2. Should David Stern put Lin in the rookie-sophomore game?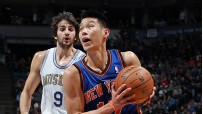 Chau: Absolutely. In Lin's six games, he has three more wins than Kemba Walker has in his 28 games with the Bobcats. It's called the Rising Stars Challenge, and no other star is burning brighter right now.
Mason: Absolutely. You could argue that no other second-year guard has played as well as Lin has in the past two weeks. Look at the top eight in David Thorpe's sophomore rankings and try explaining why Lin doesn't belong.
Chris Palmer, ESPN The Magazine: A resounding yes. What was that I said about just six games? Still, he's proved that he belongs in that game. No soph can match him since he became the Jeremy Lin we know and love. Gotta have him at All-Star Weekend, and this is the perfect event.
Peterson: Sure, why not? It is called the Rising Stars Challenge, and as a second-year player, he meets the criteria for the game. No one would object to this as much as if the NBA put him in the All-Star Game. Then again, Lin should just show up in Orlando, sneakers slung over his shoulder, as though he's headed to the West Fourth Street courts in New York. He could sleep on the couch of Melo's suite. And who could blame Shaq or Chuck for plucking Lin out of the stands and putting the kid on the court?
Robert Silverman, KnickerBlogger: Again, no. (See above.) That said, were one of the participants in the rookie-sophomore game to suffer a strained medulla oblongata in the next 10 days, you can guarantee that Lin would replace him.
---
3. No. 1 story of NBA season: CP3 saga, D12, Linsanity or what?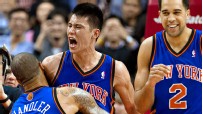 Chau: Watching Lin play is watching every inspirational sports movie of the past 20 years. But there aren't any second, third or fourth takes. It's all unfolding in real time. His errors and weaknesses are in plain sight, but so are his triumphs. There isn't, and won't be, a better NBA story this year.
Mason: Linsanity. It's close between all three, especially because if the Clippers make a run to the Finals or there's a huge Dwight Howard trade, those stories could grow to Paul Bunyan proportions. But neither will warrant the sort of cultural examination in nonbasketball fans that Linsanity has sparked.
Chris Palmer, ESPN The Magazine: Linsanity all the way. Not even close. What makes this so awesome is that no one had any idea this was coming. Not even Lin. Can you imagine if the lockout would have erased the season? No Linsanity!
Peterson: Linsanity, no doubt. As much as Mark Cuban wants to talk about the injustice of the Chris Paul deal and as much as Howard wants out of Orlando, we've seen those movies before. Linsanity has been organic, unscripted and, most important, thrilling. I've covered the NBA in some capacity since 1996. I've never seen anything like it.
Robert Silverman, KnickerBlogger: It's definitely Lin, if only because when one talks about his meteoric rise, one is talking about events that occurred on the court as opposed to the joyless dirge of the lockout, botched/hijacked trade negotiations and/or whom Howard will pick to go to the Sadie Hawkins dance.
---
4. J-Lin: real deal or just real hot?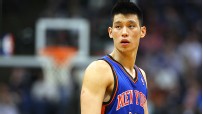 Chau: Both. His numbers are still absurd, and everything in the known universe is telling me that Lin is due for a regression at any minute. Heat dissipates, but Lin's fire is taking forever to die out. It's startling and enthralling, and maybe we shouldn't be surprised if it doesn't.
Mason: Both? Lin's a growing player on a great hot streak. There are flaws -- his turnovers wouldn't be so easily brushed away if the Knicks weren't pulling out close games. But, hey, he's a second-year player charged with running a point-guard-centric offense; mistakes will be made. His quickness to the rim and ability to get to the free throw line aren't going anywhere.
Chris Palmer, ESPN The Magazine: Both. Very hot. Real deal, too. You don't do what he did by accident. The guy certainly can play. Oh, the system serves his ability as well. So does Melo's being out. When things finally even out, he'll still post great numbers, but it will be interesting to see what happens when scouting catches up to him.
Peterson: I'm leaning toward the real deal as long as he's in Mike D'Antoni's offense. Before playing for D'Antoni, Steve Nash was All-NBA third team twice. After playing for D'Antoni, a two-time MVP. This offense is built around the point guard's ability to read and react. Lin's use of the pick-and-roll, his court vision and his ability to finish in the lane make the Knicks the perfect place for him.
Robert Silverman, KnickerBlogger: Both. He won't average 25 points per game the rest of the way if only because of Melo's imminent return. A decrease in scoring and an increase in assists will be perceived as a lessening of Lin's lights, even if it makes the Knicks a better team. On a side note, I'm one of the few who think Melo will end up amplifying, not diminishing Lin's play, but if Melo had been active Tuesday night, you know he would have taken the last shot.
---
5. How long will this Linning winning streak last for the Knicks?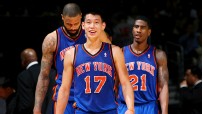 Chau: Pessimistically, it could very well end against the Sacramento Kings on Wednesday. Lin's poorest performance in the past six games was against the Minnesota Timberwolves on the only back-to-back of the stretch. If fatigue hampers Lin's performance, the Knicks could fall to a hungry Kings squad. Optimistically, this Linning streak could last until the end of time.
Mason: Eight. No win is guaranteed in the NBA, but the Knicks should cruise at home against the Kings and Hornets, who are a combined 5-22 on the road. I don't see them getting past Dallas. Except for the Knicks' win over Philadelphia in January, they have yet to beat a team as smart, skilled and disciplined as the Mavericks all season.
Chris Palmer, ESPN The Magazine: I think he'll play reasonably well for the rest of the season. With regard to the Knicks' winning streak, this is basketball, so that could end any night.
Peterson: I think they'll take the Kings on Wednesday, then the Hornets on Friday to run the streak to eight. It'll end, however, against the Mavs on Sunday at the Garden. But if the Knicks get past the defending champs, don't be surprised if they push the streak to 10 heading into a game with the Hawks on Feb. 22. And if the Knicks get past the Hawks, the streak will be at 11 ... with the Heat the next night. If that happens, expect the Intertubes and Twitter to melt.
Robert Silverman, KnickerBlogger: As a devout student of the feckless entity known as "The Knicks," I tend to, as Lin put it recently, "hope for the best and prepare for the worst." My heart says this streak reaches the magic 8-ball, but my head says they cough one up to either of the league's lesser lights at some point before Saturday, with some imp of the perverse like Gustavo Ayon breaking out to the tune of 25 points and 10 rebounds.

ESPN.com and the TrueHoop Network
Chris Palmer covers the NBA for ESPN The Magazine. Beckley Mason contributes to ESPN.com. Danny Chau, Rob Peterson and Robert Silverman contribute to the TrueHoop Network.
• Follow the NBA on ESPN on Twitter | On Facebook | On Google+