Michael Jordan, Magic Johnson, Larry Bird, Wilt Chamberlain and Oscar Robertson were five of the greatest NBA players ever. Would you take LeBron James over any of them?
1. Take your pick: LeBron or Magic?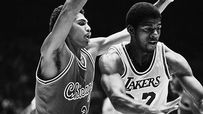 Henry Abbott, TrueHoop: Magic. I grew up watching Magic win, it seemed, everything. The joy he brought to the game and his teammates -- it reached through my TV screen and made me love hoops like never before. That joy combined with those wins ... that is the goal. Maybe James is more productive, but if I got to pick who to build a team around, or watch play, it's Magic every time.
Graydon Gordian, 48 Minutes of Hell:
Magic. Magic Johnson possessed the size and much of the strength of LeBron. On top of that he added some of the most imaginative court vision the game has ever known. And Magic doesn't merely have a ring, like everyone on this list not named LeBron. He has five.
Zach Harper, Daily Dime Live: Magic. We've all seen the comparisons between Magic and LeBron. People talk about the tendencies of Magic that we see in James and they're all valid comparisons. You know who else had the tendencies of Magic? Magic Johnson. He was the greatest point guard of all time and the consummate teammate. He gets the nod.
Rob Peterson, Hardwood Paroxysm: Magic. Although they're similar in many ways (skills, court vision, basketball IQ), Magic played point guard better than anyone in NBA history. They're also similar in that they both seemed to want to be liked. Magic, though, could twist a knife into you with a smile on his face. And as charismatic as he can be, LeBron's still looking for his killer instinct.
David Thorpe, Scouts Inc.: Magic gets the edge here thanks to his incredible ability to control the game and find ways to do whatever was necessary to win. It's possible that Bron would have five rings had he played on those Lakers teams in place of Magic, but "possible" does not beat reality. Magic was the best player on the best NBA franchise in a 10-year stretch.
---
2. Take your pick: LeBron or Bird?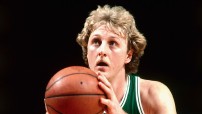 Abbott: LeBron. See, now you're asking me to pick between a chronically injured player and one with the most dominant physical advantage of all time. I had a Larry Bird poster on my wall as a kid -- I know he's a basketball hero. But in four years, James will have played as many seasons as Bird ever did, and the years after that he'll still be spectacular. What a bonus to the owner who picks that guy.
Gordian: Bird. Bird had nowhere near the athleticism of LeBron, but he was one of the game's great skill players. An all-time great shooter and a brilliant passer, Bird's best asset may be his unashamed guile. He was one of the most cunning players to ever take the court. Those too young to remember him well may actually underrate Bird.
Harper: Larry Bird. They're completely different players, almost polar opposites aside from the passing. Bird was able to take over the game in a way few have. It's not that LeBron can't (despite the narrative being forced); it's just that he hasn't done it as consistently as Bird was able to.
Peterson: Bird. Larry Legend and LeBron also have similar skills (see also: my Magic Johnson entry), but LeBron seems more Geico gecko while Bird was more Gordon Gekko. More than being greedy for more success, Bird's strength was that he really didn't care what you thought about it. LeBron is far more athletic, but Bird had a hunger to dominate. It's a hunger that LeBron doesn't seem to have ... yet.
Thorpe: Bird might be the only big forward with passing skills above LeBron's, and his shooting/scoring talent made him the better overall player. It's in the realm of possibility that LeBron passes Larry Legend, but it's not likely. Bird's knack for pulling off the unlikeliest of big plays in dramatic settings outranks Bron's incredible physical gifts.
---
3. Take your pick: LeBron or Wilt?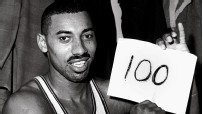 Abbott: LeBron. As amazing as Wilt's numbers were, can you imagine if they had turned James loose in that NBA? Playing at that pace, with those slower, smaller defenders playing less aggressive team defense? Not saying he would have scored 100, but he might have. He'd certainly be all over the record book.
Gordian: Wilt. This is a tough call, because unlike every other choice it's between LeBron and a big man, not a wing or guard. That's exactly why I'm taking Wilt. Big men with his skill set are more precious than gold. He not only had seven scoring and 11 rebounding titles, but Wilt also led the league in assists one season.
Harper: Wilt. I would always take the dominant post player over the dominant wing player unless that wing player is Michael Jordan. Wilt's accomplishments weren't just because of the era. We saw similar performances from Shaq and Hakeem in modern times. Especially in today's game, I'd love to have a guy like Wilt on the block over LeBron on the wing.
Peterson: Hmm ... this is the toughest of the bunch because they play such different roles, but I'll take Wilt. I know Wilt gets savaged for not winning more titles (sound familiar?), but he's the only player to have led the league in the traditional big three categories of points (seven times), rebounds (11 times) and dimes (once). It would have been fun to see LeBron play center in that era, though he probably would have done it without Wilt's Goliath complex.
Thorpe: I'd go with LeBron. In today's game, Wilt might be just as amazing. But he also could have been closer to average without really working on his game, something he did not have to do to dominate in the era he played in. LeBron had a bad Finals, but he's destroyed the league the last few years with a work ethic that's underrated. For example, he was once a bad defender but is now the league's best wing defender.
---
4. Take your pick: LeBron or Oscar?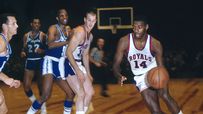 Abbott: LeBron, but very tough to say. Oscar did, essentially, what I'm saying, in the Wilt answer, LeBron might have done in the time of Wilt. But in the end, I'd say LeBron has almost unfair physical advantages in today's NBA. Imagine it then ...
Gordian:
LeBron. I'm surprised to see myself say that, because the Big O may be my favorite player of all time. No one will ever average a triple-double in a season again nor will anyone sniff Oscar's career record of 181 triple-doubles. But if the pace and defensive sophistication of the current NBA were equivalent to Oscar's era, LeBron could.
Harper: Oscar. At this point, I'm having a hard time considering taking a guy in his eighth season over Hall of Famers like these guys. It's not that I don't think LeBron can get there. We might not have even seen his prime yet. But with the information at hand, I'll take the Big O.
Peterson: LeBron. I love Oscar Robertson, but LeBron is basically Oscar 2.0 with supreme hops and speed. I'd have liked to have seen if LBJ could have put up the triple-double numbers Oscar did in the early '60s. And I doubt LeBron will have to wait as long for his first NBA title as Oscar did (11 seasons). Big ups to the Big O, though, for the best rebounding photo ever.
Thorpe: LeBron did enough of what Oscar did, and is far superior in other areas, so I'd choose LeBron. By the end of his career I'll guess so would most everyone else that is objectively looking at the data. In a few ways, Bron is a mutant version of the Big O.
---
5. Take your pick: LeBron or Jordan?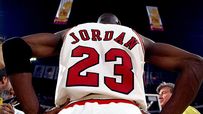 Abbott: The worst kind of analysis relies on nothing but reputation. But my knee-jerk reaction is to do just that: It's Michael Freaking Jordan. C'mon now. Next question. But I'd add a little note that, look, I believe James can play at that level, but proving it in the minds of fans will take a handful of rings.
Gordian: Jordan. Jordan is the greatest to ever play the game, plain and simple. His combination of skill, athleticism and competitiveness is unrivaled. Can you honestly imagine Jordan ever developing a reputation for fading late in critical playoff games? If you're uncertain about Jordan's superiority, go back and watch Game 5 of the 1997 NBA Finals.
Harper: Jordan. Do I even need to explain why? One of these guys is the greatest player of all time and the other is LeBron James.
Peterson: I know who the other four guys are picking, so I'll be the contrarian and go with Jordan. As a lifelong Bucks fan, I hated those Jordan-led Bulls teams, but I'm not one to turn a blind eye toward Jordan's otherworldliness. No one compares to Jordan. He's the best ever. Though I'm sure LeBron would have been a better baseball player.
Thorpe: Until something changes over the next five years, it's Jordan, Magic, Bird, Kareem, Duncan. And that's all I have to say about that.

ESPN.com and the TrueHoop Network
Henry Abbott writes for ESPN.com. Zach Harper is the host of Daily Dime Live. David Thorpe writes for Scouts Inc. Graydon Gordian and Rob Peterson contribute to the TrueHoop Network.
• Follow the NBA on ESPN on Twitter | On Facebook | On Google+