With the news that dazzling Minnesota rookie point guard Ricky Rubio is lost for the season with an ACL injury, the reaction was swift.
1. What was your first reaction to the Ricky Rubio news?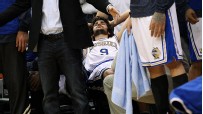 Marc Stein, ESPN.com: Same as everyone: sickness and sadness. You can see by the Twitter reaction from NBA players who have nothing to do with the Timberwolves how much everyone loves watching this guy. He's the heir to Steve Nash and Jason Kidd as the best pass-first point guard in the game and dazzles like no other. Can't name five guys in this league I'd rather watch. So, selfishly, I can only echo everyone's disappointment.
Danny Chau, Hardwood Paroxysm: "Wow," and a few other words that can't be reproduced online.
Mark Haubner, The Painted Area: A selfish one: I was disappointed that I wouldn't be able to see Rubio play again until next season. Players with Rubio's ability to see the floor and find teammates rank right near the top of what makes the world's greatest game so beautiful to watch.
Zach Harper, Daily Dime Live:
I had a pretty good idea Friday night that this was going to be the result of the injury and all I could muster up in my head was, "This sucks." There really isn't any other emotion I can come up with than feeling numb because of it. I feel so bad for him and the organization right now.
Beckley Mason, ESPN.com: After a deep sigh, my first thoughts all began with "Well, at least ..." As awful as reconstructing his knee will be, Rubio is lucky his playing style, athletic profile and age predict a strong, though certainly not instantaneous, recovery.
---
2. Who do you think this news hits hardest?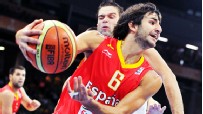 A. The Timberwolves
B. The Spanish national team
C. Basketball fans
Stein: The Timberwolves. The selfishness of outsiders like me is a secondary concern. And Spain's ceiling in the Olympics really hasn't changed even without Rubio, because A) Jose Calderon and Juan Carlos Navarro are on the same roster and B) I don't think they were going to beat what looks like the deepest (or co-deepest) team that the United States has ever fielded for Olympic basketball even with Rubio.
Chau: The Spanish national team. Four years ago, on the biggest stage in the world, NBA players gawked at Rubio's talent and ability. He's only gotten better. Players such as Pau Gasol and Jose Calderon are entering the twilight of their careers in international competition. Knowing they'll be competing without the country's prodigy is unspeakably unfortunate.
Harper:
Basketball fans. Look at the reaction to the injury Saturday. People all over Twitter expressing their condolences. Guys such as LeBron James, Dwyane Wade and Kevin Durant tweeting about Rubio getting healthy. Rubio transcended this team and basketball for his country so far. I don't remember Jonny Flynn getting this reaction when he hurt his hip before last season.
Haubner: Basketball fans. Minnesota has been among the NBA's most fun teams to watch, and now it takes a step back on the League Pass must-see scale. The Timberwolves are still in good shape for the long term. The Spanish national team has good point guard depth, headed by Jose Calderon, and doesn't particularly know how to utilize Rubio's skills, anyway.
Mason:
The Timberwolves. Rubio contributes more to the Timberwolves than he does the Spanish national team, and the pool of players from which Minnesota might replace him is about as deep as a sidewalk puddle. The other acceptable answer to this question would be "D. Ricky Rubio."
---
3. What was Rubio's upside before the injury, and what is it now?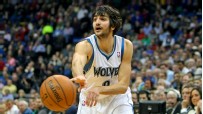 Stein: It's a torn ACL. So there's no reason or indication to think he won't make a full recovery, and thus no need to change the long-term assessment. He's a future All-Star and franchise point guard in spite of his limitations as a shooter. And I tend to believe that he will get his jumper to a point, a la Kidd, that it fades as a weakness over time. But I'm admittedly biased.
Fancy passing and deep shooting are my two favorite things in basketball, so I was a Rubio believer even these last two seasons when his stock was said to be dropping because of his struggles at Barcelona. Always thought that, once you put NBA-level finishers around him and take him out of Europe's pack-the-paint world, Rubio would be a different player.
Chau: Had Rubio been a freak athlete, the tragedy of his injury would have been more than too much to bear. Rubio could have been a top-7 point guard in the league for years to come, and he still can. This injury won't rob him of his greatest gifts (his mind, his eyes, his hands), it will only rob him of time.
Haubner: Jason Kidd has seemed like a good place to set the Rubio ceiling.
He is a superlative passer who may be even more effective on defense than offense and an excellent rebounder for his position. His (very) low field goal percentage is the main thing holding him back.
Enough guys have come back strong from torn ACLs that I see no reason to alter the evaluation.
Harper:
Before he was capable of being a top-10 point guard in the league and top 5 in a few years if he learned how to shoot more consistently. Now? He's still capable of doing those things. An ACL tear isn't what it used to be, and he can make a full recovery. The Wolves and Rubio just have to be diligent about his rehab.
Mason:
Rubio's potential is more dependent on his jumper than his ability to jump. At just 21, I expect Rubio to regain almost all of his athleticism, and his vision and intelligence will remain superb. Rubio can still be a top-seven point guard and the engine of a championship-level offense and defense.
---
4. Should Minnesota make a move to shore up the backcourt?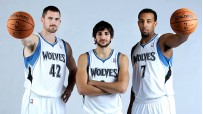 Stein: The Wolves will continue to try to move Michael Beasley, but I see little need to audible and start chasing point guards. They're deep at Rubio's position with Luke Ridnour and J.J. Barea to step in.
The season also has only about six weeks to go after the deadline, so there's never been less time to work in a new guy. If giving up Ridnour is their only means to acquire Jamal Crawford from Portland, I'd say they have to pass and go with what they got. Maybe they'll get an extra guard in whatever Beasley deal they strike and solve two problems.
Chau: No, or at least not a big one. Losing such a creative player will dramatically change the offense, but the team has decently capable stop-gaps in the backcourt. The Wolves would certainly be smart to look at their options, but they shouldn't compromise their plan of the future in hopes of instant success.
Haubner: Not unless it's a good move for the long term. Minnesota is still a team for the future more than the present. Also, Luke Ridnour and J.J. Barea can hold down the fort sufficiently. It's not like Minnesota's reduced to trotting out Derek Fisher and Steve Blake from here ...
Harper:

I'll say no move for the backcourt is necessary right now. Ridnour has been one of the more unheralded role players this season and is capable of keeping Nikola Pekovic and Kevin Love scoring at high clips. The key will be getting Barea healthy and seeing if Malcolm Lee can provide a spark. Now, if they want to go after Pau Gasol to add elite size, that's a much better plan to me.
Mason:
Minnesota needs to keep playing the long game here and avoid any deal that impacts cap flexibility with regards to signing Derrick Williams, Rubio and (I can't believe I'm typing this) Nikola Pekovic. The chance at a first-round playoff loss shouldn't distract from this fact: Minnesota's need is still at shooting guard.
---
5. Will the Wolves make the playoffs?

Stein: I badly want to say yes. I want to believe that the K-Love Express and a NBA Coach of the Year-worthy job from Rick Adelman can drag them into the postseason. Struggling to talk myself into it, though. The Wolves are already ahead of freefalling Portland, so the Blazers' chaos doesn't help much. Don't see Dallas' free fall since the All-Star break lasting forever, so it'll probably come down to Minnesota and old friend Kevin McHale's Rockets for that last spot ... unless Phoenix keeps trending up.

Chau: No. It's not realistic to expect the playoffs for a team that now has less than two months to reassess the way it plays and win games. Rubio was essential to the Wolves' dramatic improvement on both ends of the court. Rick Adelman's teams overachieve; it's what they do. But this team is young and will need more time to readjust.
Haubner: No, this ain't the Eastern Conference. Minnesota is probably better than its record, as it has lost a bunch of close games, and with Ridnour/Barea, it'll still be competitive. But there's just too much competition in the West. I'd expect Houston to beat the Wolves out for the eighth spot and Portland to finish ahead of them, as well.
Harper:
Call me a homer, but I'm going to say yes. Portland is a bit of a mess right now (although completely fixable) and Utah and Houston aren't sure things. The Wolves still have Kevin Love and Nikola Pekovic bruising opposing frontcourts. Lot of firepower still howls at the Target Center.
Mason:
Probably not. Ricky Rubio isn't the primary reason Minnesota is in playoff hunt, but I'm unconvinced Martell Webster and J.J. Barea (not to mention Wayne Ellington) can be as effective in increased minutes. Three teams lurk within three games of the Minnesota, so even a slight slip could leave the Wolves out in the cold.

ESPN.com and the TrueHoop Network
Marc Stein and Beckley Mason write for ESPN.com. Zach Harper is the host of Daily Dime Live. Danny Chau and Mark Haubner contribute to the TrueHoop Network.
• Follow the NBA on ESPN on Twitter | On Facebook | On Google+