Let the trades begin! The Milwaukee Bucks and Golden State Warriors struck the first big deal before Thursday's deadline, as the Bucks sent Andrew Bogut and Stephen Jackson west for Monta Ellis, Ekpe Udoh and Kwame Brown. Which side got the better end of the deal? Out team gives their takes
1. Who won the Bucks-Warriors trade?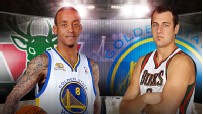 Kevin Arnovitz, ESPN.com: Milwaukee, even though Andrew Bogut is the best player in the deal. Neither team is adding a piece to contend -- they're merely shuffling the deck. In that respect, the Bucks drew the one wild card in the deal, Ekpe Udoh. We know who Monta Ellis, Bogut, Stephen Jackson and Kwame Brown are, but Udoh still has something resembling an upside. The Bucks also win the all-important spreadsheet event going forward.
Dan Feldman, PistonPowered: The Bucks. They traded two expensive players, both of whom might not be any good right now, and got an underrated young player in Ekpe Udoh and a talented one in Monta Ellis. The hope that Scott Skiles can fix Ellis' shot selection is worth the risk.
Mark Haubner, The Painted Area: I'll say Golden State because acquiring Andrew Bogut will be a major coup if he can regain his 2010 form. But that's a major if, which now teams up with the curiously persistent iffiness in Steph Curry's ankle. They had to deal Monta Ellis, and maybe a dice roll on Bogut is the best they could do.
J.M. Poulard, Warriors World: For the time being, the Bucks won the trade given that they get two healthy and productive bodies. The Warriors, on the other hand, receive a good center who's currently injured and Stephen Jackson, who probably won't stick around.
Jeremy Schmidt, Bucksketball: The Warriors are looking to tank and I'm not really sure what the Bucks are looking to do. So, if the Warriors get a good draft pick and can pair him with Bogut, they win. If the Bucks make the playoffs and find something in Ellis the Warriors didn't, they win.
---
2. Will an Ellis-Jennings backcourt work in Milwaukee?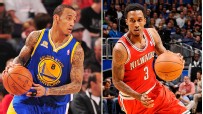 Kevin Arnovitz, ESPN.com: The way waffle fries work as nourishment when you're stranded at an airport. Ellis can find shots, something that often comes at a premium in the Bucks' offense. And having two guys who can work off the dribble on opposite sides of the court should loosen things up.
Dan Feldman, Piston Powered: Probably not, but I'm not convinced Ellis would fit well with anyone right now. The Bucks now have a year to decide whether they want to roll with Ellis or Brandon Jennings long-term. Both players, in the right situation, could thrive. It's not like the Bucks are stuck with both forever.
Mark Haubner, The Painted Area: From an entertainment standpoint, yes. From a winning-basketball-games standpoint, it seems as ill-fitting as the Ellis-Curry backcourt was in Golden State. Monta seems best suited to be paired up with a bigger guard who doesn't need to control the ball. We'll see if there's also a Brandon Jennings trade on tap that returns a better fit.
J.M. Poulard, Warriors World: No. The Ellis-Curry tandem struggled because both guards had problems on defense given their diminutive size and because both players needed the ball in their hands to be effective. I see more of the same happening in Milwaukee with Jennings and Ellis.
Jeremy Schmidt, Bucksketball: The numbers say no. A lot of people are excited about their quickness, but we're talking about two guys who don't score efficiently and gamble a lot on defense. They have youth on their side, but Ellis is 26 and averaged better than 40 minutes each of the past two seasons.
---
3. What's the X factor in this trade?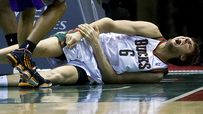 Kevin Arnovitz, ESPN.com: Udoh, because there's a trace of evidence to suggest that he might be the next premier defensive big man in the league. He might also be the next Ervin Johnson.
Dan Feldman, Piston Powered: Bogut's health. Just two years ago, Bogut was an All-NBA third-team center. At his best, he's a superb defender and efficient offensive player. If he can return to that level, the Warriors are in business, but they're placing an expensive bet.
Mark Haubner, The Painted Area: Bogut's health, unquestionably. He is an elite defensive center when healthy. Unfortunately, he's missed more than 100 games in the past four seasons. Also, he had a 53.1 field goal percentage prior to his gruesome 2010 elbow injury but has shot just 48.7 since.
J.M. Poulard, Warriors World: Stephen Jackson. He could potentially help out a team like the Clippers or Bulls; thus it's possible that Golden State might be able to trade him to a contender for a good young player, solid veteran or perhaps a draft pick. What the Dubs do with S-Jax may go a long way toward fixing the team.
Jeremy Schmidt, Bucksketball: If the Warriors keep losing, and it seems like that's going to happen without Ellis and Bogut, they should fall into the top seven in the draft. If they do that, they keep their pick. With that player and Bogut, this could be a better team next season.
---
4. Does this trade make Golden State better in the long run?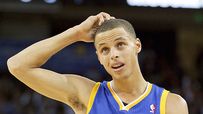 Kevin Arnovitz, ESPN.com: Maybe it was fit or those with whom Monta was paired in the backcourt or what some people call culture, but there was something about Ellis' presence on the floor that made the Warriors a lesser basketball team. If Bogut can stay healthy, who knows; maybe he and Curry can become an elite big-small combo.
Dan Feldman, Piston Powered: If Bogut gets healthy or if they hit on a top-seven draft pick this summer, yes. Remember, the Jazz get the Warriors' first-round pick if it falls outside the top seven, so getting a little worse this season might save Golden State's spot in a great draft. That's too many ifs for my liking, though.
Mark Haubner, The Painted Area: It's a big get for Golden State if Bogut, still only 27, can get/stay healthy, a big dud if he can't -- especially since the Warriors parted with an intriguing defensive-minded big in Udoh, who has posted consistently exceptional plus-minus numbers in his young career.
J.M. Poulard, Warriors World: Yes. The Warriors have been looking for a defensive anchor for quite some time and now they have him. Bogut is a stud big man who will cover up mistakes and rebound his area.
Jeremy Schmidt, Bucksketball: It all depends on how they draft. Golden State sacrificed plenty of cap room by taking on Jackson, and unlike a lot of teams in the NBA, they have a market that could draw free agents. It's a risk for them to rely on the draft, but if they drop into the top seven and keep their pick this year, they could strike gold.
---
5. Who will grab the last two playoff spots in the East?


Kevin Arnovitz, ESPN.com: Boston and New York. There's simply more talent on the Knicks. The Bucks should take comfort that they're in the conversation given the absence of their best player. And they'll be happier picking 10th than 15th.
Dan Feldman, Piston Powered: The Celtics are already 4.5 games up on the No. 8 seed, which the Bucks and Knicks share, so I consider Boston a safe bet. The Bucks have two more home games left than the Knicks, and Milwaukee's remaining opponents have a lower combined winning percentage than New York's, so I'll give Milwaukee the edge.


Mark Haubner, The Painted Area: Boston and Milwaukee. Considering that Bogut is unlikely to return this season, the Bucks are likely better in the short term, adding Ellis' scoring plus Udoh to shore up the interior defense while getting rid of unhappy Stephen Jackson. But an 8-seed doesn't really get Milwaukee anywhere, and this is a clear setback in the long term.
J.M. Poulard, Warriors World: Boston and New York. When in doubt, always pick the teams that defend better, because they give themselves chances to stay in games late. With good closers and solid defenses to boot, the Celtics and Knicks should grab the final two spots.


Jeremy Schmidt, Bucksketball: The Bucks were beating bad teams before this trade went down and that's unlikely to change. They have a soft schedule in the second half and they'll likely grab the final playoff spot, while the Celtics grab the seventh seed.

ESPN.com and the TrueHoop Network
Kevin Arnovitz covers the NBA for ESPN.com. Dan Feldman, Mark Haubner, J.M. Poulard and Jeremy Schmidt contribute to the TrueHoop Network.
• Follow the NBA on ESPN on Twitter | On Facebook | On Google+