1. What was the trade deadline play of the day?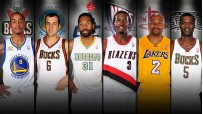 John Krolik, Cavs: The Blog: I'll go with the Lakers grabbing Ramon Sessions. They filled a need, and may have just given themselves a significantly better chance to win the championship this season.
Zach Harper, Daily Dime Live: I thought the Trail Blazers blowing it up and getting a very favorable draft pick from the Nets was huge. With the dismantling of their own roster and the firing of their coach, they're in prime position to tank, clear cap room for next season and end up with two lottery picks. Too many teams tread water before they realize it's time to blow it up. Have to sink or swim.
Mark Haubner, The Painted Area: Dwight Howard giving the Magic another season by waiving his early termination option, for sure. Orlando's hope that Dwight will stay in the Magic Kingdom has been unexpectedly revived after a bout on life support, even though they certainly can't exhale yet. The Blazers breaking out the dynamite comes in second, especially with the coup of turning Gerald Wallace into a potential top-10 draft pick.
Marc Stein, ESPN.com: I get the vibe that I'm in the minority here, but I really like the Nuggets' gamble.
JaVale McGee is too young, long and athletic to be written off as widely as he's been dissed ... and moving Nene created long-term flexibility that gives the Nuggets so many more options when it comes to building their post-Melo squad. (Such as packaging several of the solid players they've stockpiled in a future trade for a star who's willing to marry himself to Denver more than Carmelo Anthony was.)
In the present, though, Denver simply didn't like the way the nearly $70 million Nene expenditure was working out and moved decisively to change course and try something different. That'll almost always get you a hat-tip from me.
Brian Windhorst, ESPN.com: It's tempting to try to be overly analytical here and review how a team got deeper or plugged a role hole with a creative move. But it cannot be overlooked that the Magic were on the verge of trading a first-team All-NBA player in a lopsided deal and they were able to convince him to stay. He may only stay for another year, but they can now attempt to make a run this season with clear heads. And if the Magic still have to move Howard, it will not be under the gun. They won the day.
---
2. How do you see the Dwight Howard situation playing out?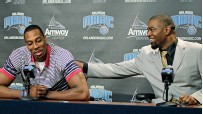 Krolik: I think that he stays in Orlando all the way through next season, then goes into all-out unrestricted free agency, at which point all bets are off.
Harper: I think he's in it for the long haul in Orlando. It seems like Dwight is finally listening to himself and not outside influences as much. As long as Orlando realizes how young he is and doesn't panic with moves, they can build something great moving forward.
Haubner: Grantland's suggested href="http://www.grantland.com/blog/the-triangle/post/_/id/20262/dwight-howard-the-indecision">"The Indecision," and a TV special on which Dwight changes his mind three times seems as likely as anything at this point. It's still unclear how Orlando improves, given how few desirable assets it has. "Wherever Deron Williams ends up" seems like the odds-on favorite, meaning Dallas' chances have to be looking up.
Stein: Very short honeymoon for the Magic unless Orlando goes on a deep playoff run and/or Dwight's flame for the Magic is rekindled to the point that he consents to a longer-term extension. Teams will continue to bombard them with Dwight trade proposals in conjunction with the draft or in the summer. And then next season will be as draining as this one was with the smothering daily focus on Dwight's future. So this looks like temporary relief for Central Florida for as much as it must feel parade-worthy this morning.
Windhorst: As we've all heard and now have seen play out in front of us, he's quite unpredictable. It does seem like he was ready to leave town for a long time. His team is playing well and he was facing LeBron-esque fallout, and that combination seems to have pulled him back from the edge. But there wasn't a great deal of joy at that news conference, more like a few tired smiles and forced jokes. This is not a fairy tale, and everyone knows it. Most likely if the Magic aren't having a parade in June, the team will seriously have to explore his trade market, and this time do it without a list they must follow. Hard to believe Howard has committed for the long term.
---
3. The Lakers moved from _________ to __________.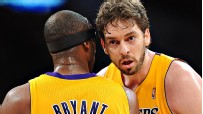 Krolik: A team with a puncher's chance at a title to a team with a decent chance at a title. Sessions will give the Laker offense the extra creator it desperately needed to make the team a real title contender.
Harper: Matchup-based contenders to still matchup-based contenders. The West is a giant game of rock, paper, scissors, as it always is. The Lakers kept their size, which will be instrumental in facing teams such as the Nuggets and Thunder in the playoffs. They're technically deeper now, but they're still pretty much the same capable team they were before.
Haubner: Not enough talent depth to truly contend to well, maybe … Ramon Sessions and Jordan Hill are far from great, but they're significant talent upgrades at the point and on the bench. Remains to be seen how well they'll fit and whether they can truly make an impact, but I see a glimmer of hope for title chances that didn't previously exist.
Stein: Done to dangerous. They were finished as previously constituted as far as championship contention because of their depth and speed issues. I'm not as convinced as some that Sessions and Kobe will be a seamless fit, but there's no question that Sessions represents a major backcourt upgrade. Factor in the likely boost Pau Gasol will get knowing he'll have at least three months insulated from trade speculation and you're inclined to lump the Lakers back in with San Antonio and Dallas on the list of title-tested Western Conference enterprises that can cause OKC problems through championship know-how alone.
Windhorst: Uncomfortably thin to satisfactory. They've been relying so much on Kobe this season that it's just not healthy. With their moves they upgraded at two rotation spots, that's a goal any team would aspire to at the deadline. Not that the fans care, but they also saved a bunch of money, too. The poker players of the world are quite pleased that Dr. Buss' bankroll just grew.
---
4. Who had the worst week this week?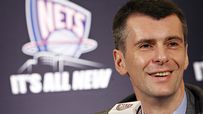 Krolik: Gotta be the Nets. They were hours away from pairing up Dwight Howard and Deron Williams; now they're on the brink of having absolutely nothing.
Harper: Carmelo Anthony. Unless the Knicks move toward that championship contender status soon, the pressure and scrutiny is going to pile on. It's not necessarily fair, but it's part of the territory, especially when people are pegging you as the reason for the coach resigning. It is time for Anthony to step up and change the spiraling public perception.
Haubner: It's hard to imagine jet ski/nightclub enthusiast Mikhail Prokhorov ever having the worst week, but he's likely the only person alive whose interests have been thwarted by both Vladimir Putin and Dwight Howard recently. Acquiring Howard just became a lot more complicated, and his Nets were forced into the panic trade for Wallace in order to try to keep D-Will invested.
Stein: Mikhail Prokhorov. The Nets' owner is suddenly facing the very real prospect of opening his new building in Brooklyn without a franchise player if D-Will goes home to Dallas in July. Worse yet, Prokhorov is mostly myth after two years in the NBA. He's never here, for starters. If he wants to be the Russian Mark Cuban, as Bill Simmons loves to call him, he's got to be around more often. Players want to see him in action and feel his presence. Why should star players want to play for the Nets if he's giving the impression that he doesn't want to be here to watch or run them?
Windhorst: We don't have to ask the Nets; they already told us with what seemed like a panic move in giving away a likely high draft pick for the right to pay Gerald Wallace $11 million next season. Perhaps we shouldn't be surprised, though. Despite their quest to attract big names for the move to Brooklyn they have repeatedly been left at the altar and responded by making decisions that don't seem to make sense in the short or long term. The Nets are not out of the Howard derby yet, and the cap space and that draft pick sure would've helped get him to town.
---
5. Give us one fresh takeaway from this week.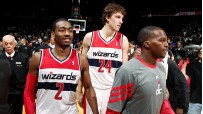 Krolik: This deadline, "trying to secure a lottery pick" was the new "trying to add the final piece."
Harper: The Washington Wizards have been a wasteland this season because they've had too many guys who may be more concerned with their own endeavors than the team's. They got rid of two of those guys at the deadline, which could lead to a rejuvenated John Wall. He has been really good lately and should show people it's wrong to doubt him.
Haubner: I'm surprised that Wizards owner Ted Leonsis abandoned the strategy of painful patience, which built his NHL team, to acquire a 29-year-old center in Nene Hilario with a big contract and bigger injury history. I fully understand how the JaVale McGee experience can try the nerves, but I also think there's a decent chance JaVale will be a more valuable player in a couple of years.
Stein: Hearing how excited Gregg Popovich and Tim Duncan are to have Stephen Jackson back makes me think that the Spurs have a real steal with their surprise trade. The Spurs always get the benefit of the doubt now because of all their personnel successes, but this move should make the biggest playoff impact of them all.
Windhorst: We're going to be in for a busy trade market this summer. The lockout cooled many teams over the past three months and we just didn't see much action with Howard gumming up the works. But we're headed for a summer of historic salary-cap space around the league and not everyone is going to be able to use it to sign players. There's a transaction bubble building in the league, and teams generally have been conservative for the past 18 months or so. I predict it bursts starting around the draft.

ESPN.com and the TrueHoop Network
Marc Stein and Brian Windhorst cover the NBA for ESPN.com. Zach Harper hosts ESPN.com's Daily Dime Live chat. John Krolik and Mark Haubner contribute to the TrueHoop Network.
• Follow the NBA on ESPN on Twitter | On Facebook | On Google+