Things are heating up in the NCAA tournament, as the round of 16 kicks off on Thursday. Which guys with pro futures should NBA fans keep tabs on? Our team tells you who they're watching this weekend:
1. Which prospect in the South Region are you most interested in?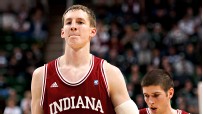 Israel Gutierrez, ESPN.com: With all due respect to The Brow, Anthony Davis, I'm intrigued by Indiana's Cody Zeller. He might be more of a 2013 prospect, but if he shows off his NBA-ready skills against Davis and UK, Zeller should be a 2012 lottery pick. Think combination of Chris Bosh and Tyler Hansbrough.
Patrick Hayes, PistonPowered: Perry Jones III. There was a time last year when Jones was considered possibly the top prospect in college basketball. His stock has fallen a bit because of a perception that he's not as aggressive offensively as a potential franchise player should be. A strong performance leading Baylor into the Elite Eight would help erase some of those questions.
Danny Nowell, Magic Basketball: I'm excited to see whether Perry Jones III can add to the momentum he started building during the Big 12 tournament. Jones fell out of favor for his seeming lack of desire to take over games, but if he delivers in a big way in a few high-pressure scenarios, scouts are going to fall in love all over again.
Ethan Sherwood Strauss, HoopSpeak: Cody Zeller. My fingerprints are faded from the amount I've typed on Anthony Davis. I'm sold on him, to overly understate my sentiments. Zeller is more mysterious, worthy of analysis. Indiana's freshman is big, mobile and rotates well on defense. He should be going higher in mock drafts.
Kyle Weidie, Truth About It: Kentucky's Anthony Davis is the consensus No. 1 pick, no one denies this. Even so, these games are still part of the test of his NBA capability. Who knows, maybe Kwame Brown would've dominated as a freshman at Florida. OK, so Anthony is no Kwame by any measure of hands, but Davis will make whichever team wins the draft lottery more comfortable with dominating performances over Indiana and likely Elite Eight opponent Baylor.
---
2. Which prospect in the East Region are you most interested in?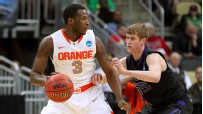 Gutierrez: Read the scouting reports on Dion Waiters and you'll notice lots of similarities to Dwyane Wade, including size questions (both are 6-foot-4). Waiters needs strength, but he has an NBA 2-guard's game, and if he finds a groove he can carry 'Cuse to the Final Four. If he does that, Waiters could shoot up the charts the way Wade did in 2003.
Hayes: Jared Sullinger. Few Big Ten teams over the past two seasons have had big men capable of matching Sullinger's combination of skill and strength. I'm really interested to see how Sullinger plays against the physical Yancy Gates, and whether Gates can use the matchup as an opportunity to improve his own stock.
Nowell: I guess Jared Sullinger is the only top-tier recruit left in the East, overexposed though he may be. While I think the book on him is just about written, a "veteran leader" type -- particularly one who does not come with elite measurables -- can pretty easily capture hearts and headlines in a way that might bring Sullinger's stock back up.
Strauss: Jared Sullinger. I'm betting hard against him, but that doesn't preclude me from watching. Bigs who rarely block shots at the NCAA level rarely pan out in the pros, though.
Weidie: Jared Sullinger's stock sure has dwindled in the past year, hasn't it? The guy who was once a consensus Top 3 pick is the same guy who pulled down only four rebounds against Gonzaga. But Sullinger still has a chance to make some sort of recovery to his status ... or slip out of the lottery.
---
3. Which prospect in the West Region are you most interested in?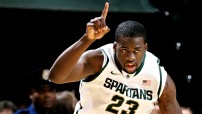 Gutierrez: Despite the intrigue Bradley Beal and Patric Young present, have to go with Draymond Green here, if for no other reason than to help answer the question: What is he? Is he the 21st-century Charles Barkley? Is he a nice college player who doesn't translate to the NBA? Is he simply a player who needs not fit in a box?
Hayes: Draymond Green. I've watched Green's career unfold since he was a high school player in Saginaw, Mich. A couple years ago, it seemed like a longshot for him to make the NBA. Last year, it seemed like a longshot that he'd be anything more than a late second-round pick, if that. With the senior season and tourney run he's had so far, Green is on the verge of making himself a first-round lock. He's the most unique player and prospect in college basketball.
Nowell: I think Draymond Green is a tricky prospect, the type who sticks around long enough to start exploiting the maturity and physical gap that develops in college. But I'll be looking to see whether he continues to help his own case and successfully baits a team into wasting a first-round pick.
Strauss: Bradley Beal. The Florida 2-guard has yet to impress me, but one-and-dones can pay off despite pedestrian college numbers (think Eric Gordon). The NBA has such a dearth of quality shooting guards that any such prospect is worth analyzing.
Weidie: With 20 rebounds and 28 points in two tournament games, we know the type of imprint Florida's Bradley Beal, a 6-foot-3 guard, can have on the game. But what I'm most interested to see from the freshman is if he's ready to hit big tournament shots.
---
4. Which prospect in the Midwest Region are you most interested in?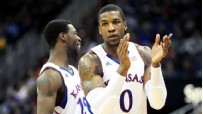 Gutierrez: Thomas Robinson's body screams NBA. And these regionals could decide if NBA teams should be screaming for him. That near-loss to Purdue showed how much Kansas needs him, and that potential meeting with UNC could be his most critical test. If he can't take over now, he probably won't be a franchise-type frontcourt player.
Hayes: Tyshawn Taylor. A big, fast, athletic point guard who plays with a high major, shoots nearly 50 percent overall and over 40 percent from 3 is only considered a late first- or early second-rounder in most mocks? Granted, Taylor's career has been full of starts and stops, but he has had a great senior season. With his speed and size, he should see his stock rise as the draft gets closer.
Nowell: Though it pains me as a Tar Heel to say it, Harrison Barnes has often seemed intent on sleeping through tournament games. He needs to answer the questions about his desire and aggression, and with Carolina needing him more than ever, Barnes has an opportunity to restore some of his lost luster.
Strauss: Harrison Barnes. With Kendall Marshall down a limb, it's high time to watch Barnes. I'm inclined to bet against stardom, based on a reductive rule: Projected high lottery picks who go back for another NCAA year usually don't pan out. Staying can be an admission.
Weidie: Kansas' Thomas Robinson had a down scoring game against Purdue, finishing 2-for-12 from the field. With his hulking shoulders, ability to mob the boards, and overall agility, he seems beastly enough to get taken second overall. But to boost his résumé, he'll have to show some more mettle against the Wolfpack.
---
5. Who's the most intriguing prospect not in the Sweet 16?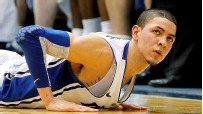 Gutierrez: No guard in the tournament has a better NBA skill set than Austin Rivers. Don't care that he needs months in the weight room. Don't care that he's just 6-4. He's got a sick first step, he's a deadly shooter and, maybe it comes from his hoops pedigree, but he clearly wants to be a star. He'll be an effective NBA 2-guard for a long time.
Hayes: Scott Machado, Iona. Machado is maybe the best passer in the country, is a throwback pass-first point guard, shoots well, has size and is known for his work ethic. He could be this year's Norris Cole -- small-school point guard taken outside of the lottery who finds a role/rotation spot immediately.
Nowell: When you say "intriguing," I can't not think of Andre Drummond. I feel like he's the classic recipe for disaster, but because of his massive physical upside, I expect he will obliterate a few combine tests and lock up a top-5 pick.
Strauss: Andre Drummond needs assessing. The once-projected No. 1 pick underwhelmed after a much ballyhooed high school career. The kid was awful in his single tourney game, but even then flashed incredible talent on a few plays. What will he become in the NBA?
Weidie: With the speed of the NBA game increasing (via the Age of the Point Guard), shooters are becoming a hotter commodity. OK, shooters have always been in high demand (that's why their careers last longer), but guard/wing shooters with length bring untold bonuses. For this reason, Connecticut's Jeremy Lamb should be a Top 7 pick.

ESPN.com and the TrueHoop Network
Israel Gutierrez is a national NBA columnist for ESPN.com. Patrick Hayes, Danny Nowell, Kyle Weidie and Ethan Sherwood Strauss contribute to the TrueHoop Network.
• Follow the NBA on ESPN on Twitter | On Facebook | On Google+