Dwight Howard's drama-filled season has come to a painful end. The Magic's star center is having surgery on his back and will miss the playoffs. So what does the future hold for Orlando? Our writers weigh in on D12, Stan Van Gundy and more:
1. Have we seen the last of Dwight Howard in a Magic uniform?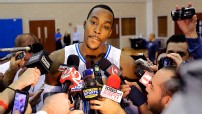 Nate Drexler, Magic Basketball: No. Dwight loves Orlando, and that love was evidenced by his balking with New Jersey and Los Angeles. He played the market a little bit and realized that home is where the heart is. Unfortunately, Stan Van Gundy is not a part of Dwight's heart.
Danny Nowell, Magic Basketball: I don't think so. I would imagine that the media beating Dwight has taken and the fact that he's perceived as having quit on the season will muster enough pride in him that he will want to make at least one more hard run in Orlando.
Eddy Rivera, Magic Basketball: It's quite possible. I think what ultimately determines whether or not we've seen the last of Dwight in a Magic uniform is whether or not the Magic get a firm commitment from him during the offseason that he will sign a long-term deal.
Marc Stein, ESPN.com: I tend to believe not. Magic management clearly wants to keep Dwight at all costs judging by what the organization was willing to put itself through this season. So now I fully expect team officials to be thinking that Dwight's time away from the spotlight to recover from surgery might ease the tension that has suffocated the Magic this season. They're going to be hoping (praying?) that the cooling-off period gradually makes Howard forget how mad he is at the front office for not backing him publicly after everything Stan Van Gundy went public with two weeks ago. The Magic's strategy has been pretty consistent: Wait it out as long as we can.
Michael Wallace, ESPN.com: Most likely. There's still a chance the Magic might have to bring Howard back next season to prove he's recovered and healthy from back surgery. But for all intents and purposes, it's time to accept (management has, ownership hasn't) that it's time to move on. I don't think there's any question Orlando has lost some leverage from this. But if the Magic can still walk away with Andrew Bynum, they'd better take the deal as soon as possible.
---
2. Should the Magic trade Dwight Howard before next season?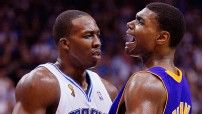 Drexler: No. One option that has not been explored yet is Dwight's ability to recruit and bring a stud to Orlando (Deron Williams?). At this point, it seems as if the trade ship has sailed. The firing of Stan Van Gundy seems imminent, so the best thing to do is start thinking about how to build around Dwight.
Nowell: No. See above. I believe -- on pure speculation -- that Dwight is going to want to play next season with a vengeance. If he's all in, the Magic aren't going to do any better with a trade.
Rivera: Yes. I know the Magic needed to let things play out with Dwight as long as possible in the hopes of convincing him to stay for the long haul. But in the process, Orlando has given Dwight so much power over the organization, the situation has become untenable.
Stein: Unless Dwight signs an extension this summer, I absolutely still think they should. Next season will be an even bigger circus than this season if there's no extension ... and Dwight's relationship with the franchise has to be repaired first to the point that extension talks can even be broached again. But trading him gets harder now because of the back surgery. Dwight has been ridiculously durable in the NBA, but a back surgery is as serious as it gets. Teams are going to need lots of reassurance that he bounces back 100 percent.
Wallace: Yes. There's something that still seems a bit shady in terms of how Dwight's decision to elect for surgery was communicated to the team. Until Thursday morning, the Magic were hopeful he'd be re-evaluated next week before the playoffs. But that's a moot point. Now more than ever, Dwight is looking out for Dwight -- and rightfully so in this regard. But it's also time the Magic look out for the Magic, even if potential deals this summer aren't quite as good they were at the March trade deadline.
---
3. Should the Magic fire or keep Stan Van Gundy?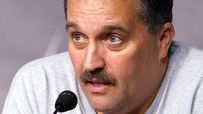 Drexler: *Sighs* Fire him. Van Gundy is a genius and one of the best coaches in the league. That said, if the best center in the game wants you gone, then the best thing to do is say bye to Van Gundy and thank him immensely. I'd be singing a different tune if it seemed as if Dwight was leaving, but the big man appears to be here to stay.
Nowell: Fire. Not because I think the Magic are going to hire a better coach, because there's hardly anybody else you'd rather have on your sidelines. But if the Magic have to pick between Van Gundy and Howard, they have to recognize that an MVP candidate in his prime is worth more than any particular coach.
Rivera: Keep Stan Van Gundy. I know that in the battle of coach vs. superstar, the superstar wins almost every time. In this case, however, the Magic can't run the risk of losing both Van Gundy and Dwight. That would set the franchise back for years.
Stein: For most of the season, I argued strongly against firing him, believing that Stan is the second-biggest star in the organization behind Dwight. Firing Stan, then possibly losing Dwight anyway made no sense to me. But the relationship seems beyond repair now. From a pure coaching standpoint, Stan still has a lot to offer and will have no shortage of suitors when he hits the market, but you have to wonder how trusting his bosses are going to be from here -- even if Howard were to be traded elsewhere -- after the coach so publicly aired private team business at that unforgettable shootaround.
Wallace: If Dwight is traded, there's really no reason to release Van Gundy. In fact, he might be an even better coach if he can operate with fewer restrictions. Van Gundy has already worked on some of the issues that sometimes make him difficult to play for and work with, including his sideline demeanor and temper. Obviously, he has open communication with the front office. And if the Magic get a star player in return as expected, it's equivalent to a fresh start for the entire franchise.
---
4. What should Magic fans be feeling right now?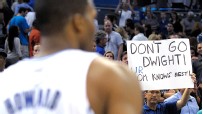 Drexler: Excitement to get this season over with. There will be plenty of offseason action between Dwight and Van Gundy. Big decisions will be made and, ultimately, the future will be decided in some business meetings this summer. Magic fans need to weather the storm, laugh at the playoffs and pay close attention to the proceedings in the offseason. Change can be exciting, right?
Nowell: Reflection. Magic fans should realize that for as short a time as the team has been around, they have seen a pretty strong run of success and some real bright stars. This is not a snake-bitten franchise. Whatever comes, there's a new era to look forward to and a few weeks to see what the current pieces will look like.
Rivera: At this point, I think they're so desensitized by everything that has happened this season, I don't think they're feeling anything. First with "The Indecision," then with the Van Gundy vs. Dwight saga, and now with news that Dwight is done for the year. Magic fans are emotionally drained.
Stein: Exhaustion. And exasperation. You have to seriously feel for them if the 2012-13 season starts with Dwight in the final year of his contract. Let's again applaud the Utah Jazz for acting so proactively and decisively last February by trading Deron Williams from a position of strength when they reached the painful conclusion that D-Will wasn't likely to commit to Salt Lake City for the long term.
Wallace: Sick and tired of being sick and tired of this drama. I seriously think Orlando fans will start to turn the corner, thank Dwight for the wonderful years he's given the team, then get ready to move on to the next chapter. This franchise has gone through this before. There were major makeovers after Shaq left and again after the Tracy McGrady and Grant Hill years. With that new arena downtown, the team obviously can't go through too long of a reloading process. It has to be relatively on the fly.
---
5. How many playoff games will the Magic win this postseason?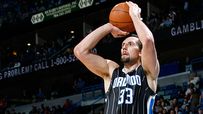 Drexler: A generous guess is two, but a more realistic guess is one. Their likely first-round opponent, Indiana, is the most underrated team in the league, and if Roy Hibbert doesn't have to deal with Dwight, it's going to get ugly. Regardless of whom they play, though, the Magic will be hard pressed to come up with more than one win in the first round.
Nowell: Two? I have a hard time imagining them giving any potential opponent, Indiana included, much of a tough series. Over seven games, a Dwight-less roster is too easily exploited for its lack of defense, size and athleticism.
Rivera: Three games. I know the assumption is that with Dwight out, the Indiana Pacers practically have a bye in the first round of the 2012 playoffs. I wouldn't underestimate Van Gundy in this situation, though. He excels at maximizing talent. The Pacers will be in for a fight.
Stein: One. At best. You wouldn't rule out a sweep either, because the Magic are going to play the scorching Pacers in Round 1 ... or worse, Chicago or Miami in the first round. Orlando's season is over. Not expecting much fight from these guys without Dwight, even if you believe the theory out there that some of his teammates would prefer to play without him at this point.
Wallace: I'd give them two wins, max. The makeup of this team now reminds me of that old Heart and Hustle squad led by Darrell Armstrong and Bo Outlaw during those lean years under Doc Rivers. This current team is a bit more skilled, but they have the same passion and spirit those older guys played with when there was no superstar to rally around. So I see Ryan Anderson, J.J. Redick, Jason Richardson and Jameer Nelson getting hot enough to win one game with their shooting and another one strictly on hustle and pride.

ESPN.com and the TrueHoop Network
Marc Stein is a senior writer for ESPN.com. Michael Wallace writes for ESPN.com and the Heat Index. Nate Drexler, Danny Nowell and Eddy Rivera contribute to the TrueHoop Network.
• Follow the NBA on ESPN on Twitter | On Facebook | On Google+