After Los Angeles Lakers forward Metta World Peace leveled Oklahoma City's James Harden with an elbow during Sunday's game, questions new and old about the player formerly known as Ron Artest were raised.
Our 5-on-5 crew weighs in.
1. What was your gut reaction to the play?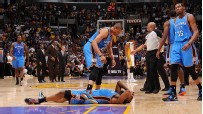 Kevin Arnovitz, ESPN.com: That as much as we don't consider basketball a sport that features the kind of violence you see on the gridiron, these are enormous dudes with big limbs that can wreak destruction on anyone who gets in their way.
Andrew Kamenetzky, ESPN Los Angeles: Shock -- it was a pretty vicious
hit, seemingly out of nowhere -- and then disappointment, considering how much work Metta has put in rehabilitating his season and image. This incident represents a major step backward.
Brian Kamenetzky, ESPN Los Angeles: Initially, I thought Metta actually didn't realize Harden was there, and was caught in a celebratory moment. A vicious one, but without malice. Then I saw the replay. It was clear World Peace knew Harden (or at least someone) was there. He felt him, and responded. It was one of the more violent things I've seen in the NBA, especially given the context.
Chris Palmer, ESPN The Magazine: I didn't have a good angle at the game so I first saw it on replay and, frankly, I was disgusted. That wasn't about basketball or competition or the heat of the moment. That was about malice and a complete lack of class.
Michael Wallace, ESPN.com: Totally dirty. Totally flagrant. Totally unnecessary. And possibly criminal. Had World Peace done something like that on the streets right outside of the arena, he could have been charged with assault. Initially, I thought Metta was reacting to James Harden stepping into his path in a way that could have been avoided. But after seeing the replay repeatedly, it appeared Harden was simply angling to receive the inbound pass. What made it worse was that Metta appeared to show no immediate remorse.
---
2. How long should the NBA's suspension of World Peace be?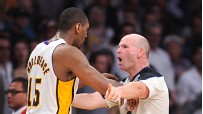 Arnovitz: MWP should be suspended for the first two rounds of the playoffs. If the league wants to deter this kind of behavior, then deter.
Andrew Kamenetzky: I'd be stunned if the suspension was less than three games, but I'm expecting five-plus. Andrew Bynum (a similarly repeat offender) got five games for the hit to J.J. Barea in last season's playoffs, and this was just as bad. Arguably worse, considering it was a head shot. MWP's history, and squaring off afterward with Serge Ibaka won't help his case.
Brian Kamenetzky: If it was all in the regular season, I'd start with five games. First, there was the violence and total recklessness of the elbow, then the fighting stance he adopted confronting Serge Ibaka. Factoring in his record doesn't help him, either. Maybe the significance of missing playoff games shortens it a game or two, but the first round opens with him in street clothes for sure.
Palmer: I would give MWP 15 games. Last year Andrew Bynum got five for leveling Barea with a far less violent hit. Where the elbow made contact is extremely important -- right behind Harden's ear. The level of danger cannot be overstated. There's a reason neither boxing nor MMA allow hits behind the ear. Lastly, it appeared to be completely intentional. It had nothing whatsoever to do with basketball.
Wallace: I agree with the consensus from the Miami Heat's pregame locker room, where LeBron James and Dwyane Wade watched the play on a big-screen TV as the team prepared for Sunday's game against Houston. Many in the room felt a five-game suspension seemed about right. It required more than the two games Kevin Love got for stepping on Luis Scola. Metta's act seemed more vicious and malicious. He should miss the regular-season finale and the first four games of the Lakers' first-round playoff series.
---
3. Should MWP's track record influence the NBA's decision?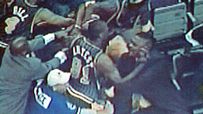 Arnovitz: No. His history is inadmissible evidence. If Shane Battier or the Dalai Lama had unleashed the same blow, the penalty should be the same.
Andrew Kamenetzky: It probably should, considering the rap sheet is fairly extensive and Metta got suspended last season during the playoffs for a hit to (of course) Barea. But I wish it wouldn't, since I know how hard Metta's worked to improve himself. The history being factored only reinforces the difficulty escaping it.
Brian Kamenetzky: At least some, right? It's not simply the Palace brawl, which is fairly ancient history at this point, but don't forget MWP was suspended in the playoffs last year for a forearm on Barea. He's not the guy he once was, but the record isn't pristine.
Palmer: Since his act was so heinous as far as on-court incidents go, I don't think it makes a difference if he had a clean record or not. The league is going to come down hard. This was a marquee matchup on Sunday afternoon and everybody was watching. MWP couldn't have picked a worse set of circumstances to pull these junkyard antics. If, say, Paul Millsap, who I'm certain has never been suspended for an on-court incident, was in World Peace's shoes I don't think he gets off easier.
Wallace: Absolutely. Although the Malice at the Palace against the Pistons was eight years ago, there have been a few other incidents since then that have involved World Peace. Even if you throw in that NBA "Citizenship Award" he won last season, there's still more on his résumé that harms instead of helps his reputation. Granted this was a heat-of-the-moment incident during an emotional game between rivals. But his track record certainly should come into play.
---
4. How will this affect MWP and the Lakers going forward?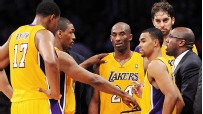 Arnovitz: MWP's suspension deprives the Lakers of their best wing defender, something that comes in handy in playoff series against top teams. But I don't think the hit will have any measurable effect on his future with the Lakers. If they were planning on cutting him loose or not cutting him loose this summer, that decision won't be influenced by this.
Andrew Kamenetzky: Metta's absence would hurt. A lot. He's their most versatile defender and over the last month has rediscovered himself offensively. Devin Ebanks played very well covering for MWP against Oklahoma City and I've often lobbied for him to play more, but the fact remains we have the exact same amount of playoff experience: Zero minutes.
Brian Kamenetzky: It hurts. Metta's game has steadily improved, and it's hard for the Lakers to sustain any defensive dominance against great wing players without him. The Lakers aren't deep, and can't afford to lose any of their rotation guys. Meanwhile, it'll undo a lot of good work he's done to restore his reputation. People will remember this before last season's citizenship award.
Palmer: Metta hurt himself Sunday. This wasn't cute cuddly Ron Artest up to his rambunctious ways. This was vicious. It was mean. Did he erase all the goodwill he accrued during his time with the Lakers? Probably not but if he costs the Lakers the first round because they couldn't stop a big scorer he may have sealed his fate. If you're going to lose, it can't be through self-destruction. MWP's reinvention over the last couple years has been a great story but this latest incident has people wondering if he'll ever get this stuff out of his system. He overcame the Palace and he'll overcome this too but he's down to his last chance.
Wallace: That depends on how long he'll be suspended. In the 10 games leading into Sunday, World Peace was playing some of his best basketball since he joined the Lakers. He was back to being one of the league's most productive two-way players. In the short term, it could be very costly to the Lakers' chances to advance in the playoffs because of the defensive versatility he provides. Long term, he has been on the trade block before and will be again if this somehow blows up and derails the Lakers in the postseason.
---
5. What's your take on violent play in the NBA?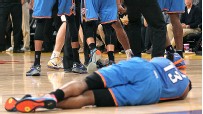 Arnovitz:
If the league wants to disincentivize these kinds of plays, then they need to provide the proper deterrent. Two games isn't going to stop the next Jason Smith from body-checking Blake Griffin, nor will five games change behavior. Target offenders where it hurts -- game checks.
Andrew Kamenetzky: I don't consider the NBA a particularly violent league, and this incident doesn't change my mind. Truth be told, I don't think Metta really meant to "hurt" Harden as much as he meant to elbow him, if that makes any sense. Athletes lose their heads at times. This was one of those cases.
Brian Kamenetzky: Compared to the other two big contact sports (NHL, NFL), generally speaking I think NBA players do the best job of respecting each other on the floor, and not making dangerous plays. Backed by a no-nonsense attitude from the league, relatively speaking I think there's less of this than there could be, and certainly less than there was say 20 years ago.
Palmer: The biggest problem with incidents like these is the inevitable overreaction from the officials because of some directive handed down by the league to "clean up" play. They start handing techs and flagrants out like candy. That hurts the game. This was an isolated incident. Treat it as such. The league does a good job of keeping players safe, particularly on the break and when it comes to contact above the shoulders. Most players have the common sense, basketball IQ and respect for their opponent not to put another player in danger while making an aggressive play and that's far more important than any rule.
Wallace: Frustration fouls and cheap shots seem to be on the rise in recent weeks. This truncated season is wearing on players physically and mentally. Players are simply in the grinder night in and night out this season. One week, Russell Westbrook yanks LeBron James out of the air. The next, Metta goes MMA and decks Harden with an elbow. Blake Griffin gets completely hammered at least once a week. Heck, even Kobe got his nose broken in the All-Star game on what Wade admitted was an intentional, retaliatory foul. It's time to make the harshest flagrant fouls come with mandatory, minimum two-game suspensions in addition to ejections.

ESPN.com and the TrueHoop Network
Kevin Arnovitz and Michael Wallace cover the NBA for ESPN.com. Chris Palmer covers the NBA for ESPN The Magazine. The Kamenetzky brothers' work is found on the Land O' Lakers blog on ESPN Los Angeles.com.
• Follow the NBA on ESPN on Twitter | On Facebook | On Google+