Chris Paul or Russell Westbrook at point? Dwyane Wade or Kobe Bryant at the two? Andrew Bynum or Dwight Howard at center? John Hollinger gave his choices, now our experts weigh in on these tough position battles and others as they make their All-NBA selections.
1. Who should be the All-NBA first team point guard?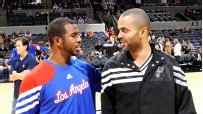 Zach Harper, Daily Dime Live: Chris Paul. It's hard to argue that he shouldn't be third in the MVP voting, let alone that he hasn't been the best point guard in the NBA this season. Some people might chalk this up to Derrick Rose's injuries giving this spot back to CP3, but I see it as him taking his rightful place back atop the list of the NBA's elite PGs. He's the best in the game at his job and should be recognized for it. (Second: Steve Nash; third: Rajon Rondo)
Rob Mahoney, The Two-Man Game: Chris Paul. The Clippers' offense has grown to elite status over the course of the season, but Paul's elite work at the point was never more pronounced than during L.A.'s early-season run. It was a wonder that the Clips -- as a team with no defensive concept and a bare-bones offense -- survived the opening act of the season at all. But that's just how brilliant Paul is as a playmaker; he probed, he scored and he turned an oversimplified attack into a juggernaut. (Second: Russell Westbrook; third: Tony Parker)
Beckley Mason, ESPN.com: Chris Paul. What can you ask from your point guard and leader that Paul does not provide at the highest level? His professionalism and no-mistakes (yet somehow creative) play immediately rerouted a floundering franchise. The stats are superlative, and he edges the competition on season-long degree of difficulty. (Second: Tony Parker; third: Russell Westbrook)
David Thorpe, Scouts Inc.: Chris Paul. He has proved to still be the league's best point guard with a masterful display of overall game management. He's exhibited the perfect blend of scoring, passing and ball movement while leading the league in steals. Paul is a top-four player overall on this planet. (Second: Tony Parker; third: Russell Westbrook)
Michael Wallace, ESPN.com: Chris Paul. Not only has CP3 made the Clippers relevant, he's also willed them into a strong contender in a loaded West. Paul has guided this team through a roster makeover, early-season injuries, midseason roster tweaks and late-season coaching turmoil. Most of all, he's made the best of that botched trade that initially had him going to the Lakers. (Second: Tony Parker; third Rajon Rondo)
---
2. Who should be the All-NBA first team shooting guard?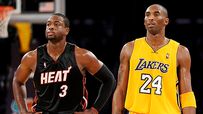 Harper: Tony Parker. Going to cheat a bit here and call Tony Parker a shooting guard. What Parker has been able to do for the Spurs helps drive them toward the best record in the league as much as anything Popovich, Manu or Timmy do for San Antonio. He carried them for months before resting up for the playoffs. He should be recognized for his stellar play. (Second: Kobe Bryant; third: Dwyane Wade)
Mahoney: Dwyane Wade. Some might choose to penalize Wade for only playing 49 regular-season games, but in my eyes that registers as an acceptable absence given the weird nature of this season. The Heat have played relatively well without Wade this season, but that doesn't change the fact that he's flat-out one of the best in the game. Few get to the rim and draw fouls more consistently, and it's a credit to Wade that he manages to sustain elite efficiency while still fitting in his fair share of in-game heat checks. Consider that: Wade is good enough to sandbag his own shooting with a few questionable looks per game, and he's still first-team-worthy. (Second: Kobe Bryant; third: James Harden)
Mason: Kobe Bryant. Dwyane Wade versus Kobe Bryant comes down to quality versus quantity. Bryant didn't play better than Wade; he just played a whole lot more. Bryant's ability to stay on the court, log insane minutes and carry his team over the first third of the season gives him the edge. It also doesn't help that the Heat went 14-2 without Wade. (Second: Dwyane Wade; third: James Harden)
Thorpe: Kobe Bryant. While probably a small step below Dwyane Wade overall, Bryant played in nine more games and helped keep the Lakers afloat through waves of turmoil. His will to win and persevere lifted his teammates numerous times, and placed them into title contention. Again.
(Second: Dwyane Wade; third: James Harden)
Wallace: Kobe Bryant. We can debate another day whether Kobe has truly been a team leader rather than someone who simply has carved out his own space regardless of the overall plan. But there's no denying that Bryant has turned back the clock to challenge for a league scoring title and push the Lakers back into the championship discussion. Russell Westbrook has played enough combo guard minutes to slide in here. (Second: Russell Westbrook; third: Dwyane Wade)
---
3. Who should be the All-NBA first team small forward?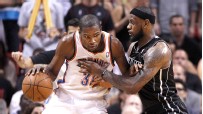 Harper: Kevin Durant. He's working on a third straight scoring title and he's improved his game immensely. People talk about the leap from star to superstar being the biggest jump. What about a superstar that leaps to being a much better all-around player than he was the previous year? (Second: Kevin Garnett; third: Paul Pierce)
Mahoney: Kevin Durant. Here's a terrifying notion: This season's scoring-champ-to-be is still learning and still improving. The prospect of defending Durant was made even more difficult this season thanks to crisper work off the dribble and a few new quirks in his driving game, but Durant earns a place on this list because of the sheer value of his shot creation. KD is great as a spot-up shooter and transition threat, but the rate at which he's able to manufacture quality possessions for Oklahoma City's half-court offense is astounding. (Second: Blake Griffin; third: Paul Pierce)
Mason: LeBron James. When we take into account the diversity of his duties, it's possible that no player has ever filled as many important roles for his team as James has this season. A sublime combination of brute power and deft dexterity, he is the NBA's apex predator (sorry, watching a lot of "Frozen Planet"). (Second: Kevin Durant; third: Paul Pierce)
Thorpe: LeBron James. There is simply no one better on earth at any position. James has such a huge impact on a game that much of what he does gets ignored. His impact on defense ranks above all perimeter players, as does his work as a scorer, facilitator and even as an energy guy. Miami's bottom nine players still struggle to play consistently, but James has them primed for a return to the Finals. (Second: Kevin Durant. He knows how Phil Mickelson felt when Tiger was roaring; third: Paul Pierce)
Wallace: Kevin Durant. Already an elite player in the league, Durant took steps this offseason to improve his overall playmaking and defense to position himself to eventually become one of the all-time greats in the game. He still has to accomplish something significant in the postseason to ultimately get there. But he's certainly on pace. Offensively, there are no weaknesses in his game. (Second: Carmelo Anthony; third: Luol Deng)
---
4. Who should be the All-NBA first team power forward?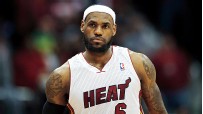 Harper: LeBron James. He's most likely the MVP of this league, so it would be pretty odd to not have him on the All-NBA first team. Do I have to make a joke about his hairline right now or can I just appreciate watching him play basketball? (Second: Kevin Love; third: LaMarcus Aldridge)
Mahoney: LeBron James. Not sure James even needs an explanation, nor more glowing admiration for arguably his most impressive season yet. But I'll offer it anyway: James' unique blend of offensive splendor and defensive savvy make him a player for the ages. He's the best player in the game, and with all due respect to Durant and the rest of the field, it's not exactly close. (Second: Paul Millsap; third: Dirk Nowitzki)
Mason: Kevin Love. As power forwards go, Love really separated himself from the field this season. He's the top scorer and rebounder at his position, a savvy passer and a willing defender. He may not look like he belongs in the pantheon of great power forwards, but not even Atlas would shrug at the mythic workload Love shouldered this season. (Second: Pau Gasol; third: Blake Griffin)
Thorpe: Kevin Love. Not only did Love anchor one of the biggest surprise teams through 60 percent of the season, but he discovered that he can do much more than dominate the glass and the 3-point line. Love has learned to score against one man and double-teams, and looks to be a legit contender for league MVP honors as early as next season.
(Second: Dirk Nowitzki; third: Blake Griffin)
Wallace: LeBron James. The league typically doesn't distinguish between the guard and forward positions for the All-NBA teams, so there's really no need to insult either LeBron or Kevin Durant by sticking one behind the other at small forward. They're simply the two best players in the game. LeBron's versatility on both ends of the court allows him to shift, technically, to power forward for this exercise. (Second: Kevin Love; third: Blake Griffin)
---
5. Who should be the All-NBA first team center?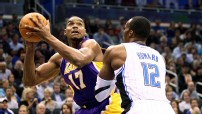 Harper: Dwight Howard. Even with all the drama he's caused over the last month, Dwight was the best center this season in the NBA. Some people might claim Bynum deserves this honor over Dwight, but the only other center I actually considered was Tyson Chandler. I thought about naming Chandler here, calling Dwight over and then walking away as I sip a Diet Pepsi. (Second: Tyson Chandler; third: Andrew Bynum)
Mahoney: Kevin Love. Maybe choosing a nominal non-center is cheating, but if the coaches can fudge the positions of their All-Star selections, than I can jostle those of the best in the game a bit. Theoretically, this spot should always be Dwight Howard's to lose, and this year he lost it -- with lackluster effort, waning interest and oddly inconsistent defense. Meanwhile, Love has legitimately played like a top-five player this season, having evolved as both a shot-creator and a defender. Love made the greater impact with the greater production, and Howard's D fell off enough to warrant a slide. (Second: Dwight Howard; third: Tyson Chandler)
Mason: Dwight Howard. Who else is there, really? Despite all the counterproductive off-court antics, he's still the class of the position. Bynum is closing the gap, but consistency of on-court effort is still a real problem for the Lakers center. (Second: Andrew Bynum; third: Kevin Garnett)
Thorpe: Andrew Bynum. He's still filled with some teenage angst at times, but most of the time he's let his game do the talking. He's the closest thing to the new "Big Fundamental" we've seen since Duncan. As his teammates have learned to trust him more, he gets more opportunities to carry them in big stretches of games. (Second: Dwight Howard; third: Al Jefferson)
Wallace: Dwight Howard. It's been a horrible season for Dwight from a public relations standpoint. But even amid the mess he helped create in Orlando before his season ended with back surgery last week, he still managed to finish in the top three in rebounds, blocks and double-doubles this season, while also averaging nearly 21 points a game. He's still the most dominant big man in the game. Period. (Second: Andrew Bynum; third: Tim Duncan)

ESPN.com and the TrueHoop Network
Beckley Mason, David Thorpe and Michael Wallace cover the NBA for ESPN.com. Zach Harper is the host of Daily Dime Live. Rob Mahoney contributes to the TrueHoop Network.
• Follow the NBA on ESPN on Twitter | On Facebook | On Google+