Steve Nash, the 38-year-old two-time MVP, is headed to the Los Angeles Lakers after agreeing to a sign-and-trade deal in excess of $25 million.
In return, the Phoenix Suns get four draft picks -- first-rounders in 2013 and 2015 and second-rounders in 2013 and 2014.
Will Nash give the Lakers new direction in the always tough West? Our writers went 5-on-5 to discuss.
1. What's your take on Nash's decision?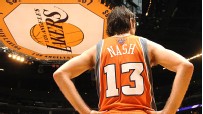 J.A. Adande, ESPN.com: Surprising ... and intriguing. There was so little buildup to it, it caught me off guard. Stunned that Nash and Kobe Bryant would team up, stunned that Phoenix would send him to a division rival. But I can't wait to see the impact he'll have on this team. Easy buckets for the big men, open jumpers for Kobe.
Zach Harper, Daily Dime Live: I think it's a wise decision for Nash. I can't fault a guy for wanting to stay as close to his family as possible. We often forget these guys have real lives and family to tend to when they're not entertaining us on the court. I'm happy that he feels like he's come to a good situation for his career and family.
As for Phoenix, Suns owner Robert Sarver continues to torture his fans. I'm kind of shocked they dealt him for two first-rounders who won't be very high (presumably), and to sell that to the fans is just another aggravating move during his tenure.
Brian Kamenetzky, ESPNLos Angeles.com: I'm always impressed when players make family considerations and winning a top priority, as Nash seems to have done, but really I'm most impressed with Robert Sarver and Suns president Lon Babby. Yes, after everything he's done for the Suns, Nash deserves to be traded where he asks to go, but it's still tough/brave to trade him within the division. I'm curious how Phoenix sports radio reacts.
Ramona Shelburne, ESPNLos Angeles. com:
I'm impressed. It says a lot about Nash's character that he was willing to both play for a team he's battled in the Western Conference and take less money to do so. A lot of players talk about taking less to chase a ring, very few actually do it.
Brian Windhorst, ESPN.com: It's a great decision for Nash. He has every right to want to play for a contender at this point in his career. Of his options, the Lakers were the best contender at this point. Let's remember that. Not saying his children weren't a major factor, but it is convenient that the best chance for a title next year is also hour away from Phoenix by plane.
And bravo to the Suns' front office, though my congratulations has nothing to do with the personal plea from Nash. It is vital to be unemotional in these situations and do what is best for the franchise. The Lakers' offer trumped any Knicks package and is a million times better than Nash walking for nothing. Now they just need to be more prudent with how they use the trade exception after they pretty much botched the Amare Stoudemire exception in 2010 (See: Turkoglu, Hedo and Childress, Josh).
---
2. How do you see the Nash-Kobe partnership playing out?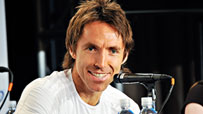 Adande:
Kobe will enjoy relinquishing ballhandling and creating duties ... for a while. It will be interesting to see if he'll be willing to play off the ball and let Nash handle it in crunch time. I'm betting Kobe's shooting percentage will get a bump from last year's 43 percent, one of the worst of his career.
Harper: I honesty have no idea. I'm not of the opinion that Kobe is some relentless ball hog who will never let somebody else initiate. However, both of these guys need the ball to be at their best. I'm not sure Mike Brown is the guy to figure out that balance, after how we saw how he used Gasol. It'll probably be up to Kobe and Nash to make this work.
Kamenetzky: Kobe has never played with a truly ball-dominant point guard of Nash's caliber, but he respects Nash immensely and surely recognizes the ways in which playing with him will extend his life as an elite player. Most importantly, before the deal, Kobe probably couldn't win another ring. Now he has a shot. They'll make it work. He was gifted a Canadian on the Fourth of July.
Shelburne:
This to me is the most interesting part of this trade. Aside from the year Gary Payton was with the Lakers, Kobe's never really played with a true point guard. The Lakers had mixed results with Ramon Sessions and Kobe this season. But I think after a brief adjustment period, the relationship will go well. Nash and Bryant have high basketball IQs, and they wouldn't have agreed to this partnership if they didn't think it could work.
Windhorst: The Lakers were already looking for ways to reduce their reliance on Kobe iso situations. It's just not efficient basketball, and Kobe isn't 27 anymore. Nash is a heck of a new addition to help with that. Nash will get Kobe shots; he's simply brilliant within any half-court offense. I think running an offense with Kobe as an option and not as the instigator is a game-changer for the team. Plus he's a great pick-and-roll option for Gasol and Bynum.
---
3. What else should the Lakers do, if anything?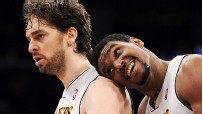 Adande: Go get Dwight Howard. Even if he won't commit beyond this season, this team isn't set up for the long term anyway. And if they somehow win a championship, how's he going to walk away? Even if they get bounced early in the playoffs, dare him to walk away from the extra $25 million he'd get by staying with the Lakers.
Harper: I really like their core as is. Obviously, Dwight would be a fantastic get, but I don't think it's necessary. They have four offensive weapons and need to figure out how to balance their attack. I say bolster the bench as much as you can and make a push for Dwight at the deadline if it isn't working.
Kamenetzky: That's the million dollar (luxury-tax) question. The Lakers added a boatload to the payroll, and could look to trim somewhere. They badly need a reliable perimeter shooter and bench depth. Pau Gasol and Andrew Bynum remain the best/only trade chips, but now that they have an elite PG, the calculus changes dramatically. Signing Jordan Hill becomes a priority, so they save their exception for another player.
Shelburne:
I still think the Lakers need outside shooting. In fact, the addition of Nash makes that even more important. Nash has been able to break down almost any defense, but he's also always had shooters to help create that space. Andrew Bynum and Pau Gasol already draw defenders into the paint. The Lakers need to find someone, anyone, who can make defenses think twice about packing the paint.
Windhorst: I'd try to get Nash a good backup. The key for this working is to manage him, and that starts with his minutes. Not sure if Steve Blake is the best option. The Dwight Howard stuff is intriguing to say the least. Thinking about him working with Nash on screen rolls is exciting. However, Howard reportedly was not thrilled with the idea of playing second fiddle to Kobe. Now if he joins a team with Nash and Kobe, he'll have the ball third-most at best. Try to sell it to him as being in a great trio, but Howard's decisions haven't been all that rational over the past year.
---
4. Are the Lakers now favored to win the West?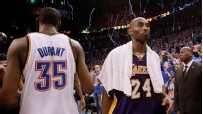 Adande: Nope. That's still the Oklahoma City Thunder. Nash upgrades the point guard position, but Russell Westbrook still wins that matchup ... in addition to the Thunder's greater depth down the lineup. But the Lakers will be able to win more than one game in the second round, which is all they managed to do over the past two seasons.
Harper: They're not favored to win the West. OKC is still the best team out West, as is. The Lakers have almost no bench and need to round out their roster. We also have no idea how this dynamic works, but I'm excited to see them figure it out.
Shelburne:
No. I'd still put the Oklahoma City Thunder ahead of them because of their depth, athleticism and experience. Yes, experience. The Thunder have gone one step further in the playoffs each year and I think they'll grow from their loss in the Finals to Miami. That said, the Lakers just got very good very quickly.
Kamenetzky: Not until they acquire a little more depth and a shooter. A Kobe/Nash/Gasol/Bynum unit is intimidating, but the age and fragility of the group puts a premium on bench support. The Thunder are still improving and remain far more athletic, but the Lakers closed the gap considerably. If they dot I's and cross T's, it's very tight up top.
Windhorst: No. It's still the Thunder. They have shown great improvement after learning their lessons over the past few years. All the teams out West are playing catch-up; that's what this move is all about.
---
5. Are the Lakers now favored to win the NBA title?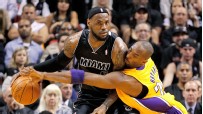 Adande: See previous answer. They can't win it all if they can't get out of the West. But they've moved forward this offseason, something they haven't been able to say in seven years.
Harper: No. They have a lot of work to do and Miami is still better than them, along with OKC. I'm sure the commenters at the bottom of this page will love that answer.
Kamenetzky: Miami should be just as good if not better next year. The Thunder aren't going anywhere. Brooklyn, if it gets Dwight, is legit. Can't say the Lakers are favorites -- the Heat needed a year to coalesce -- but considering that Wednesday morning I would have put their odds of a title at precisely zero percent, landing central in the conversation is a big improvement.
Shelburne:
No. As I mentioned above, I still think the Thunder should be favored. So, too, would the Miami Heat. But I love what this trade does for Pau Gasol, who should be able to find his game again with Nash setting him up for the 10-foot jumpers he's so good at hitting. Having given up so many draft picks to get Nash, I'd expect the Lakers to keep both Gasol and Bynum now. Then again, general manager Mitch Kupchak has already pulled off the surprise of the summer.
Windhorst: No -- not that Vegas won't enjoy booking the futures wagers from all the excited Laker fans who stop by over the next few months. That'll probably drive the odds down. But the Heat are still the Heat and the Thunder are younger and now more experienced.


ESPN.com and the TrueHoop Network
J.A. Adande and Brian Windhorst cover the NBA for ESPN.com. Zach Harper is the host of Daily Dime Live. Brian Kamenetzky and Ramona Shelburne write for ESPN Los Angeles.com.
Follow the NBA on ESPN on Twitter | On Facebook | On Google+