After making a deal with the Trail Blazers for point guard Raymond Felton, will the Knicks let Jeremy Lin go to the Rockets?
Here are six writers weighing in on the New York drama.
1. What has grabbed you most in this stunning turn of events?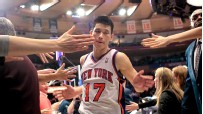 Henry Abbott, TrueHoop: There is a code. Players don't trash their teammates in the media, or anything like it. Teams don't trash their players, either. But Carmelo Anthony, J.R. Smith, and most convincingly Knicks sources cited by Stephen A. Smith are putting some ideas out there that, given the code, will curl your hairs.
J.A. Adande, ESPN.com: The stunning amount of money involved for a guy who had a one-comma salary last season and didn't play in enough games to "qualify" for rankings among the league's scoring leaders. It's also stunning that this same player could hijack the NBA world's attention away from Dwight Howard, the league leader in hijacking.
John Hollinger, ESPN.com: New York's sudden bout of financial prudence. I didn't think they'd care about the luxury tax hit with either Lin or Landry Fields, but it turns out that the penalty in 2014-15 in particular is deep enough to give even the Knickerbockers some pause.
Israel Gutierrez, ESPN.com: What's still pretty stunning with Lin is that there remain such varying opinions about whether he can actually play. There aren't many players as inexperienced as Lin who deserve this kind of money, but to reach this point without a solid grasp of his ability or potential is almost unheard of.
Marc Stein, ESPN.com: The staying power of Linsanity. After months of dormancy, it has bumped the Dwight Howard Sweepstakes right out of the crosshairs of the NBA news cycle. It's been a weekend full of emotion and plot twists, which leads me to a thought that ran through my head a lot last season: How could Lin's rookie season be so uneventful? Still can't quite figure that one out.
David Thorpe, Scouts Inc.: Probably that Melo and Smith spoke out before the final decision was made. Melo came to New York to be the savior, and he does not want some little undrafted Harvard dude to take that role. That much seems obvious.
---
2. Better point guard for the Knicks: Raymond Felton or Jeremy Lin?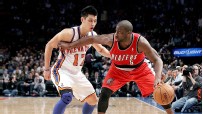 Abbott: Raymond Felton has never overseen a period of team play nearly as successful as Linsanity. We know him well enough as a player to know there is zero risk of Felton making the Knicks a whole different and better team. For him, being an average NBA point guard would be a pleasant surprise. What are the chances Lin will change the team's fortunes? It's possible, which makes Lin far more valuable.
Adande: If the Knicks consider anything less than advancing in the playoffs this season a failure (and they should) then the answer is Felton. If you're going to win in the playoffs it helps to have a point guard with playoff experience. Lin might be a better long-term solution … if there weren't the issue of the long-term implications of his contract.
Hollinger: Ha ha ha ha ha. I've spent enough time in Portland to know the answer is "not Felton." He had his best year in New York under Mike D'Antoni, but that was two years and about 20 pounds ago. Plus, he won't have the ball in his hands now, and he's not a floor spacer.
Gutierrez: Lin is the better fit and has greater potential. Felton played some of his best basketball in Mike D'Antoni's system, as did Lin. But Lin did it with less experience, had more explosive scoring games and has better size. So it's safe to assume that even in a less-point-guard-dominated system, Lin can still be the better player.
Stein: I know lots of people think Lin is merely a product of Mike D'Antoni's system … which, by the way, must have something to do with D'Antoni after all if Lin, however briefly, can put up Nashian numbers running it. But I'm not one of those people. Lin is long, athletic and supremely confident in his own ability. He did enough in those 25 games of Linsanity to earn the benefit of the doubt with me. I'm not going to write him off post-D'Antoni when he's barely had the chance yet. Also: Weren't Felton's best days as a Knick with D'Antoni, too?
Thorpe: Lin today, Lin tomorrow. I guess it's possible that Felton can find better form than he has, but Lin is a much safer bet. At least we know he's on an upswing still. Has Felton ever had a better month than Lin had, despite far more opportunities to do so? No.
---
3. Were the Rockets wise to offer Lin $25 million for three years?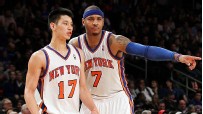 Abbott: Depends on their ability to monetize Lin's vast number of ardent fans around the globe. Linsanity has a powerful business effect, too -- any player who earns the team more than he costs is cheap, right? He alone could drive higher ticket prices in Houston, new in-arena sponsors and the like. And if all that does not pan out, the heinous cap effect is only one year long.
Adande: No. Just as they weren't wise to offer Omer Asik that deal or it wasn't wise for Portland to offer a max contract to Roy Hibbert and it wasn't wise for Toronto to offer $20 million to Landry Fields. There hasn't been an NBA move this summer that made you say, "That was really wise."
Hollinger: It's borderline, but Kevin McHale's system is a point guard dominant one and Lin thrives with the ball in his hands. Also, if New York had matched, it was a nearly $1 million windfall for the Rockets and every other owner via luxury tax payments. Also, keep in mind that the Rockets aren't exactly gun shy about paying tax down the road if they have to.
Gutierrez: They were if the goal was to not have the Knicks match. The Rockets need players, obviously, and overpaying is usually the only way to land restricted free agents. Again, this all goes back to whether or not Lin can play. If he develops into a top-15 point guard by the end of the third year, the contract won't look nearly as "ridiculous," to quote Carmelo Anthony.
Stein: Absolutely. They structured the deal in a way that has given the Knicks real pause after months of assurances from inside and outside the organization that matching Lin's offer sheet was an automatic at any price. The Rockets did that because they really want Lin, no matter what the paranoid Knicks think. And structuring the deal this way gave them the best chance.
Thorpe: Probably yes. Look at it like this: He can probably provide equal value to his contract in the first two years, and even if he is overpaid in Year 3 by $6-9 million, he's likely to earn at least that much back in off-the-court revenue over the life of his contract. Very few players pack that kind of punch. Houston knows that business well, thanks to Yao.
---
4. What are the chances the Knicks change their minds and match?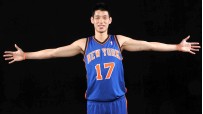 Abbott: Carmelo Anthony came to New York to create a basketball family like LeBron James enjoys in Miami, where he is at the center of a world where players work hard and have each others' backs. The Knicks are into that, too. Seems hard to keep that vibe by bringing in a contract Anthony calls "ridiculous."
Adande: Moderate. Things have been so fluid in the league this summer, but generally what you've heard about matching or not matching has come true. I've been told it's strictly James Dolan's call right now, and he doesn't have the greatest decision-making track record, so he might not make the expected play. He might get nostalgic for Linsanity, or become enthralled with Lin's marketing potential. But keep in mind, they've already got a new cable deal with Time Warner out of Lin, plus the season-ticket renewal forms went out long ago. They'll still be profiting from him even if he's gone.
Hollinger: I do believe there's a chance, just because the public outcry has been so vast and because this is the type of situation where James Dolan can decide -- or redecide -- on a whim.
Gutierrez: All it takes is a realistic look at their roster over the next three years. If it's the luxury tax the Knicks are afraid of down the road, they can easily convince themselves that, if they're not title contenders, the contracts of Amare Stoudemire, Tyson Chandler or Carmelo Anthony are movable.
If they like Lin's talent, they can change their minds now and worry about the tax two years from now.
Stein: I still believe there's a decent chance that the Knicks match. They're going to wait all the way until Tuesday night's buzzer, just to punish the Rockets as much as they can for making Year 3 of Lin's contract so onerous, but I tend to think that the Knicks will have an equally tough time digesting the idea of letting a player with Lin's promise and proven ability to generate unprecedented revenue walk away for nothing.
Thorpe: How can we predict the future of a team that has no problem wildly overpaying Amare, Melo and Chandler, but now is thinking more prudently about dollars? I'd guess the chances New York bungles this decision is 70 percent.
---
5. Should the Knicks match the Rockets' offer?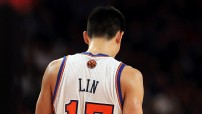 Abbott: It doesn't matter all that much. The Knicks like to act like they're making these league-changing decisions all the time, but they're perennially mediocre regardless. Maybe it's not rearranging the deck chairs on the Titanic, but it's rearranging the deck chairs on some mediocre, overpriced cruise. The only reason not to would be if they have a plan to bring in a real game-changer with that cap space, which they might. But so long as we're talking about a team dominated by Carmelo isolations, it doesn't matter all that much which four players are watching.
Adande: No. If they're going to be based on Carmelo Anthony (as they should, given how much they did to get him) and they're going to continue to keep Amare Stoudemire on the payroll, it doesn't make financial sense (from a salary cap/luxury tax perspective) to have Lin around three years from now … especially when he isn't a great basketball fit with Carmelo, either. As much as Carmelo might try to spin it otherwise, this does come down to either/or. The city might be big enough for Lin and Carmelo, but the court and payroll aren't.
Hollinger: Yes. Lin's first two years are cheap and his marketability makes him worth almost any price anyway.
Gutierrez: Yes. You're not adding much with Raymond Felton. At least with Lin you have potential. If he develops into a scoring guard, or into an effective, consistent distributor, they will be a better team. The Knicks have never shied away from dishing out dollars, and this should be no different. Again, if finances become a problem, they can always be fixed.
Stein: Unquestionably. Match it and trade Lin after this season if it doesn't work. They will find a taker if necessary. And please don't give me this nonsense about Lin's contract being untradeable because of the Year 3 spike to $15 million. Joe Johnson just got traded, people. Jeremy Lin can be moved if New York is no longer the place for him.
Thorpe: Not keeping Lin would be perhaps the single dumbest move a team has made since paying Gilbert Arenas, and then another team traded for him. He's probably going to be overpaid by $9 million in Year 3, but will make the Dolan family at least that much by then. Or another team, like Golden State, would love to trade for him and get the same off-court bang for their buck.


ESPN.com and the TrueHoop Network
Henry Abbott is the editor of TrueHoop. J.A. Adande, John Hollinger, Israel Gutierrez and Marc Stein cover the NBA for ESPN.com. David Thorpe writes for Scouts Inc.
Follow the NBA on ESPN on Twitter | On Facebook | On Google+