David Stern is stepping down as NBA commissioner on Feb. 1, 2014 in favor of successor Adam Silver. What did his extraordinary time leading the NBA into a new era bring? And what will the end of his tenure dating to 1984 mean for the NBA?
Our writers go 5-on-5 …
1. What has been David Stern's greatest accomplishment?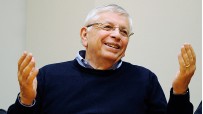 Chris Broussard, ESPN The Magazine: There were several "obstacles'' for Stern to overcome in making the NBA a popular sport: In the 1970s it was viewed as drug-infested, it was 80 percent black, baseball reigned as the national pastime, and football (both college and pro) was wildly popular. Yet with shrewd marketing, Stern turned the NBA into the world's most popular game after soccer.
Brian Windhorst, ESPN.com: He took a league teetering on the brink and turned it into a money machine, even if he was vicious getting there at times. At the end of the day, he worked for the owners and he made owning a team very rewarding.
Israel Gutierrez, ESPN.com: It's difficult to fully credit Stern with the globalization of the game, because he was initially hesitant to allow the 1992 Dream Team to become a reality. But he eventually acquiesced. And since then, with further efforts from Stern, the sport is absolutely international. Hard to ask more of a commish.
Larry Coon, ESPN Insider: Think of what the NBA was when Stern took over -- an afterthought. Stern took the NBA from a league whose Finals were showed on tape delay at 11:30 p.m. to one that is front and center in the sports market. You could say that the league already was primed for that sort of explosive growth when Stern took over for Larry O'Brien in 1984. You could also say that even if it wasn't, then Larry, Magic and Michael would have taken them there anyway. But Stern is the leader who guided the league through those extraordinary growth periods.
Marc Stein, ESPN.com: His determination and success in taking the NBA to every corner of the Earth. A commissioner, like any title-chasing coach, needs superstars to pull that off -- and Michael Jordan was that superstar with undeniable global appeal. Yet you can't discount Stern's business and marketing acumen and the navigation he supplied for the MJ-driven locomotive, which really gathered steam after Stern helped push the Dream Team concept into being. Two decades later? The NBA is probably second only to soccer's English Premier League when it comes to the world's most popular leagues.
---
2. What has been Stern's greatest shortcoming or failure?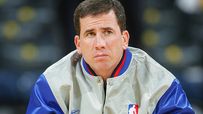 Chris Broussard, ESPN The Magazine: Twice in the past 14 years, Stern lost regular-season games to labor strife.
Brian Windhorst, ESPN.com: The salary cap was supposed to level the playing field. It was good financially but never competitively. The NBA has the least championship parity of any major sport and that's a disappointment.
Israel Gutierrez, ESPN.com: You could argue that the handling of last season's lockout was his darkest hour, but at least some good came out of it for the smaller market owners. But nothing positive came out of the Tim Donaghy scandal, and that ultimately falls on Stern.
Larry Coon, ESPN Insider: "Basketball reasons." As I wrote at the time, when the league bought the Hornets from owner George Shinn, it put team chairman Jac Sperling in place specifically to avoid any conflict of interest between Stern's role as commissioner and his new role as team owner. It was the right move, and it would have worked as intended had Stern remained at arm's length from the team's decisions. Instead, he trumped Sperling's autonomy by overruling GM Dell Demps on the Chris Paul trade to the Lakers.
Marc Stein, ESPN.com: It's not even close. Nothing touches the Donaghy scandal. The distaste generated by the two lockouts on Stern's watch, his legendary temper that instilled fear in front offices as well as the league office and even the conspiracy theories that have plagued the NBA since the Patrick Ewing draft -- some of those knocks will fade with time when historians evaluate what is generally regarded as the most successful commissionership in the history of North American sports. But the Donaghy bombshell threatened the integrity of the entire league and unquestionably ranks as Stern's darkest day, even though I'm still amazed five years later by how quickly the NBA rebounded from that legit catastrophe.
---
3. What do you expect from Adam Silver during his tenure?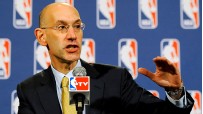 Chris Broussard, ESPN The Magazine: Adam Silver is a wise choice as Stern's successor. I expect him to carry out Stern's vision to turn the NBA into a global sport and over time, perhaps have franchises overseas.
Brian Windhorst, ESPN.com: Silver is remarkably intelligent and seems more open-minded and interested in a wider range of issues. He comes from a different generation and it shows.
Israel Gutierrez, ESPN.com: Like anyone who replaces a legend, Silver will have a difficult time living up to Stern's legacy. But he probably picked up some stubbornness and heavy-handedness tips from Stern, and he'll continue to learn until 2014. He hasn't appeared as quick-witted as Stern, but that only matters in interviews, not in decision-making.
Larry Coon, ESPN Insider: Stern was the complete package -- an advocate, a marketing genius, a visionary, a spokesman and a leader. Genial when he wanted to be; brutal and ruthless when he needed to be. He was a Michael Jordan or a LeBron James of league executives -- someone who comes around only once in a generation. Will Adam Silver be the David Stern for a new generation? That's a good question -- the odds say no simply because Stern had a rare combination of qualities that made him so effective at the job. But maybe the league is in a place where it doesn't need another David Stern, just as the presidency didn't necessarily need another Abraham Lincoln after the Civil War.
Marc Stein, ESPN.com: I can assure you that Silver has been doing a lot behind the scenes. He's not just the guy who reads out the names of second-round picks on draft night. I can also assure you that Silver already has the respect of a lot of people in this league for the, shall we say, more diplomatic way he operates. There are a handful of teams out there quietly looking forward to dealing with him instead of his let's-do-it-my-way mentor. But I'm as curious as you are. I started following the NBA in the mid-1970s and was 14 when Stern took over. I really don't remember what this league was like without him and frankly struggle to picture it.
---
4. What's the biggest challenge ahead for Silver and the NBA?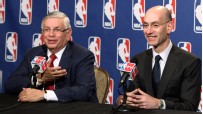 Chris Broussard, ESPN The Magazine: The demise of the big man. I think the quality of play in the league, while terrific on the perimeter, may be diminished overall because of the dearth of great big men, both at the center and power forward positions.
Brian Windhorst, ESPN.com: Stern was able to strike fear in those below him and across the table from him while having the ability to influence the opinions of those above him. That has not been Silver's personality, at least to this point.
Israel Gutierrez, ESPN.com: Don't get run over. He'll have a bit of the substitute teacher label on him, so it might be even more difficult to control a league that's so star-driven. Plus, every big decision he makes will be scrutinized even more than Stern's have over the past two decades. So good luck deciding on the future of NBA players in the Olympics, uniform ads, etc.
Larry Coon, ESPN Insider: The economy of the league is shifting, and while the new collective bargaining agreement and revenue sharing program are a step in the right direction, they didn't fix all the problems. There are a lot of landmines ahead, and Silver needs to deftly navigate the league through them. I just wonder if Stern will tell Silver where the bodies are buried, so to speak.
Marc Stein, ESPN.com: You mean besides putting up with the latest NBA conspiracy theory? (The one about Stern pulling the strings from afar and running the league through Silver even when he's retired.) Silver's biggest challenge, in my view, is building up his own commissioner-esque presence. Even if you fall in the camp that says that Stern swung his hammer too hard, there was never a doubt that he wielded one. In a league that relies on individual star power more than any other, Stern was huge in his own right and left little doubt who was in charge, which is what commissioners are supposed to do. How quickly can Silver establish his own measure of leadership and authority?
---
5. What will you personally remember about Stern?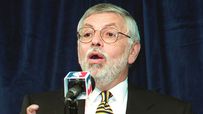 Chris Broussard, ESPN The Magazine: I always had good interactions with Stern. I've heard a lot about him being a bully, but I never personally experienced that in the one-on-one interactions I had with him. Honestly, I will remember him as the greatest commissioner in American sports.
Brian Windhorst, ESPN.com: His news conference after the melee in Detroit, which I attended at Madison Square Garden. He was taking historic action and did so with what seemed like genuine concern about the impact on the league. In the post-Jordan era with ratings down and an uncertain future, it was a key moment in his leadership and you could see all over his face that he knew it.
Israel Gutierrez, ESPN.com: Stern will always be the first name I think of when the word "commissioner" is uttered. He has been in charge since I first watched an NBA game in 1984, and even his seemingly misguided decisions (dress codes) and alleged conspiracy moves (Ewing to the Knicks) have worked out extremely well for the league. He'll forever be the funniest, smartest, shortest bully I've ever known.
Larry Coon, ESPN Insider: The first time I met him in person. It was after a question and answer session Stern gave right before handing out rings to the Lakers on opening night in 2010. He was chatting with a couple of people at the podium right after the session. I approached him, thanked him for answering my question, said my name and held out my hand. He reacted just about exactly the way you would expect someone to react if you tried to introduce yourself right after you ran over their dog.
Marc Stein, ESPN.com: Will never forget my last two years at the Dallas Morning News before coming to ESPN. Because they coincided with a brash, young owner named Mark Cuban buying the Dallas Mavericks, which resulted in yours truly having to follow Stern around every time we were in the same building to ask him for a quick one-on-one to get a fresh reaction to Cuban's latest headline-making act. Of course, Stern always had an answer and often a highly printable one. The Commish, like him or not, was a born talker, so you had to listen to what he had to say. Which will be one of the highest standards for Silver to live up to.


ESPN.com and the TrueHoop Network
Brian Windhorst, Israel Gutierrez and Marc Stein cover the NBA for ESPN.com. Chris Broussard writes for ESPN The Magazine. Larry Coon writes for ESPN Insider.
Follow the NBA on ESPN on Twitter | On Facebook | On Google+