In a Saturday night shocker, three days before the start of the season, the Oklahoma City Thunder traded James Harden to the Houston Rockets for a package of players and picks.
Our writers weigh in on OKC's big move:
1. On a 1-to-10 scale, how surprised are you by this trade?
J.A. Adande, ESPN.com: 7. And that's only because of the timing. Had they given their core group one more run and then made the deal, it would not have been as shocking. But to tamper with the team chemistry on the eve of what had the potential to be a championship season caught me off guard.
Israel Gutierrez, ESPN.com: 6. I'm slightly surprised the Thunder decided to pull the trigger this early, when they had plenty of time to negotiate and weren't that far apart on numbers. But it's not that surprising the Thunder believe they can win at a high level without Harden.
Tom Haberstroh, ESPN.com: 9. Stunned by the timing more than anything. The Thunder could have stayed pat, chased another title with their star-studded trio and revisited trade possibilities at the end of the season. Instead, they felt that there's no better time than now. If we didn't learn by the Jeff Green trade that Thunder GM Sam Presti doesn't put a premium on emotional sentiment, we sure as heck do now.
Marc Stein, ESPN.com: 9+. The only reason it's not a 10 is because we're dealing with the ultra-aggressive Sam Presti here, which has to dilute at least a tiny fraction of the surprise. But when Kevin Durant himself is tweeting nothing but "Wow" in response to the deal, that should tell you what sort of shock level we're dealing with, especially from a strict timing perspective. It figured that OKC would give the extension talks at least one more day or two. The deadline for extensions isn't until Wednesday at midnight, so the Thunder weren't up against any sort of buzzer yet. But that's Presti. He's as decisive as it gets in the GM world.
Justin Verrier, ESPN.com: 9. The likelihood of drama grew each day we got closer to the Halloween deadline without an extension, but a trade seemed unlikely, given the expectations in OKC this season and that the Thunder had the right to match any offer this summer. This news seemed to come out of nowhere, Deron Williams-to-New Jersey style.
---
2. Good or bad move for Oklahoma City?

Adande: Bad move. It's not that Harden is the critical element to the Thunder's success. (In their only NBA Finals victory against the Heat, he scored just five points.) But the familiarity this team had built was a big part of its identity. They were comfortable. They knew exactly what this group could do. Now they enter the unknown -- and that includes the career of the promising Jeremy Lamb. Potential means you haven't done anything.
Gutierrez: Good move. Kevin Martin might not be able to play point the way Harden did, but he'll be just as aggressive a scorer when needed. Martin also has never played on a team this good.
In the short term, it shouldn't hurt their title chances. If Lamb or the draft picks work out, it could mean even better things down the road.
Haberstroh: Definitely a bad move for the short term, and potentially a good move for the long term. There's just no two ways about it: The Thunder just lost an Olympian and got very little in return for this season. Kevin Martin is a brittle, one-dimensional player who might be the worst defender at his position. This is about a small-market team seeking future flexibility. Remember, the Lakers earn $250 million a year off their TV deal, but the Thunder make only about $15 million from theirs. Presti has to play a different game, thanks to the harsher CBA that was supposed to help his cause.
Stein: Normally I have nothing but praise for the most decisive of teams -- and perhaps Presti will ultimately be proven to be a visionary for moving Harden out faster than anyone imagined -- but it's way too soon to throw out words like good. The Thunder undeniably got a lot here. Two future first-round picks, 2012 lottery pick Jeremy Lamb and an accomplished scorer in Kevin Martin is a legit haul. But the Thunder also just broke up a trio of All-Star-caliber kiddies that truly loved playing together. They had the option of playing this season out and then dealing with everything in July had they wished. That likely would have meant matching a max offer to Harden in restricted free agency and quite possibly waiving the likes of Kendrick Perkins via the amnesty clause, but isn't that better than telling Durant and Westbrook that Harden is gonzo mere hours before opening night?
Verrier: Bad move. If the mandate was to avoid the new CBA's more draconian luxury tax at all costs, kudos to Sam Presti for his guts and for positioning his club to be in the title picture long-term. But I don't know how OKC can rip a piece away from a young core that was three wins away from a title -- five days from its opener, no less. Decent return, but why take the risk?
---
3. Good or bad move for Houston?

Adande: Bad move if the Rockets sign Harden to a max contract. They could end up paying more than $45 million to Harden, Jeremy Lin and Omer Asik in 2014-15. Does that sound like a $45 million core to you?
Gutierrez: Bad move. Daryl Morey must've found the right set of numbers that told him Harden was a star, because using the eye test, it doesn't seem he's capable of handling that type of responsibility. He's a nice piece, but this trade doesn't even secure the Rockets a playoff spot this season.
Haberstroh: Good move. James Harden (A) is 23 years old, (B) averaged 29 points per 36 minutes last season when he didn't share the court with Russell Westbrook and (C) is generally considered a heck of a teammate. Yes, the Beard is worth every penny of a max contract (Eric Gordon ring a bell?). Houston won't vie for the title quite yet, but you can pencil them into the playoff chase, especially if Omer Asik continues his Dwight Howard act from this preseason.
Stein: Not too premature to grade it good for Houston. The Rockets still have plenty of holes and several teams to leapfrog in the West, but they've also finally completed a trade for a centerpiece kind of player after so many teases. It's not Dwight Howard or Pau Gasol -- and they certainly surrendered a lot -- but it's an undeniable score for them. Especially when you realize that they should still have some money to spend next summer even after locking up Harden alongside Lin and Asik.
Verrier: Great move. Daryl Morey had done everything except strap sandwich boards to his ever-growing hoard of assets announcing the Rockets' willingness to deal. Now he has a 23-year-old budding superstar and the flexibility to make more moves down the road. He also saved Jeremy Lin from going bald from stress this season.
---
4. How do you think other contenders view this trade?
Adande: The Heat and Lakers should love it. With Harden, the Thunder were only 19 points away from sweeping Miami in the Finals -- and that was with a subpar Harden in the team's first trip to the last round. Do the Thunder feel any closer now? And the Thunder just cut into their primary advantage over the Lakers: continuity.
Gutierrez: With a bit of a shrug. The Thunder appear to have gotten slightly weaker, but it's not as if they're no longer contenders. Martin could be challenged defending the likes of Kobe Bryant and Dwyane Wade, but he has also averaged 23-plus points in three separate seasons. Harden's still getting there.
Haberstroh: Put it this way: One member of a rival front office reached out with the message, "Holy s---. Did Harden really go????? Unbelievable." Judging from the player tweets right after the trade, that shock is shared by most everyone. The big winner in all of this? Lakers general manager Mitch Kupchak. That is, if he can re-sign Dwight Howard.
Stein: The Lakers and Spurs are unreservedly thrilled right now. They will surely presume that OKC, as presently constituted, is out of the title mix at least for this season. They'll be toasting the Thunder -- instead of doing what we suggested in Question No. 2 about riding out this drama until July if extension terms couldn't be struck -- for deciding to break up the reigning Western Conference champs now in hopes of a better long-term outlook.
Verrier: Pleased, probably. Giving up a guy who in the past year became a gold medal-winning member of Team USA, the Sixth Man of the Year, insanely popular and (it appears) a max player doesn't exactly sound like a move made by a team looking to go all-in for this season's title. But initial shock should give way to wariness among rivals -- because OKC is still pretty freakin' good, and because the trade is a clear reminder of what could happen to them in future dealings with their own star players.
---
5. Sum up this trade in 13 words or less.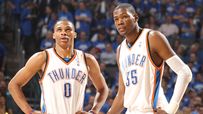 Adande: The Thunder loosened their grip on the Western Conference.
Gutierrez: OKC played it smart and kept the future in mind while remaining contenders.
Haberstroh: The ultimate CBA backfire: small market forced to trade star to big market.
Stein: Unforeseen blockbuster? Try full-fledged thunderbolt. (Or as the kids all say: Wow.)
Verrier: Things done changed.


ESPN.com and the TrueHoop Network
J.A. Adande, Israel Gutierrez and Marc Stein are senior writers for ESPN.com. Tom Haberstroh writers for ESPN Insider and the Heat Index. Justin Verrier is an NBA editor for ESPN.com.
Follow the NBA on ESPN on Twitter | On Facebook | On Google+