With New York's first game of the season postponed due to Sandy, the Knicks will open against the defending champion Heat on Friday night (ESPN, 8 ET).
How good will Melo's crew be without Amar'e Stoudemire (out for 6-8 weeks with a knee injury) and Jeremy Lin (now playing in Houston)? Can anyone touch the Heat this season? Our writers weigh in, fact-or-fiction style.
1. Fact or Fiction: The Knicks will miss Amar'e Stoudemire.
Jim Cavan, KnickerBlogger: Fact. Questions of chemistry aside, the Knicks currently have nothing in the way of reliable scoring options beyond Carmelo Anthony and "the good J.R. Smith" (a truly fragile species). The silver lining here is that Stoudemire's absence could provide the necessary cover for Mike Woodson to do what many have been clamoring for: Experiment with STAT as an off-the-bench scoring weapon upon his return.
Israel Gutierrez, ESPN.com: Fact. Whether it was just wishful thinking or an actual plan, the idea was to get Amar'e more looks in the post while Anthony concedes some touches for the betterment of the team. With Amar'e out, not only does Anthony revert back to his volume-shooting tendencies, but fitting Amar'e back in becomes a challenge again.
Ethan Sherwood Strauss, HoopSpeak: Fiction. He's not good right now. Amar'e used to be an incredible offensive player -- trust me, it wasn't all Steve Nash. But recently, he's been an inefficient offensive player whose defense has slipped off a cliff and into a canyon. Also, Carmelo Anthony will get to play his natural power forward position.
David Thorpe, ESPN Insider: Fact. The locked-in, competitive version anyway. He's still among the top few scoring bigs in the game when he's in the mood. Which is often enough to be missed.
Brian Windhorst, ESPN.com: Fact. I know Melo is better suited to play power forward with this roster. I know the Knicks' record and offensive metrics are better when Melo and Amar'e aren't on the floor together. But he's still one of the most talented big men in the league, and you cannot replace players like him over a long period.
---
2. Fact or Fiction: The Knicks will miss Jeremy Lin.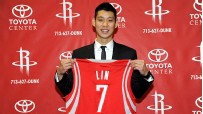 Cavan: Fact. Many feared Lin's ball-dominance, but therein lies the difference between him and Felton -- after eight seasons, we have a good idea who the latter is. On the other hand, who's to say Lin wouldn't have adjusted to effectively fit a Melo-centric offense? It will likely be awhile before we get the objective verdict. But really, how can you not miss heaven-sent manna?
Gutierrez: Fiction. At least not this season. Jason Kidd might be older, but he's a good fit for a team more determined to run quality half-court sets. And while Raymond Felton needs the ball to be at his best, he might still benefit from a familiarity with this team.
Strauss: Fact. If Lin's Rockets debut is any indication, this guy can still play point guard. So many are embracing the idea that Ray Felton is an obvious improvement over Jeremy Lin. The onus should be on Felton to prove that, since Lin was a far better player last season.
Thorpe: Fiction. From the players' perspective, they didn't much like "Linsanity," other than the winning part. And it was more like a dream anyway. The current Knicks version is only too happy to start life anew in New York without him. The fans will miss him, as will the coaches.
Windhorst: Fiction. Their fans will. But I'm not sure they're better than a six or seven seed with him or without him.
---
3. Fact or Fiction: The Knicks will finish in the top four in the East.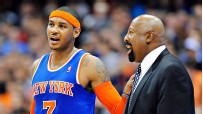 Cavan: Fact. After the Heat and Celtics, the East hierarchy gets muddier. Any one of Indiana, Atlanta, Brooklyn or New York (sorry, Philly), could realistically end up top-fold. The Knicks may be comically old, but they are deep enough to withstand a few bumps -- so long as they don't involve Nos. 6 or 7, of course. (Knocks on biggest tree in yard.)
Gutierrez: Fact. It's a tricky call because outside of the Heat and Pacers, there isn't a team you can comfortably say is a definite top-4 seed -- not with Boston needing time to jell, Andrew Bynum still sitting and Brooklyn a relative unknown. But Carmelo surrounded by veterans and a coach who caters to him should be enough to nab a top-4 seed.
Strauss: Fact. Tyson Chandler and Carmelo Anthony (at power forward) should be enough. Just look at the East. I keep expecting Miami to defect and join the West like a college power team.
Thorpe: Fiction. Miami, Chicago, Boston, Indiana, Philadelphia, Brooklyn, Atlanta and even a newcomer like Cleveland all will be fighting for the top-four spot, making it unlikely the Knicks can squeeze through.
Windhorst: Fiction. They're a little deeper in theory this season than last but they still have some significant flaws. Plus they're so old, it's doubtful they'll ever have their full complement for an extended period.
---
4. Fact or Fiction: The Heat are better than last season.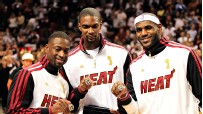 Cavan: Fact. We'll likely look back upon LeBron's Summer of Destruction as the moment when the script was permanently flipped. James is now in a galaxy of his own -- that alone makes Miami better. Erik Spoelstra's crew has discovered in their newfound positional atheism a curve-setting recipe that forces the rest of the league to adjust. I'm not sure they can.
Gutierrez: Fact, if only because they are so comfortable with their style of play and are deeper. Ray Allen isn't just a shooter in Miami, but is back to creating his own scoring opportunities, which relieves pressure on Dwyane Wade, mostly.
Strauss: Fact. I'm more enthusiastic about Erik Spoelstra's "small-ball" creativity than the Ray Allen addition. Spoelstra is turning his back on convention, because convention has outlived its usefulness. The zone defense era calls for Miami's vicious slash-and-shoot spread offense.
Thorpe: Fact. Mentally they are in a very special place. Chris Bosh appears poised to remind us nightly how talented he is. LeBron has now "walked the path" and is more dangerous than he has ever been. And they have more shooters.
Windhorst: Fact. One, their bench is more potent. Two, they have totally embraced a small-ball style that seems to perfectly suit their stars. Three, they're playing with remarkable confidence.
---
5. Fact or Fiction: Nothing comes close to LeBron and the Heat this year.
Cavan: Fiction. LeBron & Co. remain the team to beat, but one trophy does not a dynasty make. Mini-leaps from Kevin Durant and Russell Westbrook could help propel the Thunder over their own hump in spite of James Harden's departure. And don't forget about the reloaded Lakers, who could force Miami into a kind of small-or-big staring contest in the Finals. I know I wouldn't look away.
Gutierrez: Fiction. It won't be easy to beat Miami, but coming close is hardly impossible. The Heat remain susceptible to teams with offensive-minded bigs, which the Pacers have and, eventually, the Sixers will, too. Plus, there's the danger of Miami falling in love with the 3-pointer.
Strauss: Fiction. The aggressive Miami defense is still susceptible to a floor-spreading, 3-point-shooting team. The Spurs are the most formidable opponent in this respect.
Thorpe: Fiction. Only because of the age of some of their shooters, and the potential for the Lakers to find a small forward who can upgrade them above where Miami is now. In time, the top threat to Miami will be in L.A., unless you believe Steve Nash has quickly fallen from "hotsy totsy" to "hotsy notsy." I don't.
Windhorst: Fact. LeBron is entering his prime years and doing so with a clear mind free of second thoughts and doubt. He's not perfect, but he's the best he's ever been.


ESPN.com and the TrueHoop Network
Israel Gutierrez and Brian Windhorst are senior writers for ESPN.com. David Thorpe writes for ESPN Insider. Jim Cavan and Ethan Sherwood Strauss contribute to the TrueHoop Network.
• Follow the NBA on ESPN on Twitter | On Facebook | On Google+