The Knicks' hot start, the outstanding play of rookie Damian Lillard and the Rockets' backcourt were three of the biggest stories during the first week of the regular season. Will those trends continue?
Our 5-on-5 crew weighs in.
1. Real or Hype: The Knicks are the NBA's best team so far.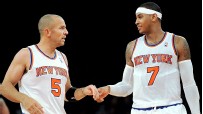 Mark Haubner, The Painted Area: Hype (but just a little). The Knicks certainly have been the most spectacular success, and are making a clear statement that Amar'e Stoudemire fits best off the bench, but the team's 48 percent 3-point shooting isn't sustainable. Overall, I'd favor the Spurs, who are standing out amid the carnage of predicted Western contenders, even though their shots haven't been falling and Manu Ginobili's barely played.
Beckley Mason, ESPN.com: Real. The Knicks have blown out two playoff teams and rank in the top three in offensive and defensive efficiency. That's pretty good -- no team has finished that high in both categories since the 72-win Bulls in 1996.
Steve McPherson, Hardwood Paroxysm: Hype. Maybe if you go strictly by point differential, the Knicks are the best with a plus-18 in two games, but J.J. Barea is also currently leading the league in offensive efficiency at a ludicrous 156.3. Any numbers you've got right now need to be taken with all the grains of salt and besides, the Knicks' problems have been about consistency, not talent.
Tom Sunnergren, Philadunkia: Real. While most in the business of basketball punditry spent the offseason wringing the hands over the Knicks maladroit handling of the Jeremy Lin and Landry Fields situations, NYK calmly, quietly got better. And yeah, they can shoot the 3 and defend as well as anyone. I'm buying here.
Amin Vafa, Hardwood Paroxysm: Hype. Even if it were real, doesn't everything surrounding the Knicks have to automatically be classified as hype? It's nice to see the team coming together and [Carmelo Anthony] playing well on both ends of the court, but the players' age and the re-addition of STAT will give this team some growing pains sooner rather than later.
---
2. Real or Hype: Damian Lillard is the NBA's best rookie so far.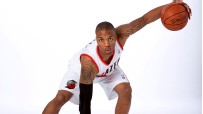 Haubner: Real. Lillard and Anthony Davis are so far ahead of the pack that it seems they'll compete with historically great rookie campaigns rather than their classmates. After Lillard dominated summer league, I expected him to be a top rookie, but I definitely didn't expect him to be this good: putting up Oscar Robertson-type numbers and leading a surprising Blazers team.
Mason: Real. Lillard is playing beyond his rookie experience, but perhaps not beyond his age. Franchise point guards like Chris Paul, Russell Westbrook and Derrick Rose also put up monster numbers as 22-year-olds. That's awful nice company. Suffice it to say: Lillard is making me feel real good about picking him for rookie of the year.
McPherson: Real. Anthony Davis plays the game in a physical way at a physical spot on the floor, but his strength isn't developed to an NBA-level yet, whereas Lillard already has the tools to make him successful at his position: vision, decision-making, shooting, quickness. He just looks polished. But they're very close. First co-ROYs since Francis and Brand?
Sunnergren: Real. I have little doubt that when both of these players' careers are over, Anthony Davis will be widely, maybe universally, regarded as the superior player. But three games in, the nod goes to Lilliard. He's been tremendously productive, and consistent, against a pair of title contenders and the team with the NBA's best backcourt. Four years in college can help, apparently.
Vafa: Real. Lillard defeated the up-and-coming James Harden-led Rockets, who looked unstoppable before their game against Portland. Plus, every other rookie hasn't shined as brightly. With Davis' injury, Bradley Beal's slow start, and Dion Waiters' Cavs getting thumped by a Rose-less Bulls squad, the race is now Lillard's to lose.
---
3. Real or Hype: Houston could have the NBA's best backcourt.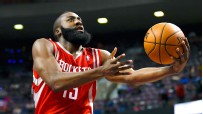 Haubner: Hype. James Harden has been the best guard in basketball so far, but Jeremy Lin still needs to improve (more consistent field-goal shooting, fewer turnovers) and prove himself for a bit longer before I'm willing to move him into that kind of rarefied air. I'd still favor Parker-Ginobili in San Antonio, and Steve Nash-Kobe Bryant will still be formidable once they get comfortable.
Mason: Hype. They won't play nearly as many minutes together, but Tony Parker (who has 27 assists against just six turnovers in three games) and Manu "When Healthy" Ginobili still present the most complete backcourt in the NBA.
McPherson: Real. Could? Definitely. I expect Harden to come back to Earth from his lofty first few games, but in a generation short on true SGs (none younger than 30 in the top 20 of NBARank this season), he's proving that he has what it takes to be a great one. His arrival also takes the pressure off Lin, and if their games can grow into each other, it could be something great.
Sunnergren: Real. I'm going to define "best backcourt" here as "backcourt whose highlight packages I'm the most excited to watch." And yup, that's the Rockets. Between Lin's controlled chaos and Harden's incipient super-duper-stardom, I love this basketball team.
Vafa: Real. Lin and Harden have looked TERRIFIC playing off each other. Usually a starting backcourt of two combo guards isn't something to brag about, but Lin and Harden's ability to score and handle the ball is something every other team in the league needs to be jealous of. They're good.
---
4. Real or Hype: The OKC Thunder have taken a big step back.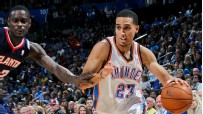 Haubner: Hype (sort of). The Thunder have not taken a big step back, but they've taken a clear step back, despite Kevin Martin's exceptionally efficient offensive play so far. I thought Oklahoma City was the clear West favorite before the Harden trade, and I'd rate them a little behind San Antonio now. OKC needs more production beyond its Durant-Westbrook-Martin troika.
Mason: Real. That's what happens when you lose your second best player. Yeah, I said it! The question is "for how long?" OKC still has five months to regain its bearing and Martin looks like he'll efficiently buoy the bench. But without Harden aboard, Durant and Westbrook must do a better job of steering the offense to positive possessions.
McPherson: Hype. They're shaken up, but only because they tinkered with such a smooth-running machine. Durant and Westbrook are too good and too driven to let the team fall prey to the bumps in the road. Once Martin gets acclimated to the offense and vice versa, the ride will smooth out.
Sunnergren: Real. There's no question that panic trading James Harden was just flat managerial malpractice and considerably lowers the ceiling on this Thunder franchise. Thing is, OKC is young enough everywhere else that it still might be better this season than last, based on the growth of the remaining guys.
Vafa: Hype. After so few games, it's hard to draw a correlation from Harden leaving. Yes, he was integral to their run last year, but can't we just chalk up their slow start to just that -- a slow start? I mean, I know the Harden trade is weighing over their heads, but it's not like they're going to miss the playoffs this year.
---
5. Real or Hype: The Lake Show is the NBA's biggest flop so far.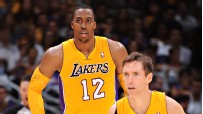 Haubner: Real, but ... The Lakers have certainly been the loudest flop, but they have company. The Celtics are not far behind after losing to Milwaukee by 11 at home and barely surviving a Euroleague-quality Wizards lineup. Also, a Nuggets team projected for 50-plus wins by many has actually been among the league's worst.
Mason: Hype. I thought the Nuggets would come sprinting out of the gates, but instead Denver's high-powered offense began the season with its shoes tied together. It's all bad: The Nuggets haven't reached the free throw line or the rim like they did last year, and Andre Iguodala thus far has not affected the team's shaky defensive identity.
McPherson: Real. Given the sporadic success of the overloaded Knicks last season and the positional contortions the Heat have gone through to make their lineup work, it's hard to ignore the fact that the Lakers' first win came with Nash out. Is it possible to have too much talent? In a game based on balance, space, timing and precision, it doesn't seem impossible.
Sunnergren: Real. Yes. The biggest jugger-NOT of the young season.
Vafa: Hype. They disappointed to start, for sure, but after Sunday's performance against Detroit, I think we can put all the nerves about the Lakers to bed. They're good, and they make it look easy. And they're only going to get better when Nash gets back.


ESPN.com and the TrueHoop Network
Steve McPherson, Tom Sunnergren, Amin Vafa and Mark Haubner write for the TrueHoop network. Beckley Mason writes for ESPN.com.
Follow the NBA on ESPN on Twitter | On Facebook | On Google+