Just five games into the 2012-13 season, the Lakers and Mike Brown have parted ways. … Now what?
Our panel debates whether Brown's firing was the right move, and how this once-hyped superteam bounces back.
1. Firing Mike Brown after five games: good move or bad move?
Henry Abbott, ESPN.com: Bad move unless Phil Jackson is about to walk around the corner. Dwight Howard is out of shape. Steve Nash is busted up. The bench has played terribly. Time would presumably solve at least two of those three problems. And now there's a new kind of chaos to cope with.
Andy Kamenetzky, ESPN LA: Good move. Beyond the fact I didn't think he was the right coach to begin with, this was clearly the direction matters were heading. If that's the inevitable final outcome, better early than late, so there's as much time as possible to pick up the pieces, get on the same page and move forward.
Brian Kamenetzky, ESPN LA: Good move. The Lakers clearly believed there would be a good chance of ending up right back in this spot six weeks from now, questioning whether Brown was the right guy. That being the case, act now and preserve as much of the season for the new guy as possible. Brown was still struggling to build credibility in the city and with his team. Maybe he'd be Erik Spoelstra, who wasn't good enough to win until he did. But maybe not, and the Lakers have too much invested to find out.
Darius Soriano, Forum Blue and Gold: Good move. Obviously there are concerns with making a move this quickly. But the Lakers are underperforming under Brown and in looking at his utilization of this roster, early trends could have well turned into lasting ones.
Brian Windhorst, ESPN.com: If the Lakers really felt he was not the person for this job and they have a legitimate replacement plan in place, then doing it now was a good move. It is incredibly unfair to Brown but I can understand the team's thinking. Especially if he'd lost Kobe, which certainly seems to be the case.
---
2. Kobe Bryant publicly expressed support for Mike Brown. Do you think he and his teammates played a role in Brown's firing?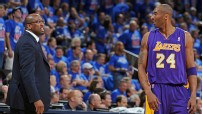 Abbott: Parsing the comments after the Utah loss, it was tough to see that support. Pau Gasol said things about the whole being less than the sum of the parts. Bryant declined to go into specifics about his admitted frustration. And there was, of course, the death stare.
A. Kamenetzky: As far as anybody directly lobbying for Brown's dismissal, I have no idea. But I think all the players played a role in the sense that Brown never truly connected with them. That was the vibe I got from day one and the relationship never changed. To be clear, I generally felt players liked Brown on a personal level and respected his tremendous work ethic. But that's not the same thing as buying into him as a coach, and I never got the sense of that belief.
B. Kamenetzky: No, but I don't think they'll object, at least not from a basketball standpoint. Kobe supported Brown consistently because he knew he had to, or Brown would be dead in the water. He's too late in his career to be undermining coaches and scuttling seasons. On a personal level, Brown was a popular guy (hard not to be, as he's about as nice a person as you'll meet) whose dedication and work ethic were respected, but there were grumblings last season about his roster management and rotations. Certainly this season it's hard to say the Lakers were running through walls for him.
Soriano: Yes and no. I think they played a part in that their play on the court forced management's hand. If the Lakers are 3-2 or 4-1 right now, Brown is sitting in his office preparing for the Warriors. I also think the players are frustrated with losing. But I don't believe they had any ulterior motives to get Brown fired.
Windhorst: Without a doubt. The Lakers did not consult Kobe when they hired Brown and that created an undercurrent that never allowed Brown to have a solid foundation. Brown and Kobe did work together, but at times they feuded fiercely behind the scenes. Kobe offered public support but he was never fully invested in Brown.
---
3. Who should be the next permanent coach of the Lakers?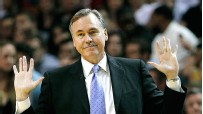 Abbott: If he hadn't bolted for CSKA Moscow I would have said former Lakers assistant Ettore Messina. Phil Jackson would change everything. After that, Stan Van Gundy is surely the best coach in need of a job. Mike D'Antoni is an interesting call, but I'm not sure optimizing around Nash makes sense because the point guard has started to look his age. And what about Derek Fisher?
A. Kamenetzky: Somebody instantly capable of commanding the respect of a veteran, experienced squad with a lot of All-Star appearances, success and rings under their collective belt. Whether that's Phil Jackson (not wild about the idea, but his name is predictably in the mix), Mike D'Antoni, Jerry Sloan, Brian Shaw, Eddie Jordan, Bernie Bickerstaff or a Van Gundy, the offensive and defensive philosophies -- while certainly important -- aren't as critical as the replacement's ability to immediately galvanize a sometimes hardheaded group.
B. Kamenetzky: They need someone with more gravitas than Brown, or many of the same questions plaguing Brown will stick to the new guy as well. I don't see a perfect fit -- and am not considering Phil Jackson until it's clear he's willing to again take the gig -- but snap judgment? I'll go with Mike D'Antoni. Yes, he's never been a guy who has fixed a team's defense, but at the same time he'd eventually get a healthy Dwight Howard (which solves a lot of problems) and culturally, he'd be a good fit. The spotlight of L.A. won't bother him, he's someone with the respect of Nash and Kobe, and has a rep as a guy who handles vets well. Jerry Sloan? Nate McMillan? They could work, too. The big job requirement is to be as big as the job. Those guys all are.
Soriano: All things considered, I think Brian Shaw would be a fantastic hire if he were available. Not only is he young and bright, but he's familiar with the landscape in Los Angeles and what pressures exist to succeed as a Laker. He did it as a player and saw firsthand what it takes from a coaching perspective sitting next to Phil Jackson.
Windhorst: There is no slam-dunk candidate. There has been so much attention on the offense but the Lakers' defense has been their biggest issue thus far and their depth. Just assuming an offense-minded coach like Mike D'Antoni would fix everything would be a mistake. Everyone is going to run to Phil Jackson but you need to go back and look at his final season -- it was not his best work. Nate McMillan and Jerry Sloan make sense on several levels and I would expect the Lakers have kicked the tires.
---
4. What other changes should the Lakers make to return to glory?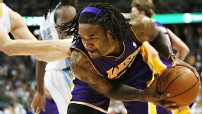 Abbott: Everyone knows superstars win championships, but this team is really testing that theory. Kobe Bryant, Dwight Howard and Pau Gasol are playing very well, but this team can't win because role players such as Jordan Hill, Devin Ebanks and Steve Blake aren't holding their own. The supporting cast needs to play better or else they'll have to upgrade.
A. Kamenetzky: Trade for Steve Nash. Wait, he's already on the team? Well, in that case, I'd see how he actually fits in with his teammates before making any radical changes. The ingredients may already be there, and we simply haven't had a chance to see the results with all hands on deck and, in theory, a genuine commitment to the game plan.
B. Kamenetzky: It would be great for the Lakers to bolster the bench, but this is a roster that, when healthy, ought to compete for a title. There is enough versatility and flexibility built into the roster and enough top-end talent to get it done. Play better.
Soriano: Besides finding a coach who will utilize the current roster, I don't see any. This team is the same one we were all so high on to begin the season. Making even more changes probably leads to more steps backward.
Windhorst: They need to play more focused defense. They need to remove the reins on offense and play more freely. They have been trying to trade Steve Blake to buoy their bench but they may need to spend a little more money and take a look at some veteran free agents out there who could give them some more reliable options.
---
5. Will the Lakers turn it around this season and become a contender?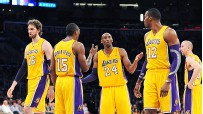 Abbott: They'll contend. The roster is too good for this to all be over so soon. They'll be in the playoffs, and scaring people. But the Thunder and Spurs are scary, the East has its beasts. Very unlikely that a team starting so badly will end the season with rings against that competition. If they do, then firing Mike Brown was clearly genius.
A. Kamenetzky: Yes, there's simply too much talent on hand for this team not to be in the mix. Brown's firing will either serve as a sigh of relief or a jolting slap in the face; either way, that may speed up the turnaround.
B. Kamenetzky: I had them in the Finals preseason, and it's way too early to pull back that prediction.
Soriano: Yes. This team has too much top-end talent not too.
Windhorst: I always expected them to be a contender but I never considered them the favorite. When they do jell -- and that would've happened under Brown eventually -- they are going to look good. But they have some challenges, especially in the way they're trying to fit together, that aren't going to be corrected by changing the coach.


ESPN.com and the TrueHoop Network
Henry Abbott and Brian Windhorst cover the NBA for ESPN.com. Andy and Brian Kamenetzky covers the Lakers for ESPN LA. Darius Soriano is part of the TrueHoop Network.
• Follow the NBA on ESPN on Twitter | On Facebook | On Google+