In honor of the 6-0 Knicks visiting the 6-1 Grizzlies today (ESPN, 9:30 p.m. ET), six writers size up the best squads and players so far this season.
1. So far, the East's best team has been _______________.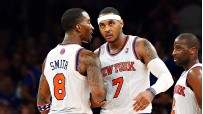 Jim Cavan, KnickerBlogger: AAHHHH! Sorry, I've been screaming for 12 consecutive hours. It's the Knicks. The caveat is that there's a huge difference between "is" and "has been." It's difficult to conjure a non-injury scenario where the Heat don't bulldoze their way out of even a marginally improved East, but Melo, Earl & Co. could prove quite the impediment come spring.
Danny Chau, Hardwood Paroxysm: The Knicks, by virtue of being the only undefeated team standing. The team is playing inspired basketball, and in their first truly close game Thursday night against the Spurs, the Knicks found a way to win even with an uncharacteristically bad offensive outing from Carmelo Anthony. Also, the Knicks haven't lost a game in the Rasheed Wallace era.
Andrew McNeill, 48 Minutes of Hell: The Knicks. Undefeated with wins over Miami, Philadelphia, Dallas and San Antonio -- it's hard to argue with that start to the season. The ways New York is winning may be unsustainable (at those levels) in the long haul, but it's playing the best basketball in the East.
Noam Schiller, Hardwood Paroxysm: The New York Knicks. We'll see if it holds up when the schedule toughens and the 3s stop falling, but so far, it isn't close. The Knicks have been mauling teams by an average of 13.7 points a night with the league's second-best defense and, shockingly, its best offense. It doesn't get much better than that.
Ethan Sherwood Strauss, HoopSpeak: The Knicks. This team makes functional sense. Tyson Chandler orchestrates the defense. On offense, Carmelo Anthony draws defenders from the 4, carving room for their many shooters. The Knicks are some humming gears, in search of a ruinous wrench. Based on their history, they'll find it.
Michael Wallace, ESPN.com: The Knicks. Jason Kidd and Raymond Felton have provided the leadership and balance that's been missing. Carmelo is showing he can be a two-way player, and the improved defense has sparked the team's best start in 20 years. But what happens when Amar'e Stoudemire returns?
---
2. So far, the West's best team has been _______________.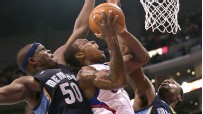 Cavan: Lobsanity. An impressive all-phases takedown of the champs aside, the Clippers are second in the West in point differential (plus-7.6), third overall in offensive efficiency (106.5) and 11th in defense (97.8), and they boast a bench so deep that Trey Thompkins has to wear scuba gear to stave off the bends. It's too early to be measuring out Staples rafter space, but this team has a contender's makings.
Chau: The Grizzlies. Before the season, it really looked like the Grizzlies were tapping on a glass ceiling. But the team has added some glamour to its grit and grind with a newfound touch from the perimeter. Memphis is still a shutdown force on defense, and its offense is no longer a liability. It has made quite the difference so far.
McNeill: The Memphis Grizzlies have the West's best record, including wins over Miami and Oklahoma City, and the third-best point differential in the league. They are big and tough and have shown they can win in the playoffs. When they get a healthy Darrell Arthur back, Memphis will be scary.
Schiller: The Memphis Grizzlies. Zach Randolph looks healthy, Mike Conley Jr. and Marc Gasol continue to improve, and the Bayless/Ellington/Pondexter bench unit won't miss 3s. Suddenly, they don't have to win just with their defense anymore. As with the Knicks, we need to see what happens when the shooting regresses, but with wins against both 2012 finalists, this team looks scary.
Strauss: The Grizzlies. This complete team is defined by its lack of stars, but it might just be growing one. Marc Gasol is a woolly mammoth of a man who passes with point guard skill. His assists are stoking a newly efficient offense, and his defense remains smothering.
Wallace: The Grizzlies. They're off to the best start in franchise history after beating Miami and Oklahoma City, last season's Finals participants, in consecutive games. Rudy Gay is performing like a franchise player and Marc Gasol has taken the lead as the better of the Gasol brothers with his playmaking and versatility.
---
3. So far, the East's best player has been _______________.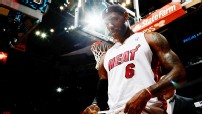 Cavan: LeBron James -- that is your choice. The requisite 30-plus PER is there, as are would-be career clips in field goal percentage (54 percent), rebounds (9.2) and 3-point shooting (45 percent, or 9 percentage points above his career high a year ago). If James keeps pace, we're going to have to invent new weaknesses just so we can give him one. "Welp, he still can't make the rim bleed!"
Chau: LeBron James. The best player in the world is getting even better. His numbers were efficient in the past. Now they're at supernatural levels. The Heat may still be working out some systemic issues, but James is doing his part and then some. He could stand to raise his free throw percentage, though.
McNeill: LeBron James. Honestly, this should be the answer no matter what for many years to come. According to HoopData, he has the second-highest adjusted alternate PER and a top-25 defensive rebounding rate, and he causes a lot of problems wherever he is on both sides of the ball. He's the best.
Schiller: LeBron James. He is rebounding more than ever, hardly turning the ball over and shooting like crazy from everywhere on the floor, and his team isn't missing a beat amid Western swings and some more Dwyane Wade health scares. It's hard to see what the guy can do better.
Strauss: LeBron James. We've reached a nice moment with LeBron where his brilliance can just be appreciated in the absence of "can't win it!" howls. Now that the storm has passed, it's easier to focus on, say, LeBron's nine boards per game. He claims them by tipping the rock to a spot and using his speed to beat opponents to it. It's sneaky cool.
Wallace: LeBron James. He continues to provide whatever the Heat need on a nightly basis. And just when you thought he reached the peak of his game after winning his first ring, LeBron comes back as an even better rebounder and 3-point shooter this season.
---
4. So far, the West's best player has been _______________.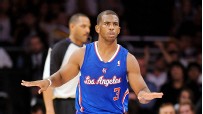 Cavan: I struggled with this one, but I have to give the slight edge to CP3 over Durant. Whereas KD is still in some ways navigating the personnel demands wrought by James Harden's departure (and doing it quite well), Paul is playing the same role he has always played -- hardwood maestro -- but with a bigger, more talented orchestra. Which is terrifying.
Chau: Kevin Durant. It's frightening to think this is somewhat of an adjustment period for Durant with James Harden gone. Durant has been given opportunities to become a more proactive creator, which explains the increase in turnovers but also explains the career highs in several statistical categories. So far, so good, and I can't imagine it getting worse going forward.
McNeill: I'm going with Chris Paul as the West's best player, tentatively. The Clippers are off to a good start this season at 6-2, and Paul is putting up excellent numbers. The dude just knows how to boss a game. Paul is the best at controlling the tempo, and he knows all the spacing and timing tricks of the craftiest players.
Schiller: Kobe Bryant. Call it whatever you like, but the Lakers' offense has been doing wonders for Kobe, who has been getting great looks and knocking them down at a rate that blows away his career standards. He started last season strong too, though, and regressed pretty sharply as the minutes took their toll. Take note, Mikey D.
Strauss: Chris Paul. He is a basketball metronome, a man who can take the hurried chaos of a game and knead it into an order of his choosing. The Clippers have a top-three offense despite lacking the floor space advantage of frontcourt shooters. Credit the guy who never hurries but is always on time.
Wallace: Chris Paul. His numbers don't jump out and scream at you early this season, but that just makes his magical impact even more remarkable. The Clippers have plenty of talented and capable pieces, but they don't fit without CP3's facilitating. At this rate, he's the only player in my mind who's got a chance to snatch a fourth MVP away from LeBron James.
---
5. So far, nothing comes close to _______________.
Cavan: Andrew Bynum's hair. It's the second thing that comes up on Google after you type "Andrew B." In a distant second, I'll sip the homer Kool-Aid and post watching J.R. Smith -- eight years after entering the league -- truly figure it out. Sustainable or not, he has been a real treat to watch.
Chau: Watching second-year guards Kyrie Irving and Kemba Walker bypass the dreaded sophomore slump. Irving already had a remarkable rookie season, and his numbers have gotten better with an increase in minutes. Walker, on the other hand, might be the biggest surprise of the young season, looking like a true focal point in Charlotte's relentless attack.
McNeill: The Los Angeles Lakers. It just wouldn't be the purple and gold if they stayed out of the spotlight for more than two days. First, it was the new superteam talk, followed by the slow start and Mike Brown's firing. Now Mike D'Antoni comes in to usher in the "Seven Seconds or Showtime" era. Never a dull day in Lakerland.
Schiller: Jamal Crawford's fire-and-brimstone act. Apologies to disgruntled Blazers fans who are waiting for the inevitable fallout, Ray Allen and Nando de Colo, but is there anything more fun than this guy right now? Crawford is leaving charred cities and basketballs everywhere in his path, and it is as glorious as it is frightening.
Strauss: Was much of his career squandered in the Utah flex? I wonder that as Andrei Kirilenko runs the show in Minnesota. Ever the unassuming facilitator, he nudges an injured offense toward competence. On defense, he inhabits a different form, haunting every avenue to the basket like an angry ghost.
Wallace: The promising start by the Bobcats, who are 4-3 and riding a three-game winning streak. Sure, two of those recent victories came against the winless Wizards and depleted Timberwolves. But considering it took half a season for Charlotte to get its fourth win last season, this rapid progress leaves you as stunned as a Kemba Walker crossover.


ESPN.com and the TrueHoop Network
Michael Wallace writes for ESPN.com. Jim Cavan, Danny Chau, Andrew McNeill, Noam Schiller and Ethan Sherwood Strauss are part of the TrueHoop Network.
• Follow the NBA on ESPN on Twitter | On Facebook | On Google+