An exciting beginning ultimately led to a messy, and quick, parting of ways for the New York Knicks and Jeremy Lin. But did the Knicks, who are off to an 8-2 start, make a wise decision?
Our panel takes a look at both sides of the debate before Lin's new club, the Houston Rockets, squares off with New York for the first time this season.
1. Fact or Fiction: The Knicks are better without Jeremy Lin.
Alex Arnon, Gothic Ginobili: Fact. Not only has Raymond Felton played just as well as Jeremy Lin did, he's doing it at less than half of the price. Mike Woodson's new system relies on a lot more ball movement and open 3-point looks, which was one of Lin's biggest weaknesses and something Felton is currently excelling at.
Jared Dubin, Hardwood Paroxysm: Fact. The Knicks are absolutely blitzing the league right now, as their league-best offensive efficiency has led the way to an 8-2 start. Everyone on the roster is playing smart, playing together and playing at an extremely high level. Whether or not they'd be off to a similarly hot start with Lin is up for debate, but it's also beside the point.
Israel Gutierrez, ESPN.com: Fact. They're better without him, but not better because he's gone. The Knicks did a solid job of surrounding Carmelo Anthony with quality veterans. That's not to say Lin couldn't have contributed to their success had he been there. Still, Raymond Felton's 15.7 points and 42 percent 3-point shooting are making Lin feel like a distant memory in New York.
Rahat Huq, Red94: Fact. Under Woodson, with Melo back, Lin probably wouldn't be enjoying anywhere near the 28 percent usage rate he had last season during the streak of Linsanity. We've seen how he's looked this season with limited touches. To that point, Ray Felton is probably the better fit for this current Knicks team/system.
Brian Windhorst, ESPN.com: Fact. It's not a direct cause-and-effect, but the Knicks' offense is operating better because most of the time they have two experienced point guards on the floor and three on the team. That's not to say that Lin won't prove to be a very effective player at the position in the future, but there were times when his inexperience was detrimental.
---
2. Fact or Fiction: Carmelo Anthony is a different player.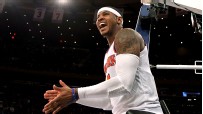 Arnon: Fact. I doubted my eyes at first, but the game against the Spurs, in which he focused on defense and rebounding when his offense wasn't working, cemented it for me. Carmelo seems to have finally realized that the whole "passing, hustling and trying on defense" thing isn't something he should do whenever he feels like it.
Dubin: Faction? He is giving more consistent effort defensively and has embraced the team-first offense, showing more willingness than ever before to pass out of double teams and facilitate ball movement. But he's also still prone to bouts of isolation jump shots and shoddy help defense at times. He's much improved, but signs of "old Melo" sometimes creep through.
Gutierrez: Fiction. We've seen this Carmelo before. In spurts last season. In the Olympics. The defensive-minded, motivated, well-rounded Carmelo has been in there all along. It's just a matter of letting him out. If Carmelo were a "different" player, he'd be shooting better than 44.8 percent.
Huq: Fact. He is more efficient than ever and has embraced his new role at the 4. It's great to see Melo finally maturing, because he's one of the best pure offensive talents in the league.
Windhorst: Fact. For now, at least. Melo is showing a willingness to be more of a team player at both ends, actually looking to draw double teams on offense at times so he can give up the ball for a better shot. He's genuinely showing effort on the defensive end even though he's gotten some challenging matchups playing power forward. It's the best use of his entire talent and display of leadership we've seen from him in New York.
---
3. Fact or Fiction: Lin will live up to his contract.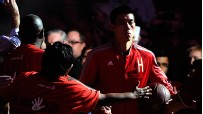 Arnon: Fact. Lin, at $8.4 million a year, has a cap number lower than Rodney Stuckey's, Goran Dragic's and Devin Harris'. While the fact Lin's success came in only 25 starts with the Knicks raises a few eyebrows, the market for good point guards in the NBA is incredibly thin and a 24-year-old with tremendous upside should certainly garner Devin Harris money.
Dubin: Faction again. He'll live up to the first two years, when his salary is just about $5 million; he needs only to be a league-average player to do that. However, that third-year poison pill is going to look like an albatross barring massive improvement.
Gutierrez: Fiction. Not sure what numbers decide whether or not he lives up to three years, $25 million, but it feels like fringe All-Star money. And Lin won't be flirting with All-Star appearances (unless there's a fluky vote involved) before this contract's done. He and James Harden both require the basketball to be effective, and it's an easy choice to give Harden the reins.
Huq: Fact. Apart from his shooting, Lin has done everything else well offensively, keeping his turnovers down and finding teammates when he's gotten the chance. He's still just 24 and a broken shot is the easiest thing in the sport to improve. He'll get it together.
Windhorst: Fiction. Mostly because he's a role player, and the way the league is going I don't believe teams can afford to pay role players $8 million a year. You can't say the Rockets were way off in the offer because a bunch of point guards got $10 million-a-year extensions in October. But with the new luxury tax and especially the coming repeater tax, teams are going to have to be very careful how much they give the middle-class players or they'll end up in a corner. Lin is a middle-class player.
---
4. Fact or Fiction: Amar'e Stoudemire will hurt the Knicks.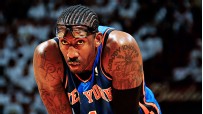 Arnon: Fact. The Knicks' small-ball lineup has produced the best record in the NBA up to this point, and you don't mess with a good thing. Amar'e has certainly lost a step or two (or five) since his first few fairy tale months with the Knicks, and while it'd be great if he'd accept coming off the bench, guys who make $20 million a year seem to have a bit of a problem with that.
Dubin: Fact, if Mike Woodson insists on inserting him into the starting lineup. Amar'e just does not mesh well with Carmelo and Tyson Chandler, as we saw for much of last season. But if he's willing to come off the bench, he could help J.R. Smith buoy a second-unit offense that has basically fallen apart when Carmelo has left the floor.
Gutierrez: Fact. At least initially. It would be difficult for any All-Star-caliber player to seamlessly slide back into a successful rotation. It'll be even more difficult for Stoudemire, who worked hard in the offseason to round out his game. Eventually, though, if these Knicks keep moving the ball well, even Stoudemire will get his numbers.
Huq: Fact. Betting that Stoudemire will hurt the Knicks is pretty much free money at this point.
Windhorst: Fiction. I agree it's going to take some time to figure out how to integrate him into things. That process may even cost the Knicks a few games. But Amar'e is a highly talented and experienced big man; you don't add players like him to a team and the team doesn't get better. At any level. The challenge is for him to buy into what the Knicks already have going on.
---
5. Fact or Fiction: The Knicks will make the East finals.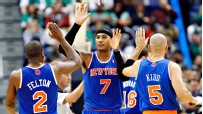 Arnon: Fact. Who else other than the mandatory Miami Heat is making the East finals? The Celtics are struggling and the 76ers, Bulls and Pacers have all lost their best player to injury. The Brooklyn Nets could emerge, but their offense has more question marks than the Knicks' offense, and they aren't defending as well.
Dubin: Fact, I guess. I just don't see any other East team getting there right now. Boston and Indiana look terrible. Chicago looks lost without Rose. Philadelphia is the most schizophrenic team in the league. Brooklyn is a work in progress. The Knicks have crafted an identity that works come playoff time, so they're it right now.
Gutierrez: Fiction: Outside of Miami, it's difficult to say any other Eastern Conference team is better than the Knicks. But I'm not giving up on Boston or Indiana just yet. One of them will bully their way into the conference finals.
Huq: Fact. If those graybeards stay healthy and Stoudemire's return isn't too disruptive, I don't see why not. Boston and Chicago have taken a step back and Indiana and Philadelphia haven't really made the expected leap forward. It'll be between the Knicks and Brooklyn in a battle for silver.
Windhorst: Fiction. I'm just not ready to say that yet. The Knicks have been impressive and they're doing some things that I believe are sustainable, especially defensively. But some of the players who have altered their styles for the better of the team, especially Anthony and J.R. Smith, still have to prove they're committed to sticking to it.


ESPN.com and the TrueHoop Network
Israel Gutierrez and Brian Windhorst cover the NBA for ESPN.com. Alex Arnon, Jared Dubin and Rahat Huq are part of the TrueHoop Network.
• Follow the NBA on ESPN on Twitter | On Facebook | On Google+