After a home loss against the Orlando Magic, the Lakers are now 8-9, with Kobe Bryant telling Pau Gasol to put on his big-boy pants after the game. Yes, things are still very interesting in Hollywood, to say the least.
Can the Lakers turn their season around? Our five writers chime in on L.A.'s story.
1. What's wrong with the Lakers?
Henry Abbott, TrueHoop: The roster was the precise reason there was talk of breaking the Bulls' all-time wins record a few weeks ago, and now it's the problem. This team looks too slow for Mike D'Antoni's offense, Pau Gasol doesn't fit, and the bench is so weak that even a stellar run of play from Kobe Bryant and Dwight Howard rounding into form hasn't been enough.
Alex Dewey, Gothic Ginobili: A telltale sign of aging is game-to-game inconsistency, and the Lakers bear that out. Of the Big Four, only Kobe hasn't hugely regressed or gotten injured. Steve Nash is still out, Pau looks awful, and Dwight's stats and defense have regressed back to 2006 (46.5 free throw percentage is worst of his career). Then add a coaching change and a shallow bench to the mix.
Israel Gutierrez, ESPN.com: Predictably, there are two things particularly flawed with the Lakers early in the D'Antoni era. Defensively, while the desire is there, the chemistry isn't. There's also some athleticism lacking, which doesn't help on that end. Then there's the point guard issue. Kobe can only wear both scorer and facilitator hats for so long.
Brett Koremenos, HoopSpeak: The main thing is the perception that they were supposed to be a 60-win juggernaut that rolled over the league. Most saw the collection of stars and overlooked the fact this roster had major questions about age, depth, athleticism and fit. Now that these flaws are coming to the surface, maybe it's time to -- gasp -- realize this team isn't that special.
Darius Soriano, Forum Blue & Gold: The top two issues are inconsistent defense and injuries exposing their lack of depth. Their perimeter defense can't keep the ball out of the paint, and that puts undue pressure on their big men to protect the rim. And without Nash and [Steve] Blake, the team's point guards simply aren't getting the job done.
---
2. Was Kobe right or wrong to criticize Gasol publicly?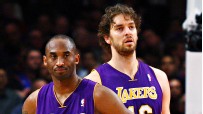 Abbott: Right. Pau's pouting calls for some kind of response. On the other hand ... he is a proven and excellent big man and has been an essential part of championships. He's also a proud man who has been humiliated by his own team (being traded once already, owners salivating to part with him, coaches calling him soft) so many times. It has to be tough for him to keep thinking team-centric thoughts.
Dewey: Wrong. Kobe acted unprofessionally with his comments. For someone that finds excuses so unacceptable, Kobe sure talks a lot about what his teammates could be doing better after losses. They're teammates. They have a locker room. To be fair, though, Kobe's comments were spot-on, and Gasol needed to hear them.
Gutierrez: Right. Pau has shown in the past he both needs the occasional nudge and accepts it as well as anyone would expect. And it's not like Kobe said anything we all weren't thinking.
Koremenos: A little of both. Normally I'd say it's bad form to go after a teammate in public, as usually it's best to keep those things in the locker room. But Bryant has also has gone to bat for Gasol through the media so at least he's been somewhat consistent with how he's dealt with the Spanish big man.
Soriano: Wrong. The Spaniard could certainly be playing better, but that's true of nearly everyone. Kobe would be better served avoiding blaming any individual and instead focusing on the team's issues -- defense being their biggest problem right now.
---
3. Should the Lakers try to trade Gasol?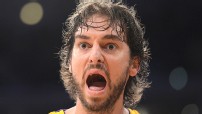 Abbott: Of course. They hired a coach who can't use him, have damaged the relationship umpteen ways and are committed to rebuilding around Dwight Howard with cap space Gasol currently occupies. What's scary, though, is not just that Howard is a free agent, but that he's already into finger-pointing. Howard at the center of your universe ends with people angry. With Pau as your big man, there's a lot less athleticism and a lot less drama.
Dewey: Yes, but on a team with Dwight, the Lakers need three things: Floor spacing, passable defense out to the perimeter and smart passing. Very few individual bigs meet most/all of those goals to satisfaction, or are all expensive and well-regarded. More likely, the Lakers use Gasol as a trade piece to shore up their bench.
Gutierrez: Sure seems like it, especially given the urgency of the Lakers' season. What would be ideal is a stretch-4 in return, one with some athleticism to boot. Chandler Parsons, anyone? He plays some defense, too. Probably would have to take back Jeremy Lin as well, though.
Koremenos: Yes. In the mid '90s, a Howard-Gasol frontcourt would have been absolutely dominant. But with how the game is played today, it's an impending disaster to pair two post-centric big men. And though an Andrew Bynum-Gasol tandem won a title in 2010, the dirty secret is that Lamar Odom was the one most often paired with Gasol in the Lakers' frontcourt during that playoff run.
Soriano: Exploring ways to improve the team should always be an option, but the best approach is to hold on to Pau and see how he plays when his knees improve and Nash returns. If at that point he's still not performing well, he should be shopped for better-fitting players.
---
4. With 8 of 10 on the road, what will the Lakers' W-L be on Dec. 25?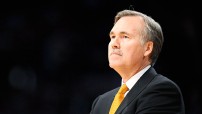 Abbott: Hornets, Wizards, Bobcats, Cavs ... they have some very winnable games. My guess is they'll win six of the next 10, putting them at 14-13 rolling into the Knicks game on Christmas Day.
Dewey: 15-12. Road trip or not, six of those 10 games are against New Orleans, Cleveland, Washington, Philadelphia, Charlotte and Golden State. The Lakers have a better point differential than any of those teams, and I'd be surprised if they lost more than one. I think they go 7-3 during this stretch.
Gutierrez: After beating the Knicks at home on Christmas Day, the Lakers will celebrate their 14-14 record and call the win a turning point. And it will be. Nash will have returned, and D'Antoni will have had nearly 20 games to work with.
Koremenos: The Lakers will likely be the underdog in at least six of those games, so there's a good chance the team is under .500 on Christmas morning. Something like 12-15 sounds about right.
Soriano: The Lakers will be 15-12 heading into their Christmas Day gave versus the Knicks. Though the road has been unkind to them, their four-game trip starting in Cleveland should give them a chance to bond, build chemistry and string together some wins against teams they should beat.
---
5. Will the Lakers be a top-4 seed? Make the playoffs?
Abbott: They won't catch OKC, Memphis or San Antonio. So the question is, after a slow start, will the Lakers catch and pass everybody else in front of them, most notably the Clippers? Unlikely, although I cannot rule out some Steve Nash magic. I absolutely expect the Lakers to make the playoffs.
Dewey: If L.A. doesn't get to the playoffs, something totally unforeseen will have happened. The Lakers have too much talent not to shore it up at least that much. But a top-4 seed is hard to predict when even their roster could be in flux and their level of play has such wide variance. I say Clips/Spurs/Grizz/Thunder edge them out.
Gutierrez: The Lakers will make the playoffs comfortably. But not as a top-4 seed. The Clippers, Thunder, Spurs and Grizzlies will have had too big a head start.
Koremenos: Barring a miraculous haul brought in from a trade of Gasol, the team is a notch below the Grizzlies, Spurs, Thunder and Clippers, so a top-4 seed is rather unlikely. It would, however, be a major disappointment if L.A. missed out on the playoffs entirely. Though in this crazy competitive Western Conference, it's not a scenario you can easily dismiss.
Soriano: Yes and yes. The Lakers are only three games back in the loss column to win their division. They're more than capable of making up that gap and doing so will earn them a top-4 seed and a trip to the playoffs. Things look down for the Lakers now, but they'll find their stride as the season progresses.


ESPN.com and the TrueHoop Network
Henry Abbott and Israel Gutierrez are senior writers for ESPN.com. Alex Dewey, Brett Koremenos and Darius Soriano are part of the TrueHoop Network.
• Follow the NBA on ESPN on Twitter | On Facebook | On Google+