They appeared to be on a collision course for the Western Conference finals at the start of the season. But now? Things aren't as crystal clear for the Los Angeles Lakers and Oklahoma City Thunder, which square off in OKC on ESPN Friday night (9:30 ET, following Celtics-Sixers at 7).
Should the Lakers deal one of their cornerstones? Will Kevin Durant ultimately have more scoring punch than Kobe Bryant? Which team wins a playoff series now? Our panel weighs in.
1. Fact or Fiction: The Lakers must trade Pau Gasol.
Dave McMenamin, ESPN LA: Fiction. Two major things have been going against Gasol this season: the presence of tendinitis in both knees and the absence of Steve Nash on the court. Let Gasol get healthy and have the benefit of playing with a Hall of Fame point guard to set him up before you start packing his bags.
Danny Nowell, Portland Roundball Society: Fiction. It's a great idea, but "must" is pretty strong verbiage for a team with four All-Stars that hasn't played a single game with its full starting roster.
Chris Palmer, ESPN The Magazine: Fiction. They don't have to trade him, but it could be a good shot in the arm if they could get someone like Josh Smith or a 10-rebound-per-game power forward plus an athletic point guard in return.
Darius Soriano, Forum Blue and Gold: Fiction. Gasol has been playing at less than 100 percent physically, has played only six quarters with Nash and hasn't yet had the benefit of having Mike D'Antoni's scheme altered in any way to help him thrive. It's simply way too early to think that Pau will be irredeemable when those circumstances shift to being more ideal.
Royce Young, Daily Thunder: Fiction. It's still too early to tell. He may not fit and he may not ever be healthy this season, but I don't like the idea of spending a summer meticulously assembling a roster and then blowing it to pieces before it really ever has a chance. Until Nash comes back and starts running the show, it's too early to make any kind of decision on Gasol.
---
2. Offense or Defense: Which is the Lakers' biggest issue?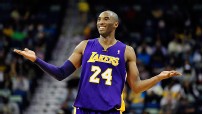 McMenamin: Both. Not trying to cop out on this one, but the Lakers' biggest issue on the court this season has been an excessive number of turnovers, which is technically an offensive issue but becomes a defensive issue because the turnovers put L.A. in a compromised position to play transition D.
Nowell: It's the defense. Their offensive efficiency is fifth in the league, and they've proved an inability to consistently shut teams down or even to dig in and get crucial stops. Most troubling is that the personnel they have isn't exactly suited to massive defensive improvement.
Palmer: Defense. They give up far too many easy buckets and seem to have one breakdown after another. Howard looks healthier than he did at the start of the season and is slowly returning to his role as an intimidator who discourages penetration, but there are clear communication and trust issues. An equally big problem on the other side of the ball is their abysmal ball security, which dooms them almost nightly. Just not championship stuff.
Soriano: Defense. The Lakers' inability to slow dribble penetration forces their big men to help too often while leaving their perimeter defenders scrambling to rotations they don't have the quickness to make consistently. Opposing offenses have figured this out and attack them nightly off the bounce. Even though L.A.'s offense can look clunky, it doesn't have fundamental issues like these.
Young: Defense. The Lakers rank in the top 10 in offensive and defensive efficiency, which is good and should indicate a better record than 9-10. But it's a consistency issue on the defensive end. In six of the Lakers' losses, they've allowed 105 points or more. There has to be a certain dependency on that end of the floor; it can't be something that comes and goes.
---
3. 2011-12 Thunder or 2012-13 Thunder: Who's better?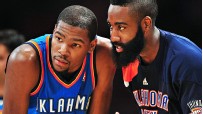 McMenamin: 2012-13 Thunder. The Thunder's core of Kevin Durant, Russell Westbrook and Serge Ibaka are all more developed than they were a season ago and are continuing to inch toward the collective prime of their careers. Those three have a much bigger impact on the team's success than the difference between the team with Kevin Martin as opposed to James Harden.
Nowell: I'm eating crow on the Thunder. I had basically given up on their title hopes after the Harden trade and grown weary of pundits' Presti-worship. With an improved defense, development from its already phenomenal core and a cache of even younger players in the pipeline, I have to say that this season's iteration seems to be an improvement.
Palmer: The Thunder are playing very well, but I still like last season's team that got to the Finals. Martin has been terrific despite the pressure, but Harden's ability to plug himself seamlessly into any lineup and steady the ship when things get rocky will be sorely missed in heated playoff battles.
Soriano: 2012-13 Thunder. This season's version may not have Harden, but they have a year's worth of improvement, the collective experience of a Finals run and the motivation that comes from a stinging defeat on that grand stage. Plus, with Harden gone, Durant is better than ever while accepting a bigger burden and excelling in all facets of the game.
Young: 2012-13 Thunder. It's really close, but statistically speaking, this season's installment is superior in almost every way. Yes, subtracting Harden was a major hit, but Durant, Westbrook and Ibaka are all another year improved and are coming off the incredible experience of an NBA Finals. Plus, Martin ain't bad at all.
---
4. Kobe or KD: Who will finish with more career points?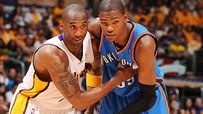 McMenamin: Kobe. Bryant is still leading the league in scoring at 34 years old and 17 seasons in. As great as Durant is as a scorer -- and don't get me wrong, he is great -- it's hard to imagine him pouring in the points at the same pace that Bryant has for that long.
Nowell: Kobe. KD is a better scorer, and if he plays as long and is as relatively healthy as Kobe, he'll finish with more points. But those are big ifs. While I like KD's chances, I wouldn't bet on it.
Palmer: If Durant finishes with more than Kobe, that will likely mean he'll end up the second or third leading scorer of all time. Even for a scorer like Durant, that's about as bold a prediction as you can make. That said, Durant has a sizeable advantage at the same stage of his career and is proving to be quite durable as he has missed just 14 games in six seasons. Longevity and consistency are the keys, and both will be on Durant's side.
Soriano: Kobe. I do not doubt Durant's scoring prowess in the slightest, but give me the player who already has 30,000 points in the bag (and climbing) over the guy who simply looks like he'll get there. A player's career can always take a strange turn, and even if KD seems like a sure thing, Kobe already is one.
Young: KD. At his current pace, Durant is set to hit 30,000 points roughly a year sooner than Kobe did. But the greatest advantage Durant has is that he can reinvent his game in his twilight years. Kobe is and will forever be a perimeter shooting guard. At almost 7 feet, Durant can seamlessly slide into the post more as a true power forward as he gets older. It's not hard to imagine a refined Durant averaging 20 points a game at age 37 on post-ups alone.
---
5. Thunder or Lakers: Which team wins a seven-game series?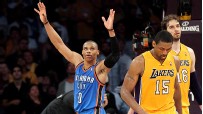 McMenamin: Thunder. Not to say it would be impossible for the Lakers to get Nash and Gasol back in the lineup and jell over the final 50 games or so heading into the playoffs to the point where a series against OKC would be a toss-up, but it would be foolish to pick against the Thunder based on what we've seen throughout the first six weeks of the regular season.
Nowell: The Thunder. And right now, it's probably more like a five-game series.
Palmer: Thunder would win in a laugher of a series right now. OKC is head and shoulders better across the board. But they don't play seven-game series in December. If the Lakers can work out their many issues, I'd go with them in seven games come May. As far-fetched as it now seems, I still think the Lakers are built to win a title.
Soriano: Based on the evidence so far, the Thunder. They're deeper, younger and healthier and have more continuity. As we get closer to May, some of these factors may turn in the Lakers' favor, but current projections and circumstances favor OKC just as they did last season when they matched up in the playoffs.
Young: Thunder. Before the season, I was all aboard the Lakers train. How could you not be? Nash, Bryant, Gasol and Howard? Add in the fact the Thunder just removed one of their three best players? Seemed to be mostly a no-brainer. But it's impossible to ignore the Lakers issues, and until there's some evidence that they're being solved, the Thunder have a clear advantage. They've easily moved past their offseason shakeup and may be better than ever.


ESPN.com and the TrueHoop Network
Chris Palmer writes for ESPN The Magazine. Dave McMenamin covers the Lakers for ESPN LA. Danny Nowell, Darius Soriano and Royce Young are part of the TrueHoop Network.
• Follow the NBA on ESPN on Twitter | On Facebook | On Google+