Jeremy Lin returns to the place where the Linsanity phenomenon all began, this time wearing red. But is he a better player now than he was with the New York Knicks? Our panel weighs in:
1. Fact or Fiction: Jeremy Lin's career peaked in New York.
Jim Cavan, KnickerBlogger: Fiction. Hanging 38 on the Lakers might seem an NBA lifetime ago, but let's not forget that Jeremy Lin is 24 years old. Assuming he can still improve and become a productive player on a playoff-caliber team, there should be ample opportunity for Lin to show that those halcyon Garden days merely sparked, rather than defined, his unique story.
Danny Chau, Hardwood Paroxysm: Fact. In any other context for any other person, it'd be foolish to declare a two-month span at age 23 to be the peak of anything. His ascent was so remarkable, and so much had to go wrong for the phenomenon to go right, the idea that Lin might be able to recreate or surpass that moment in time is unfathomable.
Danny Nowell, Portland Roundball Society: Fiction. Lin had what will likely be his best stretch of scoring games, and the effect was magnified because of the New York market, but I feel confident he'll contribute to postseason wins some day -- a trade I'm sure he'll be happy with.
Michael Pina, Red94: Faction. While a repeat of last year's magical run seems impossible, he's still only 24 years old, with fewer than 50 career starts under his belt. There's no reason to believe he won't replicate the efficiency and statistical production we saw in New York last season (see: Lin's 38-point outburst against San Antonio last week), but the chances of him ever doing it on a larger stage feel slim to none.
Brian Windhorst, ESPN.com: Fiction. He's way too young to say that. Now, if you say interest in his career peaked in New York, that I can go along with. Timing, they say, is everything, and it seemed to me that he happened to catch perhaps the hottest streak of his life at a time when there was a massive amount of attention on him. It's made him millions, and also set an impossible standard.
---
2. Fact or Fiction: Raymond Felton is better than Lin.
Cavan: Fact. As someone with skin in saying otherwise, it's time all of Knicks Knation come to terms with Felton being the better fit for New York's win-now model. Ray's solid perimeter D, ability to get to the rim and fast-blossoming chemistry with Tyson Chandler are pretty much where the Knicks need them to be.
Chau: Fact, though player comparisons like these rely on circumstance. Felton, as motivated as he's been since his last stint in New York, is a perfect fit for the framework in play for the Knicks. In that sense, he is better than Lin, who is still finding his way on a team he can't truly call his own.
Nowell: Fiction. Felton's not as bad as many Portland fans would believe, but for whatever renaissance he might be enjoying after last season's catastrophe, he's still got 375 points on 372 shots this season. Lin's the better player.
Pina: Fact. Based on almost every statistical metric used to measure a basketball player's offensive impact, Felton is blatantly outplaying Lin right now. He's also leading one of basketball's finest offenses with confidence and sound decision-making -- so much so that it almost feels like those disappointing career detours to Denver and Portland never happened.
Windhorst: Fact. He's a more polished and experienced point guard. It isn't totally fair to compare point guards when one of them has eight years of experience and one of them basically has a year of experience. Down the line, Lin could develop his skills more and get a better handle on the position. Today, however, that is not the case.
---
3. Fact or Fiction: Lin should come off the bench for Houston.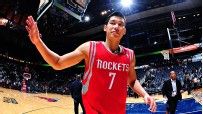 Cavan: Fiction. Given Houston's dearth of backcourt depth, it's tempting to see James Harden and Lin's somewhat duplicative skill set as reason to spread the offensive capital across lineups. The time may soon come to roll the dice -- and perhaps risk PR backlash -- by moving Lin to the bench, but 23 games does not a two-man machine make. I still think they can make it work.
Chau: Faction. Obviously Lin is most effective when given complete control over the offense, which would only happen when he isn't splitting duties with Harden. Bringing Lin off the bench is a chance to recapture some of last season's magic in stints, but as a cornerstone of a young team, it might be wiser to let him work out the kinks.
Nowell: Fact. Eventually. On a team whose best player is Harden, Lin is an ideal third guard and frequent closer, because his ability as a ball-dominant scorer better supports that arrangement. For now, Lin is the rightful starter, but I believe the idealized version of these Rockets would feature Lin coming off the bench.
Pina: Fiction. The Rockets play better when Lin is on the bench, but at this point, all sitting him will do is stunt development and damage his trade value. Houston has no shot at a championship this season, and benching an $8 million player in the first year of his contract wouldn't foreshadow a successful future for either party.
Windhorst: Fiction. The reason this question is being asked, I would assume, is because the stats show that Lin and Harden are better when they are not playing together. When the Rockets signed Lin, they had no idea they'd be getting Harden, and both players do seem to need to dominate the ball to be effective. They may eventually have to go in this direction, or even trade Lin (though I'm sure those things are on the back burner). But for now, I think they need to give them a little more time.
---
4. Fact or Fiction: The Rockets will make the playoffs.
Cavan: Fiction. They'll be in the hunt, but there are simply too many pleasant surprises (Timberwolves, Warriors) and potential turnarounds (Lakers, Mavericks) in the middle of the Western pack for Houston -- the Association's youngest team -- to have anything better than an outside shot. Make no mistake, though: This is a team with the requisite foundational tools for success. It just might take a few years.
Chau: Fiction. The Rockets may only be a game out of the West's eighth seed, but they also currently have the second-worst conference record, losing out to New Orleans for the dubious distinction. Houston's youth and relative inexperience will hurt; so will all of the lost tiebreakers if this trend continues.
Nowell: Fiction. Pending a trade, which could very well happen, the Rockets will fall just short of the postseason. There's just not quite enough talent yet to crack the [Nos.] 5-8 logjam out West.
Pina: Faction. Judging from recent Rockets history, this team's current roster will probably look very different by March. But if everything stays nice and familiar, the Rockets are a young, talented, growing team that appears to have already found its identity (run, attack the basket, shoot lots of 3s). They're in eighth place right now, and if no significant personnel moves are made by the trade deadline, they figure to only get better.
Windhorst: Fiction. (A) Both the Mavericks and Lakers are behind them in the standings, and I expect both to pass Houston when their All-Stars get healthy; (B) the Rockets are in the bottom 10, and in some cases the bottom five, in several key defensive statistics; (C) they've played five more home games than road games and they're still below .500. Simply, all of this does not project future success.
---
5. Fact or Fiction: The Knicks will make the East finals.
Cavan: Fact. The return of Amar'e Stoudemire and Iman Shumpert -- and subsequent minute management -- makes for a compelling short-term challenge. But the Knicks' incendiary start should allow them to weather a few bumps in a weaker-than-expected conference. At 10-0, the Knicks have rekindled one of the NBA's most palpable home-court advantages, and if they can land a top-two seed, theirs should be a relatively primrose playoff path.
Chau: Fact. The Knicks have an excellent shot at making it so long as there are no serious injuries to their stars, and provided that their unreal 3-point shooting doesn't nosedive. The Knicks also have injured impact players waiting in the wings. How they are incorporated later in the season will be crucial, as chemistry is a fragile, fragile thing.
Nowell: Fact. The Knicks are playing great ball right now, and are the East's second-best team. But let me be clear: That's not because Felton is, in any objective sense, a better player than Lin. A better fit? Sure, possibly. But there are more factors at work than just these two players.
Pina: Fiction. This early in the season there's still so much more to learn about the Knicks. How they integrate Stoudemire into a consistent role, the fact that they're the oldest team in basketball, and their reliance on the 3-point shot are all major X factors that could swing New York's season toward a first-round exit just as easily as it could the NBA title.
Windhorst: Fact. It does appear that way at the moment. Though I am assuming two things: (1) the Celtics will get their act together and become a more serious threat, and (2) the additions of Shumpert and Stoudemire will significantly upgrade the Knicks. I am not in the camp that believes Stoudemire doesn't fit. I say just watch how Jason Kidd changes the Stoudemire situation.


ESPN.com and the TrueHoop Network
Brian Windhorst covers the NBA for ESPN.com. Jim Cavan, Danny Chau, Danny Nowell and Michael Pina are part of the TrueHoop Network.
• Follow the NBA on ESPN on Twitter | On Facebook | On Google+