What should NBA fans be most thankful for this season?
In honor of Thanksgiving, our panelists dive into a five-pack of holiday-themed questions:
1. __________ fans should be thankful for __________.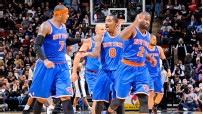 Henry Abbott, ESPN.com: Knicks fans should be thankful for everything. Jeremy Lin isn't really haunting anybody. The Nets aren't embarrassing them. The record is solid. No real infighting. No weird Isiah Thomas stuff. The only real awkwardness of the early going is the look of Jason Kidd in a crooked headband.
Jeremy Schmidt, Bucksketball: Bobcats fans should be thankful for a new roster. We knew the Bobcats couldn't possibly be any worse than they were last season, but nipping on the heels of last season's seven wins through nine games has been quite a surprise. The additions of Michael Kidd-Gilchrist and veterans Ben Gordon and Ramon Sessions and significant development from Kemba Walker have the Bobcats in the early-season playoff picture.
Marc Stein, ESPN.com: NBA fans should be thankful for the fact that the league has elected to keep this Thanksgiving dark for all the right reasons -- so everyone in the hoops universe can be with their families -- and then come right back with 12 games Friday night. You only have to rewind one Thanksgiving or take a glance at what's happening in hockey to know that it's a bigger deal than it sounds.
Jared Wade, 8 Points, 9 Seconds: Spurs fans should be thankful for the past decade and a half. There isn't a team in the NBA, and perhaps sports, that has been this good for this long, without pause. San Antonio hasn't won less than 61 percent of its games since Anthony Davis was 4 years old and it is currently -- for the third straight season -- north of 70 percent.
Kyle Weidie, Truth About It: Wizards fans should be thankful for not having to watch selfish basketball. Sure, it doesn't get worse than an 0-10 start, but would you believe these Washington Wizards rank behind only the Celtics, Bulls and Spurs in percentage of assisted field goals made (64.3 percent)? Last season's Wizards ranked 27th in assisted FGMs (52.3 percent).
---
2. 'Tis the NBA season for __________.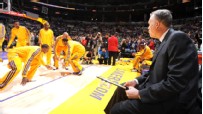 Abbott: Team offense. To my eyes almost all the good teams are showing that they believe standing around watching one guy dribble isn't the road to the title -- and that's before the Lakers truly get that D'Antoni stuff going.
Schmidt: Lakers drama. It just wouldn't be the NBA without some kind of drama in Los Angeles. But at least they got it out of the way early this season. The opportunity is now there for the Lakers to focus the rest of the season and execute Mike D'Antoni's upbeat offense at the expense of all those who enjoyed their early-season struggles.
Stein: Injuries, unfortunately. It's been an unusually frantic start to the 2012-13 campaign, with David Stern revealing his retirement timetable, James Harden getting dealt before Halloween and all the coaching chaos in Lakerland. But injuries, as they always can, dampen the mood. Kyrie and Kawhi, Dirk and Nash, Bynum and Bogut, Love and Rubio ... and I regrettably could keep going. Depressing.
Wade: Uncertainty. The only thing we really know for sure is that the Heat are really, really good. Everything else is up in the air. Will the Lakers and Thunder put it together? Is there any reason the Grizzlies, Clippers and Knicks won't continue to be this good all season? Stay tuned.
Weidie: Not declaring an early death to NBA offense in the paint, despite mass affection for stretch 4s and speedy combo guards these days. This season, nine NBA teams are averaging 30 or more attempts per game from within 5 feet. Last season, that number of teams was five, and only four teams qualified in each of the two seasons before that.
---
3. If not Miami, the NBA parade will be in ______________.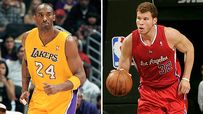 Abbott: Some city featuring a contrived river feature. I believe in the Thunder as much as ever, maybe more than ever -- they're older and wiser, with more reason than ever to be team-centric. And OKC has a nice little canal system. If Tim Duncan is still springy in June, the Spurs, with their River Walk, loom. And Los Angeles has the Lakers, Clippers and the L.A. River, an awesome place to film a good car chase.
Schmidt: Oklahoma City. This whole Kevin Martin thing hasn't been so bad. James Harden's replacement leads the league in true shooting percentage and seems to be thriving as a third option off the bench. The Thunder are moving right along with a top-three offense and a firm hold on what's been a surprisingly weak Northwest Division.
Stein: Los Angeles. The legit rise of the Clippers doubles the odds that the NBA Finals rep from the increasingly hard-to-handicap West will be coming out of Staples Center in June, because I do think that the Lakers will now spend the rest of the season playing their way into contention like we all expected. But who really knows? OKC, San Antonio, Memphis and the two L.A. teams ... they're all going to look worthy of a Finals berth over the next few months, depending on the day.
Wade: Los Angeles. It has two teams and I'm sharp enough to take the odds.
Weidie: Los Angeles. While I still feel last season's runner-ups, even sans James Harden, have the worst taste in their mouths and thus the best chance to knock off the champs, I'm hedging my bets here. There are two capable teams in La-La Land, so the chance of a parade being there seems more possible at this juncture.
---
4. Nothing comes close to __________.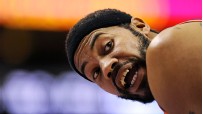 Abbott: The energy level of a game like the Nuggets versus the Grizzlies. If there are still people out there who say NBA players don't play hard, let them watch Monday night's game on a loop until they are truly thankful.
Schmidt: The 3-point shooters on the Heat. And we thought this team was dangerous last season. If Ray Allen and Rashard Lewis are going to sip from the fountain of youth all season and continue to make 3s at better than a 50 percent clip, everyone else may as well pack it in.
Stein: My beloved NBA schedule pamphlets. I realize this is a window into just how frighteningly weird I really am, but I'm irrationally excited to have just received a shipment of the little booklets that the league prints up for the media listing every game from Oct. 30 through April 17. I actually have about 10 copies that I've left in various corners of my house, my car, multiple work bags and pieces of luggage, etc. And I consult the booklets, which are reminiscent of the old printed airline timetables for travelers, several times a week to plan any given day of my life during the season. The 2012-13 pamphlet, as a bonus, has an all-black cover for a slick Little Black Book effect. You're probably wishing now that you hadn't asked me this question, but folks at the league office whom I pester for these schedule booklets every year would tell you that I'm really not exaggerating. (Also: I keep laughing at the Blake Griffin Kia commercials more than I should. I know. I need help.)
Wade: Having Rasheed Wallace back. He looked like vintage Sheed in the post last week against Memphis, and he wasted no time reintroducing everyone in FedEx Forum to the loudest personality and junk-talker in the league.
Weidie: A player making that extra pass. Whether it be continued ball movement around the perimeter for an open 3 or finding the gap in the defense to feed that cutter in the lane, nothing is like watching an intelligent team move the ball. Call the league office, someone needs to add "hockey assists" to the official stats.
---
5. The biggest turkey of the season is __________.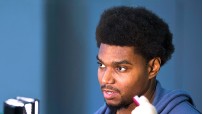 Abbott: The turkey of injury (go with it!). The young season has been nearly perfect, in terms of quality of play. But I want to see Andrew Bynum as a Sixer. Derrick Rose and Kyrie Irving might be the two most entertaining NBA players, but they're out. Healthy Amar'e Stoudemire is fun to watch. Not to mention Anthony Davis, Dirk Nowitzki, Andrew Bogut, Danny Granger, Steve Nash, Kevin Love, John Wall and definitely Ricky Rubio. We need all those guys back.
Schmidt: Indiana. The Pacers were put together without tanking, through solid player development and shrewd draft choices. They were supposed to be the feel-good team that made up for the lack of a top draft pick with strong team chemistry and toughness. But now the dream appears to be over already, as Danny Granger's injury has left them looking lost through 12 games.
Stein: The Lakers' -- and more specifically Dwight Howard's -- free throw shooting. It cost L.A. its game against visiting Dallas on opening night and has seemingly become a near-nightly issue. The volume of some of those rocks that clanged off the backboard against the Nets has my ears still ringing.
Wade: Ersan Ilyasova. Not only is he from a country named exactly that, but he has missed more than two-thirds of his shots while averaging 6.6 points and 5.1 boards per night. Listed at 235 pounds and recently signing for a $40 million payday -- roughly $170,212 per pound -- that's one expensive bird.
Weidie: Wizards team president Ernie Grunfeld. Since 2008-09, the Wizards have tallied 234 losses to just 88 wins, and have gone through four head coaches, two team owners and 62 different players. How many lumps of coal will Wizards fans continue to receive on Grunfeld's watch?


ESPN.com and the TrueHoop Network
Henry Abbott and Marc Stein are senior NBA writers for ESPN.com. Jeremy Schmidt, Jared Wade and Kyle Weidie are part of the TrueHoop Network.
• Follow the NBA on ESPN on Twitter | On Facebook | On Google+