If the season ended today, who would take home the NBA's year-end hardware? Marc Stein has made his choices in this week's Weekend Dime. Now our panel hands out six awards for the first trimester in 2012-13:
1. Who's the MVP of the first trimester?
Tom Haberstroh, ESPN.com: LeBron James. I'd be fine with Kevin Durant winning this fake award, but LeBron is No. 1 in PER and a defensive player of the year candidate on a title contender. I mean, he hasn't been called for a foul since the 2:30 mark in the first quarter of a game on Dec. 8. That's 212 minutes without a whistle. Considering all he does on both ends of the floor, it's LeBron's award to lose.
Ian Levy, The Two Man Game: Kevin Durant. LeBron and Carmelo Anthony have been incredible, but I'll take a sneering, snarling, ferocious Durant. Expanding the limits of plausibility, Durant is having a career year as a shooter, rebounder, passer, defender and leader. The MVP race likely won't be decided until the season's final weeks, but for now it has to be the best player on the best team.
Danny Nowell, Portland Roundball Soc.: Kevin Durant. I've long been a fan of slotting LeBron in for this no matter how boring it gets, but I'm pleased to say that Durant has probably emerged as a rightful usurper. Narrative satisfaction meets world-beating efficiency on the team with the league's best record? That's a recipe for some hardware.
Ethan Sherwood Strauss, HoopSpeak: Durant. KD was recently marked by Andrei Kirilenko, the ideal guy for defending Durant. The result? Durant had 33 points on 21 shots. I marvel at the 50-40-90 shooting production, but I'm also amazed by how it's maintained on a hefty 17.3 shots per game. When you factor in KD's improved passing, it's clear that he's leading the pack through this third of a season.
Royce Young, Daily Thunder: Durant. Just rewind back to late October when the Thunder dealt away James Harden and everyone was riled up, worried and anxious about the season. Seems like a long time ago now. The Thunder have the best record in the league and have clearly re-established themselves as a legit contender, and Durant is at the front of it all, having his best season yet.
---
2. Who's the rookie of the year of the first trimester?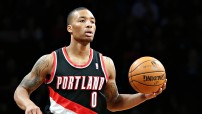 Haberstroh: Damian Lillard in a runaway. Lillard has helped propel the Blazers to a respectable 12-12 record thanks to his sensational clutch play this season. Granted, he's old for a rookie at 22, but he's shown more poise than most point guards exhibit in Year 3. Michael Kidd-Gilchrist would be a distant second (he has more blocks than Jonas Valanciunas!) and Andre Drummond would be my darkhorse candidate.
Levy: Drummond. Although he's still convincing his coach he deserves 20-plus minutes a game, Drummond has been a revelation. He's answered every question about motor and intensity, while solidifying every assertion of his unique size and athleticism. Lillard is off to a great start as well, but Drummond is clearly headed somewhere special.
Nowell: Lillard. This honor might well have gone to Anthony Davis if he could stay on the court, but right now Lillard is the only viable answer. He's a major reason the Trail Blazers have clawed their way back to .500, and his heady, controlled game earns him a pass for now on his turnstile defense.
Strauss: Drummond. Look, I'm under no illusions. I get that Lillard, Oakland's version of Chauncey Billups, will take this award. But Drummond's higher PER gives me an excuse to choose someone who's made more astounding plays this season. Drummond might not always know what he's doing, but he'll crush laws of physics at least once a game, all the while looking like a combination of young Amar'e and young Dwight.
Young: Lillard. The book on Lillard before the draft was that he was a poised, controlled player that had the tools to be an immediate impact player. That book was completely right. He doesn't look very rookie-ish at all, and it's not hard to picture him joining the ranks of Russell Westbrook, Kyrie Irving and Derrick Rose as one of the league's next great young point guards.
---
3. Who's the defensive player of the year of the first trimester?
Haberstroh: Tim Duncan. Could also go with Joakim Noah here, but Duncan is somehow averaging 2.6 blocks per game at age 36 while anchoring the Spurs' seventh-ranked defense. Dwight Howard and Tyson Chandler don't play for above-average defensive teams, so it's hard to justify their vote so far. Tony Allen, LeBron James and Serge Ibaka also have a case, but Duncan's my pick.
Levy: Roy Hibbert. His offense has been bad, like Derrick Martin-bad, but the Pacers are above .500 in large part because of Hibbert's interior defense. The Pacers have the second-most efficient defense in the league and are holding opponents to 59.8 percent shooting at the rim. Now if Hibbert could just get a hook shot to drop.
Nowell: Tyson Chandler. While some of the usual stalwarts are not submitting seasons quite up to the honor, Chandler remains as steady an anchor as ever. While much of his improvement has come on the offensive end of the floor, this guy is captaining a defense whose other components are either 50 years old or Carmelo Anthony.
Strauss: Marc Gasol. Tony Allen gets much of the Internet love, but Gasol is the defensive foundation in Memphis. The nimble 7-foot Spaniard does much to allow the Grizzlies' aggressive pressure defense. With Marc backing up feisty guards, the blue bear has the No. 1-ranked defense so far.
Young: Noah. He's a one-man wrecking crew. With his energy, intensity and effort, Noah is involved on every possession, contesting shots, blocking others and grabbing rebounds. The Bulls are firmly planted near the top of the league again in defensive efficiency, and while Tom Thibodeau's system gets a lot of the credit, Noah's actually on the floor making it happen.
---
4. Who's the most improved player of the first trimester?
Haberstroh: Jason Kidd. Apparently, you can teach an old dog new tricks. As absurd as it sounds for a 39-year-old to legitimately win this award, Kidd's PER has jumped from 13.1 last season to 18.0, he's shooting lights out from 3, and he's seen an uptick in steals with a downturn in turnovers. He's the biggest catalyst for the Knicks' award for most improved style of play. Also considered Omreg Asmith, the Rockets' two-headed monster underneath.
Levy: Carmelo Anthony. Normally MIP goes to a young player taking the leap. But it's nearly impossible to ignore what Anthony has done this season. Playing mostly power forward, he has changed his shot selection and dramatically improved his court awareness. For the first time, his offensive talents are consistently making things easier for his teammates, an achievement that deserves recognition.
Nowell: J.J. Redick. I suppose it's too cute to say Carmelo, so I'll say Redick with the caveat that I doubt he'd ever win the award in real life. But the one-time one-dimensional Redick has fashioned a balanced all-around game to be one of the largest contributors to the Orlando surprise in minutes that belie his efficacy.
Strauss: Eric Bledsoe. I'm tempted to name Kidd, but I suspect that extra space granted by the spread pick-and-roll has much to do with his improvement. Bledsoe, on the other hand, is thriving in the same offense as he played in last season. He's a fast-motion Tasmanian devil on defense who also happens to be scoring nearly twice as many points per minute as last season. The offensive improvement's been so dramatic that he might be taken No. 1 were the 2010 draft re-held.
Young: Serge Ibaka. A player like O.J. Mayo has the pedigree, but in truth, he's just finally getting an opportunity to show how good he is. In terms of improvement, it's Ibaka, who in the absence of James Harden has become a legit offensive weapon for OKC. He's shooting 57 percent from the floor, and he's doing it mostly on mid-range jumpers. Plus, the shot-blocker is rounding out as a better overall defender.
---
5. Who's the coach of the year of the first trimester?
Haberstroh: Mike Woodson. For all the barbs he's received for being a narrow-minded play-caller, Woodson has opened up the Knicks' offense and let it fly. His biggest test, however, is yet to come: the integration of Amar'e Stoudemire.
Levy: Rick Adelman. The offensive system he's built in Minnesota is a manifestation of pure joy. This roster could have disintegrated with all their injuries, but his commitment to beautiful movement and creative passing has held things together. He's kept them in the thick of the playoff race, but also put the team on an upward trajectory that will make Kevin Love think twice about leaving.
Nowell: Woodson. With humblest apologies to Jacque Vaughn, who is leading a shockingly competitive band of misfits in Orlando, Woodson has steadily piloted the Knicks over their native turbulence to turn them into a viable contender.
Strauss: Woodson. Somehow, he managed to get Anthony's acceptance of the offensive system that Anthony rejected under Mike D'Antoni. Since then, New York's four-out pick-and-roll strategy has been basketball ballet, a fluid choreography that's impervious to defensive intervention. Immense credit goes to Woodson in directing a style that thankfully ran counter to his iso-friendly soundbites.
Young: Mark Jackson. There are a bunch of really solid candidates here (Woodson, Vaughn, Larry Drew), but Jackson has the Warriors eight games above .500, and he's doing it without Andrew Bogut. There's clearly been a culture and philosophy change for the team, and every player has bought in to what Jackson's preaching.
---
Bonus Question: Who's the Sixth Man of the first trimester?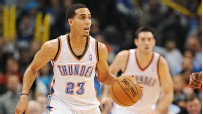 Haberstroh: The heir apparent of reigning Sixth Man James Harden is Kevin Martin. The 29-year-old is quietly chasing the elusive 50-40-90 club in field goal, 3-point and free throw percentage with 47-46-94 so far this season. Contrary to popular belief (mine included), the Thunder haven't missed a beat with Harden gone, and Martin is a huge reason why.
Levy: Carl Landry. There are lots of interesting candidates, but the Warriors have been one of the season's biggest surprises and Landry's hyperefficient post game has kept their offense afloat for large stretches. Anytime outside shots aren't falling for Stephen Curry, Klay Thompson and Harrison Barnes, the Warriors know they have a near-sure thing waiting for them on the interior.
Nowell: Jamal Crawford, Sithh Man of the Millennia. What Crawford is bringing the Clippers off their bench is almost enough to make you forget that a viable Western competitor is starting Willie Green and Caron Butler. Almost.
Strauss: Landry. He carried the Warriors during an early season team shooting slump and is second on the roster with a 20.10 PER. The power forward version of Nikola Pekovic has been a gnashing force down low, hitting 56 percent of his shots. His style is ugly, but the results have been beautiful so far.
Young: Crawford. The Clippers' bench has emerged as probably the best in basketball, and it's mostly behind the scoring of Crawford. He still hoists the occasional head-scratcher, but he's an incredible scoring spark who has given the Clippers an advantage over almost every second unit they've gone against.


ESPN.com and the TrueHoop Network
Tom Haberstroh is an NBA Insider for ESPN.com. Ian Levy, Danny Nowell, Ethan Sherwood Strauss and Royce Young are part of the TrueHoop Network.
• Follow the NBA on ESPN on Twitter | On Facebook | On Google+