The Western Conference is as competitive as ever, especially at the top, where as many as five teams can make an argument for being the best. To help sort things out, our five West experts rank their top five teams on the left coast.
1. Who's the best team in the West?
Danny Chau, Hardwood Paroxysm: Oklahoma City Thunder. I'm undeterred by their two-game skid. The Thunder still have the best prospects of making it back to the NBA Finals. The recent losses have brought up several questions regarding Scott Brooks' lineup choices that will need to be answered come playoff time, but it's unfortunate that the burden of expectations has overshadowed a fantastic season thus far.
D.J. Foster, ClipperBlog: Los Angeles Clippers. Just look at the numbers. The Clippers rank in the top five in both offensive and defensive efficiency, they force more turnovers than any team and they sport the league's best point differential (plus-9.7) and the longest winning streak (14 and counting). No team is playing better basketball.
Curtis Harris, A Wolf Among Wolves: Clippers. Terry Dehere is smiling proudly. His Clippers, once moribund, are now on the move with a frightening groove. Fourteen straight wins have brought this incredibly deep team to the top of the Western Conference. The only worry may be players griping over playing time. Then again, winning does cure all ills.
Michael Schwartz, Valley of the Suns: Thunder. Oklahoma City has hardly missed a beat without James Harden. Serge Ibaka has taken a step forward and Kevin Martin has ably filled Harden's bench-scorer role while Kevin Durant and Russell Westbrook have been Kevin Durant and Russell Westbrook. The scary part is the young Thunder are only getting better.
Marc Stein, ESPN.com: I've got a question for you first. Are you asking in a Power Rankings kind of way -- with more of the focus on right now -- or a favorite-to-win-the-West kind of way? If it's the latter, OKC is the closest to meeting that standard, even after I just rolled the Clips out in the No. 1 spot Monday in the most recent edition of the rankings. The Russell Coaster and all of its ups and downs continue to give me pause, but KD, Ibaka and, yes, even Russ are all better players than they were a year ago. And Kevin Martin has fit in as well as Sam Presti could have hoped. The Thunder thus remain the team to beat in the West … to the credit of everyone there after the shock timing of the Harden deal.
---
2. Who's the second-best team in the West?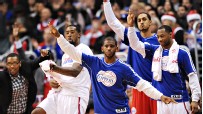 Chau: Clippers. It was tough ranking them second when they have been thoroughly dominant in December. Their 14-game winning streak is enough to make a believer out of anyone. The team has all the ingredients for a memorable playoff (and championship?) run: flash, charisma and an impossibly deep and effective bench. I'm just glad I'm able to take it all in.
Foster: Thunder. It's inexplicable, but the Clippers have had Kevin Durant's number for a while now. In their past nine matchups, Durant is shooting just 40.8 percent from the field and has more turnovers (34) than assists (29). It might not hold up over a seven-game series, but it's a trend to keep an eye on.
Harris: Thunder. Oklahoma City has seamlessly transitioned to the post-James Harden era thanks to the growth of Kevin Durant and, especially, Serge Ibaka. The Thunder own the best offense in the NBA and are also really good, but not great, at defense. No surprise whatsoever if the Thunder return to the NBA Finals.
Schwartz: Clippers. When Chris Paul and Blake Griffin are your headliners, it's almost unfair to also possess the best bench in the league, and that's after getting practically nothing from Grant Hill and Chauncey Billups. As the only team ranked in the top five in both offensive and defensive efficiency, there's a reason they have won 14 straight.
Stein: Billy Crystal's Clippers. Safety-first instincts after three mostly miserable decades in L.A. keep you from diving head-first onto their bandwagon, but surely you're in line for tickets after what we've seen so far. And if you'd rather downplay their winning streak based on the composite record (148-212) of the 14 teams in a row they've dispatched, don't forget to note that they've won all those games by the whopping average margin of 15.4 points … and that they've also got more wins against the other teams in the top 10 of Monday's rankings (eight) than anyone else in the league. With a closer of Chris Paul's caliber and a ridiculous amount of depth compared to what they had last season, these Clips are for real. Finally.
---
3. Who's the third-best team in the West?
Chau: San Antonio Spurs. After a dreary mid-December, the Spurs have put together a string of imposing victories. With Kawhi Leonard back in the fold, the team looks good heading into the new year. But really, after 15 years of sustained success, what else could we possibly expect? The inevitable collapse is on indefinite suspension.
Foster: Spurs. Tim Duncan is having his best overall season in years, anchoring a surprisingly stingy defense that hasn't even had Kawhi Leonard for most of the season. If San Antonio's front office can strike gold again and replace the relatively unproductive frontcourt combo of DeJuan Blair and Boris Diaw, the Spurs will be in business.
Harris: Memphis Grizzlies. The Memphis Train is rolling full steam ahead. Possessing the second-best defense in the NBA, the Grizzlies menace and bully their opponents into submission. Despite that defense, it still seems that Memphis' only hope of reaching the Finals, barring injury to other teams, is for Mike Conley to make yet another huge leap.
Schwartz: Spurs. Father Time may be undefeated, but these Spurs are giving him a run for his money. Surely San Antonio will act its age eventually, but with Tim Duncan producing at 2009-10 levels, and a talented supporting cast surrounding the Spurs' Big Three, it does not appear to be this year.
Stein: Assuming you do not want me to answer this in a Power Rankings vein, I'm going to have to go with the Lakers. Acknowledging all their flaws and how lopsided their roster looks, I'd still argue that L.A.'s other team (joke!) has a higher ceiling than San Antonio and Memphis because Nash is just coming back and Dwight has looked well short of peak form. If Kobe Bryant, Dwight Howard, Steve Nash and Pau Gasol can establish some collective momentum entering the playoffs, they'll be a tough out despite their defensive and depth issues. Not that "tough out" is anywhere close to what the Lakers were going for when they imported Nash and Dwight to join Kobe and Pau.
---
4. Who's the fourth-best team in the West?
Chau: Grizzlies. They still possess an elite defense, but lately that's the only thing keeping them in games. The Grizzlies' offense has disappeared completely, as it's been more than three weeks since their last triple-digit outing. Obviously the team is talented enough to break this drought, but their 5-5 record over the past 10 games is discouraging.
Foster: Grizzlies. The Grizzlies create a ton of extra possessions via turnovers and offensive rebounds, but the offense still bogs down in the half court far too often -- particularly when Rudy Gay is force-fed the ball. To truly contend, the Grizzlies need to do something with Gay. It's a bad fit.
Harris: Spurs. Tim Duncan is playing like it's 1999. Many of the younger players such as Danny Green and Tiago Splitter continue to improve. However, Manu Ginobili appears to have dramatically lost a step. Without the spark of Manu, the Spurs likely will have another great regular season, make a deep postseason run, but falter before reaching the Finals.
Schwartz: Los Angeles Lakers. Their record may not show it, but the Lakers own the West's sixth-best point differential and have played most of the season without Steve Nash. Once their stars get rolling, people will forget about their lackluster start and the fact that Jack Nicholson may as well ride their bench because nobody else is producing off it.
Stein: The Spurs. After all these years under Pop's spell, I'm sort of surprising myself by dropping them this low. I just fear, in answering all these questions through a long-term lens, that the Spurs' supreme execution and all that playoff know-how isn't quite enough anymore to make up for their size deficit or counter the athleticism and verve that the Thunder and Clippers can throw at them. Maybe this next suggestion will have a Simmonsesque reverse-jinx effect, but last season might really have been the last "best" shot a title for the Timmy/Tony/Manu triumvirate.
---
5. Who's the fifth-best team in the West?
Chau: Golden State Warriors. The epic overtime loss to the Lakers felt like a cosmic shift in the West, and the Lakers may prove that to be the case in a few weeks. Despite the heartbreaking loss, the Warriors are still an extremely promising team. Their defensive effort against the Jazz on Wednesday night was a welcomed return to form.
Foster: Minnesota Timberwolves. Incredibly, the Timberwolves have already started 13 different players this season. They've been without Kevin Love, Ricky Rubio and their best perimeter shooters much of the season. And guess what? The Timberwolves are somehow still over .500. Once they get healthy, look out.
Harris: Houston Rockets. This spot may well fall to the Lakers soon, but for now it belongs to Houston. James Harden is spearheading the NBA's fastest and sixth-most-efficient offense. Although the defense is average, big man Omer Asik provides a lane-clogging presence. Still, don't expect any serious postseason noise from the Rockets this season. For now Houston is an exciting watch, but a likely contender in the near future.
Schwartz: Grizzlies. How good would Memphis be if Zach Randolph and Rudy Gay were ever healthy at the same time? We're finally finding out this season. With the West's most efficient defense, the answer could be upsetting to one of the conference's higher-profile teams.
Stein: Even after the Grizzlies' great start, how much has really changed with these guys? More valid questions: Will they address their longstanding lack of perimeter shooting before the playoffs? Can they get enough from a suspect bench that's already starting to fade? And does Gay really fit in as the middleman between Z-Bo and Marc Gasol? That's a lot of unknowns in a conference in which all these contenders will be beating themselves up just to get to the Finals, while the Heat live it up in the so-much-easier East.


ESPN.com and the TrueHoop Network
Marc Stein is a senior NBA writer for ESPN.com. Danny Chau, D.J. Foster, Curtis Harris and Michael Schwartz contribute to the TrueHoop Network.
• Follow the NBA on ESPN on Twitter | On Facebook | On Google+