Happy New Year, NBA fans! With the calendar flipped, it's time to look ahead to 2013.
1. Who will be the best team in 2013?
Jovan Buha, Clipperblog: Miami Heat. Apologies to the Clippers and Thunder, but the championship still goes through South Beach. Most of Miami's early "struggles" have come from its championship hangover, not a lack of talent or coaching. The Heat may not win the most regular-season games, but they will be a force come June.
Jim Cavan, Knickerblogger: Oklahoma City Thunder. The Clippers might be the league's early darlings and the Heat reign supreme until someone proves otherwise, but the Thunder's sheer next-level potential will make them the team to beat going forward. Although the wisdom of dealing James Harden will only be known in time, a combination of steady Kevin Martin production and Kevin Durant-Russell Westbrook mini-leaps has spared Thunder management doubt's detriment.
Patrick Hayes, Piston Powered: Oklahoma City Thunder. The Thunder traded a core player in James Harden and haven't missed a beat. Kevin Durant is an MVP candidate, Russell Westbrook is an All-Star and both are young enough to still be improving. The Thunder are the present and future of the league.
Kevin Pelton, ESPN Insider: Miami Heat. I'm a little concerned about their defense with Ray Allen and only one true big on the floor, but ultimately I think their off nights during November and December were more about complacency than any real structural issue. We've seen them rise to the occasion when challenged, most recently on Christmas Day. I'm still picking Miami to repeat.
Kyle Weidie, Truth About It: Oklahoma City Thunder. They have the potential to be the best, most well-rounded team in 2013, as long as they don't have to use Russell Westbrook's supreme talent as an excuse for his bad decision-making. The Thunder rest on Kevin Durant's shoulders, but only go as far as Westbrook takes them.
---
2. Who will be the best player in 2013?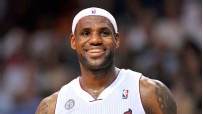 Buha: LeBron James. While Kevin Durant and Chris Paul are worthy adversaries, LeBron is simply the best player in basketball. The notion that anyone else could be MVP is silly; people are just tired of voting for the same guy. Though Durant may close in on LeBron soon, it's an Eddy Curry-sized gap as it stands.
Cavan: LeBron James. Durantula has asserted himself as the Association's clear-cut No. 2, and an eventual usurping of the King's throne might well broach reality in due time. But LeBron's improved shooting, steadfast production and indispensable leadership ring loud enough to echo a booming mantra: Not yet.
Hayes: LeBron James. With apologies to Durant, who is very close, James is currently the best player in the league, will be in 2013 and probably will be for at least 2014 and 2015, too.
Pelton: Kevin Durant. This feels like his year. With his improvement as a rebounder, defender and playmaker, Durant's all-around game no longer pales in comparison to LeBron's. Statistically, KD has been the most valuable player so far this season. Despite the threat of Chris Paul, the annual summer Durant MVP hype will finally translate into an actual trophy this spring.
Weidie: LeBron James. Is there any other answer? As long as he keeps his effective field goal percentage around 58 percent (now 58.1) and his assist percentage at about 30 percent (now 33.3), he'll be the world's best player for 2013 and beyond.
---
3. Who will make the biggest player-movement splash in 2013?
Buha: Denver Nuggets. Just a couple of months ago, the Nuggets were projected to finish as high as second in the West; now they'll be lucky to snag the fifth seed. Denver has a lot of depth and coveted young players, so it seems inevitable it'll make another big-time move.
Cavan: Sacramento Kings. With the DeMarcus Cousins situation becoming weirder and more untenable by the week, the Kings will have to scrap the misfit toys project -- either by balancing out their redundant core (Marcus Thornton, Tyreke Evans, John Salmons, etc.) with more complementary pieces, or by dealing Cousins to a willing suitor (paging Mark Cuban and Danny Ainge).
Hayes: Houston Rockets. Houston already made a move for its franchise player, but the Rockets will still have money to spend in free agency in the offseason as well as a collection of young, cheap prospects that could be used in a trade.
Pelton: Boston Celtics. Danny Ainge has never been shy about making a big move, even midseason (witness the Kendrick Perkins-Jeff Green deal). With the Celtics slumping and Avery Bradley set to return to a crowded perimeter rotation, I'd expect Ainge to try to add another piece to the Boston frontcourt. While that might not translate into a name as big as DeMarcus Cousins, it could be the deal that has the biggest impact on the postseason.
Weidie: Los Angeles Clippers, who will trade Eric Bledsoe (might not happen 'til the summer). Some team will hope to have its promising point guard of the future in a sea of other young, promising NBA point guards, and the Clippers will hope to get what they need to beat the Heat. Then again, with 17 straight wins right now, why tinker with success?
---
4. What will be the biggest storyline in 2013?
Buha: Will Dwight Howard remain a Los Angeles Laker? That sounded like a dumb question a few months ago, but times have changed. Howard isn't looking the part of a happy camper, and many wonder if he'll bolt elsewhere. Remember: The Lakers can offer him the most money, but there are no state taxes in Texas.
Cavan: How leaps from the league's up-and-comers -- the Thunder and Clips in particular -- affect LeBron's prospects of making up ground on MJ and thus staking a ring-clad claim to GOAT status. LBJ's cultural cachet has never been higher, but the world's goodwill alone won't keep the Heat ring-fitters annually busy, especially if Wade's regression continues unfettered and/or Miami's forced to make some changes.
Hayes: Can the Knicks really contend for a title? Like the Knicks or not, a title-contending team in New York makes an already fun NBA season even more interesting. A Knicks-Heat Eastern Conference finals would be incredible for the league.
Pelton: The Lakers. Not only are they currently 10th in the conference, but the most difficult portion of their schedule lies ahead, according to Houston Rockets analyst Ed Kupfer. With Steve Nash healthy, Mike D'Antoni's offense is showing promise, so the Lakers should be OK in terms of making the playoffs. The question is how many series they might be able to win without home-court advantage, since the top four teams in the West are going to be difficult to catch.
Weidie: Injuries. Basketball injuries won't achieve the level of proportion and coverage as football injuries (especially concussions), but the amount and frequency at which young and increasingly fast basketball players are getting hurt will make people pause. Some will decry the wear and tear that's put on bodies at such young ages. But other than incremental advancements in treatment, not much can or will be done (such as a shortened season).
---
5. What do you want to see most in 2013?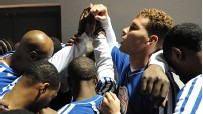 Buha: A championship for the Los Angeles Clippers. How cool would the narrative be? One of the NBA's most futile franchises puts it all together in just a couple of seasons and wins a title. Imagine Lob City hanging a banner in Staples Center next to their illustrious purple and gold counterparts. At the very least, Chris Paul deserves a ring.
Cavan: My bias is clear, but I'd love nothing more than to see Knicks-Nets become the league's penultimate rivalry. Two of the teams' first three tilts were good enough to sow the seeds, but a six- or seven-game playoff series would yield a bruising, bloody bounty, and put basketball back on New York City's upper fold for years to come.
Hayes: Teams continuing to make splashy moves. Who needs patience and player development? Franchise players changing teams over the past two years have drastically altered the landscape of the league. It's probably not so fun for the teams losing those players, but there's something extremely exciting about a team cashing in its collection of assets hoping to land the player that makes it a title contender.
Pelton: Besides expansion? An end to the trend of stars on the sidelines. The NBA will be a better league with Andrew Bynum, Danny Granger, Derrick Rose and John Wall joining Steve Nash, Dirk Nowitzki and Ricky Rubio back on the court.
Weidie: A small-market champion. San Antonio, Oklahoma City, Memphis -- any of them can win the 2013 title and it would be a welcome sight. But in this case, it's not the size that matters. I'm no ardent supporter of the media market little guy, but rather these teams are so much more likable than major-market options such as the Lakers, Knicks, and sure, I'll include the Heat (and even the Clippers).


ESPN.com and the TrueHoop Network
Kevin Pelton writes for ESPN Insider. Jovan Buha, Jim Cavan Patrick Hayes and Kyle Weidie are part of the TrueHoop Network.
• Follow the NBA on ESPN on Twitter | On Facebook | On Google+