The stakes have never been higher in the Lakers-Clippers rivalry. Who's been the talk of the town? Our L.A. experts break down the good and bad this season before the Friday night showdown (ESPN, 10:30 p.m. ET).
1. Who's the L.A. MVP so far this season?
J.A. Adande, ESPN.com: Even though Chris Paul was the Western Conference player of the month for December, I still think his numbers won't present your typical MVP candidacy (as I've explained before). As long as we're going non-traditional, how about Jamal Crawford for L.A. MVP? The story of the Clippers has been their bench, and Crawford has come off the bench and led the team in scoring 13 times.
Kevin Arnovitz, ESPN.com: All those qualities that have vaulted the Clippers into the ranks of the elite -- disruptiveness, efficiency, guile and dogged control over a basketball game -- Chris Paul embodies them all. Virtually every member of the roster is working his strengths and within his limitations. That dynamic is Paul's leadership at work.
Arash Markazi, ESPN LA: Chris Paul. He's clearly the most valuable player on the Clippers, the man who turned that franchise around. He won't put up amazing stats this season in large part because he hasn't had to play as much, but when Paul is in the game, he makes everything go and has clearly distanced himself as the best point guard in basketball.
Dave McMenamin, ESPN LA: Chris Paul. In the past he has scored more points, shot a better percentage from the field, doled out more assists. If you go by the numbers, what Kobe Bryant is doing in his 17th season, leading the league in scoring at the most efficient shooting rate of his career, is more awe-inspiring. But Paul has given leadership and a winning identity to both an organization that didn't know what that meant before he arrived and to a group of individual players that have become a cohesive team.
Carlos Morales, ESPN Deportes: Chris Paul. The best team in L.A. at the moment is the Clippers, and the guy that makes them go, and is most responsible for their success, is Paul.
---
2. Who's L.A.'s biggest disappointment so far this season?
Adande: Mike D'Antoni. If Mike Brown was the reason for the Lakers' 1-4 start (at least that's what we were led to believe), D'Antoni has to bear responsibility for their 10-11 record since he first sat on the bench. The Lakers haven't established an identity under D'Antoni. He has portrayed what he wants them to be, but he hasn't instilled a system that they can turn to consistently with winning results.
Arnovitz: Some combination of Dwight Howard and Pau Gasol, both of whom haven't been at full health. Howard was supposed to anchor a defense that should be respectable at worst with his presence on the floor. Gasol's flexible skill set has always been one of his assets as a player, but from opening night, he hasn't appeared comfortable no matter what the scheme. With Gasol's smarts and adaptability, that should change.
Markazi: I hate to pile on Jim Buss, because I think he's done a good job. He was a David Stern veto away from getting Paul and went out and got Howard and Steve Nash. It's not like he's preventing GM Mitch Kupchak from doing his job. But the Lakers executive VP made a massive blunder when he fired Mike Brown five games into the season and replaced him with D'Antoni instead of Phil Jackson, who wanted the job. Jackson would have been a perfect and comfortable fit for this team. Instead, he went with D'Antoni, who can't run his system properly with this team.
McMenamin: Mike Brown. I can't help but wonder how the Lakers' season would have gone if Brown hadn't been so ambitious with his radical, Princeton-style offense and just stuck to pick-and-roll sets. He was on a short leash when L.A. pulled the plug after that 1-4 start, but imagine how different everything could be if the Lakers didn't slog through training camp with an 0-8 preseason and actually had some positive results at the start of this Nash-Howard experiment to feed from.
Morales: Has to be Dwight Howard. He doesn't seem 100 percent healthy and sometimes it looks like he is giving a half-hearted effort on defense, which is supposed to be his forte. As if this wasn't enough, he seems to be in a cranky mood most of the time and looking for teammates to blame when a defensive assignment or rotation is missed.
---
3. Who's L.A.'s biggest surprise so far this season?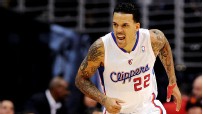 Adande: Matt Barnes. He might have qualified for biggest disappointment during the previous two seasons with the Lakers; this season he's on pace to set a career high for points per game (10.9). He's flourishing with easy baskets in the Clippers' transition game, and with their balanced roster commanding defenses' attention, his 3-pointers are usually open looks. He has made 132 3-pointers in 32 games after making 142 in the lockout-shortened season.
Arnovitz: The Clippers' team defense. Last season, the Clippers ranked 18th overall in defensive efficiency and they didn't exactly enlist a platoon of stoppers over the summer. But here they are as the league's third-stingiest defense. Blake Griffin and DeAndre Jordan have made big strides, and both the second unit and closing lineup have been forcing turnovers at obscene rates.
Markazi: Matt Barnes. Lakers fans watching Barnes average a career-high 10.9 points and 5.5 rebounds for the Clippers this season are probably wondering where that guy was the past two seasons. The truth is Barnes never really got along with Mike Brown and battled his fair share of injuries while playing for the Lakers. He's been given more free reign off the bench with the Clippers and along with Jamal Crawford has made "A Tribe Called Bench" the most potent second unit in the NBA.
McMenamin: Jamal Crawford. He comes off the bench and yet he's had more games when he's scored 20 or more points (13) than he's had when he's scored single digits (four). Maybe "surprise" isn't the right word because Crawford came to the Clips as an established scorer, but after a rocky year in Portland, it was hard to see Crawford having this big of an impact.
Morales: I have two candidates: Matt Barnes and Eric Bledsoe. Barnes has become a glue guy for the Clippers' second squad, both on offense and defense. Bledsoe has given stability to the point guard position when Paul has gone to the bench to rest and, in many occasions, when the starters get back on the court (if they ever get back in the fourth quarter) they find a lead much bigger than the one they left.
---
4. Which L.A. team will be better at regular season's end?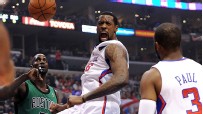 Adande: The Clippers. The Lakers could still be trying to figure things out. The Clippers already know who they are and what works for them. They'll also be better rested, thanks to all of those fourth quarters when the starters are cheering on their mates from the bench. The Clippers have already won 25 games. If the Lakers keep going at their current rate they'll get to 25 around the All-Star break.
Arnovitz: The Clippers, because the defensive improvement seems lasting and because banking 17 wins between Thanksgiving and New Year's will do a lot for a team's record and confidence. But don't expect a Clips-Lakers first-round matchup that would make the city giddy. The Lakers will claw their way back once they figure out how to maximize Howard defensively.
Markazi: Considering the Clippers are nine games up on the Lakers close to the midway point of the season, I'll have to go out on a limb and say the Clippers. I actually don't think it will be that close down the stretch, with the Clippers finishing 59-23 and the Lakers going 49-33.
McMenamin: Clippers. Even if the Lakers can right the ship and learn how to consistently win games between now and April -- and I believe they will -- the head start the Clippers have won't be able to be overcome. Could the Lakers beat the Clippers in a seven-game series? Yes. Could the Lakers end up advancing farther in the playoffs than the Clippers even without facing one another? Yes. Are those two bets I'd want to take? No.
Morales: The Clippers. They have more depth, better chemistry, play much better defense and show better cohesiveness than their fellow Staples Center tenants.
---
5. Which L.A. team will be first to win a title?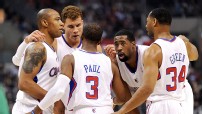 Adande: The Clippers. They could be a year -- and one more round of playoff seasoning -- away from serious contention. The Lakers are a year away from being a year older.
Arnovitz: The Clippers. It's tough to see the Lakers winning a title with this aging core. But Paul is only 27, Griffin 23, DeAndre Jordan 24 and they're holding a nice asset in Eric Bledsoe and should have some flexibility to reload in another 18 months. As long as Paul stays, the young guys progress and they make smart personnel decisions when necessary, the Clippers should be in the conversation for the foreseeable future.
Markazi: It has to be the Clippers. I think Paul will re-sign in the offseason and give the Clippers a core of Paul, Griffin, Jordan and Crawford for the next few seasons. Meanwhile, Bryant and Nash may only be around for one more season, while Gasol and Metta World Peace will likely be gone. And then there's the question of Howard and where he wants to play next season. There just seems to be more question marks about the Lakers' future than the Clippers for the first time in, well, ever.
McMenamin: Lakers. I don't expect either team to win a title this season. It's still LeBron's time. After this year, I have to believe the Lakers will win a championship faster than the Clippers because we know their commitment to winning rings is what drives the franchise. That's still unchartered territory for the Clippers.
Morales: With all due respect, this is impossible to know. I think that the Heat, Thunder and Spurs would be favorites over the Clippers this season, despite how great they've been thus far. Beyond that, it's hard to tell, given all the turnover of personnel in the NBA.


ESPN.com and the TrueHoop Network
J.A. Adande and Kevin Arnovitz cover the NBA for ESPN.com. Dave McMenamin and Arash Markazi cover the Lakers and Clippers, respectively, for ESPN LA. Carlos Morales writes for ESPN Deportes.
• Follow the NBA on ESPN on Twitter | On Facebook | On Google+