As the NBA season approaches its halfway mark, a few rookies are rising to the head of the class. Who has been the best so far? Who has over- or under-performed, and who will lead the 2012 class for years to come? Our panel breaks it down.
1. Who's the rookie of the year thus far?
Kevin Arnovitz, ESPN.com: Damian Lillard. Almost every team in the league employs a speedy point guard who can burst off a high pick and get into the paint. What's a more rarified skill is the ability to dictate the pace of a game, to control the conditions, to find something that works when the offense has exhausted all its counters. Lillard does those all those things for 38 minutes per game on a team nobody expected to do anything. As is the case for most rookie point guards, the defense needs a little work.
James Herbert, Hardwood Paroxysm: Damian Lillard. He's the rookie who plays the least like one, and given the healthy margins by which he leads the rest of his class in points and assists, he seems a lock for rookie of the year at the moment. Doesn't hurt that Portland is in the playoff mix despite being devoid of depth.
Sean Highkin, Portland Roundball Soc.: Damian Lillard. It's rare that a rookie point guard, especially one who didn't play against a lot of elite talent in college, makes the transition to NBA competition this quickly or smoothly. Lillard's older than other elite young point guards like Kyrie Irving, and his ceiling isn't as high, but his flaws are correctable and he's given the Blazers something of a sure thing at the most important position going forward.
Steve McPherson, A Wolf Among Wolves: Damian Lillard somehow has a Blazers team no one thought much of in the playoff picture. Their thin bench means they might not sustain it, but if there are two things people love in ROY voting, it's raising the play of your team and doing it by looking like a stable poised veteran. Lillard's done both.
Ethan Sherwood Strauss, HoopSpeak: Anthony Davis, as long as he stays healthy, is better than Damian Lillard right now. While I understand that Lillard runs his team's offense and has been on the floor for more games, it's hard for me to go against AD's complete (for a rookie) game. Davis has the better offensive metrics and, unlike Lillard, he plays some D.
---
2. Who's your dark-horse contender for rookie of the year?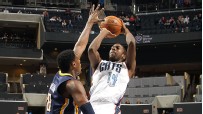 Arnovitz: Michael Kidd-Gilchrist. He doesn't dazzle and he plays for a team that racks up losses in heaping truckloads, but Kidd-Gilchrist goes out there on a nightly basis and performs every task proficiently. The 19-year-old swingman is rebounding like a big, passing like a guard and defending like an eight-year vet. Long-range shooting the exception, there's very little he doesn't do well.
Herbert: Michael Kidd-Gilchrist. Actually winning the award is extremely unlikely given the Bobcats' futility, but his contributions might have him in the conversation if he'd landed in a different situation. MKG's dogged defense translated to the NBA as well as expected, and he's effective on offense in transition and in the paint.
Highkin: John Henson has quietly been very solid for the Bucks. He only plays 12 minutes a game because the Bucks have about a million power forwards, but he's averaging 16.6 points and 12.6 boards per 36 minutes.
McPherson: Alexey Shved. Although he may be hitting the rookie wall (shooting just 31 percent in his past five games), Shved has looked brilliant. Thrust into the starting role by injuries, he stepped up, providing both scoring and playmaking for a depleted Timberwolves team. A recuperated [Ricky] Rubio and a more experienced Shved will be an entertaining backcourt. Some day.
Strauss: Harrison Barnes speaks loudly with his game, but he doesn't speak often enough. Right now, he's leading Golden State in the "Yes, but more of that," to invent a statistic. The kid plays a starting role and he's filling it ably for a potential playoff team. He's already bigger, stronger and more athletic than most who defend him. If Barnes ever gets "more aggressive," as the cliche goes, he could steal the award.
---
3. Which rookie has been the most pleasant surprise?
Arnovitz: Andre Drummond. Remember all those concerns about his motor? We haven't heard a peep about it lately, which is a further reminder that in any maturation process, there's a point at the very beginning where the person is callow. He and Greg Monroe will prosper together in what should become a devastating force-and-finesse frontcourt.
Herbert: Andre Drummond. Fans, scouts, general managers, writers -- we all knew he had the tools. But how many of us can say we were fully confident he'd be this effective this early? Drummond is rebounding and blocking shots as well as almost anyone -- not just rookies -- on a per-possession basis. He's been a beast.
Highkin: Andrew Nicholson. He's stepped in ably for the Magic in Glen Davis' absence, proving himself a polished scorer around the rim and better-than-expected defender for a rookie. He'll never be a first option, but he's a great piece for the Magic to rebuild around.
McPherson: Andre Drummond. The chatter before the draft was that Drummond was a limited player who could only do a few things. That was sort of right, but he's doing those few things stupendously well. In the paint he's shooting 64 percent and grabbing 13.3 rebounds per 36 minutes. He and Monroe are a formidable frontcourt (when they actually play together).
Strauss: Damian Lillard is now more famous than alma mater Weber State, and probably will be forever. He runs the pick-and-roll with the savvy calm of a veteran, and should challenge for All-Star selections at some point. I had the pleasure of watching his Oracle shooting barrage in person. I was awed for the obvious reasons, but his ability to take a long jump off a step-back jumper while rebalancing himself is what impresses most.
---
4. Which rookie has been the most unpleasant surprise?
Arnovitz: I was an Austin Rivers believer, and was convinced there was enough aggression, instinct and know-how in his game to succeed in the NBA, even as a young guy. But, jeez, it's been ugly. Historically ugly. The kind of ugly that could potentially kill a 20-year-old's confidence for years to come. For his sake, I hope Rivers doesn't read the numbers, because there's nothing encouraging to glean from any of it.
Herbert: Austin Rivers. 'Surprise' might sound strange because out of Duke he didn't exactly lack detractors. But with Eric Gordon's return, Rivers has been rightfully relegated to playing bit minutes. The No. 10 pick was supposed to be a scorer, but he's shot 3-for-26 in his past nine appearances and is shooting 32.8 percent this season. Yikes.
Highkin: Kendall Marshall. Rated as the best pure passer in the draft and drawing Andre Miller comparisons, the Suns expected him to be a successor to Steve Nash. So far, he hasn't even been able to cut it in the D-League.
McPherson: I was prepared to cite Austin Rivers' 5.5 PER and minus-12 plus/minus and call it a day, but then I remembered Royce White. Plenty of people were in White's corner when he was drafted, hoping he could start a genuine conversation about mental health care. Instead, he's driven almost all of them away with a misguided approach.
Strauss: Dion Waiters is a miserable viewing experience for me. The kid has talent, but the extent to which he freezes Kyrie Irving out borders on pathological. I still have hope for "Strongta Ellis," but he's got to give the rock up some. I'd list Austin Rivers here, but I never had hope for him in the first place.
---
5. Who will be the best player in the 2012 class five years from now?
Arnovitz: I'll bank on Anthony Davis. Defensive game-changers are scarce, especially those who can lock down the paint for 12 seconds, then switch out onto a perimeter slasher the next 12. The fundamentals for a steady midrange jumper are there, and once Davis masters that, he'll be one of the five best bigs in the game, at the very least.
Herbert: Anthony Davis. Lillard's the ROY favorite, but Davis might be the better player right now. Fast-forward five years and we could be watching Davis be downright dominant on both ends. The best, most intriguing part is he has such a strange skill set that it's hard to even imagine what it will look like when he grows into his game.
Highkin: Anthony Davis. His early-season injuries and Lillard's consistency have robbed us of a two-man race for rookie of the year honors, but Davis has been as good as advertised for the Hornets. He's going to be an All-Star and defensive player of the year candidate for the next decade-plus.
McPherson: The shocking thing about Anthony Davis is that while Lillard has looked more complete, Davis has shown evidence of being nowhere near his potential, yet already so dangerous. If he's a harbinger of the new big man archetype -- slicing up space on offense and shutting down the rim on defense -- we should be afraid. And really excited.
Strauss: Anthony Davis is a once-in-a-generation talent, with the potential to change the game in a broader sense. Not only is he a developing offensive weapon, but he possesses the ability to shut down the increasingly influential stretch power forwards. I'm betting on the Brow to fulfill that destiny.


ESPN.com and the TrueHoop Network
Kevin Arnovitz covers the NBA for ESPN.com. James Herbert, Sean Highkin, Steve McPherson and Ethan Sherwood Strauss are part of the TrueHoop Network.
• Follow the NBA on ESPN on Twitter | On Facebook | On Google+