Should the following players' teams look to move them before the trade deadline? Chad Ford has all the buzz in the first Trade Watch of the season. Now our panel weighs in on what should happen:
1. Keep him or trade him: Rajon Rondo.
Jason Gallagher, Ballerball: Trade him. Unlike other NBA teams looking for relevance, Boston is looking for championships. Rondo is a passing machine with a league-high 11 assists per game. The last time the league assist leader was on a championship team was the 1987 Lakers. Teams in 2013 don't need assist-heavy point guards to win it all, which is all that matters to Boston.
Israel Gutierrez, ESPN.com: Keep him. I don't even think trading him is an option anymore in Boston. While Rondo hasn't been the MVP candidate many believed he'd be following last season's playoff performance, he's still the best player the Celtics have and the best player they can still build around. Now, a trade rumor or two to get his competitive juices flowing wouldn't hurt.
D.J. Foster, ClipperBlog: Keep him. The Celtics will have to rebuild eventually, but moving the league leader in assist percentage for pennies on the dollar just wouldn't be conducive to winning now or down the line. Rondo is absolutely talented enough to serve as the bridge to the next generation of Celtics.
Beckley Mason, ESPN.com: Keep him. He's on a reasonable contract and is a good player who can really give the Heat fits in the playoffs. That's useful because LeBron James has owned Paul Pierce in the past few years.
Michael Schwartz, Valley Of The Suns: Keep him. As a 26-year-old All-Star starter on a great contract, it's hard to see a scenario that puts Boston in a better situation in either the present or the future by trading Rondo. The Celtics would be best served by hanging onto Rondo and building around him once the Big Three era officially concludes.
---
2. Keep him or trade him: Josh Smith.
Gallagher: Trade him. I think Smith is gone after his contract expires, and I don't think Atlanta has a shot at Dwight Howard in the offseason. If Atlanta can get some nice pieces for Smith (which I think it can) then you go for the trade.
Gutierrez: Trade him. His numbers are down significantly from last season (except for blocked shots). He's angry about his team's play. He's in the last year of his deal and isn't re-signing with the Hawks. He still has plenty of trade value because he's 27 and does a lot well. Atlanta should be able to get a decent haul in return for Smith.
Foster: Trade him. It's hard to imagine Smith doesn't bolt town in free agency after this season, so getting something of value for him now would be the right move. The pipe dream of convincing Dwight Howard or Chris Paul to leave Los Angeles to join Smith was tempting, but after Smith's recent suspension, that ship has sailed.
Mason: Trade him. No real imperative to do so, but I'd definitely explore this option fully. As excellent as Smith is on defense, he submarines the offense and could walk after the season. That said, I doubt his next contract will be outrageous -- certainly tradable if they re-sign him -- and Al Horford plays better when he's on the court. If he doesn't re-sign, they'll have tons of cash to bring in someone else.
Schwartz: Keep him, unless Smith's recent frustration leads the Hawks to believe he will likely bolt for nothing in free agency. With the Howard-Paul pipe dream likely just that for Atlanta, the Hawks probably won't be able to acquire anybody better to replace Smith in the foreseeable future, so it makes sense to roll the dice with the talented forward.
---
3. Keep him or trade him: Rudy Gay.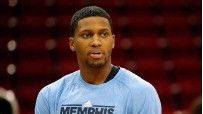 Gallagher: Trade him. I hate disagreeing with Chris Paul, who said, "Rudy was at my wedding. His fianceé and my wife talk every day. So they'd be crazy to get rid of Rudy." Hard to argue that. In all seriousness, Memphis can't afford to pay that kind of money for someone who could provide the same level of play for much cheaper.
Gutierrez: Trade him. But for what, I don't know. He's got another two years on his deal after this season, and 18 million is too much to pay for a 42 percent shooter who only gives you 2.5 assists. The Grizzlies could use some shooting, but they wouldn't be trading Gay to balance their roster. They'd be doing it for financial reasons.
Foster: Trade him. Memphis wants to avoid the luxury tax now and going forward, and moving Gay's huge deal that has three years left on it, including this one, is the best way to accomplish that. Gay has more value as a big wing scorer elsewhere, because in Memphis, he just seems to further clutter an offense that's already starved for space.
Mason: Trade him. Memphis doesn't do Gay any favors by giving him unscripted isolations rather than getting him the ball on the move. He isn't Carmelo Anthony, and he lacks the spot-up 3-pointer game of, say, Paul Pierce. I'd still think long and hard about any move though, because he's one of the only people on Earth who can match up physically with Kevin Durant. That could really matter in the playoffs.
Schwartz: Trade him. As Amin Elhassan analyzed for Insider, the Grizzlies are staring down some potentially crippling luxury tax issues for a small-market team. If the Grizzlies can move Gay for a quality shooting guard with a three-point shot and some picks along with luxury tax breathing room, they have to do it.
---
4. Keep him or trade him: Al Jefferson.
Gallagher: Trade him. I would trade either Jefferson or Paul Millsap, depending on which generates more interest. I think above-average big guys are so rare in the NBA these days that teams are more likely to give up more for Jefferson than Millsap.
Gutierrez: Trade him. Sure, he's Utah's leading scorer and rebounder, but the future of this team revolves around Derrick Favors and Enes Kanter. So the Jazz could ride Jefferson to another low playoff seed and get bounced early. Or they could do the smart thing and continue building for the future with pieces they get in return for Big Al.
Foster: Trade him. Jefferson is a low-post savant, but the value over his replacement player isn't substantial enough to warrant the big contract he'd demand this offseason. Utah is a much better defensive team with Derrick Favors and Enes Kanter, so using Jefferson as the bait for a top young point guard only makes sense.
Mason: Trade him. Or at least trade someone in the Jazz's loaded frontcourt. The guards are bad, and if Utah wants to go from fringe playoff team to fighting for home-court advantage, it needs to upgrade the backcourt.
Schwartz: Trade him. Utah is a borderline playoff team with a bright future thanks to all its young big man depth. Jefferson may be the best of the group, but if the Jazz can move the impending free agent for another piece to add to their core in a season they aren't contending anyway, they should.
---
5. Keep him or trade him: Danny Granger.
Gallagher: Keep him. The Pacers would be insane to trade someone who will make your already-successful team that much better. Indiana's success comes from its great defense, but where it really struggles is scoring, and that's the exact thing that Granger brings to the table.
Gutierrez: Trade him. This might be the toughest call of them all. The Pacers shoot 42 percent, so some help from Granger, an established scorer, can only help. But Paul George is rising in Granger's absence, meaning re-adding the injured Granger might just be counterproductive.
Foster: Keep him. Selling at the lowest point of value is never a good idea. It's also not absurd to think the Pacers can truly contend for a title with Granger providing the missing scoring punch to supplement the league's stingiest defense. Granger isn't worth his contract, but he fits the bill for what Indiana currently needs most.
Mason: Keep him. Indiana needs shooting, and he's a shooter. If he is a bad fit when he comes back from injury, you can move him in the offseason when he will have an expiring contract.
Schwartz: Keep him. The Pacers possess the league's most efficient defense as well as its second-least efficient offense after playing the entire season thus far without Granger. They desperately need his scoring punch to compete in the East, and they may not get full value for him anyway since he has been hurt all season.


ESPN.com and the TrueHoop Network
Israel Gutierrez and Beckley Mason cover the NBA for ESPN.com. Jason Gallagher, D.J. Foster and Michael Schwartz are part of the TrueHoop Network.
• Follow the NBA on ESPN on Twitter | On Facebook | On Google+