The Sacramento Kings could soon be the Seattle SuperSonics. As Marc Stein reported, the Maloofs have agreed to sell 65 percent of the Kings to a Seattle group led by Chris Hansen. What does this news mean to the league, its fans and the Kings' franchise? We go 5-on-5:
1. For the league, the Kings/Seattle news is __________________.
J.A. Adande, ESPN.com: An upgrade. The league is moving to a larger television market, something to keep in mind when the national TV deal expires in 2016. They'll be able to get a larger local TV deal as well, which will drive up the pot split with the players. They'll be the only NBA team in Washington, rather than the No. 4 NBA team in California.
Kevin Arnovitz, ESPN.com: Ecstasy. Two months after the Memphis Grizzlies were sold for $377 million, the Kings fetch a valuation of $525 million. It's clearly a fine day to own an NBA franchise. On a secondary level, the league re-enters the 12th-largest television market in the United States and almost certainly makes an upgrade in the ownership ranks.
Mark Haubner, The Painted Area: Bad news overall. Restoring a great fan base does not compensate for losing another one. We now have two stories of heartbreak versus one of renewal overall. That's 33 percent good and, league-wide, that feels about right -- though some precincts in Northern California are reporting that estimate's about 33 percent too high.
Zach Harper, A Wolf Among Wolves: Confusing. It's hard to know how to feel about this. The city of Sacramento has been deceived by an ownership group that agreed to an arena deal and did everything asked of it to retain their team. The city of Seattle is getting a team back to a fantastic market and fan base that wasn't in position to fight for their arena/team. Mixed feelings here, and a city still gets the short end.
Jonathan Santiago, Cowbell Kingdom: Decision time. Most reports are suggesting that approving a Kings move north is just a formality. But is it? The NBA invested a year of its time and resources to broker an arena deal that it, the city of Sacramento and entertainment giant AEG all agreed to last year. Had the Maloofs not backed out, a new arena would've been in construction in downtown Sacramento. If Sacramento mayor Kevin Johnson can make a compelling case for California's capital city, just as he did two years ago when a Kings move to Anaheim was all but a done deal, this saga has one more chapter to be written.
---
2. For NBA fans, this news is __________________.
Adande: A warning. Sacramento fans were loud and loyal, and it wasn't enough to keep their team. They had city officials working hard on their behalf and they couldn't keep their team. This was a stark reminder that no matter how much you might care, the love flows in only one direction.
Arnovitz: Largely irrelevant. Fans are adaptable creatures. On Sunday, nobody outside of northeastern Ohio gave a second thought to what the Ravens' AFC title means for the Cleveland Browns' historical legacy. When the SuperSonics become contenders again, few will remember or care that the team has roots in Sacramento.
Haubner: A disheartening reminder. It's a reminder that their fandom serves at the pleasure of the whims of ownership. Malodorous stews of petulance, incompetence and arena hostage-taking by Howard Schultz and now the Maloofs have delivered body blows to NBA fans in both Seattle and Sacramento within a five-year period. Keep that arena up, or you could be next.
Harper: Scary. The city of Sacramento and the Maloofs agreed to an arena deal and celebrated at half court. Then, the Maloofs backed out of the agreement, claiming it wasn't a fair deal and it was based on wild projections for the new arena plan. So what happens now to all of the small markets fighting for their teams? Can NBA cities feel any confidence that they'll be able to retain their franchises?
Santiago: Heartbreaking. Fans around the league are probably excited about the reported return of the Sonics, but they're also conflicted by the possible loss of the Kings, who just 10 years ago were one of the NBA's model franchises.
---
3. For fans in Sacramento, this news is __________________.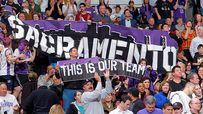 Adande: Not their fault. They stood by their team, they rallied when called upon. They cheered when the Kings were bad, they reached jet-takeoff decibels when the Kings were good. The only thing wrong with Kings fans is there weren't quite enough of them in the city to make the TV valuations high enough, and there weren't enough corporations to pick up the tabs.
Arnovitz: A somber relief. Despite rumblings that there were serious efforts being undertaken in Sacramento to keep the Kings in town, the Seattle group wasn't going to be outbid, and that's been clear for a while. Kings fans deserved better than this.
Haubner: Heartbreaking. Sacramento fans deserved the Kings for all eternity just for the way they supported the team in the 13 dreadful pre-Chris Webber seasons, much less their delirious years of contention. With owners sitting flush following a big lockout win and with a substantial increase in television rights on the horizon, an expansion team for Sacramento should be considered.
Harper: Unfair. The city did everything it needed to do and it looks like it will have nothing to show for it. The fans may end up migrating to another team like the Warriors or just being fans of certain players or becoming fans of the Oklahoma City Thunder. Or worse, they might end up hating the NBA because they feel their team was taken from them unfairly.
Santiago: Galvanizing. When news of a deal between the Maloofs and the Hansen/Ballmer group materialized more than 10 days ago, Kings fans didn't throw their arms up in defeat. Instead, they mobilized and ramped up their energy to show the league why they've been one of the best fanbases in the NBA over the past 28 seasons. This news is only going to make grassroots efforts like Here We Buy step into overdrive.
---
4. For fans in Seattle, this news is __________________.
Adande: A consolation prize. They were robbed of a franchise by greedy owners who wanted them to build an arena after they'd just spent $1 billion on baseball and football stadiums. Five years later they'll have a team, but instead of cheering for Kevin Durant and Russell Westbrook they'll get DeMarcus Cousins and Tyreke Evans. They lost in the exchange.
Arnovitz: Retribution for the grand larceny perpetrated on the city in 2008 when their team left town. They're aware they can't reacquire Kevin Durant, but they also know that meaningful professional basketball will be played in Seattle within the year. And with that comes all the rituals that fandom offers when your city has a team.
Haubner: Is " target="_blank">ListerBlisterious" a word? From the depths of href="/espn/eticket/story?page=seattle2008"
target="_blank">one of the worst sports years ever for a city in 2008, Seattle sports have emerged from the ashes with the nearly restored Sonics, one of the NFL's most promising teams in the Seahawks, a rabidly supported and beloved soccer team in the Sounders, and … oh yeah, the Mariners still stink.
Harper: Incredible. No, they don't get Kevin Durant, Russell Westbrook and Hasheem Thabeet back to root for. But they do get to have a team again and, pretty soon, will have a brand new arena to go with it. One of the NBA's biggest markets will return. It will have a competent ownership group, which will build this team up once again. They should feel happy to get this, but be respectful of Sacramento.
Santiago: Bittersweet. The Sonics faithful are ecstatic that the prospects of bringing their team back from the dead are looking better each day. However, it's likely disconcerting that they're having to take another city's team just as Oklahoma City did five years ago.
---
5. For the Kings franchise, this news is __________________.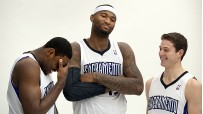 Adande: Settling. There are many things wrong with this team, but the uncertainty of its location and ownership situation had to disrupt its routines. Soon, they'll have a destination and an ownership group flush with cash. Plus, they'll get to enjoy the sunsets over the Puget Sound.
Arnovitz: Just another stop on a nomadic route that had already taken the Kings from upstate New York to Cincinnati to Omaha to Kansas City to Sacramento. Strong ownership is the lifeblood of a franchise, and, in that respect, the Kings will profit.
Haubner: A sign of hope. Ownership matters in pro sports, and the soon-to-be Sonics will now go from guys who've been broke for several years to a promising ownership group. If the front-office personnel gets a much-needed transition to modernity, Sonics 2.0 will have a chance of molding some intriguing young pieces into a contending roster. But man, the West is tough.
Harper:
Conflicting. The good news is they get rid of the incompetent ownership group that ran the franchise into the ground and made it a laughing stock around the league. The bad news is there are dozens, hundreds and thousands of people facing the prospects of losing their jobs in Sacramento.
Santiago: Transformative. The Kings have been a rudderless ship the plast seven years. With the Maloofs and their purported money woes out of the picture, this team now has a chance of rising from the West's abyss. The question now is will that happen in Sacramento or Seattle?


ESPN.com and the TrueHoop Network
J.A. Adande is a senior writer for ESPN.com. Kevin Arnovitz writes for ESPN.com and TrueHoop. Mark Haubner, Zach Harper and Jonathan Santiago are part of the TrueHoop Network.
• Follow the NBA on ESPN on Twitter | On Facebook | On Google+