With Rajon Rondo done for the season, and likely part of next season, the Boston Celtics are officially in a bind. Is this when the Big Three era comes to an end? Our five-man team weighs in.
1. Fact or Fiction: This is the end of an era in Celtics basketball.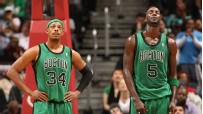 Danny Chau, Hardwood Paroxysm: Fact. They're a team loosely held together by the erratic genius of Rajon Rondo. Kevin Garnett and Paul Pierce have been evading twilight for years, and won't be able to will themselves out of this impossible situation. A lot can happen in the year it's expected to take to recover from an ACL tear, but whatever happens likely won't be what we've grown accustomed to in Boston.
Brendan Jackson, Celtics Hub: Fact. It's highly unlikely that the Celtics can compete for a championship without Rondo. That gives Paul Pierce and Kevin Garnett little incentive to keep the band together. It's hard to imagine either starting over with a new club at this point in their careers, so the possibility of either retiring at the end of the season shouldn't be dismissed.
Danny Nowell, Portland Roundball Soc.: Fiction. Yes, this is a setback, but the team was mediocre before the Rondo injury. The era was already dwindling to a close after the Ray Allen trade and this season's lacking effort, so it's hard to call this a definitive turning point.
Brian Robb, Celtics Hub: Fiction. While Rajon Rondo is the most talented player on the Celtics right now, this era in Celtics basketball is predicated on tough defense, Garnett and Pierce much more so than Rondo. As long as this team plays defense like they did Sunday against the Heat with KG on the floor, this era isn't over officially.
Justin Verrier, ESPN.com: Fiction, but only because, to me, this era ends when each member of the Big Three is no longer in Boston. Rondo has been the driving force of these Celtics for some time, but he was only a supporting player when the franchise changed course and reassumed its position among the NBA's elite. Besides, he's not going anywhere, especially now that he's damaged goods.
---
2. Fact or Fiction: The Celtics can make the playoffs as is.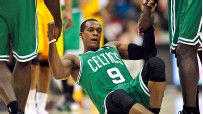 Chau: Fiction. Without Rondo, the Celtics have no player on the roster capable of creating shots for others nearly as prolifically. They'll depend on a committee of creators all more adept at setting themselves up than maintaining the system Rondo put into motion. The Celtics are already one of the worst offensive teams in the league. It will only get worse.
Jackson: Fact. The Celtics definitely have the personnel to hang onto a playoff spot, but don't expect much more than that. Losing Rondo not only takes away arguably the Celtics' most important player, it also takes away a valuable trade chip.
Nowell: Fact. I'm not banking on it, but the Celtics have made my personal reports of their demise seem premature for years. The Celtics "can" make the playoffs as is -- a testament to their track record of circling the wagons -- but it doesn't seem likely.
Robb: Fact. Based on their talent level, this Celtics roster still has four very capable NBA guards who are better defenders than Rondo on most regular-season nights. The dirty little secret about Rondo is that before his injury, he has been incredibly inconsistent over the past two months and the team has been worse offensively with him on the floor over their recent swoon.
Verrier: Fact. It's the Eastern Conference, where sub-.500 teams like the Pistons, Sixers and Raptors still project to have an outside chance at a postseason slot. It won't be easy, especially if Andrew Bynum ever trades in his bowling shoes for hightops or Lawrence Frank ever unleashes The Drummond, but the Celtics' D is capable enough to cobble together another 15 wins or so -- this season, at least.
---
3. Fact or Fiction: The Celtics should try to trade Kevin Garnett.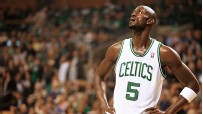 Chau: Fact. There are teams on the cusp of greatness that should be extremely interested in the prospect of adding Garnett. He has been the spirit that has kept the Celtics a contender for the past half-decade, but on this middling team, he's merely a flotation device. KG is the biggest trade chip if they are serious about a rebuild.
Jackson: Fact. "Should" is the operative word. The Celtics should trade Garnett for high draft picks and salary relief but there is one major hurdle: the no-trade clause in his contract. It's unlikely that the Celtics would trade him within the Eastern Conference, and the only team I could see Garnett wanting to go to is Oklahoma City, where he'd be on a contending team and reunited with Kendrick Perkins.
Nowell: Fact. This is a qualified answer, since I don't really know what the market is. At this point in his career, Garnett's best suited to providing a cornerstone for an already talented roster. If Boston can find a significant young asset, they should let a team he makes more sense on pay for his high salary.
Robb: Fiction. A no-trade clause was put into Garnett's contract for a reason. Garnett doesn't like to start over in new places and is as loyal to his organization and coach as much as any player in the NBA. Rondo's injury certainly hurts Garnett's quest for another title, but with the team showing it can beat the Heat and Knicks without Rondo, why give up that puncher's chance entirely?
Verrier: Fact, but it's unlikely. Another title run certainly should be at the top of Garnett's wish list at this stage of his career, but remember: KG loves a good bar fight, and I can't see him willingly jumping out of the foxhole in such a trying time. Then again, that tough-guy act does have a tendency to melt when the circumstances aren't exactly to his liking.
---
4. Fact or Fiction: The Celtics should try to trade Paul Pierce.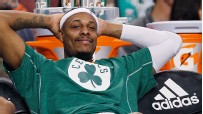 Chau: Fact. Wow, that's hard to say. And if they don't, there is certainly a great deal of sentimentality in play. Trading the team's most enduring figure since Larry Bird can't be easy. Like Garnett, he can help a team at this point in his career, but it's unfair to ask him to carry one on his back.
Jackson: Fact. The Celtics should trade anyone on their roster that could help them rebuild for the future. It's also only fair to Pierce to give him a chance to compete for a championship in his final years. That said, the decision is not going to be made lightly. Pierce has been the only face of the franchise.
Nowell: Fact. Again, I'm not positive about this. It doesn't seem that too many teams need an increasingly sluggish scoring wing. But if there is a GM willing to part with young value for Pierce's still-dogged two-way game, then the Celtics should do it.
Robb: Fiction. Dealing Pierce, the heart and soul of the C's, would almost ensure the TD Garden will be a mostly empty place for the next couple years. Barring the unlikely scenario in which the team gets offered great value for the small forward, the Celtics captain has earned the right to finish his career in Boston, assuming his teammates show they can compete over the next month.
Verrier: Fact, but again, it's unlikely. While I'm sure it has an effect on player relations, I've never liked the idea of keeping a guy just so he can retire with the team; those final few years in an ill-fitting jersey fade with time anyway, and there thankfully isn't a silly Hall of Fame hat debate like in baseball because the NBA is headgear-free. Besides, if there's any time Danny Ainge can get away with trading Boston's captain, now, when he can sell fans on how dealing him would be doing him a favor, is it.
---
5. Fact or Fiction: The Celtics hung on to their core too long.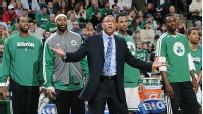 Chau: Fiction. After nearly beating the odds against the Miami Heat in last year's Eastern Conference finals, breaking it up last summer would have felt premature -- the kind of thing that would conjure "What if?" scenarios for everyone 10 years down the line. While this season has been a train wreck, it was worth a shot. At least they know now.
Jackson: Fact, but you can't blame them for it. It would be easy to say that the Celtics hung on to their core too long had Pierce or Garnett suffered a season-ending injury, but neither did. Sure, the Celtics would be in better position to build for the future had they not re-signed Pierce or Garnett and preserved cap flexibility. Keep in mind, however, that they also would have forfeited any chance at contending.
Nowell: Fiction. This would be a "fact" if I knew that the Celtics had turned down a can't-miss opportunity so that they could keep their core, but I don't. It is so difficult to assemble a team that an organization feels can contend for a championship with a few lucky breaks; if the C's thought that was the case, holding on too long is more than forgivable.
Robb: Fiction. Danny Ainge took a look around the Eastern Conference this offseason and decided, after last year's deep playoff run, they had an outside chance at another with an improved supporting cast. Going for it, instead of starting a rebuild that will likely feature a few guaranteed years of mediocrity was still a wise choice in my book.
Verrier: Fiction. The Celtics sagged to fourth in the East in 2009-10 and then took the NBA Finals to a Game 7. They fell to fourth again last season and then took the East finals to a Game 7. They would've had a more difficult trek this season even with Rondo, but this team is built for the playoffs. Boston easily could've again been a factor in a conference playoff race that is wide open outside of the top spot.


ESPN.com and the TrueHoop Network
Justin Verrier is an NBA editor for ESPN.com. Danny Chau, Brendan Jackson, Danny Nowell and Brian Robb write for the TrueHoop Network.
• Follow the NBA on ESPN on Twitter | On Facebook | On Google+