The trades keep on coming in Memphis. This time, the new regime sent away top scorer Rudy Gay to Toronto in a deal that brought in Ed Davis, Austin Daye and Tayshaun Prince, and also sent Jose Calderon to Detroit. Which teams made the right moves? We brought in a team of six to take on the first big trade before the Feb. 21 deadline.
1. Good deal or bad deal for the Grizzlies?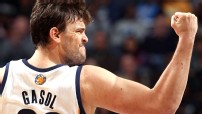 Kevin Arnovitz, ESPN.com: Good deal. The Grizzlies had zero financial flexibility and a bottom-10 offense -- and Rudy Gay was complicit in both. They'll lose nothing defensively at the wing with Tayshaun Prince, and they pick up one of the most promising young frontcourt players in the game in Ed Davis, who will allow them to shop Zach Randolph in the offseason should they choose to.
Chip Crain, 3 Shades of Blue: Great deal, but a sad one just the same. The team was among the highest salaried in the league to start the season. It is now below the luxury tax not just for this year but next as well. For a team with the lowest revenues in the league that is a positive, but you hate to see Gay go just the same.
Dan Feldman, Piston Powered: Good deal. The Grizzles got the most valuable player (Davis) in the deal while cutting significant salary. They might take a step back considering they're downgrading a starting spot while upgrading only a backup spot, but if they were intent on cutting salary, they couldn't have done much better.
Ian Levy, The Two Man Game: Bad deal. It may look different tomorrow, but right now I'm confused. Davis is great, but the value he provides is depressed when he has to fight Randolph, Marc Gasol and Darrell Arthur for frontcourt minutes. I'm not sure Austin Daye and Prince really solve their offensive spacing issues. Mostly, I'm surprised that this was the best deal available.
Blake Murphy, Raptors Republic: Great deal. They save money, which is huge for them, and Prince improves their floor-spacing and wing defense.
Danny Nowell, Portland Roundball Soc.: Good deal. Just short of a great one. The Grizzlies swapped a semi-redundant talent for two big team needs -- efficient depth and shooting -- while saving a lot of money at the same time. This is nice work.
---
2. Good deal or bad deal for the Raptors?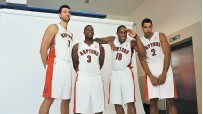 Arnovitz: Bad deal, because in 18 months Davis will likely be the best player in the deal. Gay is pretty much the big gulp version of DeMar DeRozan -- a tall, inefficient slasher at his position who doesn't move the ball, doesn't shoot all that proficiently and doesn't stand out at the defensive end.
Crain: Bad deal. The Raptors have picked up salary for next season, lost a very valuable player and a good prospect, and landed a player who has yet to live up to his reputation in college or the pros. Gay is a dynamic player but not someone you build a franchise around, even though he is paid like it.
Feldman: Bad deal. The Raptors' four leaders in usage rate -- Rudy Gay, Andrea Bargnani, DeMar DeRozan and Alan Anderson -- all have field goal percentages below the league average. Everyone knows the best way to build a team is by stockpiling low-efficiency and high-priced (Anderson exempted on the latter) scorers. Right?
Levy: It's a wash. Gay has his problems, but he's a huge upgrade over anyone else the Raptors have run out at small forward. It does create a new set of problems on the perimeter, where he and DeRozan give the Raptors one of the worst outside-shooting wing tandems in the league. However, it's hard to criticize the Raptors too much for rolling the dice here.
Murphy: OK deal. They sold high on Jose Calderon and Ed Davis and bought low on Gay, the best player in the deal. Gay is overpaid but he is the best wing the Raptors have had since Vince Carter.
Nowell: Bad deal. Hard to see what the plan is in Toronto, where they are now building around an expensive core of athletic wings with limited creation skills. Perhaps, at least, this is the liberation Kyle Lowry and his army of blogger backers have been seeking his entire career.
---
3. Good deal or bad deal for the Pistons?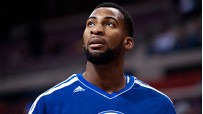 Arnovitz: Good deal. They clear serious cap space going forward and Andre Drummond and Greg Monroe will have a blast playing with Jose Calderon, even if only for 12 weeks.
Crain: Good deal. They got rid of an aging player on a rebuilding team in Prince and jettisoned a player who never reached his potential in Daye. Calderon's expiring deal gives the Pistons more freedom financially moving forward and provides some nice play while he is there.
Feldman: Good deal. The Pistons should be about developing their young talent and acquiring more of it, and this deal helps do both. Calderon will run the pick-and-roll with Drummond and throw entry passes to Monroe in ways no other Piston can. Plus, Calderon's defensive deficiencies should get the rim-protecting Drummond more playing time. After the season, Calderon's expiring contract will allow the Pistons to acquire even more talent.
Levy: Great deal. They saved themselves some money by unloading Prince and get a rental on Calderon for the rest of the season. His savvy, vision and passing can do some powerful things for the development of Brandon Knight and Drummond, and give the Pistons a much better chance of chasing down the Celtics for the No. 8 seed in the East. Where's the downside?
Murphy: Good deal. Giving up on Austin Daye early isn't ideal, but they get out from under Prince's deal, which has three years left on it. Calderon is a good fit with their big men (imagine the Calderon-to-Drummond alley-oops!), but they're now deep at the guard spots.
Nowell: Good deal. They have a hole at the 3 now, but this should allow their current guards to function in the scoring roles, which seems like a more natural fit, and should lead to an endless stream of highlights from Drummond in the pick-and-roll.
---
4. Whose outlook improves the most because of this deal?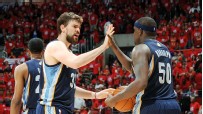 Arnovitz: It might seem confounding to some Grizzlies fans, but Memphis' newfound ability to acquire some depth and maneuver under the cap should give it a nice opportunity to add (and retain) some important pieces in the offseason.
Crain: The homer in me says Memphis, because the Grizzlies receive a talented young forward-center, a second-round draft pick and a small forward who can spread the court to replace Gay. But I have to say Detroit gained the most long-term. Prince is tough to lose, but the freedom to rebuild and give younger players a chance has to be exciting for fans.
Feldman: O.J. Mayo. In five seasons, Mayo has never had an above-average salary. That's about to change. There's a team in Michigan that suddenly has even more cap room and an even greater need for a scoring wing. If the Pistons don't sign Mayo, they'll likely sign another similar player, reducing the supply and raising Mayo's price for another team. Mayo is going to get paid, and how could anyone's outlook improve more than that?
Levy: The Pistons. This makes the 8-seed in the East more than just a realistic possibility. One trend we've seen over the past few seasons is a young team sneaking into the playoffs, giving the top seed a tough series and using that momentum to catapult its development into the future. The Hawks did it. The Pacers did it. Now the Pistons could be poised to do it.
Murphy: Kyle Lowry. With Calderon gone, the Raptors are now his to run, and he even has his best friend (Gay) in town with him. This team will be built around those two from here on out, which gives Lowry the security he has never had in his career.
Nowell: Detroit generally, Drummond specifically. Detroit moves its young players to more sensible positions for their development and mitigates some team weaknesses while it eyes a playoff seed. Drummond learns how to move in concert with an archetypal, if only better-than-average, distributor.
---
5. Whose outlook declines the most because of this deal?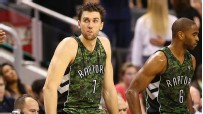 Arnovitz: The Raptors. Their staff has done a tremendous job of coaching Davis up and he had emerged as their most prolific frontcourt player while working on a rookie contract. Now they're locked into two big contracts for DeRozan and Gay, who have true shooting percentages of 47.8 and 50.0 respectively at the wings.
Crain: Assuming Memphis doesn't implode from all the transactions, and that threat can't be overlooked, Toronto looks like the big loser. Gay teaming with DeRozan creates space issues for the Raptors, who also lost a good 3-point threat in Calderon. Bargnani returns to the starting lineup soon too, which will create more. They also added salary, thereby limiting their opportunity to make moves to improve the team this summer.
Feldman: Boston Celtics. If Lawrence Frank makes him the team's primary point guard, Calderon makes the Pistons, 4½ games back from Celtics for the No. 8 seed, instantly better. The Raptors (5½ games back) think they got better too, and they're also lurking. Oh, and there goes Boston's chance of trading for Lowry.
Levy: The Raptors. I think they'll really miss Davis, and I think there's a good chance they'll get an emotionally wounded Gay determined to prove himself. I see a lot of contested midrange jumpers in Toronto's immediate future.
Murphy: Ed Davis in the short term. His rebounding will keep him in the rotation, but Davis' minutes will be slashed as the fourth big on the Grizzlies. Can learning under Zach Randolph and Marc Gasol cancel out the loss in playing time?
Nowell: The Raptors. This early, I don't see a specific player who is harmed by this deal tremendously, but this seems to cement Toronto's status as payroll castaways, toiling in a market that's invisible to many with a payroll that lacks enough room to add value.


ESPN.com and the TrueHoop Network
Kevin Arnovitz covers the NBA for ESPN.com. Chip Crain, Dan Feldman, Ian Levy, Blake Murphy and Danny Nowell are part of the TrueHoop Network.
• Follow the NBA on ESPN on Twitter | On Facebook | On Google+