What are the best deals out there for top trade targets? Our panelists put their GM hats on and use ESPN.com's Trade Machine to come up with their own trades before the Feb. 21 deadline.
1. What's the best Kevin Garnett trade the Celtics can make?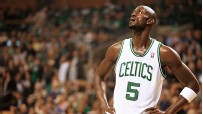 Israel Gutierrez, ESPN.com: Garnett and Fab Melo to Chicago for Joakim Noah and Marco Belinelli. No trade at all is their best bet. The Celtics are unlikely to get anything close to equal value for Garnett, who's so vital to what Boston does and fits in so well with Rajon Rondo. And if there's any indication he won't play out the final two years of his deal, that's even less leverage for the Celtics. But if -- and this is a huge if -- they can get something significant for KG, I'd do this deal.
Andrew Han, ClipperBlog: Garnett, Avery Bradley to the Clippers for Eric Bledsoe, DeAndre Jordan and Trey Thompkins. Garnett's no-trade clause limits the Celtics' options mostly to Los Angeles; he owns a home in Malibu and is godfather to Chauncey Billups' daughter. Boston gets back a coveted player/athlete and turns one of their off-ball guards into a point guard, suddenly a position of need. Add an intriguing prospect in Thompkins and an athletic center in Jordan and the Celtics get young in a hurry.
Curtis Harris, Hardwood Paroxysm: Garnett to the Nuggets for JaVale McGee. Going to Denver keeps KG on a playoff team that needs his defensive prowess in the interior. Meanwhile, Boston would get McGee, who may still blossom into a competent defensive force in his own right. And if it doesn't work, Boston can be woeful, get lottery picks and trade McGee's expiring deal in three seasons for future building blocks.
Sean Highkin, Portland Roundball Soc.: Garnett to the Thunder for Kendrick Perkins, Jeremy Lamb, Perry Jones III and Toronto's lottery-guaranteed first-rounder. Taking back Perkins' contract isn't ideal, but the Celtics load up on cheap, controllable, high-upside rookies and get a pick that could potentially be very high. From the Thunder's perspective, upgrading from Perk to KG would make it hard not to be considered title favorites.
Jack Winter, WarriorsWorld: Garnett and Melo to the Spurs for Kawhi Leonard, Tiago Splitter and Boris Diaw. Leonard is one of the league's true blue-chip prospects, a great athlete with elite defensive potential. Splitter has value, too. A small-picture view like this is against the Spurs' very fabric as an organization, but Garnett and Tim Duncan on the same front line? If there was ever a reason to swing for the fences, this might be it.
---
2. What's the best Pau Gasol trade the Lakers can make?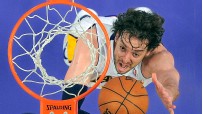 Gutierrez: Gasol to the Timberwolves for Kevin Love and Brandon Roy. I mean, it does say "best" trade, right? This is a long shot -- one buoyed by the idea that Love is miserable in Minnesota, even when healthy, and wants out badly. There might not be a better stretch 4 in the game than Love, and he and Howard would dominate the boards enough to make up for a slowish defense.
Han: Gasol to the Rockets, Omer Asik and Marcus Morris to the Hawks, Josh Smith, Cole Aldrich and Terrence Jones to the Lakers. Although Smith isn't quite the shooter Mike D'Antoni would want, his relationship with Dwight Howard does shore up a growing concern that Howard would leave L.A. Daryl Morey has long pined for Gasol, and Atlanta finally would get to move Al Horford to his desired position of power forward.
Harris: Pau Gasol to Raptors for Andrea Bargnani and Landry Fields. This trade doesn't fix either team, but it moves them along to that goal. Gasol would provide Toronto with a center who is offensively gifted in the post and a great passer. The Lakers would get help on the wing in Fields, who's now superfluous in Toronto after the Gay trade, and Bargnani, who can be their stretch 4.
Highkin: Pau Gasol and Chris Duhon to the Bucks for Ersan Ilyasova, Beno Udrih, Tobias Harris, and Joel Przybilla. Gasol gives the Bucks an interior presence, and the Lakers get a couple of expiring contracts and a talented outside shooter in Ilyasova, who has rediscovered his stroke since Scott Skiles' firing. The problem, however, is that the Lakers don't want to take on any long-term money, and the size of Gasol's contract makes that difficult. It might be better just to hang onto him.
Winter: Gasol to the Nuggets for Danilo Gallinari, Timofey Mozgov and Anthony Randolph. Mike D'Antoni wants to space the floor and play with pace, and Gallinari is a gifted athlete with the size to play multiple positions. He'd thrive as this system's ostensible power forward with Howard à la Ryan Anderson, and would play on the wing, too, improving the Lakers' dire depth straits. Denver, meanwhile, sacrifices youth and versatility but finally gets the elite low-post scorer it has lacked seemingly forever.
---
3. What's the best Josh Smith trade the Hawks can make?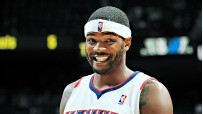 Gutierrez: Smith to the Pacers for Danny Granger. This easiest move of the bunch. It would require the Hawks believing Granger, who has another season at $14 million on his deal, would balance out their roster better than Smith. For the Pacers, it gives them another ridiculously athletic wing to pair with Paul George (LeBron stoppers, anyone?), and the athleticism and rim protection needed to support Roy Hibbert, who's in a season-long slump.
Han: Smith to the Rockets for Patrick Patterson, Terrence Jones, Donatas Motiejunas and Cole Aldrich. If Atlanta is looking to build around Horford, not many better options are available than Morey's cupboard of young talent. The Hawks can trade them for picks or other players that may fit better. And the Rockets are long known to be in the market to land another big-name talent.
Harris: Josh Smith to Kings for Tyreke Evans and Jason Thompson. With Lou Williams injured, and Anthony Morrow and Devin Harris on the outs, acquiring Evans would tremendously bolster Atlanta's backcourt. Evans could fail to re-sign with the Hawks, but they would still have cap space to chase other free agents. For the Kings' ownership -- whoever they may be -- financial relief would be the impetus for acquiring Smith's expiring $13 million deal.
Highkin: Josh Smith to the Suns for Marcin Gortat, Sebastian Telfair and Wes Johnson. Gortat and Al Horford would make a formidable frontcourt, and the Hawks also get a couple of expiring contracts. But I don't understand why any team would trade for Smith, given his insistence that he's worth a max contract. He'll likely go to the highest bidder, so why should a team give up assets for the ability to hamstring its payroll with a $100 million contract instead of a $70 million one?
Winter: Smith to the Rockets for Chandler Parsons, Motiejunas, Marcus Morris (or Terrence Jones) and Carlos Delfino. Parsons, one of the league's best bargains, is this trade's centerpiece for now, but Motiejunas has the size to allow Al Horford to play power forward, and Jones/Morris are capable stretch 4s. All three of those players will get better, too, forming a new nucleus around Horford and Jeff Teague. Houston has the cap space to sign Smith this summer but wouldn't have the crucial advantage of owning his Bird rights, potentially nixing a possible summer deal.
---
4. What's the best J.J. Redick trade the Magic can make?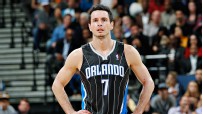 Gutierrez: Redick and Ish Smith to Clippers for Eric Bledsoe and Caron Butler. It must annoy Butler that he's seemingly tied to all Bledsoe rumors, and to end up in a losing situation like this would be nightmarish. Redick is a free agent come July, but if he fits in, he will probably be easier to re-sign. And Redick, having played with Dwight Howard, knows how to play with talented bigs.
Han: Redick to the Bulls for Rip Hamilton, Vlad Radmanovic, Nazr Mohammed and a first-round pick (via the Bobcats). Orlando turns an expiring contract into a potential future lottery pick with no long-term money coming back, keeping its methodical rebuild in order. Chicago gets a deadly shooter to pair with, hopefully, a healthy Derrick Rose for a surprise playoff run.
Harris: J.J. Redick and Hedo Turkoglu to Spurs for Stephen Jackson, Matt Bonner and Patty Mills. Orlando basically moves ahead one year in its rebuilding by turning Hedo's two-year, $11 million deal into Jackson's expiring $10 million deal. The Spurs would bite the bullet on Hedo's contract in order to gain the stellar Redick, who gives them yet another proficient shooter and defender.
Highkin: J.J. Redick to the Nuggets for Corey Brewer, Timofey Mozgov and New York's 2014 first-round pick. Brewer and Mozgov are both expiring deals regardless of whether or not they're long-term pieces for Orlando. The Nuggets' best assets are the Knicks' unprotected 2014 first-rounder and the right to swap their pick with New York in 2016. Denver has made it pretty clear it won't re-sign Mozgov, and given its severe lack of shooting, Redick helps it more in the short term than Brewer.
Winter: Redick to the Thunder for Jeremy Lamb, Perry Jones III and Eric Maynor. Orlando is in full rebuilding mode but is devoid of young players with star potential. Andrew Nicholson and Moe Harkless will obviously build on solid rookie seasons, but neither has the ceiling of Lamb or Jones. In a league where superstars reign supreme, a small-market team like the Magic needs to roll the dice when it can. The Thunder aren't playing either rookie anyway, and Redick would be a lethal floor spacer for Kevin Durant and Russell Westbrook.
---
5. What's the best Paul Pierce trade the Celtics can make?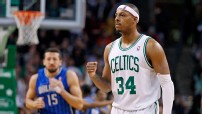 Gutierrez: Pierce to Lakers for Gasol. This would essentially be a basketball crime. The two great rival franchises trading former titlists for each other? And frankly, from the Lakers' end, it wouldn't exactly fit their need. But we're talking about the best thing for Boston, and having a big like Gasol to pair with Garnett, should he stay put, would make the Celtics suddenly intriguing, even without Rondo this season.
Han: Pierce to the Jazz for Al Jefferson and a first-round pick (lower of two available). Boston moves some long-term money and pairs Garnett with another legitimate low-post big man in Jefferson, the former Celtic who was once traded for Garnett. Not only do the Celtics plan for the future with a first-round pick, this trade also gives them a stylistic advantage in the smaller East.
Harris: Paul Pierce to Jazz for Paul Millsap and Marvin Williams. The Celtics get Pierce's temporary replacement in Williams and a stud power forward in Millsap. Pierce would give the Jazz a much-needed 3-point shooter while moving Millsap clears up their logjam at power forward.
Highkin: Paul Pierce to the Clippers for Eric Bledsoe, Caron Butler and Lamar Odom. The Celtics get one of the most-sought-after backcourt prospects in the league in Bledsoe, and can either use him to make Rajon Rondo expendable or play him at shooting guard; a Rondo-Bledsoe-Bradley lineup would make for one of the toughest perimeter defense combos out there. The Clippers get out of Butler's contract and go all-in on a title run in the next two years.
Winter: Pierce and Jason Terry to the Warriors for Harrison Barnes, Jarrett Jack, Richard Jefferson and Festus Ezeli. Barnes has quietly had a good rookie season for the Warriors, already offering value as a "three-and-D" type while showing flashes of star power as an individual scorer. His ceiling is relatively akin to an in-prime Pierce, actually, and Boston rids itself of Terry's three-year deal in this scenario, too. Golden State is one of the league's biggest surprises, but to be anything more than that this season, it'll need to make a move. Acquiring Pierce, still an elite two-way player, could be just the one who makes the Warriors a true contender.


ESPN.com and the TrueHoop Network
Israel Gutierrez covers the NBA for ESPN.com. Andrew Han, Curtis Harris, Sean Highkin and Jack Winter are part of the TrueHoop Network.
• Follow the NBA on ESPN on Twitter | On Facebook | On Google+