The NBA trade deadline is Feb. 21. What are the chances of these players getting moved before then? Our panel weighs the odds.
1. What are the chances Pau Gasol gets traded before the deadline?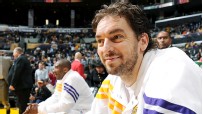 J.A. Adande, ESPN.com: Zero percent. Why would anyone want a guy who'll cost $19 million next season when he can't play for you this season? Anyway, the Lakers can't afford to ship him out until they get Dwight Howard to sign on the line which is dotted.
Chris Broussard, ESPN The Magazine: Two percent. I didn't think the Lakers were going to trade him before Pau's foot injury, but now the chances are incredibly slim. The only potential trade seems to be to Toronto, but the Lakers have thus far shown no interest in the Raptors' Andrea Bargnani, who would be the centerpiece of Toronto's package.
Chad Ford, ESPN.com: Two percent. Given his injury status, I think Gasol's value is almost nil. The teams that were considering Gasol were all hoping he could give them a serious playoff push. Now that he's out the next six to eight weeks, I don't see it.
Marc Stein, ESPN.com: Five percent. Probably should have gone even lower. And it wouldn't be any higher even if Pau was healthy right now. The Lakers know they can't go through any more adjustment periods. So they can't make a big move and then try to work in a couple of new guys when they're already facing so many issues. All they can do is persist with what they have, try to make the best of the rest of the schedule and then figure out their next big moves when this circus of a season is over.
Brian Windhorst, ESPN.com: 15 percent. There's no doubt a market for Gasol exists, but there are two issues: 1) He's hurt and may not be able to contribute this regular season. 2) The Lakers will have significant demands -- this will not be a fire sale. I'd say it's much more likely Gasol gets moved in the summer if Dwight Howard re-signs.
---
2. What are the chances Josh Smith gets traded before the deadline?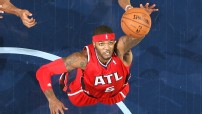 Adande: 61 percent. I'm hearing Atlanta is really active. The thing is I just don't see which salaries would be worth taking on and diminishing their hard-fought cap space this summer.
Broussard: 60 percent. I say that because that's what I've been told by someone close to the situation. It's doubtful that Smith signs long term with the Hawks this summer -- unless they max him -- so GM Danny Ferry may move him for assets now. Thing is, one GM told me he thinks the Nets' non-impressive offer of Kris Humphries and Marshon Brooks may be the best Atlanta gets. Ouch.
Ford: 50 percent. The Hawks are looking for a Josh Smith deal. I'd put the percentage even higher if they didn't have to find a partner. Alas, they do and that's been the challenge the past few years. Smith will hit free agency this summer, so is a team really going to give up a great asset for the right to overpay him?
Stein: 50 percent. But sources close to the situation keep telling me to hike that number higher. I've stayed conservative on this for some time because (A) Atlanta is said to expect a lot in return to do anything with Smith that impacts this summer's projected salary-cap space and (B) Atlanta wants to recruit Dwight Howard in free agency. The same Dwight Howard who's tight with Josh Smith. Yet whenever I suggest that the Hawks will thus keep Smith for the rest of the season to see how things play out with Howard, I get pushback. The latest rumbles on the personnel grapevine are getting louder that the Hawks are indeed looking to part with Smith sooner rather than later. So J-Smoove, next to Rudy Gay, might end up being the biggest name who moves this trade season.
Windhorst: 70 percent. After months of evaluating it, the Hawks have decided they are willing to move him. However, they seem to have a very narrow view of what they want. They are interested in protecting their cap space for the summer or getting quality young prospects. They are much more likely to let Smith walk in free agency or work a sign-and-trade than make a deal for a player like Kris Humphries.
---
3. What are the chances Kevin Garnett and Paul Pierce get traded before the deadline?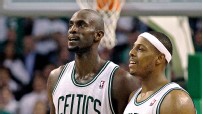 Adande: Five percent and 34 percent, respectively. Okay, maybe that Pierce number is a little high, but I wanted to maintain my theme of using their jersey numbers. He's more likely to go than Garnett, because he doesn't have that no-trade clause KG does. But the way the entire team responded after losing Rajon Rondo for the season warrants keeping them together.
Broussard: Five percent that both get traded, 5 percent on KG and 15 percent on Pierce. KG has the no-trade clause so he's hard to move. Pierce has a fairly favorable contract. But with the Celtics playing so well lately despite their many injuries, I think GM Danny Ainge plays it out and goes for a playoff run with this crew. Besides, some GMs around the league insist it was Rajon Rondo the Celtics were most open to moving before Rondo's season-ending knee injury.
Ford: 25 percent. I think Danny Ainge is ready to go ahead and break up KG and Pierce if he can get the right deal. But that's a big if. KG has a no-trade clause and Ainge can't just give away a player as adored by fans as Pierce. I think the Clippers-Celtics deal that would send Eric Bledsoe and Caron Butler to the Celtics for KG makes some sense for Garnett and Boston.
Stein: 10 percent. I've said it over and over: Just don't see Danny Ainge trying to move out one of the two Celtics all-timers during the season. Especially now that Boston has found a little something without Rajon Rondo. KG is the one with the no-trade clause, but Pierce might as well have one, because Ainge would surely work with Pierce on the destination if it got to the point that Boston had to move him. I'll grant you a 10 percent shot under the never-say-never clause, but they'll both still be Celtics on Feb. 22.
Windhorst: One percent. I'd say zero but I'm told certainty freaks people out. Garnett has a no-trade clause, the ownership is devoted to Pierce, Doc Rivers wants to keep them and they're playing well. Case rested.
---
4. What are the chances J.J. Redick gets traded before the deadline?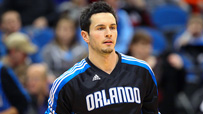 Adande: 45 percent. At some point don't the Magic have to do something for their fans? They traded their franchise player, so they shouldn't send away their most popular player as well. The Magic play hard and compete better than their 15-36 record indicates. Also: isn't trading a reserve likely to bring back a reserve? Where's the improvement?
Broussard: 65 percent. Orlando certainly would like to get something for the sharpshooter, but it's not going to just give him away. The Magic want draft picks and a hot young prospect. They don't want to take back a long-term deal unless it's a player they really like, which could make a trade somewhat difficult.
Ford: 65 percent. Redick is a free agent this summer and he doesn't fit into the Magic's long-term plans. A number of teams covet his shooting. The Magic should be able to get something of value out of him from the Bucks, Pacers or Bulls, three division rivals who are in hot pursuit.
Stein: 60 percent. Interest in Redick is high around the league, very high, but Orlando is said to be asking for a lot. And Redick, for his part, sounds like a guy still hoping for a contract extension because he doesn't want to leave. Redick has been widely regarded around the league as a lock to be dealt given that three teams in the Central Division alone are chasing him: Chicago, Indiana and Milwaukee. But it wouldn't shock the world if he stayed put.
Windhorst: 50 pecent. Had you asked this a month ago I might've said 90. Unless it is a leverage smoke screen, Redick says he wants to stay and the Magic say they aren't actively shopping him. The Magic aren't totally interested in cleaning house -- they value high character and consistency, which is why they re-signed Jameer Nelson.
---
5. What are the chances Carlos Boozer gets traded before the deadline?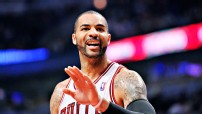 Adande: 50 percent. Sure, the Bulls would love to get rid of the $32 million left on his contract after this season. But how many teams would want to take it on?
Broussard: 20 percent. While Boozer may not be going to Toronto, the fact that Chicago apparently initiated the talks shows that Booz could be had. He's playing great this season and perhaps the Bulls want to move him and his onerous contract while he's hot. Problem is, few others are willing to take on that contract.
Ford: 20 percent. The Bulls might be willing, but finding another team willing to take the $32 million over two years left on his deal seems like a bit of a stretch given the new CBA penalties for going over the luxury tax.
Stein: 25 percent. If the Raptors hadn't already acquired Rudy Gay, this figure would be a lot higher, because Chicago's interest in Andrea Bargnani has not waned ... and Toronto doesn't have a long list of teams willing to take Bargnani on. But the Raps, eager as they are to ship Bargnani out, have understandable concerns about the luxury-tax implications of having both Gay and Boozer on their payroll. And Chicago likewise doesn't have a long list of teams prepared to absorb Boozer's contract. So if there's no Boozer deal to Toronto, I'm not sure that I see one.
Windhorst: 30 percent. The Bulls would love it if they could get out of the luxury tax this season. Long-term, there's a good chance they will get rid of Boozer's large contract by either through a trade or the amnesty clause. But they aren't motivated to do a cash-dump trade with Boozer in the short-term; it would have to make basketball sense.


ESPN.com and the TrueHoop Network
J.A. Adande, Chris Broussard, Chad Ford, Marc Stein and Brian Windhorst cover the NBA for ESPN.com.
• Follow the NBA on ESPN on Twitter | On Facebook | On Google+