We asked our team to come up with the guys they most enjoy watching at each position. The result: The All-Watchability Team.
1. Which NBA point guard do you like watching the most?
Henry Abbott, ESPN.com: It was always Chris Paul, who delights me with the constancy and intensity of his efforts to gain an edge. But then Kyrie Irving hypnotized me. Yes, I realize he hogs the ball, plays so-so defense and the Cavs lose a ton. But his game feels new and different, like anything is possible.
Matt Cianfrone, Roundball Mining Co.: Chris Paul. He is a maestro with the ball, and the ease with which he can change a game is incredible. Whether it's a gorgeous lob or a pass to a cutting man fit through the smallest of gaps, Paul makes teammates better whenever he wants. And when the Clippers need scoring he does that too, almost unstoppably.
Danny Nowell, Portland Roundball Co.: Chris Paul. This is a boring answer, but I learned the pro game from watching pre-knee injury Chris Paul. The way he controls the game from the elbow and passes his teammates into space slows down the action for viewers better than any scripted tutorial I've ever seen.
Tom Sunnergren, Hoop76: Ricky Rubio. The creativity and artistry with which he sees and exploits angles is startling. From an aesthetic standpoint, he's peerless; Rembrandt with a basketball. Granted, he has a ways to go as a player, but somehow even his imperfections enhance his appeal, the way a well-placed flaw can throw a woman's beauty into greater relief.
John Converse Townsend, Truth About It: Rajon Rondo. He's a walking double-double on the court with a cupidity for racking up assists. But it's the way he dishes dimes, guided by long arms and prophetic vision, and his tendency to make the impossible happen that make him so fun to watch. No one plays the game like Rondo.
---
2. Which NBA shooting guard do you like watching the most?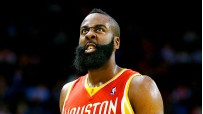 Abbott: James Harden. His beard gets an A-plus, as does his ability to turn a live dribble into any number of high-percentage scores. People act as though it's tragic that the midrange game is rare. In Harden's hands, the absence is poetry.
Cianfrone: Andre Iguodala. I'm a sucker for defense and watching the cerebral way Iguodala plays it is one of my favorite parts of watching basketball. No matter the matchup he has a plan and does everything he can to make sure his opponent sticks to it, willfully or not. The footwork, the discipline, the intelligence: it's all there.
Nowell: James Harden. I know there are detractors who claim that Harden's efficiency fetish makes his game more cynical and exacting than exciting, but nobody combines his shooting skill with that deep-in-the-pocket sense of rhythm. He may not be the game's best 2, but post-healthy-Manu, he's its weirdest good one.
Sunnergren: James Harden. He is simply the most exciting player to watch on the sport's most exciting team. Cutting, gliding, always attacking; night in and night out, he homes in on the rim like a missile. Or a Rocket.
Townsend: J.R. Smith, advanced stats be damned. Grantland's Jonathan Abrams wrote, "With a simple flick of the wrist, Smith could drain 3s -- or as Smith's youth coach John 'Pott' Richardson called them, '4-pointers' -- from laughable distances." In 2009, "Swish" joined only three other players in NBA history -- Kobe Bryant, Donyell Marshall and Dennis "3-D" Scott -- to make 11 3-pointers in a game. He scored a game-high 45 points.
---
3. Which NBA small forward do you like watching the most?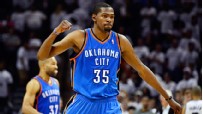 Abbott: Kevin Durant. I'd love to tell you there's some subtle reason, but it really boils down to: Who doesn't like buckets?
Cianfrone: LeBron James. The power, the grace, the ability to do literally just about anything that you can ask for on a basketball court; how can anyone not enjoy LeBron? Add in the fact that he is doing things we have never seen before and it makes for a player I hate to miss more than any other in the league.
Nowell: Nic Batum. There are obviously better small forwards than Batum, but his emergence as a wing distributor par excellence has made him the heart and soul of Terry Stotts' franchise remodel in Portland. Simply put, Batum may be the game's most beautiful player.
Sunnergren: Kevin Durant. There are two schools of Durant appreciation: watching in slack-jawed awe at what he's doing now, and wondering where the 24-year-old will go next. Anything and everything is possible for him. When he's on, which is nearly always these days, he plays offense with a rivetless perfection that's unmatched.
Townsend: Kevin Durant. He has become a more dangerous player every year, leading the NBA in scoring over the past three seasons. He's even picking up a post game with a soft fadeaway J that compares to Dirk Nowitzki's.
---
4. Which NBA power forward do you like watching the most?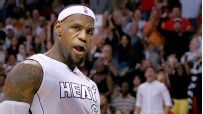 Abbott: Blake Griffin. Maybe there's a case to be made for somebody else, but none that I comprehend. When it comes to hoops joy, it's tough to top the guy who finishes alley-oops over midsize sedans.
Cianfrone: Dirk Nowitzki. His mastery of angles, footwork and timing make me imagine being able to do some of the things he does when I play pickup ball. Then I try, and am instantly reminded of just how easy Dirk makes such difficult shots look.
Nowell: LeBron James. Since embracing the post, LeBron has become so much more enjoyable to watch it's ridiculous. The game seems to pivot from his every action when he's close to the rim, and he blends passing savvy with brute force in an historically unprecedented way.
Sunnergren: LeBron James. I'm not sure there has ever been another athlete like LeBron; he somehow complements his blunt, brutish force with a discordant grace. It's like watching a grizzly bear play the piano. LeBron on the fast break, with the ball in his hands, is the most compelling thing on television.
Townsend: Kevin Love. The rangy power forward is a dominant rebounder and is molding his game after two former Baltimore Bullets -- his father, Stan Love, and 1978 Finals MVP Wes Unseld. "[Rebounding] was always a natural talent for me," he told Truth About It's Kyle Weidie. "I always had a knack for the ball." His career rebounding percentage is 21.5.
---
5. Which NBA center do you like watching the most?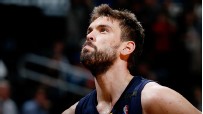 Abbott: Marc Gasol's routine includes crazy good team defense, feathery jumpers and the trick of making defenders believe he's immobile. With precious little muscle definition, messy hair and an awkward gait he looks roughly like my mechanic (who demands neither a double-team nor an athletic defender). But now and again Gasol explodes across the lane at warp speed, leaving ostensibly faster defenders kicking themselves.
Cianfrone: Larry Sanders! A whirlwind of energy, activity, attitude and limbs make it hard as a Bucks fan to watch Sanders and not smile. Then you look beneath all the other stuff and realize that he has a unique grasp of goading other players into what he wants them to do, and it makes the other stuff even more fun.
Nowell: Joakim Noah. The bunny hop push-shot jumper. The constant mania. The distribution from the high post. Noah is so rare a combination of skills and plays with such fervor that I just can't bring myself to list any other center here. And his first All-Star nod cements that he's more than a curio.
Sunnergren: Marc Gasol. He doesn't pop off the screen like the other names on this list, but the best passing big man in the NBA has a smorgasbord of tools and a willingness to use all of them. Even when he drifts into midrange, which he does more than a 7-foot-1 man should, he'll redeem himself with a pretty one-legged fadeaway. Dirk Nowitzki-lite.
Townsend: Joakim Noah. He's a wild player with an unorthodox game -- which includes a side-spinning release on his shot -- who makes a living bouncing around like a pinball on both ends of the court.


ESPN.com and the TrueHoop Network
Henry Abbott is a senior NBA writer for ESPN.com. Matt Cianfrone, Danny Nowell, Tom Sunnergren and John Converse Townsend are part of the TrueHoop Network.
• Follow the NBA on ESPN on Twitter | On Facebook | On Google+