If the 2012-13 Miami Heat can't break the record for the NBA's longest win streak, can any team? Our crew takes a look at the breakability of some of the most important numbers in league history, including Kareem Abdul-Jabbar's scoring dominance and perhaps the crown jewel of Michael Jordan's many accomplishments:
1. Breakable or unbreakable: The 1995-96 Bulls' 72-win season.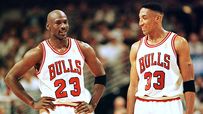 Kevin Arnovitz, ESPN.com: Unbreakable, for now. With the newest collective bargaining agreement making it harder than ever to concentrate elite talent on a single roster, there's unlikely to be a team that can zip through a six-month schedule with fewer than 10 losses.
Spencer Ryan Hall, Salt City Hoops: Unbreakable. That Bulls team descended from Mount Olympus and deigned to play among mere mortals for a season.
Curtis Harris, Hardwood Paroxysm: Unbreakable. The 1995-96 Bulls finished 12 games ahead of Orlando for the East's No. 1 seed. I can't imagine a team today with a comparable cushion risking its health for a regular-season wins record. I suspect stars and starters would be rested preparing for the postseason.
Jeremy Schmidt, Bucksketball: Unbreakable. Many assumed just a few years ago that the Heatles would amass 72 wins with ease. Things didn't quite go to plan that season. Even now, after accumulating 27 consecutive wins, the Heat are nowhere near a 72-win pace. Scrutiny, pressure and exposure just seem too great at this point for a team to pull this off.
John Converse Townsend, Truth About It: Unbreakable. The 82-game season is an unforgiving journey. Each season presenting NBA teams with an gauntlet of back-to-backs, injuries, and more than 40,000 miles of travel between October and April. But the regular season is a fight for a spot in a half-marathon. Many coaches would rather rest up. Can't blame 'em.
---
2. Breakable or unbreakable: The 1971-72 Lakers' 33-game win streak.
Arnovitz: Breakable. Every record seems invincible until it's broken, but the Heat tantalized our imagination. Until the final horn sounded in Chicago on Wednesday night, it looked entirely possible that the Heat could cruise past the 1971-72 Lakers had they been able to fend off a depleted Bulls team, then survive San Antonio. If not for an outlier of a shooting night, it could've well happened.
Hall: Unbreakable. I really thought the combination of LeBron's dominance and Shane Battier's clandestine deal with the patron saint of win streaks would be enough to get the Heat to that 34th consecutive win. Breaking the Lakers' mark would have been a more impressive accomplishment than an NBA title, but it's clearly not a mark that any team will challenge anytime soon.
Harris: Breakable. Forget the arguments on parity, dilution and expansion. This record is wonderfully special, but it's also possible to break. Four of the seven longest win streaks in NBA history have happened since 2000. I just wouldn't count on it happening. It took over 40 years to get as close as Miami did.
Schmidt Unbreakable. Too many things have to go right, for too long, against too many teams. There were only 17 teams when the Lakers pulled this off. Yes, every team was deep, but an entire other league existed to water down the competition.
Townsend: Unbreakable. (See: A1.) LeBron, the most dangerous player in the game, signed a basketball card yesterday: "Titles are more important than streaks" was scribbled at the bottom. Goodwin Champions was printed at the top. Sour grapes? Maybe. But it's about priorities, mostly. (And sometimes, the ball just doesn't bounce your way.)
---
3. Breakable or unbreakable: Kareem's career points (38,387).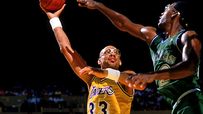 Arnovitz: Breakable. It's hard to run the numbers and find an equation that works for today's NBA (e.g., averaging 27 points per game for 75 games over 16 years still wouldn't do it). But technological and medical advances will likely allow athletes to play into their 40s in the future.
Hall: Breakable. As someone who watched nearly every point of Karl Malone's career, it's unfathomable to imagine another player even approaching the combination of scoring ability, durability and longevity it would take to catch Kareem's remarkable 20 seasons at 24.6 points per game. However, LeBron is already 10 seasons into his career, is averaging 27.6 points per game and is just peaking when Kareem was tailing off. Barring retiring and trying professional football, LeBron will only be 38 years old in his 20th season.
Harris: Breakable. When Kareem retired in 1989, only six other players had played 16 or more seasons in the NBA. Since then, 68 players have played 16 or more seasons. With longer careers, someone is bound to be good enough and play long enough to crack Kareem's record.
Schmidt Breakable. Science will get us here. Kareem played so well for so long that eventually the numbers just became enormous. With all of the medical advancements we've seen, surely another player will be able to stay great from his late teens to mid-40s at some point and take down Kareem … if Kobe doesn't first.
Townsend: Unbreakable. As TrueHoop's Henry Abbott pointed out earlier this year, free throw attempts per game are down to an all-time low (22.2). More telling, 10 of the 13 seasons since 2000 have produced a bottom-10 average for free throw attempts. Combine that with a slower pace of play, scorers playing fewer minutes and teams favoring ball movement (and 3s) to beat changes in defensive philosophies, and it all adds up to an unbreakable record.
---
4. Breakable or unbreakable: Wilt Chamberlain's 100-point game.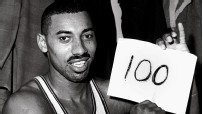 Arnovitz: Breakable. It's unlikely, but not impossible. First, 3-point proficiency has gone through the roof over the past couple of decades and many teams are just waking up to the fact that it's the best value play on the floor. Second, to the extent the league edits the rulebook, those changes will promote scoring, not discourage it. Finally, about 135 million people are born each year globally. At some point, one of them will make us forget Hershey.
Hall: Unbreakable. The conditions were perfect and irregular for Wilt's 100-point game and will never be repeated. Even though Kobe's 81-point game didn't start to feel remarkable until the second half of the third quarter -- making it easier to imagine a James Harden-type getting fouled five or six times each quarter, hitting all 10 free throws, and making seven shots every 12 minutes -- no future team will respond to such a performance with single coverage like the Raptors did to Kobe in 2006.
Harris: Unbreakable. The number of possessions in today's NBA is dwarfed by the helter-skelter 1961-62 season. Coupled with Chamberlain's utter domination of the Philadelphia Warriors' offense that season and you had the recipe for a 100-point game. Even more unbreakable, though, is Wilt's 55-rebound game the next season.
Schmidt Unbreakable. It takes a certain kind of gunner, and we'll never lack for that. But the league is heading in an interesting direction of efficiency and getting the best shots possible. Surely players will continue to gravitate toward that style in the future, further limiting the number of volume scorers.
Townsend: Unbreakable. Wilt scored 100 in '62, during a season in which he not only averaged 50.4 points per game, but also dropped 78 on the Lakers that December, inking his name above Elgin Baylor in the record book.
Kobe, in 2006, came close, scoring 81 against the Raptors (up, up, down, down, left, right … you know the code). But 100 is as good as it gets.
---
5. Breakable or unbreakable: John Stockton's career assists (15,806).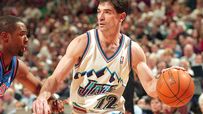 Arnovitz: Breakable. Today's prevailing trend of scoring point guards and high pick-and-rolls works against breakage, but pro basketball is a cyclical game. If early offense continues to become more commonplace and the pendulum swings back toward distributing point guards, it's conceivable that a durable floor general with the right dance partners could match Stockton.
Hall: Absolutely unbreakable. For reference, despite having Hall of Fame careers of 19 and 17 years, both Jason Kidd and Steve Nash are thousands of assists away from challenging the insane assist total amassed by Stockton. Who else is going to average more than 10.5 assists for more than 19 years? Even more improbable is seeing another player go nearly two decades and only miss games in two seasons. Untouchable.
Harris: Unbreakable. Even as players enjoy longer careers, this record is safer than Kareem's. Stockton was freakishly healthy in his career, missing only 22 games in 19 seasons. He also averaged an absurd 10-plus assists per game for a solid decade. So far, no point guard has been able to approach this combination.
Schmidt Unbreakable. Stockton once played on a team that ranked 22nd in the league with a pace of 98. They would qualify as the fastest team in the league in 2013. So the game is a bit different and a bit slower these days. That hurts assists numbers significantly and helps explain why guys never average 14 like Stockton used to.
Townsend: Breakable. Young players are racking up that famous team stat -- fast. John Wall, for instance, is the only player in NBA history to dish out more than 850 assists in 175 games or fewer. Jonny Flynn, Brandon Knight, Ricky Rubio, Jeremy Lin, Isaiah Thomas and Kyrie Irving have each recorded 500 or more assists in the same number of games. Now, if they could stay on the court …


ESPN.com and the TrueHoop Network
Kevin Arnovitz covers the NBA for ESPN.com. Spencer Ryan Hall, Curtis Harris, Jeremy Schmidt and John Converse Townsend write for the TrueHoop Network.
• Follow the NBA on ESPN on Twitter | On Facebook | On Google+